7 Project Ideas for Urban Wildlife Photography
Urban wildlife photography is the art of capturing images of wild animals in urban environments. And there are a plethora of wildlife photography opportunities in the city if you know where to look.
This may surprise you, but it's true! In this article, I'll be giving you some ideas for your next urban wildlife photography project, and offering some tips from my own experience to help you get started!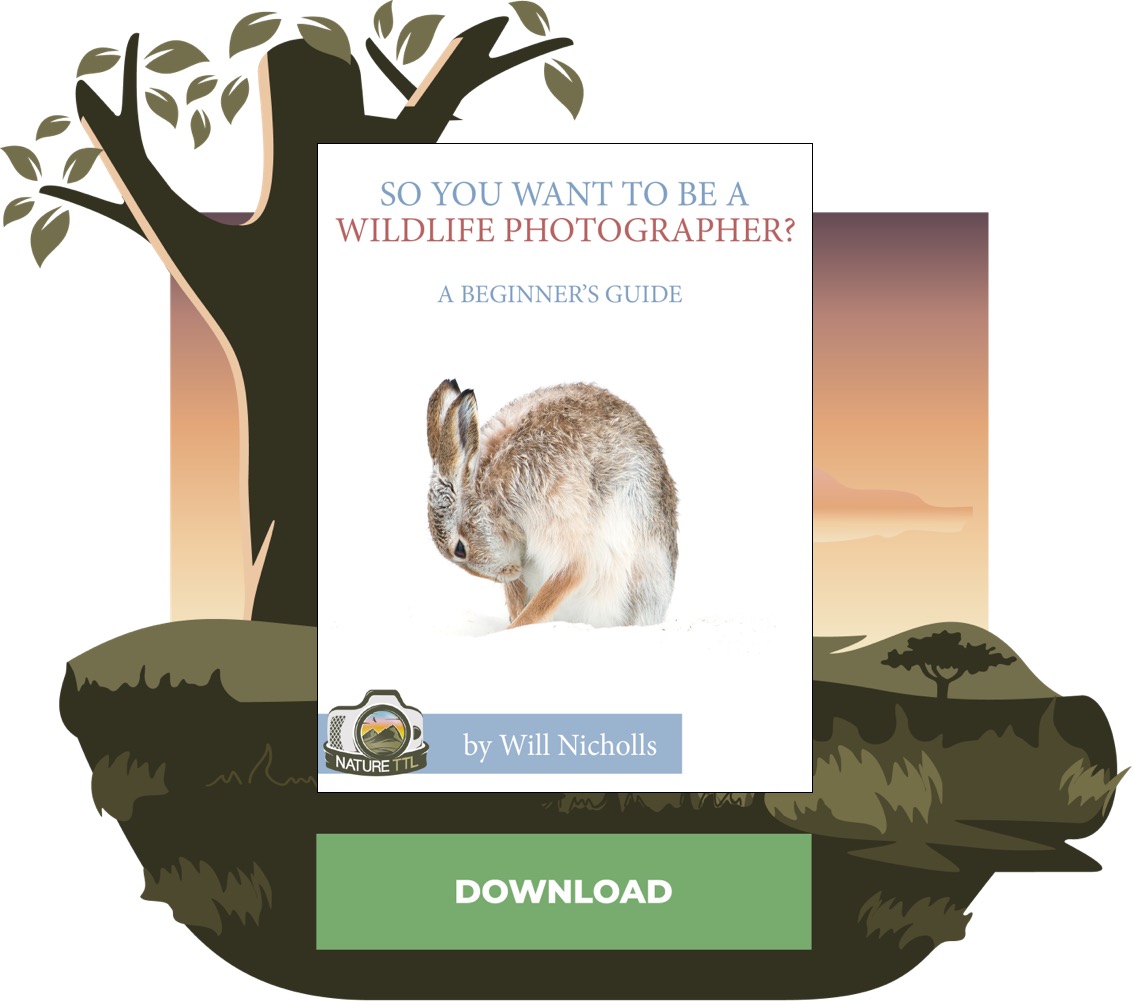 Urban wildlife photography can be challenging and certainly requires as much patience as is needed when photographing wildlife in the countryside or further afield.
If done right, however, you may find yourself working on a story that is not only accessible but also relatable for your viewers.
It requires photographers to be creative and resourceful to find and photograph their subjects.
Read more: How to Take Creative Urban Wildlife Photos
Why choose an urban wildlife photography project?
There are many reasons why urban wildlife photography is a worthy venture.
First, it can help raise awareness about the diversity of wildlife that lives in cities. Many people may not realize that there are so many different species of animals that call cities home, from birds and mammals to reptiles and amphibians.
Urban wildlife photography can also help challenge our perceptions of cities, which are often seen as being concrete jungles, devoid of nature. These projects can help show the world that there is still plenty of wildlife to be found in cities.
Urban wildlife photography can help show urban wildlife in a new light. These animals that have learned to coexist with humans can be labelled as pests, and so creating great images of them can help showcase their beauty and resilience!
Please always be aware that even if some animals show no fear to humans and seem approachable, never touch or overstay your welcome, as they are still wild animals and their boundaries need to be respected.
Read more: 10 Top Tips to Improve Your Urban Wildlife Photos
1. Gulls on the go
Gulls can provide perfect opportunities for photography in an urban location. Never turn your nose up at a gull as a subject! They're full of personality and can lend themselves to some truly exciting imagery if you're willing to give them a chance.
Gulls can be seen all over the place, but I recommend checking out retail parks specifically for photographing these charismatic birds. They often have gulls living in the vicinity, and they are often used to people and noise, so you can get close enough to them for some epic images.
With the image above, I used a wide-angle lens and a remote shutter release. This allowed me to position my camera in a specific area, move away to a safe distance, and take shots with or without a flash.
I recommend getting in on the action when you can with these birds; getting close and using a wide-angle lens can create a highly immersive effect, and showcase them from an unusual perspective.
Try fast shutter speeds to freeze the action, or slow them down if you want to try to capture a flurry of movement.
It also always helps to observe their behavior beforehand, in order to predict the kind of shots you will be able to get.
Next time you're out and about town, watch as gulls interact with their surroundings and start to come up with some ideas for your own gull action shots!
Read more: How to Photograph Seabirds
2. Swans in the water
Have you ever thought about underwater photography in an urban environment? It's possible, though it can be challenging; it's all about finding the right location.
And the best part? You don't have to get all of the underwater photography gear to do it! 
I used a fish tank to achieve this image (above), so there are great ways to capture split-level photos on a tight budget (this fish tank cost me £10 second-hand!).
Look for water without a steep drop-off, as you don't need to be swimming to get this kind of shot.
For my image 'Split-Level Swan', I made sure it was safe and then waded out slowly in a Somerset marina until the water was up to my knees. I waited for a swan to come over and only had a couple of seconds to capture this image before the swan moved on.
Read more: 7 Ways to Capture Character in Bird Photography
3. Snails in the city
When you think of urban wildlife photography, snails are probably not the first subject that comes to mind.
Snails are often overlooked and underappreciated, but they are one of the most common subjects in a city. All you need to do is head out after dark on a damp evening during spring, summer, or autumn, and you'll spot snails!
Get down to their level to see unusual compositions. Look at what creative colours you can include in the background that might help show off their interesting silhouette shapes!
My favourite technique for capturing images of these unique subjects is macro photography. I also use a torch to light paint the subject and surrounding area.
The best way I have found to capture images like this is first by putting my camera on a tripod, then placing my macro lens close enough to capture the snail but far enough away to show the environment; this is key to the storytelling element of urban wildlife photography.
Once I have the subject framed the way I like it, normally on the left or right side of the frame, I use a shutter speed of around 1 second. This is long enough to light the scene and snail whilst reducing the possibility of blur.
Light painting with a torch or your mobile phone helps with the exposure and adds an element of creativity. I tend to use an aperture of f/4.5 to f/6 as this lets in more light and blurs the background nicely.
The ISO will be different in each location, so you will have to play around with that once you're out in your location, but you'll get the hang of this after a few attempts.
Read more: How to Photograph Urban Snails
4. Urban foxes
Most wildlife photographers would probably agree that urban foxes are an exciting subject to photograph.
They are a beautiful, charismatic species regardless of the location they're spotted in, but when you factor in the opportunity for neon lights or interesting urban backgrounds, it's hard not to get excited about the kinds of images you might create.
Expect each fox to have a different personality; some are shy while others are bold. Urban foxes often allow for close encounters that aren't experienced as often in more remote locations.
These canids have gotten more used to human presence, and are usually less timid than their wild-roaming cousins. Of course, this still means you should never try to touch a fox!
I often get asked how I find urban foxes, and I have a couple of techniques that have served me well over the years.
The first is to head out just before dusk or dawn as this is when they will be most active. Look for green areas in the city where foxes can hide away during the day or areas where people leave food in overflowing bins.
If I am out and about and see a security guard patrolling an area, I will also speak to them – they might have seen foxes around and could give you some interesting tips and locations.
Another tip is to use your nose and ears as foxes have a unique smell and sound!
If a fox lets you get close enough, you can switch from your zoom lens to a wide-angle lens. This will allow you to capture the subject in its environment, which is key in urban wildlife photography.
Using a flash can help bring out detail on your subject in low light, but always be respectful to the fox and use the flash sparingly. If the fox looks at all distressed, turn off the flash.
Read more: How to Photograph Wildlife at Golden Hour
5. Creative colour and lighting
Natural subjects combined with urban lighting can create some really interesting and creative images. The city offers opportunities for colour photography that you may never get in natural areas!
Once you've found your urban wildlife subject, you have to train your eye to look for colours in its surroundings that may be useful in the composition.
Things like stoplights, neon signs on shopfronts, and Christmas or fairy lights are all worth using for colourful ambience in your urban images.
The subject may be close enough to the light source to actually absorb or reflect some of that colour and light. If not, you can use these factors in the background blur of your compositions, and perhaps create silhouette effects with your subject.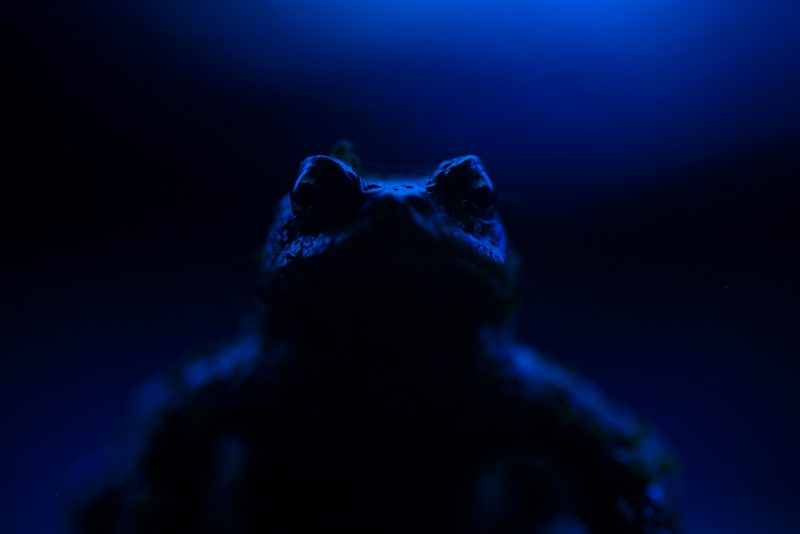 And remember, you can always bring up the colours in post-production too!
This toad, for example, was in the centre of the city, making its way to an ancestral pond to spawn when it stopped near a blue neon sign.
By experimenting with longer shutter speeds and a macro lens, I was able to capture the colour on the toad's skin and compose a creatively different image.
Read more: An Introduction to the Power of Colour Photography
6. Pigeons
Another plentiful subject is the mighty pigeon, a beautiful and resourceful bird that many photographers overlook.
This is probably the easiest urban subject to capture, so if you're looking to practice some of your urban wildlife photography techniques, have a go with photographing these guys! They all have different personalities, and trying to capture this in an image is great fun.
For this image, I used a zoom lens with an f/4 aperture to blur the urban background. Look for compositions with these birds that tell a story.
What are they doing while you are photographing them? Crossing a road? Scavenging for food? Interacting with each other? Remember to get down to their level for images that make you feel more connected to your subject.
Read more: How to Harness Light in Bird Photography
7. Spider photography
Finally, urban spiders can be found everywhere in the city; even in your own home!
If the weather is bad, or you don't feel like venturing too far away, check the corners and crevices of your own house for these fascinating subjects.
If you're out looking for them in the city, it may be helpful to bring a small torch to shine onto walls to help find them! I prefer to shoot them after dark and try to capture lighting from cars or buildings behind.
This gives a creative bokeh look and helps enhance their silhouettes.
You'll need a macro lens, and try using an aperture of f/4 to f/8 to capture these beautiful bokeh stars. A tripod is a must, as you are shooting after dark and will likely need a slightly longer shutter speed.
Read more: What's the Best Macro Photography Lens?
In conclusion
Urban wildlife photography is a rewarding and challenging genre that can help us to appreciate and learn about the diversity of wildlife that lives in our cities. It can be a great way to connect with nature, even if you live in a city.
I've lived in the city all my adult life, and I have never run out of locations or subjects for photography! I love to choose projects where I pick an animal and then spend time observing, learning behaviour, and then photographing them.
By following these three steps, I have built up portfolios on subjects such as urban foxes, urban herring gulls, urban toads, and urban snails – and you can too!
Most importantly, have fun and enjoy the process of capturing the beauty of urban wildlife that is right on your doorstep.