How to Be a Wildlife Photographer on a Budget
If you were to ask me what question I hear most from the Nature TTL readers, it would definitely be along the lines of "how can I be a wildlife photographer with a limited budget?" It's a topic I've touched on before in some of our articles, but I think it's time to revisit the question and answer some of your burning questions. In this article, I'm going to look not only at the latest budget lenses on the market, but also what you can expect in terms of results when you don't have the best professional grade gear.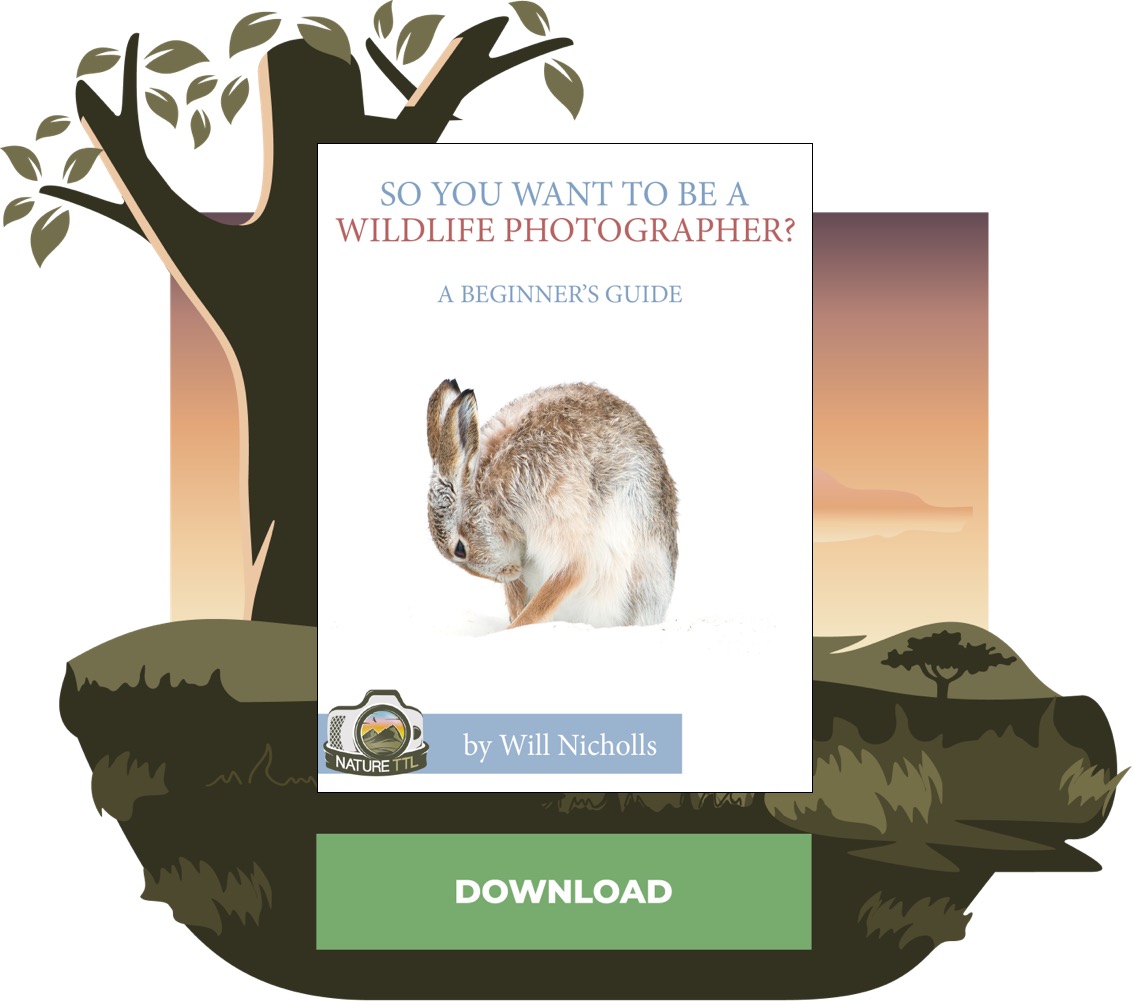 What Budget is Too Little?
Chances are you're looking to get yourself a camera body and telephoto lens to start you on the path to wildlife photography. Whilst 'budget' telephotos are on the market, they definitely aren't available for just pocket change.
These lenses won't perform as well as the most expensive telephotos on the market, of course, but technology is getting better and better and you can expect pretty decent results.
So what's a realistic minimum spend for wildlife photography equipment? Well, assuming you are starting with nothing and are in need of both a body and a telephoto, then a budget of around £1,200 ($1,400 USD) will give you a reasonable setup to get started with. If you can increase this further then it's definitely worth doing.
What Results Can You Expect?
I started my photography with very basic equipment, eventually upgrading to a budget telephoto lens when I could afford it. Even so, I had some great success with the lens. At the time, back in 2018, I was shooting with a Sigma 170-500mm f/5.0-6.3 lens – a model of the Sigma telephotos that has been discontinued and since improved upon.
In fact, I owe Sigma a lot of credit for this lens. A budget lens like this cost me around £600, and allowed me to delve into the field. I used it to take a photo of a red squirrel which won me the title of Young British Wildlife Photographer of the Year in 2009 from the British Wildlife Photography Awards.
Even today, shooting on professional lenses, I still sell copies of this photo regularly. I'm telling you this because it is most definitely possible to take great photos with low-end equipment.
Ultimately, the results are really down to you as the photographer. I know that sounds cliché, but it's true. The main downsides of budget telephotos are the decreased maximum aperture (less light is let into the camera) and decreased sharpness because of the glass quality.
It's up to you to get the most from the equipment, and that is done through practice and persistence – something you would need to apply even when armed with professional lenses. Budget lenses provide you with limitations of course, but you can still take impacting portraits of wildlife and capture birds in flight with good technique.
The beautiful, soft bokeh that is sought after to isolate the subject from the scene is still possible with budget telephotos too; there are many factors at play which create this effect.
Budget Camera Bodies
Let's take a look at some of your options when it comes to buying a camera body on a budget.
Nikon
I took the red squirrel photo earlier in this article on a Nikon D80 – a very basic camera that has since been surpassed many times. For the same price (about £300) you can buy a camera that is much better than what I was shooting with.
Nowadays the entry-level cameras are the Nikon D3000 series. The latest in that series is the Nikon D3500, available for under £300. This camera boasts 24.2 megapixels, full HD video recording, and ISO sensitivity up to 25,600. That's much more than I could have hoped for when I first started out.
If you've got a little more to spend, then take a look at the D7000 series. The Nikon D7500 brings with it some attractive features like 6 frames per second shooting speed and better ISO capabilities. It is definitely pricier, costing £775 at the time of writing this article. The previous models in the series (the D7100 and D7000) are cheaper and still great cameras.
Another Nikon camera body worth considering is the Nikon D5600. It costs around £500 (with a kit lens) and is definitely pushing the limit of a 'budget' camera, but you get what you pay for.
All of the cameras mentioned here have APS-C sensors (they are cropped sensors; not full frame). That's definitely a bonus when you're starting out as a wildlife photographer. Cropped sensors give you more reach with your lens – that is to say you'll be able to 'zoom in' more than you could on a full frame camera using the same lens.
Canon
Canon has a similar range available to you. The Canon EOS 4000D is Canon's main entry-level camera, costing just £230 for the body only. It has 18 megapixels and captures raw images at 3 frames per second. Don't expect the best ISO capabilities, but it's a real budget camera so that is a given.
Looking for something a little more? The Canon EOS 77D will set you back £700 but brings with it a 24.2 megapixel sensor and 6 frames per second shooting speed.
Stretch your budget and get the Canon 80D for a modest £979. But for that price you'll be entertaining a 24.2 megapixel sensor and 7 frames per second shooting speed – great for freezing fast motion and capturing the perfect wildlife photo.
Budget Telephoto Lenses
This slice of the photography market used to be filled with only third party brands; Canon and Nikon didn't really make anything to fill this gap. But things are changing and they're starting to realise that it is worth monetising on budget telephoto lenses and competing with other brands like Sigma and Tamron. This is great news for us as photographers – more competition means lower prices and better quality. If you're going to increase your budget for one element of your setup, then it should definitely be the lens. This is the most important thing – even the best cameras will take more quality images through a poor quality lens. Prioritise the glass before the camera!
Sigma
Sigma are a favourite and trusted brand when it comes to budget lenses. They now produce a variety of telephotos, but the cheapest telephoto you will get from them is the Sigma 150-600mm lens. It's available for around £700, and comes in mounts for all the major cameras.
There are two versions of this lens: contemporary and sports. The former has no weather sealing and, you guessed it, the sports version does. If you can afford the extra expense, opt for the sports version as a wildlife photographer.
Nikon
Nikon has recently released its own budget telephoto lens: the Nikon 200-500mm f/5.6. It'll set you back £1,200 too, but it comes with the benefit of a constant maximum aperture throughout the focal range. We love this lens, and you can read our review here.
They also have the Nikon 80-400mm f/4.5-5.6 lens on the market – a great choice if you want to benefit from a huge focal range.
Canon
Canon do things differently. Their expensive telephotos are very expensive (we're talking 5-figures). However, there is one little gem sitting at the "budget" end of the spectrum (although it is still just shy of £2,000) that is favoured by most professional wildlife photographers shooting with Canon kit.
That's the Canon 100-400mm mark II lens. I use this day to day as a professional photographer and cameraman, and this lens is incredible. It's very lightweight, very sharp, and rivals the most expensive telephotos that Canon produces. It is a bit slower (smaller maximum aperture), that's all.
Other Choices
There are of course other lenses that don't have such a long reach. Do your research and look at all four main brands: Canon, Nikon, Sigma and Tamron. Look at lenses up to 300mm – anything longer than that and the recommendations above are the best choices.
But for wildlife photography you ideally want to get a longer telephoto lens, otherwise you'll find yourself frustrated as you take more and more photos that you can't quite zoom as much as you need to.
Should You Use Teleconverters?
Teleconverters can seem like an easy fix to the issue of price. They only cost a couple of hundred pounds and can double your lens' reach easily enough. But they can also reduce sharpness a lot, even on professional lenses. Not only that, but the maximum aperture is greatly decreased.
If you put one on a budget telephoto, then these reductions will be even more evident and can actually cause the autofocus on the lens to become unusable, meaning you can only manually focus the lens. This usually happens when the maximum aperture is altered to f/8 or smaller.
If you have access to one to test out then by all means go ahead, but it definitely isn't worth the risk in coupling one with a budget lens – you'll probably be wasting your money. When it comes to photography equipment, cutting corners never works in the long run. Instead, work on your field craft and get closer to the animals in question!
Other Equipment
Don't forget there are other costs involved too. You need to choose a suitable memory card, although these are generally inexpensive nowadays. Next up is a tripod – using long lenses like this means this is essential. Ball heads are common choices, but if you can afford a gimbal head to support a telephoto then you're onto a winner
The legs of your tripod are less important at this stage, and can be picked up on eBay relatively cheaply. Look for brands like Manfrotto and ensure the maximum height is suitable for you.
In Conclusion
The rest is down to you! Keep shooting and keep practising. Remember, the camera only goes part of the way to taking a great shot – don't expect fantastic results the first time you pick up your camera.
You need to practise technique and improve upon your photos, and that's where Nature TTL can help. Download our free eBook and subscribe to our newsletter to receive our top nature photography tutorials each week and join thousands of other photographers learning from us.