How to Photograph a Wildlife Story
People have been using images to tell stories for a long time. With normal wildlife photography, we aim to achieve a stand alone image that has the perfect combination of composition, content, and technical perfection.
Wildlife storytelling through photography is the craft of taking a set of images that together form a coherent narrative about a subject. This could be an individual animal, conservation issue, or the life of a species. No one image necessarily needs to stand out, it's more important for each image to move the story along.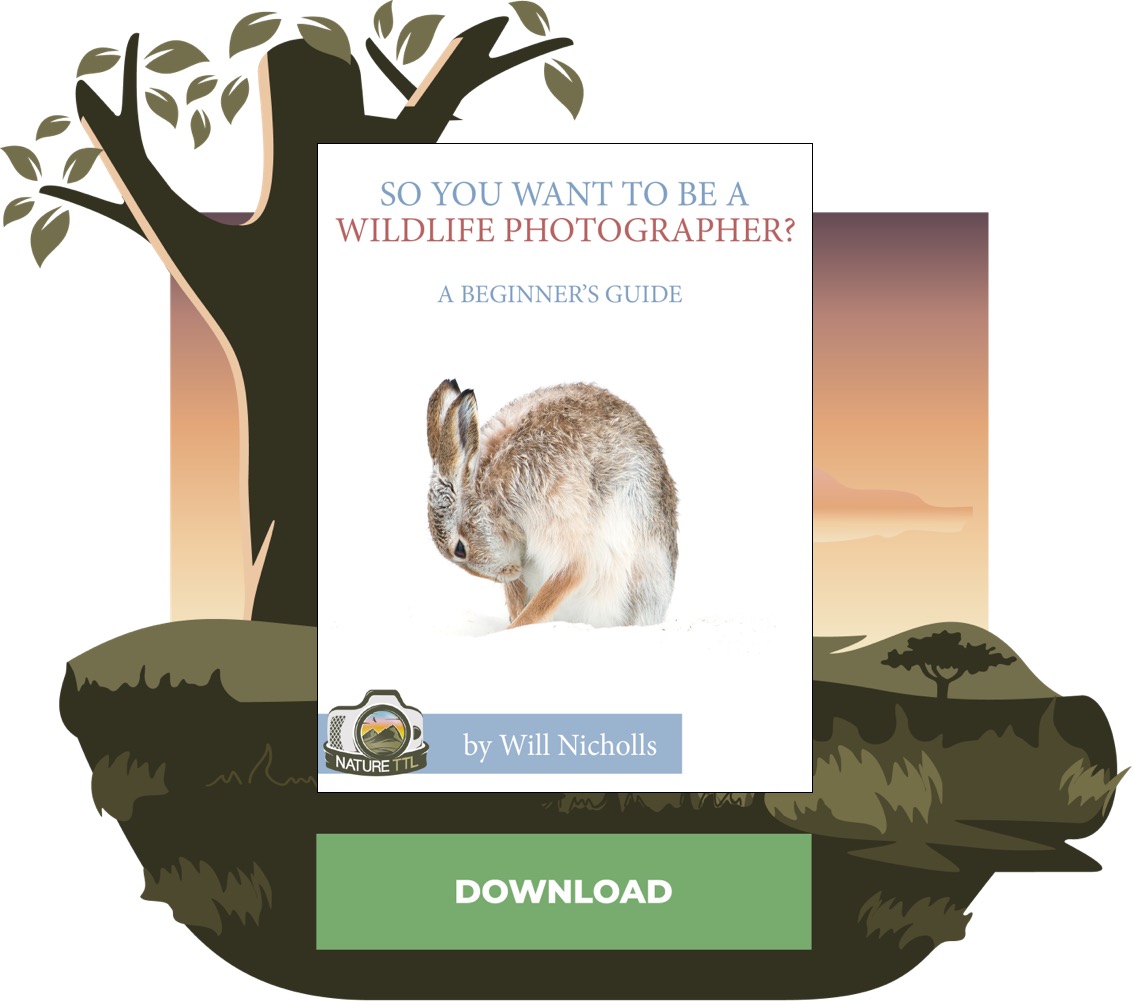 Although we tend to think in terms of online or print magazine articles with regard to photo stories, personal blogs and social media are ideal outlets.
"A story should have a beginning, a middle and an end. But not necessarily in that order" – Jean-Luc Godard.
How to structure your story
Regardless of the subject, the story should have a basic structure. This is particularly important for a story with only a few images.
The power of photo stories to inform has recently been recognised by nature photography competitions, and these stories usually have to be told in 6 to 10 shots. Instagram allows up to 10 images and 2,200 characters for a single post, more than enough to tell a story. Social media attention spans are short, however.
The first shot should be used to set the scene: the where and what. If aiming for magazine publication, think in terms of a double-page spread with room for text. For a story about a species or type of habitat, a wider shot of an animal or plant showing representative habitat is useful.
Next, include details of what's happening, including close-up shots of any action. If it is a conservation or science story, then include details about equipment and procedures. Show natural behaviour if it is a species story.
Each image needs to be an integral part of the story and should move the narrative along. Even an animal portrait should say something about its behaviour or where it lives.
If an animal has been captured for a procedure, then get a shot of the release as your end result. It's a good idea to have a storyboard of the shots you need, although too rigid a plan will almost certainly fall apart once you start.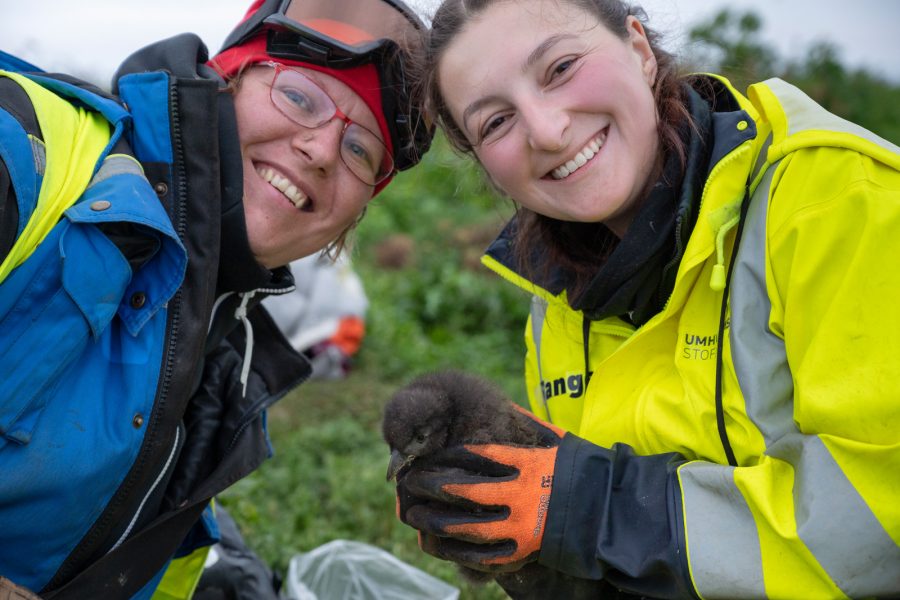 When photographing people working, I'm careful to detach myself from what is essentially someone else's story. After the work of catching, sampling, and recording puffins during Iceland's puffin rally was finished, Teresa and Alix wanted a photo with the last puffin of the day, which I was happy to take for them.
I knew I couldn't use this image myself because they were looking directly at the camera but, when my daughter Megan also moved in to take a photo with her phone, I was able to include that and remove myself from the story.
Photographing a species or place
Unless it's an extremely rare, endemic species, found only on the south slope of a single mountain, then any species story will need to be narrowed down to just one area of its range. The story can then also be about its environment, whether that's a habitat type, a nature reserve, or even your own garden.
I'm currently photographing the wildlife recolonising an urban river system near my home after decades of pollution. As it's local to me, I can return again and again to this project without the time constraints other projects inevitably bring. I'm years into it and have no idea when it will end.
Inside the bigger story of the rivers, there are smaller stories about returning species. I can then also include other issues that affect those species, like plastic or sewage pollution.
I had a clear idea of the image I wanted here before I found the ideal spot. The image shows the bird, the river, its habitat, and the urban environment. It also shows the pipe in which the birds were nesting. The image was shot at 24mm, with the camera on a tripod in the river and triggered from a distance by radio.
A team from The University of Manchester reported that the rivers flowing through Greater Manchester had the highest levels of microplastic contamination found anywhere in the world. A different study has recently shown that dippers, particularly those on urban rivers, feed microplastics to their chicks.
UK wildlife is generally shy and elusive, so a range of natural behaviours can be difficult to obtain. One thing to bear in mind is that baiting wild animals can be counter-productive to capturing natural behaviour and, if the story is being presented as photojournalism, feeding or otherwise interfering with the natural course of events can be seen as unethical.
A lot of modern wildlife photography actually works in the opposite way to a story, because so much is excluded from the shot. I'm thinking particularly about safaris, where by turning around and shooting the other way, including all the cars, guides, and tourists, adds another dimension to the usual close-ups of lions or tigers.
Those images, along with the close-ups, then become a story about the value of wildlife to the local economy, and is perhaps more interesting than just another set of portraits.
To tell a story about an environment or habitat type, you will need to shoot a few of the species that live there. This definitely needs to include the key indicator species, e.g., sand dunes and sand lizards, or salt marsh and associated plants, like sea aster and glasswort.
There are many fascinating species and habitats around the world just waiting to have their story told.
Shooting a conservation or science story
Photo stories about wildlife conservation or wildlife science are visually loaded with lots going on. These can be simple stories shot in one day, or a major project covered over weeks, months, or even longer.
The first thing to remember about any wildlife conservation story is that it's really a story about people. It can be about the conservationists' work to protect a species or environment, or the people perceived as causing harm to them.
This suggests a clear contrast between the two, but often the situation is more nuanced. And, it doesn't have to be about mammals or birds. Some of the most interesting and important work being done involves reptiles, amphibians, and invertebrates.
Here, I was able to shoot the entire project from captive breeding to eventual release. Although I feel this image is integral to a longer story, it would be dropped from a shorter version. It shows Vicki Breakell and Clare Stalford of the Wildwood Trust Conservation Department make final preparations for release day.
In this photograph, Clare Stalford of the Wildwood Trust makes a final visual check of a vole before placing it into the release pen, which would be the next shot. Some people are more comfortable being photographed in this kind of situation than others, and it makes a huge difference to the photos. Clare is totally comfortable and it shows.
Working with an NGO is probably the best way to gain access to a conservation story. By keeping an eye on their websites and social media, you can see which projects are likely to happen in the future, as they will be fund-raising for them well in advance. It's going to be easier to get access if you already have a relationship with a particular organisation, through volunteering or attending events.
In the UK, the Wildlife Trusts or similar groups always have projects on the go, and it's worth asking if you can shoot a story around their work in return for photos. Even though their own staff and volunteers may also be taking photos, there is an added benefit of having someone present who is dedicated to photography.
Increasingly, these organisations (particularly the larger ones) will want to control the narrative of your story by placing restrictions on what can and can't be photographed. Invasive procedures like blood sampling can be an issue, particularly if the images might be used on social media.
It's usually possible to come to an understanding that keeps everyone happy, but ultimately you have to decide whether you can still tell the story you want.
When photographing a story about seabird egg harvesting in Iceland, I asked Jon if I could attach my GoPro camera to his helmet to get the view from his perspective, in addition to the long lens shots I was getting from the cliff above. It's important to approach this kind of story with an open mind and tell it objectively.
Working with wildlife biologists is an excellent route to finding visually rich stories, particularly if they are catching animals for research. This can be to attach radio collars, geolocators, or to take measurements and DNA samples. The story would be about why they are doing these things. It could be declining populations due to climate change (e.g. seabirds), or species population dynamics related to land use.
Wildlife rescue and rehabilitation is a good source of intimate, engaging stories, which can be about the work of the centre, or even following an individual animal from rescue through to eventual release back into the wild. Rescue centres are always in need of material and publicity for fund-raising.
Whatever the focus of your story, when it involves working with people it's important to recognise that what they are doing is far more important than what you are doing. You need to learn how to photograph the action without getting in the way. Biologists will often spontaneously explain what they are doing at the time but, if not, I wait until later before asking questions.
Either way, the value of research into your subject well before starting to shoot anything cannot be over-estimated.
Equipment to use for species stories
You can't tell a species story with only a 500mm lens. A long lens, combined with a short telephoto and a wide-angle, will add variety to the shots. I recommend the longer lens, 300 to 600, for close-up behaviour and action, a normal or short tele for environmental portraits, and a wide-angle lens for subject in habitat shots.
For invertebrates, a macro lens will be useful for close-ups, but a close focusing wide-angle even more so for environmental portraits. The camera isn't so important but, for fast moving subjects, a decent frame rate and good autofocus tracking is an advantage.
When the subject is an animal that won't allow close approach, some kind of remote triggers are ideal. There are many different types of remotes on the market. Radio has the longest range but, increasingly, cameras have WiFi and Bluetooth built-in. This not only allows the camera to be operated remotely by phone or tablet but also offers the advantage of a visual link to the camera.
In my experience this method tends to be a bit laggy for stills but, as camera technology advances, this should improve. I use Pocket Wizard radios. For shy or nocturnal animals, camera traps are a useful addition to the tool kit for in-depth stories.
Read more: 8 Tips for Wildlife Camera Trap Photography
This kind of access can be difficult to get, and initially it was refused. The guys at Wildwood Trust, with whom I have a long-standing working relationship, intervened on my behalf, and I was given permission to shoot one procedure only.
In the end, I shot several when the vets realised I could do so unobtrusively. I used a 24mm lens with single flash bounced off the ceiling.
Equipment to use for conservation stories
When photographing people working, it pays to keep it simple. The less equipment you have, the better, as things tend to be happening quite quickly, and you don't want to be changing lenses at a critical moment.
A single camera and a wide to short telephoto is fine. I usually have two cameras, one with a wide to short tele and the other with a 70-200. I now use mirrorless cameras on silent mode to be as unobtrusive as possible, but most of the time a discreet camera noise isn't a problem.
When shooting subjects of a more sensitive nature, say around the wildlife trade in developing countries, then rapid fire pro cameras with a harsh shutter sound will put people on edge, and can bring photography to an abrupt halt. Flash can be useful in low light or for fill in contrasty conditions. You will have no control over the timing of this work, so you need to be prepared to shoot in any conditions.
If using flash, then having it modified with a soft box is a good idea and, if possible, have someone hold it off camera. If all the work is in a fixed position (it rarely is), then one or more flashes on stands can be set up, if there's room. When working indoors, and the walls are a light, neutral colour, on-camera flash bounced off the ceiling works well. Vet surgeries and labs are perfect for this technique as the walls are always white.
In conclusion
You only really need model releases if the images are used commercially to advertise goods or services. You don't need them for editorial use, and this is the type of story this article is about.
Either way, it's a good idea to discuss in advance how you intend to use the images, and make sure everyone photographed understands. This is particularly important if photographing sensitive or controversial issues.
Shooting photo stories isn't for everyone. Hobby photographers with limited time in the field may feel it's all too much effort, when what they want is a portfolio of great photos. However, for young photographers hoping to get published, thinking in terms of stories or photographing a subject in depth will be an advantage.