How to Find Locations for Wildlife Photography
It's easy enough to list a few of the popular and best places for wildlife photography around the UK, but to offer a generic approach to finding good locations is more of a challenge. Discovering new, unknown areas for wildlife photography, that aren't already filled with people, is one of the most challenging things that you will face!
But, I like a challenge. When I left my safe job as a maths teacher almost two decades ago to become a wildlife photographer and writer, I knew it would be difficult. One of the first challenges was to learn as much as I could about the wildlife around me in Cornwall. So, to answer the question about how to find good wildlife photography locations, I thought that I would reflect on my own experience of photographing wildlife over the last 20 years.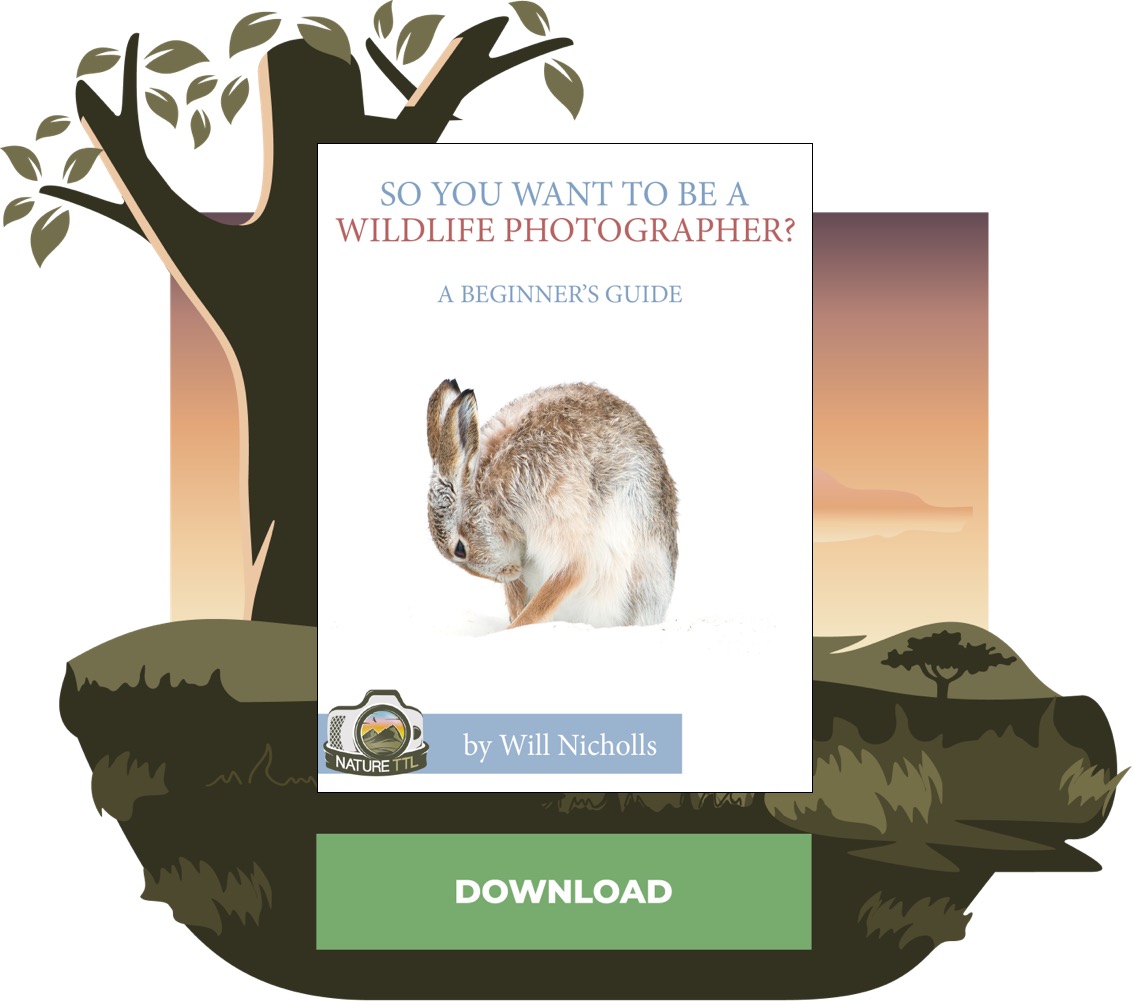 Books and research
There are plenty of books about where to watch wildlife in the UK, and many are based at county level. These are a good starting point but a distinction needs to be made between places which are good for watching wildlife and those that are good for photographing wildlife. They are not the same.
Some of the places listed in these books, such as estuaries, might be great for seeing birds but they won't allow for the sort of close-up views necessary for successful wildlife photography. However, they do tend to be good for species of flower and insect, which are always more approachable, so long as they are up to date.
Getting current information is one good reason for following blogs and other social media. Last year, on my travels in East Anglia writing about wildlife for a Motorhome magazine, I found a blog about photographing the rare military orchids at a location very close to where I was staying. The next day I visited the exact location and had added another member to my list of photographed species!
In my home county I regularly keep up to date with local wildlife sightings through websites operated by local specialist groups, such as the county's bird watching group. There are national organisations such as 'Bird Guides' which give latest sightings of birds around the country which can be useful to photographers looking for specific species.
You are not on your own!
Before I started my career as a wildlife photographer I was a keen bird watcher and was generally interested in wildlife from an early age. Mixing with other naturalists gave me a good understanding of habitats, species and fieldcraft, something that might come less naturally to people who approach wildlife photography purely through a desire to take photographs.
Anyone who wants to photograph wildlife should first take time to understand their subject, and I believe that through our photography we have a responsibility to promote and protect wildlife.
One of the first things I did when arriving in Cornwall was to join the Cornwall Wildlife Trust. Every county has one, and within its remit is to protect local wildlife and help people to understand it.
I got involved with many aspects of Cornwall Wildlife Trust. I went out on guided walks, undertook conservation work, became acquainted with many true specialists in their fields and even became a trustee. I learned many things from many people and eventually I found myself leading the photography group, taking other people on guided walks and sharing my knowledge with them.
Through my involvement with the wildlife trust I have developed a much deeper understanding of aspects of wildlife that didn't interest me as much when I was younger. I have a better understanding of habitats and their management and which aspects of wildlife are special to my local area.
As one example, I am now confident in identifying potential habitat for the rare marsh fritillary butterfly in Cornwall. I know which plant its caterpillars eat; what their basic habitat requirements are; what a web of its caterpillars looks like and, of course, how to identify an adult butterfly. I also know, personally, the people who work to protect them and roughly what they do.
Within your Wildlife Trust you will find specialist groups for many aspects of natural history; for example in Cornwall we have groups dedicated to: bats, botany, churchyards, dragonflies, moths, mammals and local areas. As well as The Wildlife Trusts, there are also local branches of Butterfly Conservation; RSPB; county Bird Watching groups; National Trust and many others who will gladly help people develop their interests in nature and conservation.
Joining groups like these should not be treated as a 'one-way ticket'. Be prepared to give as well as take. Offer your time to help with projects; submit your wildlife records; lead walks or just offer to make teas and coffees at meetings.
At the same time I joined a local camera club. Through that I met like-minded people and continued to learn about photography, keeping my camera knowledge up to date. The idea of a camera club might be unattractive to some people but the truth of the matter is the more people you know the more you learn. My own camera club has more than its fair share of nature photographers and I feel this is reflected across the country with a distinct upsurge of interest in this field.
Wildlife is all around
From my time working as a lecturer on the Marine and Natural History Photography degree course at Falmouth University, I know that when students joined the course wanting to photograph wildlife what many of them actually meant was that they wanted to photograph polar bears, big cats and the incredibly rare and exciting wild animals of far-flung places around the world.
The best challenge that any wildlife photographer can take is to apply our skills to make the 'ordinary' look 'special'. I use the inverted commas because I don't like to brand one element of natural history as being less special than another. But you get my point: aspire to take great photos of the ordinary rather than ordinary photographs of the great.
[easy-tweet tweet="Aspire to take great photos of the ordinary, rather than ordinary photographs of the great." user="NatureTTL" usehashtags="no"]
Once you have made that step from a 'wannabe David Attenborough' into your own world of natural history, you will start to realise that nature really is all around you.
Look under the gutters of your house and you will find moss growing which attracts smaller insects to shelter there. Feeding on those insects are tiny spiders which spin their webs; hunting those you might see a wren, which also stops to take a bath in the same gutter.
Taking the spider's silk to make its intricate nest is a long-tailed tit, and every now and then a sparrowhawk might fly over and send the wren and long-tailed tit into a spin. There's a habitat. Every space is a niche; every niche has a story.
Parks and public spaces
One short-cut to photographing birds and mammals is to find locations where they have grown accustomed to a human presence. There are some good examples of such locations in the London area; for instance Richmond Park is well-known for deer photography; Hyde Park for grey herons and ring-necked parakeets and central London is great for urban foxes.
Read more: How to Photograph Urban Wildlife
London isn't the only place where wildlife has become habituated to people. Find any amenity space with a few square inches of grass, trees or water and you will find wildlife. Some are more productive than others.
In my local town, we have a boating lake which in summer is a heaving mass of pedalos and is surrounded by skate-boarders and dog-walkers. But in winter it is home to a flock of semi-tame shoveler ducks, very tame tufted ducks and occasionally some very unusual species which have included whooper swan, grey phalarope and recently a ferruginous duck of dubious origin!
A couple of weeks ago, in the adjacent amenity area, I was photographing a tame glossy ibis which was feeding on worms in a damp area of grassland, despite being continually disturbed by out-of-control dogs.
Not far away I have a country park with tame grey squirrels and birds which will eat out of the hand and I regularly visit St Ives, just down the road from where I live, to photograph a range of tame wildlife including the turnstones which were made famous on Winterwatch this year.
In Conclusion
I feel I have only begun to scratch the surface of the topic I was asked to cover. This could be expanded upon in many ways, most obviously by looking at some of the best places around the UK for wildlife photography, or looking more closely at different habitats around the country and the potential they offer for wildlife photography.
David's latest book, 'Where to Watch Wildlife in Cornwall and the Isles of Scilly', is to be published this spring. Produced by Tormark Press, this will be a useful addition to the library of any wildlife photographer planning to visit Cornwall.