Isle of Mull Wildlife Photography Guide
With a diverse range of habitats and interesting animals at every turn, Isle of Mull wildlife offers nature photographers endless opportunities to compose and capture breathtaking images.
As the second largest island of the Inner Hebrides, Mull is a beautiful location to visit. There are roads that run around the shores of the island rather than straight through it, which allow some of the most interesting areas to be easily explored.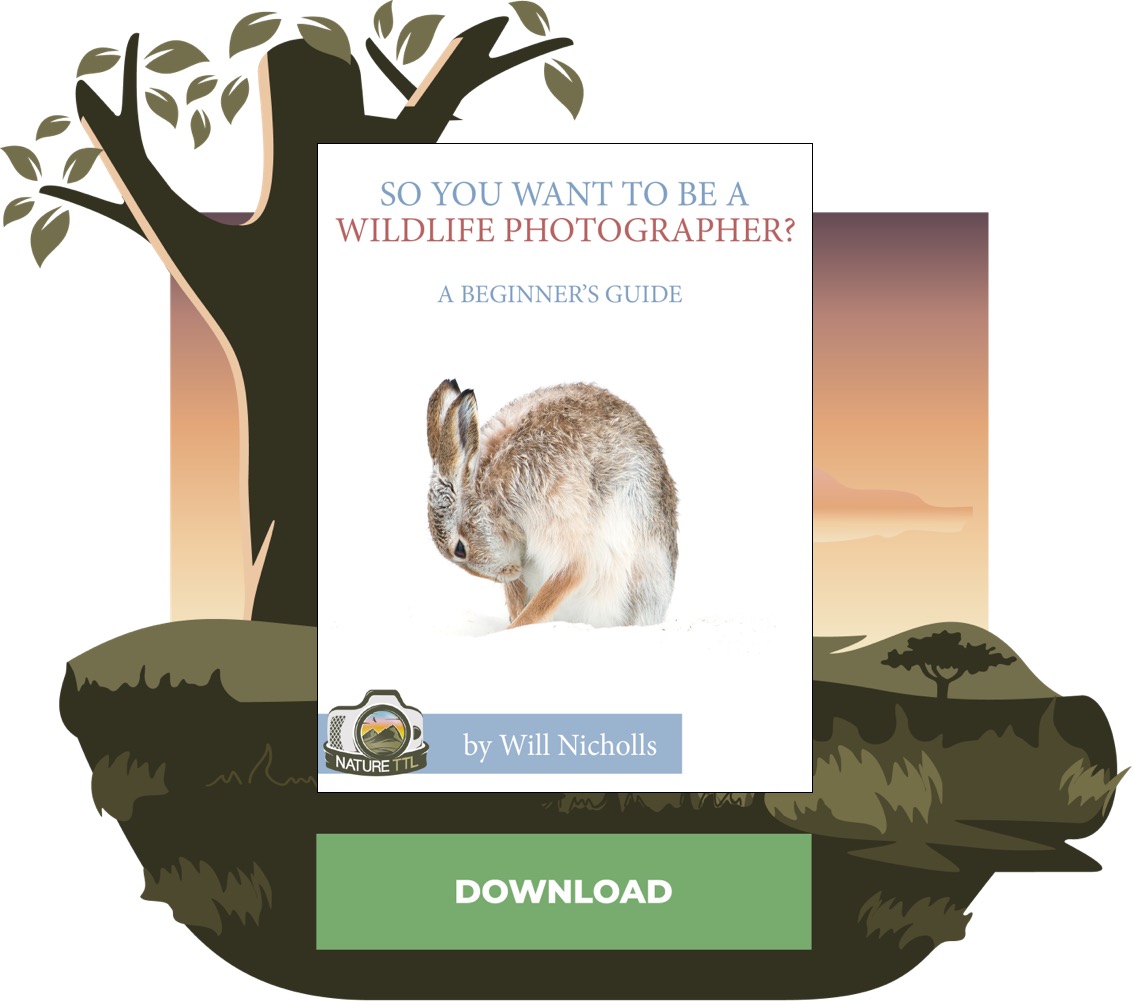 It is home to healthy populations of both golden and white-tailed eagles, and in spring and summer, it sees increases in numbers of other raptors, such as hen harriers and short-eared owls when they arrive for breeding.
It is said that there is one otter for each mile of the Mull coastline, and there are over 300 miles of that to enjoy!
Add in red and fallow deer, common and grey seals, mountain and Irish hares, adders, lizards, plus a great variety of seabirds out on the nearby Treshnish Isles, including puffins, divers, and even corncrakes down on the Isle of Iona, and you have a plethora of options for the visiting wildlife photographer.
Rare invertebrates such as the chequered skipper butterfly and slender Scotch burnet moth can also be found there. Throughout the year, there is plenty for a nature photographer to take advantage of.
Planning your trip
Unlike Skye, Mull has no bridge over to it, so one of three CalMac ferry routes must be taken. When traveling from the south, the Oban to Craignure crossing is best and should be booked in advance.
From north of Mull, the Lochaline to Fishnish route is a safe bet. Tickets can be bought in advance or on the ferry, but space is allocated on a first-come, first-served basis.
Lastly, there is a crossing between Kilchoan and Tobermory, but that is quite remote! Mull is very limited when it comes to shopping, so ensure you have all the photographic gear to hand before leaving the mainland.
Given the inclement conditions usually experienced on Mull, a waterproof cover for your gear is almost imperative. Choose one that is camouflaged or dark in color, not made from plastic.
Also, remember to take a pair of binoculars, as they can be used to scan distant areas to help spot otters!
During the peak season on Mull, all of the main hotels, B&Bs, campsites, and self-catering properties are available. Outside of that period, choice can be more limited.
Wild camping is allowed, but doing so right on the shoreline can affect the behaviour of the wildlife that lives there, such as otters, seals, and waders.
Having your own vehicle is definitely a benefit, though there are buses, taxis, and even bicycle hire. Book any ferry crossings early and keep an eye on the CalMac app or website for changes/cancellations to bookings.
Tobermory is the main settlement on Mull and has hotels, guesthouses, pubs, restaurants, and shops, and is also where some of the boat tours set off from.
There is a garage and fuel station here, and the distillery. Salen is perhaps the most central and convenient location, has a couple of cafes, a well-stocked shop, and a fuel station too.
Mull is a holiday island, so most attractions are open and operating between mid-March through to the end of October.
While otters are present throughout the year, the best time to look for them is during the colder months, but be mindful that days are short and it can be very wet for long periods.
CalMac also cuts back on the ferry crossings during these quieter months, so you will need to bear this in mind and do your research when planning your trip.
Read more: Taking Your Camera on Expedition? Here's Some Crucial Advice
When to go and what to see
Spring sees more visitors coming to the island, and from April, the Treshnish Isles are accessible to see the seabirds, with the breeding colony of puffins being the main attraction.
The over-wintering great northern divers take on their breeding plumage in April before they leave, which on a calm day can be stunning to photograph. Both red and black-throated divers can be seen on the lochs too.
For the bird lovers
The warmer months see the arrival of cuckoos, wheatears, whinchats, hirundines, waders, and other breeding birds, such as wood and willow warblers, spotted flycatchers, and common redstarts.
Mull also has a good population of raptors, including golden and white-tailed eagles, buzzards, hen harriers, short-eared, long-eared, barn, and tawny owls, peregrine falcons, sparrowhawks, merlins, and kestrels. Osprey pass through, and there are small numbers of goshawks.
Read more: Bird Photography Tips – Shooting Bird Portraits
For the mammal seekers
While Mull has a wealth of wildlife, it should be noted that there are no red (or grey) squirrels, foxes, or badgers, but there are small numbers of pine martens and stoats.
The two large tidal lochs of Loch Na Keal and Loch Scridain are prime locations to spend a day. Both are home to otters, seals, plenty of birds, including white-tailed and golden eagles. Plus the scenery can be breathtaking.
Read more: How to Find and Photograph British Mammals
Getting around Mull
It's worth knowing in advance that most of the roads on Mull are single track, and drivers will need to use passing places to allow traffic to flow.
While it's obvious that these can be used for allowing oncoming vehicles to get by, they also should be used to allow for overtaking. If a vehicle catches up, use a passing place to allow them to overtake, as not everyone on Mull is on a holiday.
Also, passing places should not be used as a parking place. It's best to read up on road use before visiting Mull and upsetting the locals.
Additionally, there has been concern lately regarding the disturbance of otters, and there are plenty of signs warning people about what not to do, so do ensure you follow such guidelines while on your visit.
Read more: Ethics in Wildlife Photography: Code of Conduct
Eagles on Mull
The island is famous for the eagles that live there, and with over twenty pairs of both species, white-tailed and golden, it is definitely a great place to look for them.
The white-tailed eagles can be photographed from Mull Charters' eagle adventure boat trip (best to try to book onto one of their Photo Special trips), which is arguably the best way to capture images of these massive raptors at relatively close quarters.
As it is a boat trip, taking a camera and lens combo that is lightweight and easy to hand-hold is ideal, especially a zoom, as the eagles can come in very close.
It's also best to use full manual mode for exposure, as it is impossible to adjust exposure compensation on the fly, especially when the eagles can dive down from great heights in seconds, with backgrounds varying from a bright sky to dark, shaded cliffs.
Taking photos of the brown and white rocks beside the lochs can give a good idea of the correct exposure settings to use, as they are similar in color to the eagles.
Their golden cousins are harder to see, but spending time high on the hills or clifftops should yield success. There are also some known nest sites in sight of public roads where action can be observed during the breeding season, from a safe distance in designated areas.
Close encounters are rare, so a long telephoto lens is best for these raptors, as is camouflaged, warm clothing.
Read more: 7 Ways to Capture Character in Bird Photography
Puffins and other seabirds
Puffins and other seabirds can be photographed from late April through to the end of July, on the Treshnish Isles, which lie off the west coast of Mull.
Several operators run trips out there, with the islands of Lunga and Staffa being of most interest to wildlife photographers. Late May into early June also sees the best of the wildflowers on the islands in bloom, so puffins in bluebells are a possibility.
The puffins are so close to visitors that any lens can be used really, from telephotos to wide angle. But be aware, getting on to and off of Lunga is not easy, so it is best to take gear that can be held onto easily or secured into a backpack of sorts.
Read more: 7 Top Tips for Puffin Photography This Summer
Raptors
Raptors such as hen harriers and short-eared owls are best seen during the breeding months, so from March through to August.
The harriers begin to perform their sky-dancing courtship display from mid-February. The males can sometimes be heard calling, with a sort of giggling call, before they're spotted, as they fly very high during the display.
Areas of high moorland are best to watch, though they do breed all over Mull, in lowland marshes and in woodland clearings.
Read more: 4 Essential Tips for Photographing Birds in Flight
Otters
Otters can be photographed throughout the year across the island, though there is a period of a couple of weeks in March when the frogs are spawning, where the otters feast on them at night and don't need to hunt in the lochs.
Outside of that period, they are most often seen in the tidal lochs, and the ideal time is around three hours either side of low tide. For photographing otters, having a long telephoto lens is very helpful, as is knowing how to use your camera in its quietest setting.
The best thing to do is to find a place to watch a good stretch of shoreline and wait. Look for three bumps in the water and the distinctive splash from the tail as they dive. Always spend some time observing the otter before attempting to approach, to be sure of the situation.
Lone otters can be easier to approach, whereas family groups made up of a mother and her offspring require a much greater level of care. Separating young from their mother can be fatal for them if they're still totally dependent.
If you need to move location, do so when the otter has dived below the surface of the water. They're usually down for about 20 seconds, so count to 15 and then spend the next few seconds crouching down or ensuring you're balanced. It can be very slippery around the shores.
As with most wildlife subjects, it's best to try to get low down, ideally at eye level with them, and this also helps prevent them from seeing you. Stay downwind, be quiet, and don't be tempted to get too close.
Remember that a meal for an otter might be a matter of life or death for them, so risking spooking them away from it for a photograph just isn't worthwhile.
Never block the path of an otter, such as waiting beside a stream they use to leave a loch, or disturb one that is trying to get some sleep ( please employ basic common sense and respect for such wildlife).
Top Tip: Finding and photographing otters can be a tricky business, so if you have no prior experience of photographing this species, it is best to hire a guide for a workshop to learn how to do it correctly.
Read more: How to Take Impacting Portraits of Wildlife
In conclusion
While Mull is obviously a great place to go for both otters and eagles, other subjects shouldn't be overlooked, and any photographic opportunities that arise should be enjoyed.
Common buzzards, for example, are indeed common but shouldn't be dismissed as "just a buzzard".
There may be opportunities for unique, or even award-winning images of these often-overlooked species!