Taking Your Camera on Expedition? Here's Some Crucial Advice
There are many places across the world just begging to be photographed. If you're going off the grid, perhaps into rainforests or other relatively remote areas, then taking a camera with you can provide unprecedented opportunities. But it's a nerve-racking thing to do; carrying expensive kit into unknown territory can make you a target. Not only that, but you run the risk of breaking kit due to environmental conditions and the general hardship of living out of a backpack.
I've been lucky enough to run a number of expeditions now over the years, and I have never had everything go perfectly. From having equipment impounded by customs officers, to watching my beloved aerial drone fly off into the distance and never return, I feel I have learnt a lot already. Here are some of my top tips for taking a camera to the extremes.

Dealing with Humidity
To quote goldilocks, the UK's weather is 'just right' for cameras. But expeditions are rarely to such moderate weather systems, and problems can arise from humidity, temperature and other forces of nature.
Make sure you pack a lot of silica gel bags. You can get reusable ones, but you need an oven to be able to heat them sufficiently. Cooking them on a camp fire will just burn them, not dry them out. You can buy big multipacks of silica from department stores (or online) and you should keep these in zip-lock bags, safe from any humid air that might want to creep in. Chuck a couple of bags into your cameras storage box each day, and you'll help to keep risks low.
When transporting your equipment around day to day, keep cameras in dry bags. These are completely sealable, waterproof bags that campers favour. Silica gel should, again, be put inside with your camera. Keep the camera assembled so you can pull it out and race into action without having to fumble with attaching lenses. This minimises risk of humidity damage, but also keeps you ready for action.
There is further advice on how to deal with tropical conditions in my article "Using Cameras In Tropical & Cold Environments".
Customs Regulations
You'd think that taking a camera overseas was a relatively simple thing. It's a harmless piece of equipment and countless people have them. However, some countries don't seem to agree with this, especially within the developing world. I prepare for months before an expedition, organising (to the best of my ability) excess baggage and necessary permissions for taking media equipment into a country. Make sure that you look at embassy websites, as well as travel advice websites, to find out if there are restrictions on cameras and video kit. You don't want to lose your gear at customs or be lumped with a heavy fine.
I believe the main worry, at least in South America, is that cameras are able to document evidence of things that governments prefer to turn a blind eye to. My experience shows that Asia is a lot more relaxed, but I wouldn't be surprised to see regulations in some countries.
Take Peru for an example. I spent 10 weeks there last summer, if you haven't read my previous article on the expedition, and I was faced with many problems. Months before my flight, I was desperately trying to make sense of the regulations around media equipment. There is so much conflicting information online (when you can actually find any information), and half of that is in Spanish. I had read of restrictions on the number of cameras, finding that you could only take one camera into the country. This was a serious problem: I was carrying with me 3 DSLRs, a GoPro, and a Bushnell camera trap.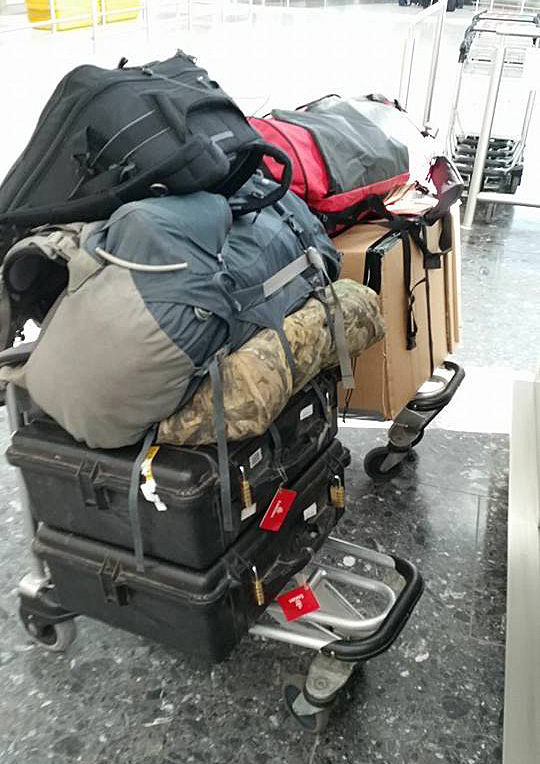 So, I got on the phone to the Peruvian embassy in the UK. I ended up on a phone call with a director of a department, as well as exchanging multiple emails, and was assured that it would be fine to take my cameras and drone through. Well, Whilst 33,000 feet in the air above Peruvian airspace preparing for landing, I was handed the customs declaration form. On the back it read: "YOU MAY IMPORT A MAXIMUM OF 2 CAMERAS". Ah.
I arrived, and headed to the declaration desk. I was carrying 6 bags, and with uniformed customs officials scanning everyone's bags I had no choice. Part of me hoped that the customs officials would be 'relaxed' in their approach to the law, but this is certainly not something to rely on. I declared my kit, and straight away my drone was impounded. This was a headache, and took 2 weeks and a lot of translators and lawyers to have released. Finally it did, only to have it fly away into the distance 6 weeks later. But the official took a liking to me, and waived through my entire collection of cameras and lenses, despite the laws stating otherwise.
Moral of the story? Check the regulations before you go. It is quite possible to lose your equipment forever to an unscrupulous official, especially if you are trying to sneak them through. Most likely you will be landed with a tax (whether this is a legitimate tax, it depends on the country) due to the risk of you importing and selling the kit on. It is true you can organise equipment carnets prior to travel, waiving any fees, but this is not always possible.
Insurance
Travel insurance is unlikely to cover your camera equipment, even if you have some sort of baggage cover. It is therefore of the upmost importance that you properly insure your equipment with its own dedicated insurance. Most insurers will have restrictions on location and types of activity that your kit is joining you on, so make sure you go into detail with your insurer about the cover you are purchasing.
Personally, I use Infocus Insurance in the UK. They cover me worldwide, up to a certain altitude, and allow for extreme 'activities', such as trekking through rainforests. Even so, they won't cover humidity damage or theft without visible evidence of a break-in. This is the case with all insurers I know of, so be prepared that there are some situations where the loss or damage to your kit will not be compensated.
I've had to make a claim before, and whilst the hit of insuring a lot of kit can be a shock, it is much worse when something breaks. Luckily my insurer was professional and dealt with the matter swiftly, allowing me to replace the equipment abroad. Make sure that you record and photograph all of the serial numbers on your equipment, as well as its condition, should any disputes arise. Without this information, you could run into problems.
It goes without saying that you should absolutely ensure you have the correct travel and medical insurance before going overseas. If something happens and you aren't covered, you'll be landed with some extremely expensive bills. If you're in remote areas and require helicopter evacuation and transport back home, you could be looking at costs running into the hundreds of thousands.
Transporting Kit
I have recommended this before, in a previous article, but Pelican cases are the best option for safely transporting kit. They are pretty much bomb-proof, and will keep your gear totally secure and safe. I happily travel with my equipment in the hold of a plane, strapped onto the roof of taxis or on the back of mopeds, knowing that Pelican is looking after it.
They aren't practical to carry around a rainforest, for example, but they are good for traversing long distances. You can then transfer your kit into dry bags and put it in your backpack, leaving your Pelican case at base camp for safety. As mentioned above, make sure you keep silica gel packs in the box at all times. It provides a safe haven for your camera after a day's work.
Final Advice
To be honest, one could write a book about taking equipment on expedition, let alone an article. But these are the few things I think are most important, in relation to your equipment, to think about before departing on your travels.
My final piece of advice is to bring sensor cleaners with you. You won't be able to have your sensor professionally cleaned when on expedition, and sensor spots can ruin all of your images. Plus, they're easily picked up in tough conditions. Read our article "How to Clean Your Camera's Sensor" for advice on what you need and, of course, how to do it.
Further Reading: "How to Safely Carry Your Cameras on Planes"