How to Safely Carry Your Cameras on Planes
Taking your camera abroad? It can be a daunting task, especially if you are travelling with a reasonable amount of equipment. Nobody wants to check their cameras into the hold of a plane, but the restrictions on hand luggage weight in the cabin can be difficult to work with. These are our top tips for taking your cameras overseas on flights.
Taking Cameras as Hand Luggage
It's definitely the safest option for your cameras. They fly with you, they don't get thrown around by airport staff, and they don't get lost. However, hand luggage limits are often under 10 kg. This can be very problematic for a photographer carrying a DSLR with a number of lenses. Your camera bag will alone probably weigh a couple of kilograms.

Luckily, it's perfectly acceptable for you to carry things on your person, and with a suitable jacket you can pack in a lot of equipment. This is something I always do when I'm travelling, and it can save you a pretty penny.
Utility jackets (or fishing jackets) have plenty of pockets that you can use to store small lenses, hard drives, filters, and even an entire DSLR camera.
You're not breaking any rules, but you can offload extra weight into your jacket and keep your camera bag within the restrictions. I recommend you buy a jacket like this, which has plenty of space and support for such a task.
As for your camera bag, we recommend the Think Tank Photo Airport Accelerator or the MindShift Gear FirstLight series. They both adhere to international flight size restrictions, and you can read our reviews on the respective links. They're relatively lightweight too for what they are, bringing the added bonus of carrying large telephoto lenses in your hand luggage.
If your hand luggage is still a couple of kilograms over the limit, then there are ways to get away with it. Wearing your bag with only one strap implies that it is light, and keeping it out of sight of the check-in staff reduces the chances of them asking to weigh it. That could be at your feet when checking in, or left on the trolley. I've managed to get away with a couple of extra kilos of weight on every flight I've taken so far this way. Sometimes my bag has been weighed, but having a smile and being friendly can encourage staff to be lenient.
Taking Cameras in the Hold
Gulp. Sometimes you have no choice though, and taking your cameras in the hold is the only option. This is true if you are taking a lot of equipment with you, such as tripods, numerous camera bodies, lenses and accessories. This is often the case for me when I am travelling abroad as I tend to take a lot of equipment for filming purposes. But I've done it multiple times now and my kit makes it through in one piece every time. Well… maybe more than one piece.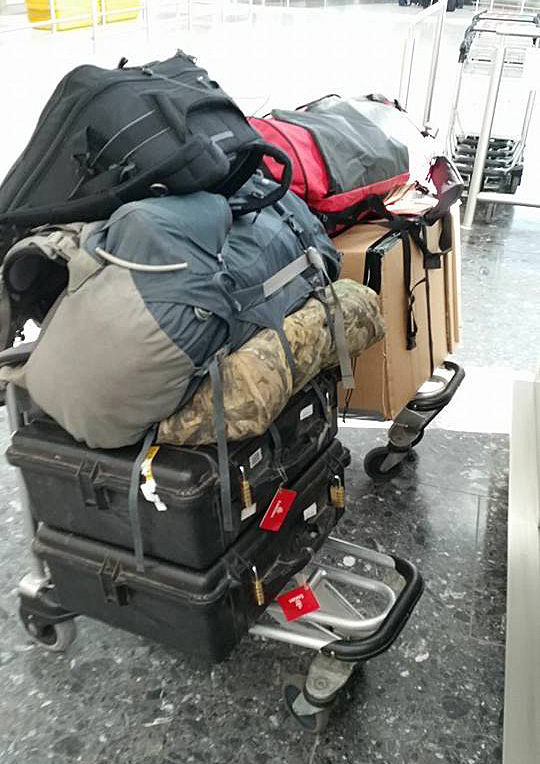 As you can see, I travel with a little bit more than your usual passenger. This ends up costing me some reasonable excess baggage fees, which are a headache to work out, but most importantly I make sure the kit is safe. Those big black boxes you see at the bottom of the trolley contain all of the cameras and lenses. They're padlocked shut and are pretty much bomb proof.
If you're taking your cameras in the hold, then I strongly recommend you use Pelican Cases. They are the 'industry standard' for transporting camera equipment, favourited by television companies and all jet-setting media persons. They are waterproof, chemical proof, shock proof and pretty much any kind of proof you can think of. They even have a valve to equalise the pressure in the hold. They aren't the cheapest of items, but they will last you a lifetime and you can rest assured your equipment will remain unharmed.
One of the boxes you see in the image is carrying two DSLR cameras, 2 smaller lenses and a Nikkor 200-400mm f/4 telephoto lens. That is the Pelican 1600 case and will cost you about £180 with the foam inserts.
Final Tips
You're just about ready to go now, but there's a few final things you need to consider. Firstly, you must make sure your camera equipment is insured for losses, damage or theft when in transit and abroad. Not all home insurance covers you worldwide, and you'll probably find it difficult to make a successful claim if you are arguably on business as a photographer. Instead, look at getting insurance specifically for your cameras. I use a  company in the UK: Infocus Insurance.
If you're travelling to a hot or cold environment, make sure you've read our advice on taking your cameras to extreme areas.
Finally, have a read of our travel checklist for taking your cameras abroad. Happy flighting!