Review: MindShift Gear FirstLight Camera Bag
MindShift Gear are the sister company of Think Tank Photo, a popular camera bag manufacturer producing bags 'designed by photographers, for photographers'. We've reviewed one of MindShift Gear's bags before, as well as one from Think Tank Photo. We were impressed by both offerings, and since then there have been a number of new bags released by the two companies.
When I heard that a new bag targeted to outdoor photographers was on the scene, well I knew we needed to try it out. MindShift Gear's FirstLight 40L camera bag comes with the promise of being 'built for extended days of travel' and use during a 'long day on the trail'. I've tried quite a few camera bags now over the years, but none of them have quite earned the title of the ultimate bag for use outdoors. Personally, I'm looking for a bag that can offer me as much support and comfort as a dedicated hiking bag. I'm sure many of you can relate to lugging a heavy selection of kit around, only to find that you quickly become uncomfortable, thanks to a poorly adapted camera bag.
Storage Space
The FirstLight series come in three capacities: 40 litres, 30 litres, and 20 litres. We were testing out the 40-litre option, providing maximum storage space within; it certainly didn't disappoint. The bag even fits a 600mm f/4 lens detached, or a 500mm f/4 lens attached to the camera.
For me, I had the following in the main compartment:
Nikon D4 with Nikkor 200-400mm f/4 VR II lens attached
Nikon D810
Nikon 80-200mm f/2.8 lens
Nikon 24-70mm f/2.8 lens
Nikon SB-900 flashgun
4 hard drives
6 batteries
I should also note that I think it could be packed even more efficiently than I managed. Plus, you could easily substitute out the hard drives for another lens. There are also 3 large zip pockets on the inside of the bag in the lid for storing memory cards, batteries and other items.
The fact that I can keep a camera attached to my telephoto lens is brilliant. This allows me to be 'ready to go' at any moment, whereas in the past I would have to put together the camera and lens; by then the animal I was trying to photograph could've easily run off.
As well as the main compartment, there are another 4 compartments to this bag, although they are fairly small. One is for a hydration water bladder on the side of the bag. Another has enough space for you to store your laptop (fitting one up to 17″ in size). The final two compartments are located on the front and the top of the bag. They are fairly small (lacking in much depth), where you can store other personal items.
Despite the huge amount of space, the bag still fits within the restrictions put on hand luggage on most aeroplanes. That means that you can safely take your bag onboard with you (assuming it is the correct weight).
Support and Comfort
The first thing I noticed about MindShift Gear's FirstLight bag was the amount of padding on the straps. It certainly looks like the designers meant business when they were designing a bag for the outdoors. This ensures complete comfort over long durations – something that is very important to an outdoor photographer.
One thing that was missing on a lot of bags I've used is some of the adjustment straps that you would expect on a hiking backpack. To my surprise, this bag had them all. Of course, you have adjustments for the shoulder strap and the waist strap, but you also can adjust the space between the bag itself and the tops of the shoulder straps. This means that you can alter the weight distribution of the bag, allowing you to adjust for different inclinations of terrain. Bags that don't make this adjustment possible tend to feel like they are pulling at your back muscles, forcing you to lean forwards and stopping you straightening your back.
There is also the ability to adjust the torso of the back, allowing a proper fit for small to large body types. There is padding all the way down the back of the bag too, keeping it really comfortable.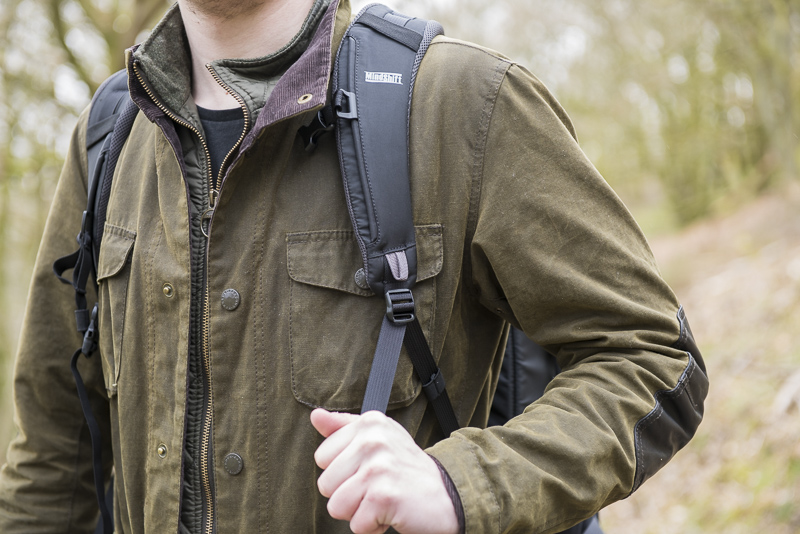 During my test of the bag in the Lake District in the north of England, the total weight of the bag and my equipment was 14 kilograms. Despite this, I was in no discomfort at all during the day thanks to the support offered by the FirstLight. That's pretty impressive for a camera bag.
Practicality Outdoors
Despite the cushioning support and straps, this is an extremely streamlined bag. In fact, apart from the actually shoulder straps and waistband, there are no big dangling straps. Everything is extremely neat and it just looks the part.
The bag is waterproof, including the zips, meaning you can rest assured that your gear is going to stay safe and dry inside. If you're hit by a real downpour (like I was during testing), you can cover the bag in the supplied rain cover. It all folds up into a small pouch that slips into any of the zip pockets.
However, the cover was quite fiddly to attach – it's much bigger than the bag itself, with a drawstring used to tighten it up. I imagine this is to allow the covering of a tripod too, but it makes things a little fiddly. As the material bunches up, you need to pull it downwards to continue tightening the cover. It took me about a minute to actually apply the cover safely, which I was surprised by.
Just like any hiking backpack, there are two elastic pouches on the sides (with securing buckles, too) for water bottles. There is even a dedicated pouch to keep a water bladder, should you wish to carry one.
Carrying a Tripod
There are a couple of choices for mounting your tripod onto the bag. You can use the straps on the side to attach a medium-sized tripod. Or, you can undo the velcro seals on the top and bottom of the bag to reveal two more straps to attach a tripod onto the front of the bag.
There is even a small pocket that folds out to support the legs and stop your tripod from dropping down. That is an invaluable feature – I hate it when tripods start to slip and require tightening. However, note that I said 'small' – if you have a tripod with large feet I doubt you could fit them all in the pouch, although holding one leg in the pouch should be enough to keep it upright.
What's Missing?
I'm still yet to find the 'perfect bag' for me, although the FirstLight comes extremely close. I think I am being a little harsh here, however, as all that needs to be added are some more, big straps and buckles across the front of the bag. I want to be able to strap a big video tripod onto it, something that isn't possible with the straps there at the moment. They are perfectly adequate for carrying a standard photography tripod, but for a heavier video system it wouldn't be possible.
But that's the only thing that is missing in my opinion, and for most photographers it isn't even a consideration.
Conclusion
MindShift Gear are definitely onto a winner for an outdoor photographer's bag. If you've been wondering about which camera bag to buy for your adventures, then this is it. At $330 USD, this bag is well worth it. I really mean that – for the design and effort that has clearly gone into this model, you won't regret it. This is a bag that is going to last you a long time.
My final thought? This is the best camera bag I've ever owned. I can't fault it.
Buying Options
You can buy the MindShift Gear FirstLight series from the following trusted retailers:
Summary
Reviewer
Review Date
Reviewed Item
MindShift Gear FirstLight
Author Rating