Nature Photography Guide to Cairngorms National Park in Scotland
The Cairngorms is a place I feel very fortunate to call home, having lived in the area now for over forty years. Known in Gaelic as 'Am Monadh Ruadh,' meaning 'the red rounded hills,' the Cairngorms was established as Scotland's second National Park in September 2003 and is a great location for landscape and wildlife photography.
Within the Scottish Highlands, the Cairngorms National Park forms a huge area and is the UK's largest National Park, covering 4,528 sq km (1748 sq miles). It is twice the size of the Lake District National Park and bigger than the whole of Luxemburg, to give you some scale of the landmass covered.

The park covers parts of Aberdeenshire, Moray, Highland, Angus and Perth and Kinross, with Inverness being the nearest large city to the boundary of the park.
This nature photography guide to the Cairngorms will list some of the very diverse landscapes, habitats, and ecosystems that are within the area, and will illustrate why the park is so special. It will come as no surprise that it has become one of the most popular places to visit in the UK for many fellow photographers, as well as walkers, climbers, cyclists, bird watchers and many thousands of everyday tourists.
Landscapes in the Cairngorms
1. Cairngorm mountains
As the name suggests, the Cairngorm mountains form an integral part of the park's uniqueness. The Cairngorm plateau is the highest and most extensive range of snow-covered mountain landscape in the UK. Within the Cairngorms mountain range are four of the five highest mountains in Britain:
Ben Macdui 4,295ft (1,309m)
Braeriach 4,252ft (1,296m)
Cairn Toul 4,236ft (1,291m)
Sgor an Lochain 4,127ft (1,258m)
Cairn Gorm at 4,081ft (1,244m) (the sixth highest) is also worth mentioning, as it is the most accessible mountain to reach and is within the ski area.
When photographing in any of these higher mountain areas, it is best to plan ahead as you need to factor in your potential walk in and out, and of course keep a close eye on what the weather and light will be like.
You could be lucky and have everything come together on your first visit, but be prepared for repeat trips and to learn from your previous visits.
If your first outing proves unsuccessful image-wise because of the ever-changing mountain weather, use your time to seek out vantage points that make for good compositions in your picture. This way, when you return, you can save valuable picture-taking time by going straight to these already known points.
This rule also applies to any landscape photography outing to any of the other locations I mention below. When it comes to landscape and wildlife photography, persistence is often the key to success.
Read more: 7 Tips for Photographing Mountains
2. Moorlands
There are large expanses of heather moorland throughout all areas of the region. Many of these are made up of shooting estates where the heather moorland is managed for grouse shooting purposes. It's a controversial and emotive subject and divides many an opinion.
My own take is that there are good and bad estates. Some are very intensive with their management practices, and understandably, this is seen as less acceptable – and rightly so.
Thankfully, however, not all estates are all like that, and the ones with a more balanced approach provide valuable habitat for many species other than red grouse.
From mid-august, for a month to six weeks, is when the heather is in full purple bloom, and it provides one of the area's most magnificent visual treats.
Read more: Wildlife Photography Guide to Summer in the Scottish Highlands
3. Lochs in the Cairngorms
Once you drop down from the high mountains you can find around 60 lochs and numerous lochans (too many to mention). Even on the higher ground, some large scenic lochs can still be found, like Loch Avon.
Notable lochs to mention for a photography visit are Loch an Eilein (particularly in autumn), Loch Morlich, for which I would say winter is peak time for it, Loch Garten, Loch Insh, and a little hidden gem called Uath Lochans near Glen Feshie.
These are all on the western side of the park, but Loch Muick on the east side is also well worth visiting.
Like with any loch or lake photography, getting some calm conditions is key and so early morning or late evening often provides a better chance for these favoured conditions. Of course, that's when you would want to be there anyhow, for the optimum light at the golden hours!
Read more: 4 Steps to Shoot Beautiful Lakes at Sunrise
4. Rivers in the Cairngorms
There are hundreds of miles of river meandering through the Cairngorms with three mighty ones being:
The River Dee (87 miles)
The River Don (81 miles)
The River Spey (109 miles)
Read more: How to Use Water in Your Landscape Photos
5. Wetlands
There is also a mosaic of various wetlands and marshland areas scattered throughout the park, providing valuable habitat to many waders and water invertebrates.
Insh Marshes, the UK's largest natural functioning floodplain, and Muir of Dinnet, with its varied wetlands habitats, are the two globally recognised sites, and are both well worth a visit, particularly for waterfowl enthusiasts.
6. Woodlands
Within the park, more than half the surviving Caledonian forest remnants can be found. This boreal forest provides a home to many rare species including crested tits, red squirrels, Scottish crossbill, pine martens, capercaillie, and well as an array of rare insects and plants.
A wide range of native trees can also be seen and photographed throughout the whole of the area, comprising of Scots pine, Birch, Aspen, Rowan, Juniper and Oak to name just a few.
Bog woodlands can also be found which are ideal habitats for dragonflies, amphibians, and mosses.
Read more: How to Photograph Epic Wide-Angle Shots of Trees
How to photograph forests in the Cairngorms
These amazing forests provide so many photo opportunities. I have spent decades photographing in these forests and still feel like I have only scratched the surface – such is the depth of material within the old forests.
Old, gnarled granny pines with their rich, red hue colour and twisted shapes and forms are one such special feature to pick out in the woods.
Use a long-ish lens, 200mm or even up to 500mm, and you will pick out the unique characters of these wonderful old giants. Or alternatively, go to the opposite end of the scale with your lens choice and use something like a 16mm-20mm and position yourself at the foot of the tree looking up the trunk, giving you a totally different perspective of the tree's personality.
Watch out for any forecasted misty conditions; if you can get some low-lying mist amongst the pines, you will have hit the jackpot for those extra atmospheric moody shots that we all strive for.
One other technique to remember for your woodland and tree pictures is to use choose a slow shutter speed of around 1/15th sec and try some intentional in-camera motion shots.
Read more: An Introduction to Intentional Camera Movement
My own preference is to use a lens like a 70-200mm handheld and, bracing the camera tightly against your head, simply move your head and shoulders up and down to create the movement, firing rapid bursts of shots at the same time.
Preview your shots immediately and you will be surprised how many variations of in-camera movement the sequence will show. Undoubtedly, some will be very intriguing, while others will be instant 'deletes' – that's all part of the fun of trying this technique.
How quickly or slowly you move the camera will of course dictate how the images will look, so it's worth trying different levels of how fast or slowly you move the camera and lens up and down.
Don't worry if you get a slight sideways motion, I think this only adds a nice element to the feel of the picture.
Read more: An Introduction to Intentional Camera Movement
Wildlife photography in the Cairngorms
With such an array of habitats, a wide variety of species can be found throughout the park. Many of course can be seen and found elsewhere, but there are a few specialists that are almost unique to the Cairngorms.
1. Crested tit
Most notable would be the crested tit. This spritely little bird can be seen mainly in the old Caledonian woods, as well as in a few mature scots pine forests on the west side of the park.
They can be found in a few other areas north and east of Inverness, but the forests around the Cairngorms hold the vast majority of the population of crested tits.
From spring through to autumn they can be harder to see, but come the winter months when there is no insect life around, you can entice them into bird feeders.
I have my own established feeding station in an area of old Caledonian forest which is hugely popular with visiting photographers over the winter. If you are visiting from afar for a limited period, it's best to book onto a site like this as this way you can get straight into taking images rather than spend valuable time trying to find this sometimes-elusive little bird.
2. Capercaillie
Capercaillie, the largest member of the grouse family, can also be found in the forests. Sadly, this fantastic bird is now in a precarious state population-wise, with only an estimated few hundred birds remaining.
Such is their perilous situation, it is best to leave them well alone, whether that would be for photography or bird-watching reasons. It is against the law anyhow to go near them at sensitive times of the year, like when they are breeding and nesting.
3. Osprey
Ospreys have a long association with the Cairngorms, as it was at Loch Garten that they made their comeback back in the 1950s. This summer visitor is always eagerly awaited and there is now a healthy population of pairs breeding in the park.
Photographing ospreys close to a nest will require you to have a schedule 1 licence. However, the most exciting way to photograph them is when they dive to catch their fish prey.
In and around Aviemore, at the heart of the park, there are two facilities where you can book to try and capture this spectacular drama.
4. Ptarmigan
On the higher tops above 3000ft, of which there are many within the park, you can find Ptarmigan. It will involve a bit of effort on your part to reach these higher hills, but it's well worth it if you can find and have some time with these hardy birds. Of course, winter is the most favoured season to photograph them when they are in their white plumage.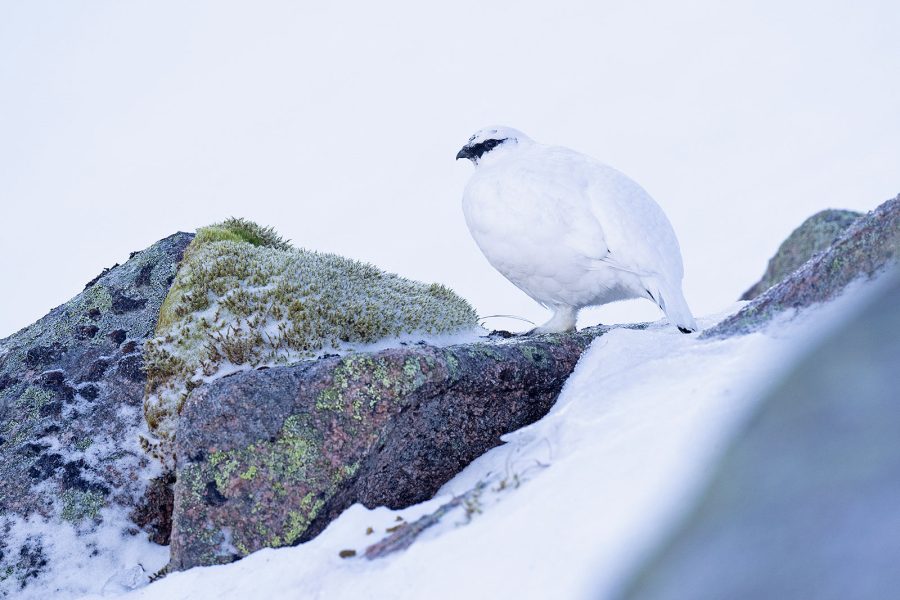 I understand why winter is the most sought-after season to photograph the ptarmigan, but I would urge you not to dismiss them at any of the other seasons either, as they look impressive at any time, and it's nice to document the changes they incur throughout the year.
With the long walk in and out, it's always worth keeping a close eye on the weather when going to ptarmigan locations. Particularly so in winter, but even in summer the weather in the hills can be notoriously unpredictable.
Limit the amount of equipment you take as well; stick with a camera and your longest lens (ideally around 500mm) and of course your lunch! It will make for a far more enjoyable day if you are not weighed down with too much equipment that you don't need.
5. Mountain hare
Although found in other parts of Scotland and in the Peak District in England, the mountain hare is another mammal that is well associated with the Cairngorms and is often a sought-after species for visiting photographers.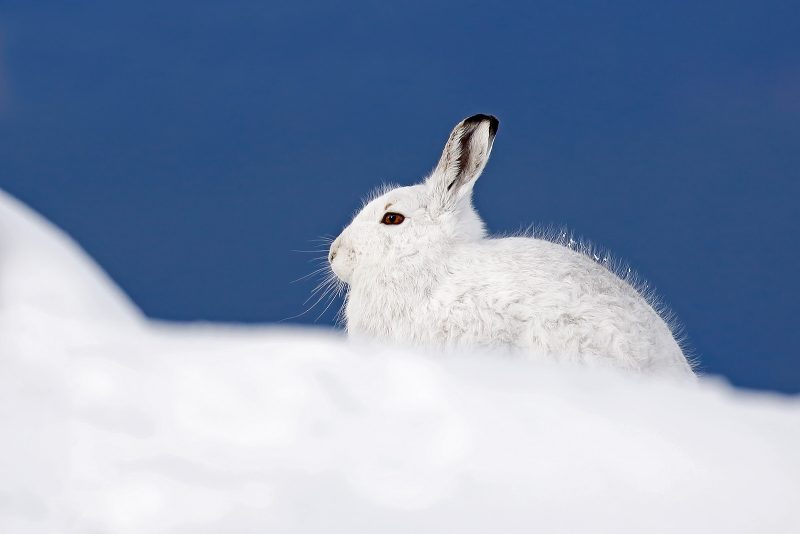 Like the ptarmigan, though perhaps not quite so far, you will have to walk a bit to reach their favoured habitats. Again, winter is when they are in their white winter coats, and so is the peak time for photography, but I would repeat what I said about the ptarmigan; don't overlook the hares either during other seasons.
They are such an appealing animal and work for so many types of images – their faces are particularly suited for portraits. Come late February and early March, watch out for some boxing behaviour and action shots.
6. Red squirrels
With large areas of native woodland, particularly pine forest, the Cairngorms is an ideal habitat for red squirrels. A walk through these woodlands and you will often see the tell-tale sign of their presence, with chewed pinecones scattered around the forest floor. You might even catch a glimpse of one as it scurries about the forest.
Seeing a red squirrel and getting decent photo opportunities however are a different matter.
I have learned the hard way that fleeting sightings rarely result in worthwhile images. Like the crested tits, I have a hide and a feeding station set up specifically for red squirrels. After years of regular feeding, it is now part of the squirrel's daily routine to visit the hide location for a welcome snack.
Such is the set-up that the squirrels make their way around various trees and perches so you can achieve totally natural pictures as they go about their business. Again, such hides offer you all-year-round opportunities to photograph this illusive little mammal in a more comprehensive way; certainly more than what a chance encounter could provide.
7. Red deer
Red deer are one of my favourite animals to spend time with. On the west side of the park, they are not nearly as common as they used to be due to overzealous culls by some rewilding estates. However, there are a few locations like Alvie estate where you can go and photograph these elegant animals over the winter months.
If you are lucky enough to time your visit with some falling snow and you get the deer standing amongst the pines – there is no better sight.
You can use a variety of lenses; a 70-200mm is a popular choice, and expect that in some cases, you may want to show more of the surroundings. If you want to single out a single or a couple of individuals from the herd, you are better off with a lens of around 500mm and keep your f/stop nice and wide (f/4 or f/5.6) to keep the background nicely diffused.
Read more: Photographing a Species In-depth
In conclusion
As I mentioned, I am lucky enough to live within the park, and having these wild places and their inhabitants on my doorstep is something I certainly don't take for granted. Fortunately, if you are visiting from further away there is no shortage of places to stay in and around the park.
Aviemore is a fantastic central place to base yourself, with a wide variety of places to stay, from hotels, B&Bs, self-catering establishments, hostels, campsites, and plenty of restaurants and pubs close by to cater for your food and drink requirements.
Best of all, you will have the old Caledonian forests and the Lochs (like Loch an Eilein and Loch Morlich) just a short distance away. And of course, the Cairngorm mountains that loom large and look down on Aviemore from just a few short miles away.
I am sure many of you will already be big fans of this location and will have visited many times before and will continue to do so; such is the never-ending draw and appeal of the Cairngorms.
For those of you who haven't, I would put it right at the top of your destinations in the UK to visit next and get used to visiting again and again – not that I am biased!