10 Best Locations for Landscape Photography in the Lake District
There are not too many places in the world where you can discover a combination of breathtaking lakes, picturesque valleys, lush woodland, dramatic waterfalls, pretty tarns, soaring mountains, and even coastline – all neatly compressed into just one region. However, the Lake District, in North West England, is home to all of these things and consequently Lake District photography hotspots are popular.
Fondly known as the 'Lakes' or 'Lakeland', The Lake District is England's largest national park and, unsurprisingly, it became a designated UNESCO World Heritage Site in 2017. This mountainous region contains England's highest mountain – in fact, all land in England higher than 3,000ft (914m) above sea level can be found within the Lake District's boundaries. The park is also home to England's deepest and largest natural lakes: Wastwater and Windermere, respectively.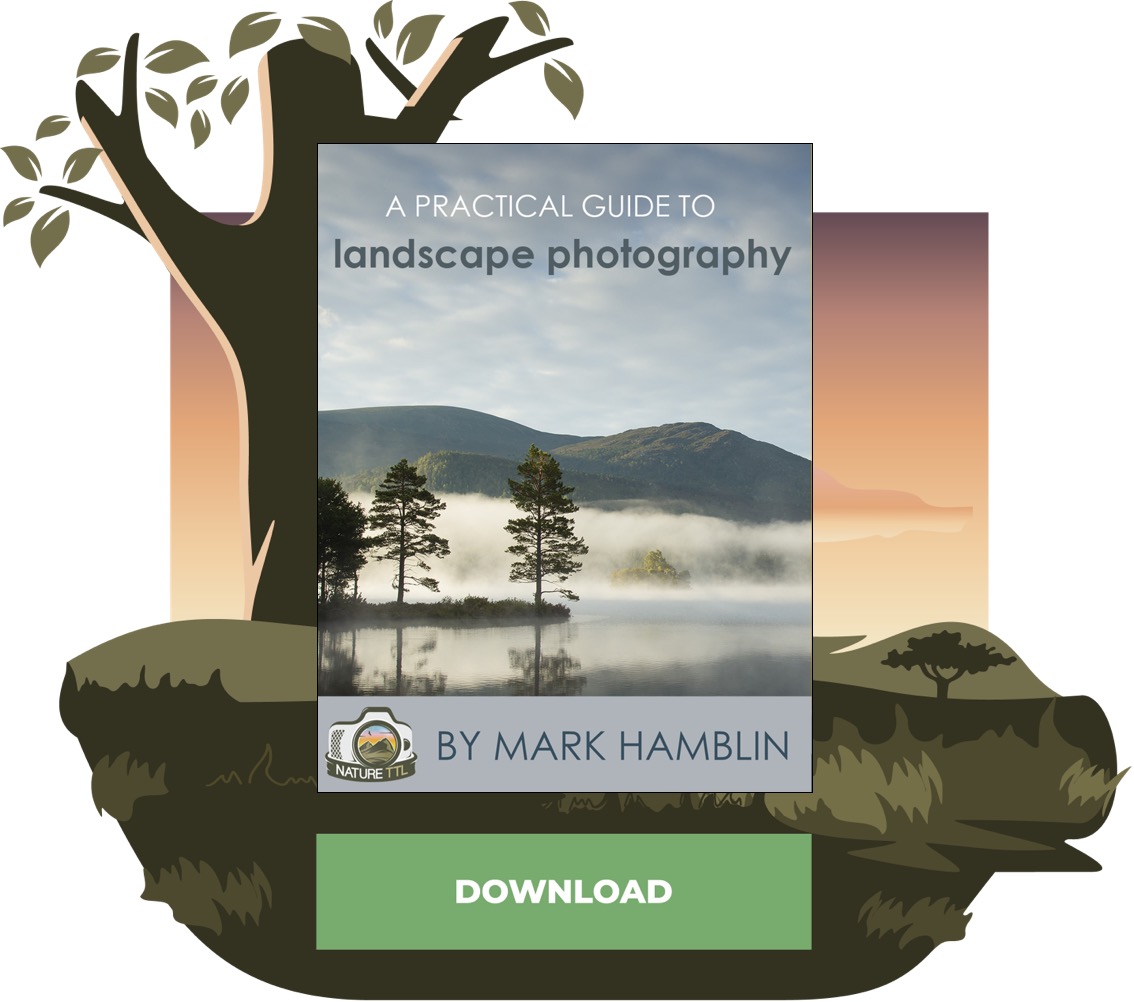 The Lakes outstanding natural beauty has inspired artists, writers, and poets for centuries, including William Wordsworth and Beatrix Potter. It is a photographer's paradise and home to so many iconic viewpoints that you could visit time and again, and still only scratch the surface of its undoubted picture potential.
The Lake District is photogenic throughout the seasons but, in the summer months, the number of tourists can make roads and locations busy. While, it would be impossible to produce an exhaustive guide to this area without writing a book, I will instead guide you to a handful of its must-visit hotspots.
1. Derwentwater
Let's begin with one of Cumbria's most popular Lakes: Derwentwater. Located close to Keswick (a lovely town and a great place to base yourself while you explore the area), the east shore of Derwentwater is full of picture potential.
The boat landings close to the town are home to the 'classic' Lake District view.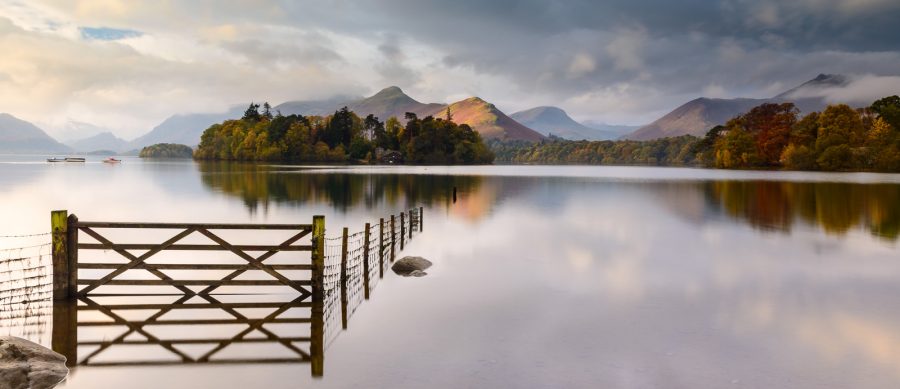 There are photogenic wooden launches that you can use as foreground interest, and attractive rowing boats grounded on the shore (during high season). Cat Bells mountain makes an impressive backdrop in wide-angle views.
Meanwhile, a short walk away at Crow Park, is a wooden gate and wire fence that provides a great subject when partly submerged by high water. Walk to Friars Crag too and explore the views south to the jaws of Borrowdale. When you are shooting lakeside, the best conditions are typically still, cool, misty mornings and Derwentwater is a great morning location throughout the year.
2. Ashness Launch
When you visit the Lake District, you surely have to return with a classic shot of one of the lake's many jetties? These rustic looking wooded launches are hugely photogenic. While by no means an original viewpoint, they shoot particularly well when you stand centrally on the launch and look down the structure's length so that the jetty acts as a compelling lead-in line to the view beyond.
Derwentwater is a large lake and you will find a number of jetties dotted along its shores. The best known is Ashness Launch, near Barrow Bay along the B5289. While this is a popular and well-known viewpoint, it is a good sunset location and it can be a wonderfully peaceful spot.
Calm conditions will produce stunning, mirror-like conditions. There is parking close by – just a short drive up the little road opposite the launch. And if you continue to follow this road, it leads to another photogenic spot, Ashness Bridge, which is also well worth visiting with your camera.
3. Latrigg
One of the best elevated viewpoints in the Lake District is from Latrigg, which overlooks Keswick and Derwentwater. This a big vista and a great spot to practise capturing a stitched panoramic – first get your tripod and camera level, and then take a sequence of overlapping vertical shots that you can later merge together in Lightroom or Photoshop.
For somewhere offering such a high, far-reaching view, it is surprisingly accessible as you can drive up to Gale Road car park, which then leaves an easy 20-min walk along a good path to the best viewpoints. Latrigg is a great option when the lake in choked in mist and you wish to quickly access an elevated vantage point to photograph an inversion.
4. Buttermere
Buttermere is arguably one of the very best Lakes to visit with your camera. Following the B5289 from Borrowdale, take the Honiston Pass (which is a spectacular drive). Once you reach Buttermere, the potential for great landscapes will be immediately obvious.
At the head of the lake, you can capture stunning images of the iconic shoreline pine trees, but ideally shoot them in perfectly still conditions when there are mirror-like reflections.
At the foot of the lake, close to the village, are great lakeside views and the pebbly shoreline is home to exposed, gnarly roots. There is also a shapely lone tree on the shore here, which is understandably popular among photographers as it provides a great anchor in a wide-angle composition.
There is a large car park close to the Fish Inn, and Syke Farm Tea Room is a nice spot to stop for a cuppa and a slice of cake. If you drive a little further you will reach Crummock Water, which also offers lots of interesting shoreline views.
5. Grasmere
Grasmere is another classic beauty spot. One of the best places to park is at White Moss, just off the A591. From here you can explore both Rydal and Grasmere, with Rydal Cave, Loughrigg Fell, Loughrigg Terrace and shoreline views of Grasmere all within walking distance.
The surrounding woodland is colourful in spring, when large areas are carpeted with bluebells.
If you don't fancy climbing up to Loughrigg to shoot the 'big' view, explore the southern end of Grasmere shoreline instead, where there is a weir and good views stretching over the lake toward the Daffodil Hotel.
Unsurprisingly, the best shots will be when it is still and there is mist hanging atmospherically over the water. Mist and reflections are undoubtedly the Holy Grail of conditions for most landscape photographers who visit the lakes, so keep a close eye on the local forecast and visit when the forecast looks promising.
6. Kelly Hall Tarn
A few miles from Coniston, close to the hamlet of Torver, is the small – but pretty – Kelly Hall Tarn. Take the A5084 and park in the layby opposite the Lakeland Land Rover garage – from here, it is a 2-minute walk.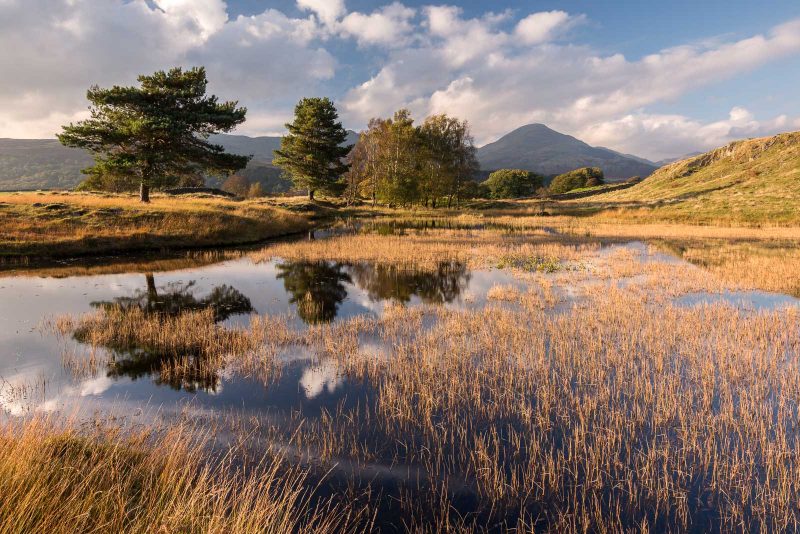 The views across the water toward Coniston Old Man are lovely and there are a couple of shapely conifer trees along the shore. Being small and quite sheltered, this is a lovely little spot to visit on blowy days when larger bodies of water are rippled. This hidden gem is particularly photogenic during autumn or on a crisp, frosty morning.
7. Coniston
The village of Coniston is a great spot to stop for a cuppa, or maybe a pub lunch. Close by is Coniston Water and Fells, and there are a couple of nice jetties to photograph on the eastern shore: Pakamoor and Monk Coniston. The latter has a distinctive kink halfway along, which makes for a different composition to the classic straight launches.
There is a little pay and display car park just off the B5285 at Monk Coniston; the jetty is only a short walk from here. Visit in the evening when it is less likely for people or fishermen to be standing on the jetty, and skies are more prone to being interesting or colourful.
8. Tarn Hows
Follow the B5285 from Coniston and then signs to Tarn Hows – home to one of the Lake's best-loved viewpoints.
Once owned by Beatrix Potter, it will take you the best part of an hour to walk around the tarn – but arguably the best viewpoint is from near the Scott Memorial (east side), which provides a high, far reaching view of the tarn in context with its mountainous surroundings.
The view looks best in the autumn, when the leaves and bracken have turned warm and golden. Meanwhile, a stormy, rain-laden sky will add drama and mood to your shots.
9. Ullswater
While there is plenty to explore in the Penrith and eastern areas of the lakes, Ullswater is the jewel in the crown. Being approx. 9-miles in length, it is the second largest lake in the Lake District.
Hallinn Fell, Gowbarrow Fell, Silver Crag, and Place Fell provide elevated views of the area, but most photographers will want to stay close to the water's edge to shoot reflections and foreground.
One of this lake's most photographed views is the Duke of Portland boathouse. It faces east, so it is a good spot for an early morning visit. There is a small layby opposite the boathouse where you can park.
There is more to explore toward Glenridding, with the south shore quite accessible in places and home to some good photo opportunities. Look for roadside parking and laybys along the A592 and just park up and explore.
St Patrick's boat landing, Glencoyne Bay, and Mossdale Bay are particularly good spots – with rocky outcrops, roots, stumps, and trees to weave into compositions.
The most iconic Ullswater image is of the jetties at Glenridding, but they are located in the grounds of the inn on the Lake Hotel. So, if you want to shoot them, you'll just have to treat yourself to a night or two at this luxury 4-star hotel!
10. Blea Tarn
The Langdales are incredibly picturesque. Great Langdale is a long, U-shaped glacial valley with steep sides and pretty patchwork fields. The Langdale Pikes – a group of peaks on the northern side of the dale – feature in many of the best views of the area. Side Pike offers excellent and relatively accessible views via a 10-15 minute steep climb.
You can park near the cattle grid on the road between Blea Tarn and Great Langdale, although parking is limited to just a few cars. Early morning typically provides the best light here.
Blea Tarn itself is an iconic and must-visit viewpoint. On calm, still days, this small tarn – situated between Little and Great Langdale – offers great, reflected views toward Langdale Pikes. Large rocks dotted along the shoreline offer obvious foreground interest and you will also find a fence sloping into the water.
There is a National Trust car park opposite, but the road to the tarn can be treacherous in wintry conditions. Elterwater Tarn and the River Brathay are also worth exploring with your camera while you are in this area of the Lakes.
In conclusion
I hope my top ten locations for landscape photography in the Lake District will prove a great starting point for when you visit, but this article barely scratches the surface.
I've not even included Wastwater – one of the Lake's best-loved views. Nor have I highlighted any of the area's stunning waterfalls, like Stockghyll Force or Aira Force. There is just so much to shoot and enjoy.
It is no surprise that the Lakes attracts more visitors than any other National Park in the UK, with over 15 million annual visitors. Therefore, when possible, avoid holidays and weekends – and be aware that many of the car parks are pay and display.
The National Trust own vast chunks of the area, so members will benefit from free parking at many beauty spots. Carry a good, versatile range of focal lengths, a sturdy tripod, and essential filters too. Most importantly, dress for the conditions and terrain, and wear good footwear and water and wind-proof clothing.
Only experienced walkers should venture too far and, for safety, always be aware of what the weather is doing. You will quickly fall in love with The Lake District – one visit just won't be enough.