What's the Best Monopod for Wildlife Photography in 2023?
One tool that can considerably enhance your wildlife photo quality is a monopod, and this particular piece of equipment often goes overlooked. The best monopod for wildlife photography will allow you to remain mobile, but also have some stability whilst framing compositions and reduce camera shake.
As a wildlife photographer, having the right camera gear is crucial for capturing stunning, once-in-a-lifetime moments in the wild. And while it's rarely the case that the tool makes the photographer, it certainly doesn't hurt to have top-of-the-line gear.

In this buying guide, we examine the best monopods available for professionals or enthusiastic amateurs, explore their features, and show you how to use them in the best ways.
Our primary goal? Provide you with all the information you need to make an informed decision when purchasing the best monopod for wildlife photography excursions.
What is a Monopod?
A monopod is a single-legged camera support that lets you stabilize your shots while still maintaining mobility and flexibility. Unlike a tripod, which has three legs and is meant to be stationary, a monopod can be easily moved and adjusted to follow the movement of your subject.
This makes it an ideal choice for wildlife photography, where you may need to quickly and quietly track a moving animal.
3 Key Features of a Monopod for Wildlife Photography
Here are three key features to consider when purchasing a monopod for wildlife photography.
1. Stability and Durability
The first and probably most important feature is the monopod's stability and durability. A monopod with a sturdy build and a comfortable grip is the dream gear for any photographer.
It is an added bonus if it has a flip lock mechanism. Flip locks help ensure your setup won't slip and result in poor image quality or missed shots.
2. Size and Weight
Another thing to look for in a monopod is its dimensions and weight. A taller monopod can be helpful for capturing shots from a higher angle, but keep in mind that a longer monopod will also be heavier and more difficult to carry around.
Similarly, lightweight monopods can be beneficial for travel photography but also may not be as sturdy.
3. Lens and Camera Compatibility
Check the compatibility of your monopod with your camera and lens to ensure they match. Aim for a monopod that can support the weight of your DSLR or mirrorless cameras mounted with a long lens, because reliability is key in the heat of the moment.
Some monopods are even equipped with a removable foot so that you can attach and adapt a variety of feet for different terrains.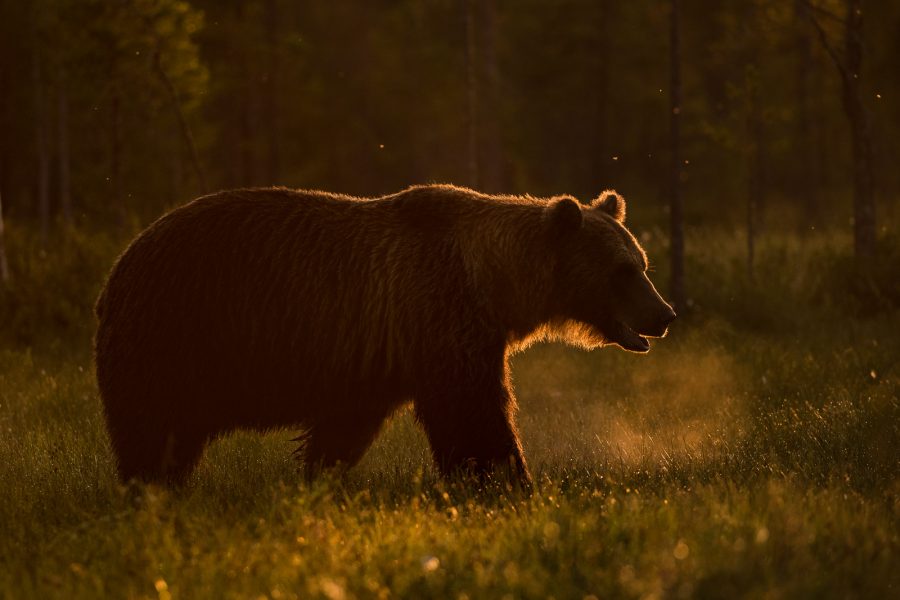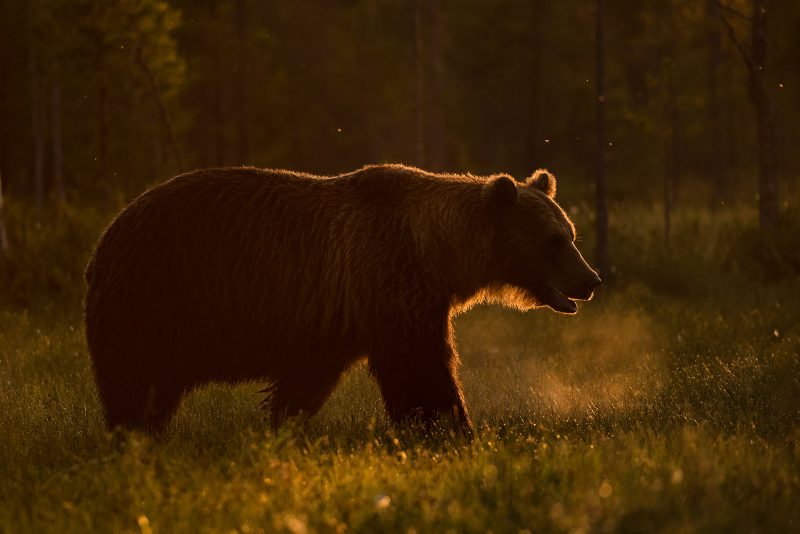 Tripod vs. Monopod for Wildlife Photography
When it comes to wildlife photography, photographers frequently have to face a difficult choice between using a tripod or a monopod.
Both options have pros and cons, and the decision of which one to use ultimately depends on the photographer's specific needs.
Tripods
The best tripods are known for their optimal steadiness and are ideal for both long-exposure shots and self-portraits.
Tripods hold their position firmly on the ground for precision & accuracy, especially while focus stacking, capturing macro subjects, and shooting landscapes.
The major downside is that they can be bulky, heavy, and expensive, so be sure you have the capacity to add these to your collection of wildlife and nature photography equipment.
Monopods
On the other hand, monopods are admiringly portable, flexible, and cost-effective. They are ideal for travel, urban landscape photography, street photography, sports photography, and above all, wildlife photography.
Monopods are particularly suitable for their lightness, compactness, ease of adjustment, and mobility while providing the required stability you need in the field.
However, they offer a different level of stability than a tripod and are not suitable for long exposures.
Monopod vs. Tripod: Which is Better?
Despite the ease of use and advantages of tripods, monopods are preferred by some photographers as the better choice for wildlife photography, as they are less cumbersome and grant you grander mobility in the field. However, it will ultimately depend on what type of wildlife you are trying to capture.
Using a monopod for wildlife photography may be preferable to using a tripod for several reasons. Wildlife photography often involves a lot of flexibility, movement, and speed, which tripods generally do not provide. Monopods are also easier to carry into the field as they are compact and pack up nicely, making them more comfortable to carry for hours of hiking to find an elusive species.
Additionally, while tripods certainly offer better stability than different monopods, your subjects' movement is often more of a limitation than camera shake. The extra support offered by a tripod may not be worth the added inconvenience in these situations.
Overall, monopods can provide the perfect balance of solidity and mobility for capturing the perfect shot.
The Best Monopods for Wildlife Photography in 2023
We have selected and evaluated the following monopods in detail based on factors like mobility, durability, portability, flexibility, and all-around performance.
1. "King of the Hill" Manfrotto XPRO 5-SECTION
The first monopod of our selection is the Manfrotto Monopod XPRO 5-Section, which has proven to be the "crème de la crème" for its unrivaled durability and fluidity during set-up.
This monopod is constructed with high-quality aluminum material and weighs just 2.65 lbs, with a maximum height of 75.59 inches and a folded height is 26.77 inches. One of its essential features (and what we liked most) is its improved fluidity during set-up, allowing for easy and effortless assembly and disassembly. It does not feature a built-in bubble level, though, which may have been a helpful addition.
The XPRO 5-SECTION offers a remarkably small, compact design, and is perfect for those without much space on their expeditions.
Concerning durability, it is a great pick and is, without a doubt, the best companion for those looking for a sturdy, travel-worthy monopod.
This Manfrotto XPRO 5-SECTION monopod will support (practically) any weight, so you'll have the peace of mind you need during your outdoor adventure. Weight limit should never be a concern while shooting!
2. Sirui P-306 "The Budget-Friendly Beast"
Our second choice is the more budget-friendly Sirui P-306, which offers great maximum height and tripod-like features, despite its relatively low price point.
This monopod is made of very well-machined aluminum, making it lightweight and sturdy. It only weighs about 1.1 lbs, so it is super easy to carry around. Even with its lightweight build, it can still bear an incredible load of 17.6 pounds. You'll be able to use it with a full-frame heavy DSLR camera and a heavy telephoto lens with ease.
The small yet tough P-306 comprises six leg sections with leg locks and unfolds to a respectable height of 60.6 in, making it versatile enough for just about any photographer.
It has a rubber foot that can be extended for added stability on soft ground and a rubber grip with a wrist strap and carabiner/compass combo for a secure grip. The monopod also features a 3/8-inch screw and can be flipped to reveal a 1/4-inch tread so that you can fix your camera directly to it.
If you're looking for a lightweight alternative, Sirui proposes the P-326 carbon fiber model. It can support a load capacity of 22 pounds and weighs just under a pound. Perfect for those who frequently travel or have a lot of gear.
Comparing and Contrasting Our Choices
When it comes to the best monopod for wildlife photography, the Manfrotto XPRO 5-Section Monopod and the Sirui P-306 both have their strengths.
Photographers who prioritize durability will quickly choose the Manfrotto XPRO 5-Section Monopod. Its sturdy construction and quick power locking system make it the more reliable option for heavy setups, even in intense conditions.
The Sirui P-306 is a great option for photographers on a budget or prioritizing portability. Its lightweight design and budget-friendly price make it a great option for travel and outdoor photography, while its rubber foot and spike provide added stability on soft ground.
Both monopods have a similar maximum height, but the Manfrotto XPRO 5-Section Monopod is slightly taller. Both have a similar weight and build material, although the Sirui P-306 is slightly lighter. For those looking for carbon fiber monopods, the Sirui P-306 has a model for that as well.
The Sirui P-306 not only offers exceptional stability as a monopod for wildlife photography, but it also serves as a durable walking stick for those who are trekking to their shooting location. This is a particularly useful feature for photographers who hike to remote locations and on long trips to capture their desired wildlife shots.
Ultimately, photographers looking for a budget-friendly, lightweight, and sturdy option for outdoor and travel photography would choose Sirui P-306. At the same time, those prioritizing durability and support will likely opt for the Manfrotto XPRO 5-Section camera monopod.
Honorable mention – Vanguard VEO Monopod
For those looking for a second budget-friendly monopod option, we have included the Vanguard VEO 2 AM-264TR as an honorable mention. It has three compact, fold-out legs and a base with a pivot system, which provides stability and rigidity even when using heavy camera body and lens setups.
The foldable feet give your setup some extra stability, and the added carabineer, shoulder strap, and wrist strap allow fast and effective movement in the field.
The twist locks on the body move smoothly, and the rubber grip provides a comfortable hold, so shooting moving subjects is a breeze. It weighs a bit more than our other options, even though it's made of composite material, but it is still a good deal for those looking for a monopod with more stability and support.
How to Use a Monopod for Wildlife Photography
Monopods offer a range of benefits for wildlife photography, including the ability to gain elevation, stabilize the camera, and improve composition.
The key benefit of using a monopod for wildlife photography is stabilizing the camera. You can use several tricks to add stability to your monopod, such as driving it into soft earth or sand, bracing the bottom against the inside of your shoe, or pushing it up against a solid surface.
Additionally, by mounting the monopod to the mounting plate on the lens rather than the threaded part of the camera, you can distribute the weight evenly and switch faster between vertical or horizontal shots (provided your lens has a adjustable mounting ring); you'll be ready to get pictures of anything in no time.
The above-mentioned stabilization tips can provide added steadiness to your monopod. Still, it is important to keep in mind that operating your camera with slower shutter speeds to photograph moving animals will nonetheless result in soft, blurry image quality. You'll have to sacrifice your lower ISO settings and up your shutter speed a bit, even with the extra stability provided by your monopod.
Read more: Panning Technique – Conveying Motion in a Photo
Some professional wildlife photographers even prefer to use a gimbal head, which can add control and precision when capturing dynamic photos with a monopod.
Compared to traditional tripods, a monopod offers a more mobile and lightweight alternative for wildlife photographers who are on the move often, making it a sure option for capturing fast-moving animals. Additionally, a monopod can be used with different heads.
Get your cameras, memory cards, and monopods together. It's time to capture wildlife in a brand-new fashion.