Top 10 Nature Photography Books for Photographers 2021
The holiday season is nearly upon us! If you are looking for a gift for a nature photographer this year, the round-up below is a great place to start. These nature photography books are perfect for the wildlife or landscape photographer in your life – or even just a gift to yourself!
So, in no particular order…
From the creators of the Academy Award-winning documentary My Octopus Teacher, this book takes readers on a journey of discovery to the vast undersea forest living at the tip of South Africa.
Photographs reveal one of the richest ecosystems on the planet, and captions provide fascinating insights into the lives of countless strange and wonderful marine creatures.
The storytelling, alongside the stunning images, is incredibly engaging. As I turned through the pages, I found myself captivated by the deeply personal stories from the author.
Just like My Octopus Teacher, this book explores themes around mental health and our connections to nature and animal behaviour, all of which I consider immensely fascinating topics.
I think this book is a must-read. Even if you buy just one book this holiday season, let it be Underwater Wild. You will find yourself entranced by its wonderful storytelling.
Jonathan and Angela Scott are award-winning wildlife photographers who live in Kenya. Their latest book celebrates the wonders of our planet, while reminding us of what we stand to lose if we do not protect and restore biodiversity.
In a world where we increasingly separate ourselves from nature, their timely book focuses on the urgent need to reconnect with nature that many people feel.
Their message is that "Humankind has not woven the web of life. We are but one thread within it. Whatever we do to the web, we do to ourselves."
As the pandemic continues and travel remains challenging for many, this book also provides a welcome escape to some of Earth's wildest places. Unlike some of the Scotts' previous books, which focused mainly on East African wildlife, this book explores savannas, forests, deserts, mountains, oceans, and polar regions worldwide.
The large format of the book makes it a stunning addition to any coffee table collection. It is beautifully designed with gorgeous typography and inspirational quotes featured alongside the images. It is a perfect gift for wildlife photographers and for anyone with a passion for nature conservation.
Christmann's book is a stunning compilation of images featuring penguins and the frigid environment they call home. Accompanying captions allow readers to discover how a bird which can neither fly nor run made its home in one of the most hostile habitats on Earth.
His photographs highlight both intricate details in the penguin's life and the vast icy landscapes of Antarctica.
As with other books I have purchased from the publisher TeNeues, the graphic design is beautifully crafted and the formatting of the book makes it something I will keep in pride of place on my bookshelf. For the price, it is excellent value for money too!
The text in the international version of this book comes in both English and German.
This compelling book tells the story of a photographer's journey to find and document the elusive black leopard. It is an autobiography about entrepreneurship, innovation, and passion for wild animals, with high-quality images featuring magnificent creatures such as lions, elephants, and the black leopard itself.
There are several pages which discuss Will's development of creative techniques for getting close-up wildlife photos and shots at night, making it an excellent choice for photographers who have an interest in new and innovative techniques.
It is also an affordable option for aspiring nature photographers who would like to learn about a professional's journey getting into the wildlife photography industry.
The sixth book in the Remembering Wildlife series focuses on African wild dogs, a species which is considered one of the underdogs when it comes to wildlife conservation on the African continent.
I am so happy to see a book educating people and raising awareness about this beautiful but underrepresented species.
As with other titles in this series, it has a beautiful format and design. Readers will enjoy photographs of African wild dogs in a diverse array of styles, and featuring many different aspects of their lives, from adorable wild dog pup portraits to imagery depicting their interesting behaviour as a pack.
So far, the series has raised more than £775,000 for wildlife conservation, and all profits from the sale of this edition will be donated to projects working to protect wild dogs in Africa.
This book is packed with 221 astounding wildlife images featuring a variety of animals. Rather than just focusing on famous and well-photographed species, like tigers and polar bears, Rouse shifts his focus to his local wildlife, from damselflies to little owls.
Despite the change in subject matter, the images are no less stunning, thanks to his thoughtful use of light and composition.
This book is also much more than just a photo book. Like many of us, when the world changed due to the pandemic Andy found himself struggling but, by tuning into local nature, he found ways to heal and find a more balanced lifestyle. The honesty in this book makes it relatable to the reader and the accompanying text is what makes it truly special.
It would make an excellent book for wildlife photographers, especially those interested in seeing creative pictures showcasing British wildlife.
Amy Gulick is a Founding Fellow of the International League of Conservation Photographers. Her book The Salmon Way celebrates and explores the relationships between people and five species of salmon in Alaska.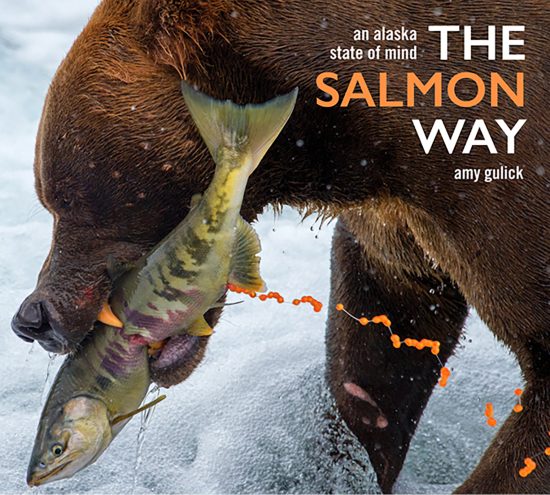 She features engaging stories shared by Alaskans from different backgrounds. The writing is both personal and educational. One of my favourite pages explores her first experience of a salmon run and the excitement this brought to the local community.
These fish provide a vital source of food, livelihood, and identity, while also connecting generations and communities throughout Alaska. While salmon are integral to the lives of many Alaskans, they are increasingly under threat. Their habitats are at risk from large-scale development, unsustainable commercial fishing, and climate change.
This informative book would be an excellent gift for photographers interested in conservation photojournalism, and the history of a relationship spanning centuries between people and salmon in Alaska.
8. New on Earth by Suzi Eszterhas – £20
Suzi Eszterhas is an award-winning wildlife photographer best known for her work documenting newborn animals and family life in the wild. Her book New on Earth takes us on a journey through various ecosystems, from jungles and rainforests to polar and ocean habitats, and everything in between.
Her adorable baby animal pictures are accompanied by informative prose, from which you can learn interesting facts about newborn animals.
For example, find out how leopards are born with blue eyes which change colour as they grow up, or that a wildebeest calf can stand as quickly as three minutes after birth, and within two hours it is running with the herd!
The Puffin Book focuses on the wildlife found on Buckley's doorstep. His images and prose provide an interesting insight into the lives of these characterful little birds.
Puffins are a well-photographed bird, but these images stand out from the crowd for their creative composition and the way Buckley captures interesting animal behaviour.
This little book's convenient size makes it an excellent choice if you take part in the Christmas stocking tradition. It is also easier to post if you cannot meet with loved ones in person this year. Of all the books I reviewed this year, it is also the most affordable option.
This book is divided by the species it features, from lions to red pandas. Bowen's images are wonderful works of art, featuring exotic animals photographed in captivity.
This is also a personal book, in which Bowen talks openly about the challenges he has faced. Life can be tough, but for those who live with a disability, it can be even tougher. During his school years he spent many hours being bullied, and didn't 'fit in'.
After many years of social exclusion, Bowen found his calling in nature photography. Given the odds stacked against him in his life, and the story behind his journey into wildlife photography, this book provides great inspiration for those who read it.
In conclusion
I hope this list has provided you with some helpful inspiration for your gift shopping this year. If you would like to recommend some additional books, feel free to add them in the comments!