10 Best Canon Lenses for Landscape Photography in 2023
It can be very difficult to get an idea of exactly which are the best Canon lenses for landscape photography.
Canon has such a wide range available, that it can be quite daunting. With the price of some lenses reaching over four figures, it can also be expensive!

As a Canon user for over twenty years, I'll aim to shed some light on the various lenses and how one lens differs compared to another, from a landscape photographer's point of view.
Features of Canon lenses
Firstly, here's an explanation of some of the terms and features of Canon lenses:
EF, RF, EFS, RFS, EFM – These are the lens mount types. The EF and EFS lens mounts fit DSLR cameras, and the RF, RFS, and EFM lens mounts fit the newer mirrorless cameras. The EFS, EFM, and RFS lenses work with crop sensor cameras only. The EF and RF lenses will work with both crop sensors and full frame alike. You can also use your older Canon EF/EFS lenses on the newer R series camera bodies with the addition of an adapter.
L – The "L" is Canon's luxury line of lenses, and these usually have a red ring around them. L series lenses tend to use high-quality glass and components for fantastic image quality and sharpness. They also offer great build quality and weather sealing, making them the choice of professional photographers.
IS – This is Canon's image stabilization system, which helps you take sharp images (handheld) at much lower shutter speeds than would be otherwise possible. If used in conjunction with the new R series camera bodies, which also utilize IBIS (in-body image stabilization), it's possible to gain up to an impressive 9 stops of stabilization (dependent on the chosen lens). In real terms, this means you can take sharply focused shots, shooting handheld, at speeds as low as ½ a second and slower.
USM – Ultrasonic motor. This is the ring-type focusing motor used in many of Canon's line-up of lenses. It is designed to be powerful and fast when focusing.
STM – Lenses marked STM utilize stepper motor technology, which makes the lens smoother and more silent when changing focus. Primarily, this is a benefit when shooting video, though STM lenses don't focus as fast as USM lenses.
Nano USM – This is the latest technology in Canon's focusing motors, and it combines the speed of the ultrasonic motor with the smooth/silent focusing of the STM lenses.
Things to consider when choosing a Canon lens for landscape photography
Here are some key things to keep in mind when looking for your next Canon lens:
1. Size, weight, and budget
While it's tempting to want to have every piece of kit at our disposal for every trip, lenses can be heavy! If your chosen location involves any kind of hiking or uphill ascent, this is just not practical.
To explain the weight issue of a lens in a little more detail, a faster aperture lens (and especially zoom lenses) such as f/2.8 and wider will usually require more glass, which tends to make them bigger and heavier in most cases.
So, you'll have to consider whether or not you will be shooting in low-light situations or without the aid of a tripod, in which case you may need the extra speed that the faster aperture lenses can achieve.
If not, though, this extra weight is only going to hinder you, especially if you have to walk any kind of distance to reach your location.
Because of the need for more glass in faster aperture lenses (especially zooms), this will also usually make the lens more expensive.
Personally, although there are exceptions, it's very rare that I want to render the background or foreground areas of my landscapes out of focus, and instead, I'm usually aiming to achieve perfect front-to-back sharpness wherever I can.
I do also tend to use a tripod in almost all cases and apertures of f/8 and smaller, depending on the scene I'm photographing.
For this reason, the extra cost of faster aperture lenses would be mostly wasted money for me personally, and I find that the lighter, less expensive f/4 aperture lenses suit my own personal needs better.
2. Prime vs. zoom lens
If there's an advantage to be gained from using a prime lens, it will usually be that it will have a lighter weight and a faster aperture compared with a comparable zoom lens (or one that includes the same focal length, in other words).
If your aim is to shoot more creative or artistic type landscape images, then it might be just as important to you how the out-of-focus areas or bokeh are rendered.
Some prime lenses can give a really desirable, dreamy, hazy out-of-focus area, which is perfect for isolating a subject, and with some images at least, it's the out-of-focus areas that really make the shot stand out!
Zoom lenses could be described as 'workhorses' when it comes to landscape photography.
If you only opt for two or three zoom lenses, say in the range of 16mm (full frame) to 200mm (full frame), this focal length coverage is likely to be ample for most landscape situations you will encounter.
Zoom lenses are sometimes referred to as being a lazy person's lens! The reference arises from the assumption that the photographer, rather than walking into the optimal area to take a shot from, lazily stands back and uses the zoom lens to do the leg work for them.
This is a misunderstanding, and if a zoom is used correctly, nothing could be further from the truth.
You will still have to work and move around a scene to find the best area to shoot from, but you will also be able to take advantage of the wider range of perspective that a zoom lens provides over a prime.
Read more: Should You Use a Zoom or Prime Telephoto Lens?
3. Crop factor
You should also consider the effect that the size of the sensor in your camera has on the focal length of the lens you are using.
In full-frame cameras, the effect on focal length will be unchanged, i.e., a 100mm lens will function as a 100mm lens. If you attach the same 100mm lens to a crop sensor camera, however, the focal length will be affected.
The difference between full-frame and APS-C sensors in Canon cameras is a crop factor of 1.6x. Therefore, you should multiply focal lengths by 1.6x to work out the equivalent focal length. In this case, 100 × 1.6 = 160mm.
Read more: The Difference Between Full Frame & Crop Sensors
4. Focal length
Focal length (or the zoom range) is the most important thing to look at when choosing a lens for landscape photography.
There's no point in buying lots of zooms that cover the same focal length or overlap by a great deal. Instead, you should try to think of what you will mainly use the lens for and decide how many lenses you realistically want to carry.
Will you be traveling? If so, a bag full of primes may not be the ideal solution. If you're trying to cover as many possible shooting situations as you can, a standard to short telephoto lens, such as a 24–105mm, is probably the better compromise.
It's worth mentioning super zoom lenses here also. These usually come in focal lengths such as 18–300 or 28–300mm.
They are very lightweight and inexpensive compared to some other lenses and are meant as an all-rounder, or basically, one lens to do everything.
The downside for super zooms is that they rarely have a constant aperture, so in other words, as you zoom the lens in more, the aperture will close down to a smaller size.
A typical range would be f/4.5–f/6.3, so they might not be ideal for shooting handheld in low-light situations.
Having such a large focal range also brings its own problems, and super zooms can lack sharpness/image quality when fully zoomed in and suffer from distortion at the wider end of the zoom.
Read more: Hyperfocal Distance – Focusing in Landscape Photos
Best Canon lenses for landscape photography
Starting with the widest focal length first, here are a selection of lenses that should cover you for most landscape photography situations, plus a few that are good to have if you can fit them in and your budget allows!
Ultra-wide lenses
If you're looking to include detailed, close-up foreground in your landscape images and classic near/far style compositions, you're going to need an ultra-wide-angle lens to get started. The EF 16–35mm F4 L USM fits the bill perfectly for full-frame cameras.
The lens won't be as good for shooting handheld in low light as some of the faster aperture wide lenses, but it is relatively compact, lightweight, and will cost significantly less.
As this is an L-series lens, image quality and sharpness are excellent. As expected with such a wide lens, distortion can be an issue, although this is more apparent when shooting architecture (straight lines of buildings) than landscapes.
This lens will work with full-frame and crop-sensor DSLRs and with newer R series mirrorless cameras (with the addition of the Canon EF–EOS R mount adapter).
Top tip: If you're happy to buy second-hand, the slightly older Canon EF 17–40mm F4 L USM lens is also just as good, and you may be able to pick up a real bargain.
The features of this lens can seem like 'overkill' for general landscape photography.
However, if you shoot in extreme locations where it's not possible to use a tripod, or you enjoy Astro/night photography, you're going to need a fast aperture wide-angle lens.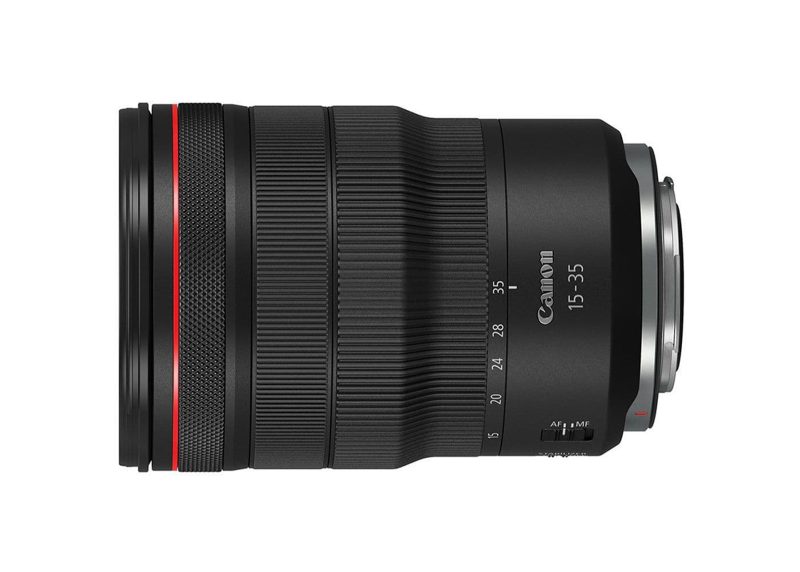 The RF 15–35mm F2.8 L IS USM has 5 stops of image stabilization that will allow you to shoot handheld in low-light situations.
Combine this lens with newer Canon R series camera bodies with IBIS (in-body image stabilization), and you gain a further two stops. This lens also features the Nano USM motor for ultra-fast, silent autofocus.
With a price tag of over £2000, the sharpness and image quality should be excellent.
I'm including this lens as a wide option for APS-C crop sensor DSLR cameras.
The 10–22mm focal length of this lens is equivalent to the 16–35mm on a full-frame camera body, making it excellent for getting really close to your foreground subjects and exaggerating near/far perspective.
This is an older lens that doesn't feature any IS (image stabilization) and it's not an L-series lens. The build quality of this lens is still pretty good, though, and image quality and sharpness are excellent.
It won't have the super-fast focusing of the newer RF lenses, but don't let this put you off. You'll mostly be using a tripod and manual focusing, as this allows you to be more precise when aiming to maximize depth of field using smaller apertures such as f/11 and smaller.
Again, because of the age of this lens, you can pick up a real bargain if you buy second-hand.
Standard zoom lenses
A standard zoom lens covers the most popularly used focal lengths and is likely the first lens on your purchase list. It's probably the most widely useful lens for landscape photography and doubles up well for other subjects.
At the wider end of the zoom, 24mm is known as a classic focal length for landscapes. You can still just about get close enough to your subjects to include foreground texture and detail, though not in quite the same way as with an ultra-wide lens.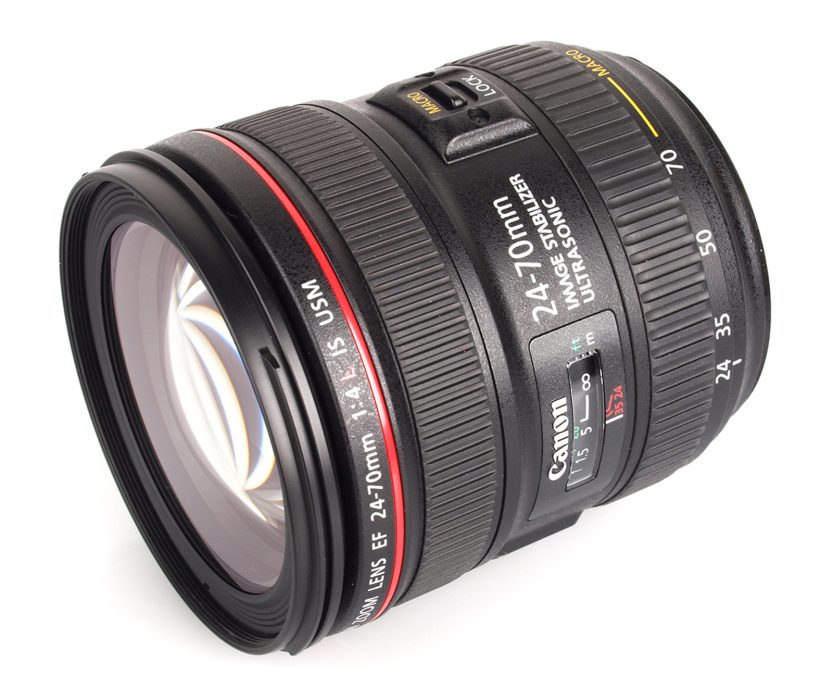 On full-frame cameras, the Canon EF 24-70mm f/4 L is a great choice if you want an all-around, standard zoom to partner with your DSLR camera.
This is an L-series lens, so the build quality, weather sealing, sharpness, and image quality are all excellent.
One advantage that many of the EF lenses have over some of the newer RF lenses is that you can manually focus the camera while viewing a magnified portion of the image you are shooting on the LCD, while simultaneously holding down the depth of field preview button.
This allows you to focus very precisely when you are looking to maximize depth of field. Autofocus is fast and smooth, although the newer RF lenses will be faster if that's a requirement for you.
This is the standard lens bundled with the full-frame R series camera bodies, and it's an excellent lens to own. If you're intending to travel abroad and can only take one lens with you, this would be the one!
The broader focal range of 24–105mm makes this lens a brilliant all-rounder on full-frame mirrorless cameras. It's also still very compact (83.5×107.3mm with zoom locked) and lightweight at 700g.
The f/4 maximum aperture will be perfectly adequate for most landscape situations unless you plan to shoot scenes at night or handheld in low light, in which case the Canon RF 24-70mm f/2.8L IS USM might be the better option.
With five stops of image stabilization, Nano USM, and L-series build quality, this lens can capture lovely sharp images of a wide range of landscape subjects. It is probably the lens I use the most.
At the telephoto end, I use it for isolating patterns in the landscape. At the wider end, I can still shoot near/far foreground/background type images.
I also use it for panoramas and some close-up, abstract work. If you own an R series camera body, it's a lens you can't afford to be without!
If you're just starting out with landscape photography and you've already spent most of your photography budget on your camera body, don't be too hasty to discount the kit lens that came with the camera.
Gaining inspiration and being motivated to get out and photograph the landscape are much more important than having the latest, most expensive camera gear.
Kit lenses are designed to be a general-purpose option, so they can do a lot of things reasonably well.
Thankfully, you don't need fast apertures or the fastest autofocus for landscape photography.
The Canon RF-S 18-45mm f/4.5-6.3 IS STM is a very lightweight, compact, standard zoom that is supplied with Canon's APS-C sensor R series cameras, such as the EOS R7 and EOS R10. Compared to previous kit lenses, it is pretty good.
Weighing 130g and measuring only 69×44.3mm, the lens is tiny compared to the two RF options listed above. Like most kit lenses, the RF-S 18-45 has a variable maximum aperture, which means the lens stops down as you zoom in.
One definite improvement with this lens over the EF-S IS STM kit lens is the focusing ring. It's much smoother and less sloppy than on older lenses.
Telephoto lenses
A telephoto might not be the first lens that springs to mind when it comes to landscape photography. However, if you want to isolate smaller areas of the distant landscape or create abstracts, it's an essential piece of kit to own.
I'm finding I use telephoto lenses more and more recently.
They can give you something different from the classic foreground/background views and are great for compressing perspective (making the background and foreground seem closer together than they appear to the naked eye).
The Canon EF 70-200mm f/4 L IS II USM is another essential lens to add to your camera bag, and it is designed to mount to DSLR cameras, though it will also fit R series cameras with the addition of Canon's EF–EOS R mount adaptor.
Weighing in at only 780g, it's by no means a heavy lens, especially when you consider the focal range. This lens also has a close focusing distance of 1m, which again is reasonably good for a lens of this focal length.
While it won't perform like a dedicated macro lens, which has a much closer focusing distance, you will still be able to blur backgrounds and do a decent job of isolating smaller subjects at maximum aperture.
If you do shoot handheld, this version of the Canon 70-200 has 5 stops of image stabilization to help you achieve sharp images in low-light conditions, though the f/2.8 might be a better option if you want to lose the tripod completely.
I love the portability of this lens, and I enjoy wandering around looking for abstract subjects within the landscape. I also use it extensively for panoramics.
Looking at the weight of this lens alone (1530g or 1.5 kilos), this is not going to be a first-choice landscape lens for everyone.
However, when you consider that this lens is over 100g lighter than the old Canon EF 100-400mm f/4.5-5.6L IS II USM, it makes a great addition to this list. Its main strength is for isolating small areas of the distant landscape, and it does this very well.
And with a close focusing distance of only 0.9 meters, it's also great for capturing more intimate, close-up details.
Although it might be on the heavy side for prolonged handheld shooting for some people, it is possible, and the performance from the dual Nano USM AF is superb.
I use this lens coupled with the EOS R5, and it doubles up very well for any wildlife you might encounter while out. I use it as part of a three-lens setup along with the EF 16-35 and the RF 24-105.
Non-essential, useful additional Canon lenses
A macro lens is a great addition to your landscape photography bag. I consider wildflowers, architectural details, and close-up textures as part of the landscape, and they make a refreshing change from concentrating on the grand vistas.
The Canon RF 100mm f/2.8 L Macro IS USM is the latest macro lens in Canon's lineup. With a close focusing distance of just 26cm and 1.4x magnification, its strength lies in its ability to isolate small subjects, like wildflowers, and create a lovely out-of-focus background/bokeh.
This lens is intended to be used in conjunction with new R series cameras. At such close distances and high magnification, depth of field can be an issue, so the focus bracketing/merging features of the newer cameras come in very handy for certain subjects.
You can also pick up the older Canon EF 100mm f/2.8L Macro IS USM on the second-hand sites, and this is a superb lens to couple with DSLR cameras.
Another personal favorite! I've added this lens under 'nonessential,' but it's a highly versatile lens, and on the right day, in the right location, it can just give you something different.
Used as a conventional 24mm prime, this lens is very sharp. It's a 'manual focus' only lens and has no image stabilization, but as its primary use is for photographing architecture, that doesn't matter as the camera and lens will always be on a tripod anyway.
Its main strength lies in its ability to produce wide-angle images that can be stitched together to create a panoramic. The lens shifts up and down, or side to side, completely parallel to the imaging sensor, meaning there's no parallax distortion to worry about.
You can also use the tilt function, which tilts the lens at an angle to the sensor plane, in order to gain greater depth of field at wider apertures than would be otherwise possible with a standard lens.
In conclusion
To summarize, one of the most important things to consider when choosing a Canon lens for landscape photography will be the focal length.
Make sure to check the effect that the sensor size of your camera (or crop factor) will have on the focal length of the lens you intend to buy. It can also be a good idea to think ahead.
If you plan to upgrade to full frame in the near future, should you buy more crop sensor lenses?
If you enjoy other genres of photography as well as landscape, some lenses double up better than others.
Remember that there's no reason to buy lots of lenses of the same/similar focal length. They may differ in image quality and sharpness, but there'll be very little difference in results.
Finally, don't get too hung up on the sharpness and image quality of a lens if you're starting out. It's far more important to just get out and learn about camera technique, composition, and light.