Are Mirrorless Cameras Better Than DSLRs for Landscape Photography?
Let me begin by saying that – as a photographer who is fascinated by all brands and formats of cameras – I strongly dislike the trend of social media "influencers" who loudly proclaim that they've "dumped their DSLR" and "couldn't be happier" with their new mirrorless system, without any context of shooting habits, subject matter, or of course their experience level.
Such clickbait headline statements can be unhelpful – or downright bad advice – if they don't expand on what the photographer shoots, and how they shoot it.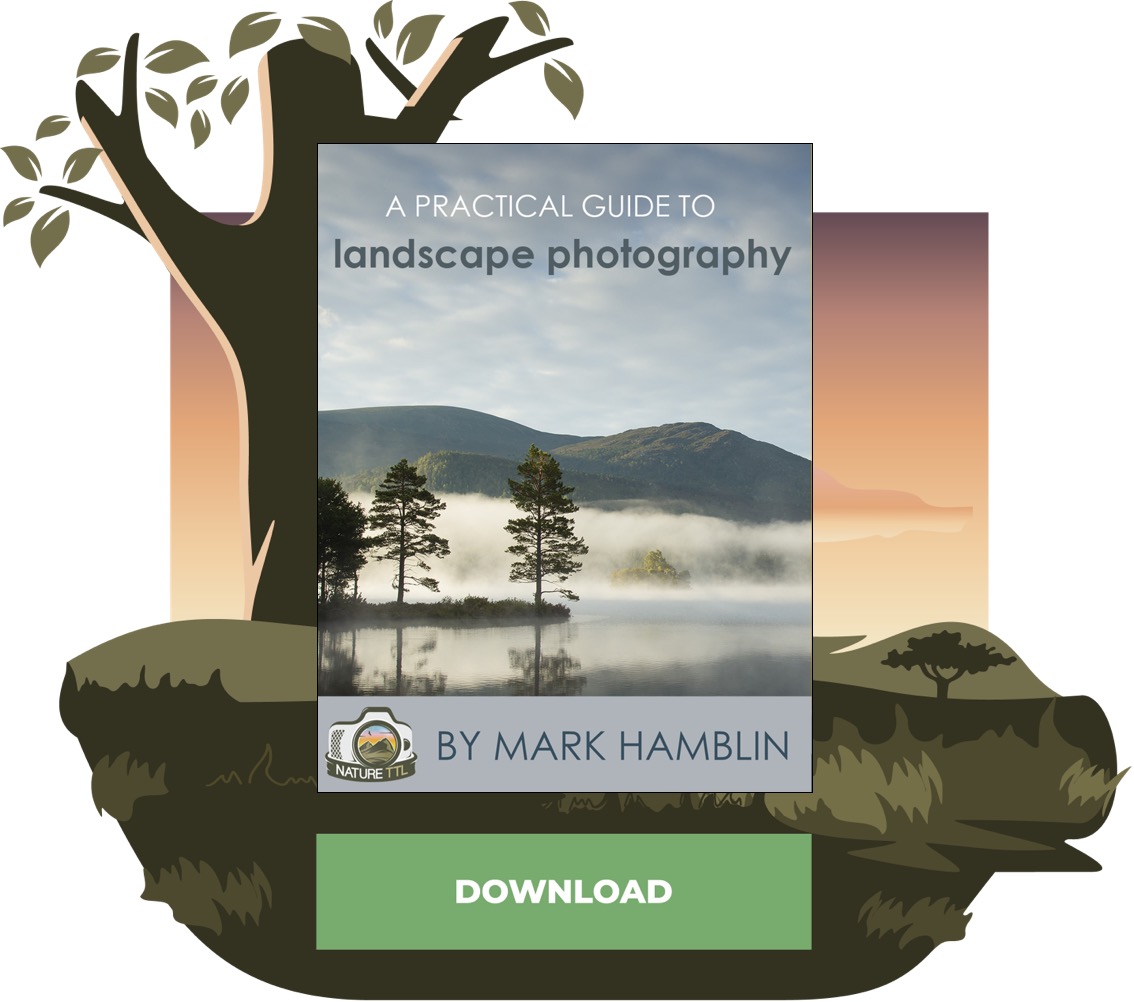 So, the question we face today is this: as landscape photographers, should we sell our DSLRs and switch to a mirrorless system? Then more to the point, what do mirrorless systems have to offer a traditional landscape shooter?
This article will answer that question by breaking down some of the practical, real-world advantages and disadvantages to both DSLR and mirrorless systems, to help you make a wise decision. You may find some of the selling points to be familiar knowledge already, so I will try and avoid beating a dead horse and simply provide useful information.
Do Mirrorless Cameras Offer Better Image Quality than DSLRs?
First and foremost, the biggest concern a landscape photographer has is image quality. As long as you have a solid tripod and a great lens (and maybe weather sealing!), the camera body just needs to deliver great images.
The answer depends on which camera system you currently use, and how its image quality compares against the potential alternatives. Here's the quick-and-dirty verdict, that is bound to start all manner of arguments in the comment section:
A traditional landscape photographer spends almost all of their time at ISO 100. With that in mind, Nikon FX and DX DSLRs are king, Sony's FE and E mirrorless cameras a close second (or equal/better, if you shoot nightscapes), and Canon – both full-frame and APS-C, DSLR and mirrorless – a distant third.
However, that is considering only dynamic range at ISO 100. Canon is right up there with the rest of them for nightscapes at higher ISOs. Pentax has some awesome DSLRs too, whereas Fuji and Olympus mirrorless cameras are pretty good at ISO 100, if you truly desire a highly portable yet durable (even weather sealed) setup.
Admittedly, there is far more to image quality than just dynamic range at ISO 100. Discerning photographers of all kinds – not just landscape – highly value a sensor's color reproduction, and this highly subjective topic is the source of much debate.
To forego tact: many Canon users will say that Sony's colors look disgusting, and Nikon's too for that matter. Indeed, Canon sensors do offer some fantastic colors. However for me, the choice of raw processing software is a much more important factor in color, and in that regard I've found that literally all cameras give beautiful colors when edited in Capture One Pro instead of Adobe. Nikon NEF files look downright gorgeous, and for Sony files, the worst I can say is that they look different – but certainly not terrible.
But I digress. The bottom line is, if you're thinking of selling your DSLR and getting a mirrorless kit, there probably need to be more reasons – image quality alone may not be enough to make the decision for you. Especially if you're a Nikon shooter – A D810, D850, or D750 owner would be hard-pressed to find a Sony A7 II or A7R II (or even the new A7R III) tempting for their image quality alone.
If you're a Canon DSLR shooter, you probably already know where you stand on the ISO 100 image quality debate. You're either happy with what you've got, or you're seriously considering jumping ship.
To the latter crowd, here is my advice: just know that it may be one or two more camera generations before Canon's sensors finally match or beat Nikon and Sony's – for dynamic range at ISO 100. Again, this alone is probably not the reason you'll switch – especially if you're already skilled at bracketing and creating HDRs.
Does Mirrorless Offer Useful Features to Landscape Photographers?
For traditional landscape photography, the burning desire to sell one's DSLR and "go mirrorless" is less about the exciting new bells and whistles that are tempting so many other types of photographers, and more about a select few features that actually benefit a landscape photographer.
For example, electronic first-curtain shutter (EFCS) is a fantastic tool for any landscape shooter who has a high-resolution camera; fine detail can be destroyed by the slap of a shutter, let alone a mirror. In fact at certain shutter speeds – and especially on a lightweight travel tripod – electronic shutter is downright critical to getting the most out of all those megapixels you've paid so much for.
Some Nikon and Canon DSLRs have EFCS, whilst others don't. Most mirrorless cameras have EFCS, but a few still do not. More importantly, some cameras' image quality is slightly harmed by using an electronic shutter, while others are not.
You'll need to do some research on your specific camera, or whichever camera you're thinking of buying. That said, EFCS is definitely a useful tool for a landscape photographer to have, even if you use a cable release.
There are a few other features which are mostly exclusive to mirrorless cameras, such as in-body stabilization, which might benefit landscape photographers that shoot more actively (while hiking or traveling for example).
Focus peaking can be useful for quick manual focusing, which the new Nikon D850 offers, but most other DSLRs do not, at least for still photography. Meanwhile, almost all mirrorless cameras offer focus peaking.
Personally I find the optical viewfinder of DSLRs to be a beneficial feature for both active shooting and wilderness travel. It's an efficient, simple way to view a scene without even turning the camera on!
Does Mirrorless Offer Better Lenses For Landscapes?
Considering that lens adapters exist for all manner of lenses on most mirrorless platforms (as long as you are okay with not saving much weight if you trade your DSLR for a mirrorless body), you'll have no problem with lens selection. Landscape photographers typically use manual focus, and shoot stopped down quite a bit, so lens choice is often about one thing alone: sharpness.
It should also be noted that if you're hoping to shoot exclusively with native-mount lenses, the options for mirrorless systems have improved significantly in recent years. Again – if you're shooting your landscapes mostly stopped down – mirrorless systems have native lenses that are ultra-sharp all the way to 12mm.
There's also at least one 11mm and one 10mm prime available for mirrorless, but the real champion in that range is the Canon 11-24mm f/4 – its sharpness at 11mm is phenomenal. Or, if you want something that doesn't weigh two-and-a-half bricks, the classic Rokinon 14mm f/2.8 is available for both DSLRs and mirrorless cameras, and is a flawlessly sharp lens at f/8-11 – if you get a good copy, that is.
One notable difference? The full-frame mirrorless-only Sony 12-24mm f/4 G is almost 600g lighter than its competition – the Sigma 12-24mm f/4 and Canon 11-24mm f/4. On the other hand, the Sony 16-35mm f/4 is only around 100g lighter than its Canon and Nikon competitors, and sharpness is not necessarily equal between the three, so that's a toss-up.
Either way, whether your bread and butter landscape lens is a modest and portable 16-35mm f/4, or a more exotic zoom or prime, switching to mirrorless can only serve to increase your available options. It can also possibly save you some weight if you "go native", though it'll cost you.
Mirrorless Battery Life vs. DSLR
The achilles heel of mirrorless cameras has always been power consumption. How many batteries does it take to get through a day hike, let alone an overnight camping or backpacking trip out in the wilderness? In this regard, DSLR cameras win bigtime, and almost all mirrorless cameras have a lot of catching up to do.
If you rarely use live view on your DSLR, you can get over a thousand clicks on nearly any camera. By comparison, most mirrorless camera batteries put out an unfortunate 200-400 clicks, depending on how efficient you are with your LCD brightness and usage. That's the rated lifespan, although many real-world reports list numbers nearly double this. Then again, some real-world DSLR reports go as high as 2,000 clicks per charge!
If you never hike more than a short distance, it's no problem to carry a whole bunch of spare mirrorless batteries, since they're so incredibly lightweight.
Unfortunately, the name-brand batteries aren't cheap, ranging anywhere from $60 (Sony A7 battery) to $80 (Sony A9 battery). So, you're either stuck forking out $120-$160 for just two spare batteries, or taking the risk of buying generic brand batteries. Alternatively, you can try one of the external battery solutions, which are expanded upon more in a previous article here.
In short, battery life is still a huge negative for landscape photographers considering a mirrorless switch. However, given the slow pace of landscape photography, it's less of a deal-breaker if you're willing to spend a little more money on a bunch of spare batteries or an external battery solution, and if you aren't away from a wall socket for more than a half-day or so.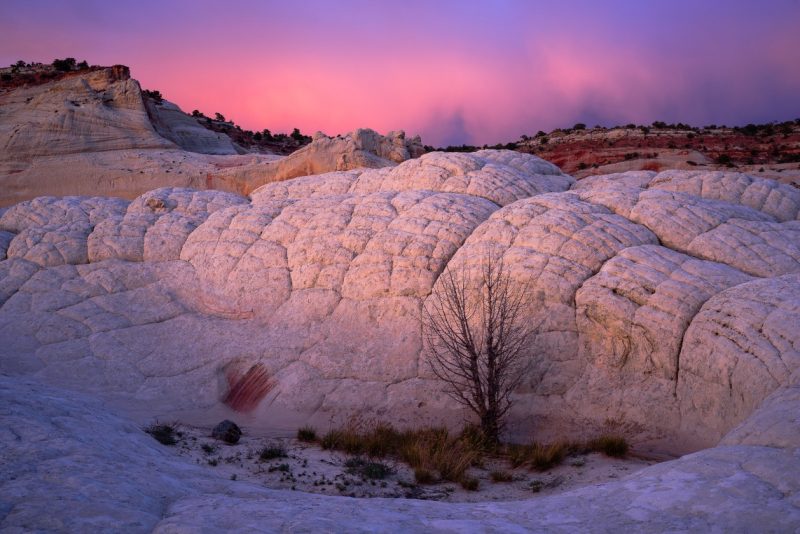 Are Mirrorless Cameras Lighter than DSLRs?
Unfortunately, the more high-end full-frame mirrorless lenses and bodies we see, the more we are realizing the truth about what it takes to achieve the highest quality images.
In short, when using big sensors and super-fast apertures that are as sharp wide open as yesteryear's lenses were at f/8, there is no free lunch. The lenses are going to be huge. Also, if you want a robust, well-built body with weather sealing and great battery life, that too is going to be nearly as heavy as some of the lighter DSLRs on the market.
For example, a Sony A9 or A7R III with a 24-70mm f/2.8 GM and a Nikon D750 with a Nikon 24-70mm f/2.8 have only about 6 ounces (176g) difference between them. If you feel compelled to complain about that difference, you need to hit the gym!
You may ask, why juxtapose the $4500 Sony A9 with the $1500 Nikon D750? They are in completely different classes to many photographers, especially action sports shooters. Surely this is a terrible comparison?
Landscape photography is actually a great equalizer when it comes to shooting speed: a D750 and a Sony A9 actually offer quite the same: a solid sensor with great image quality, decent weather sealing, solid overall build, good battery life, and dual card slots for professionals.
If you're still not convinced, consider this: at the time of this writing, Sony is likely currently working on an A7mk3, which will probably weigh about the same as an A9, have a similar 24 megapixel sensor, and cost only $2200. That will be a much more fair comparison to the Nikon D750. We'll see in 6-12 months, probably.
On the other hand, what if you want more resolution than 24 megapixels? A Nikon D850 is indeed quite a bit heavier than a Sony A7R mk2, as well as the new Sony A7R mk3. Same thing with the Canon 5DsR: you save a substantial amount of weight by going full-frame mirrorless. Make no mistake, though, this is partly because Canon and Nikon have not put their highest-resolution sensors in their lightest DSLRs, and they may never do so.
Further Reading: Nikon D850 Review
Personally, as an adventure and timelapse photographer, I'm really happy with 24 megapixel images. However those folks who prioritize resolution and sheer print-ability will indeed find that mirrorless camera bodies currently offer great weight savings.
Additionally, some mirrorless lenses have the potential to be lighter weight, despite the fact that an f/1.4 lens will always be a pretty sizable chunk of glass – especially at longer focal lengths.
In short: the wider and slower the lens, the more opportunity there is for weight savings. For example, the Sigma 12-24mm f/4 Art is more than a pound heavier than the Sony 12-24mm f/4 G, and both lenses are roughly the same with regard to optical quality. The same is the case with some of the f/2.8 prime lenses available for mirrorless cameras, in the form of Zeiss Loxia and Batis.
Last but not least, let's be honest about which kits are really the lightest of all. If you truly want to save weight with a mirrorless system, you should switch to a smaller sensor format. The absolutely lightest kits are the likes of the Sony A6000 series, or the Olympus Micro Four Thirds series. A 1.5-2x crop sensor, in short, is where the real weight-savings happens.
Thankfully, the latest sensors in these cameras are actually pretty impressive at their base ISO, which is where all daytime (and sunrise / sunset) landscape photography happens.
Keep in mind, of course, that if you're willing to go down a sensor size, DSLR cameras can get a whole lot lighter too. A Nikon D5300, D5500, or D5600 all make fantastic travel landscape cameras, if you don't mind the limited controls and lack of weather sealing, because they share similarly incredible sensor technology to their full-frame siblings,  and offer image quality so good at ISO 100, you'd be hard-pressed to tell the difference between their 24 megapixel images and any full-frame 24 megapixel image.
Mirrorless VS DSLR: You've Probably Already Made Your Decision
Overall, despite the need for an annoying number of spare batteries for longer days or overnight trips, and the fact that the best mirrorless bodies and lenses aren't exactly affordable, it's still highly likely that the more traditional your landscape photography is, the more you're likely to see some advantages in either the overall portability of a mirrorless kit, or the image quality itself, or both.
As landscape photographers, we do have the luxury of being able to capture most of our images at an easy pace, without a critical need for too many special features in a camera body.
Your personal decision will ultimately depend upon things like your specific shooting needs, such as slow vs. fast lenses, or low vs. high ISOs. Plus, your satisfaction/frustration with your current system's features, image quality, and last but not least your budget of course.
Good luck deciding! If you have any questions about a particular shooting need, or a specific system you're considering, please don't hesitate to comment below!