Ideas for Photographing Winter Landscapes
Out of all of the seasons, photographing landscapes in the winter excites me the most. Sure, you can get fresh spring growth, or summer sunshine leading towards autumn colours. But with the clarity of light, coupled with frosts and snow, winter has it all for landscape photography.
Winter also has the advantage of short daylight hours, and therefore photographing sunrises and sunsets can be undertaken at a reasonable time of day. In this article, I will list some ideas that will not only help you understand what type of landscapes work well in the winter, but also some advice on how to correct some technical issues that will enable you to get the best results possible.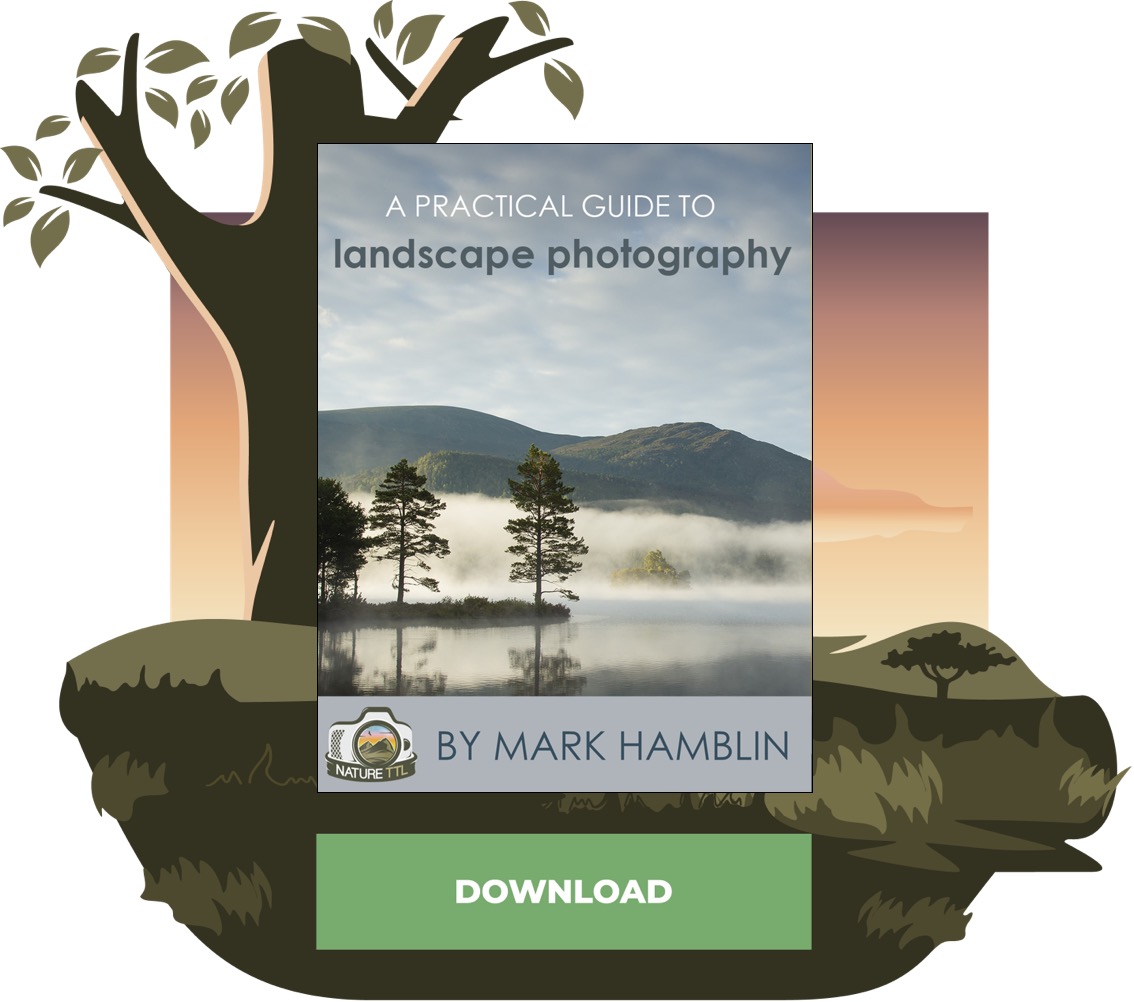 Technical challenges of winter landscape photography
For me, there are two common technical issues that you need to address with your wintry photos. These are the white balance and exposure compensation of your shot, which are slightly more difficult because of the sheer amount of white in the frame.
1. White balance
When deciding what white balance you should use, you need to understand what effect it has on your images.
You may often hear it referred to as the temperature of a photo. It's calculated on the Kelvin Scale, where a value of around 5000K is cool (and perfect for cold winter landscapes) to around 7000K, which is warm and perfect for enhancing your autumn colours or adding that bit of extra colour to your sunrise images.
You can obviously set your camera to auto white balance, or take matters into your own hands and set it to one of your camera presets. Alternatively, you can set your camera to an exact value by using the manual 'K' setting within your White Balance menu structure.
So, for me, my White Balance would be set to "Direct Sunlight" giving a value of around 5200k on most DSLRs. If the temperature creeps higher than this, then there is a tendency for the the whites in your image to start to become warmer, giving any snow and ice an orange look.
If the preset of Direct Sunlight is not giving you the effect you want, then go to the 'K' setting and override it yourself.
Remember, if you're shooting in raw file format, you can adjust your white balance during post processing without causing any detrimental effects.
Read more: What is White Balance?
2. Exposure compensation
Unless you have your camera set on manual mode, your camera works out the correct exposure by using your selected metering system. The trouble is, when you are photographing landscapes where a large part of your composition contains either ice or snow, it starts to "kid" your metering system into underexposing the image.
The metering system thinks the image is very bright, and therefore returns a faster shutter speed and/or narrower aperture resulting in a darker and often underexposed image. This is not always an exact science, but an underexposed image is a common fault when photographing in snow.
To correct this, you can dial in an exposure compensation value of around 1 stop of over exposure to counteract it. If the exposure is still too dark, then adjust to a higher value of compensation.
Read more: Understanding the Exposure Triangle
Winter landscapes that work well for photography
1. Footprints in the snow
There is something about photographing the "white stuff" that really excites landscape photographers. But it has to be "virgin snow," without any footprints or unnatural imprints. This was one of the early lessons I learnt many years ago.
I was walking towards the Castlerigg Stone Circle, in England, with camera and tripod in hand when several photographers who were already taking images shouted "keep away from there mate."
I was blindly walking over all this pristine snow where there wasn't a footprint in sight. You can see from Image 1, below, the effect that footprints have on an image. This isn't a great look and totally spoils the image.
It is therefore essential that when you set off after an overnight fall of snow that you get to your preferred venue early to avoid this type of disappointment. Image 2 shows the difference of either being first at your location, or when other photographers understand the importance of keeping the location free from footprints.
Conversely, taking footprints of animals and birds can have the opposite effect. They can even make a great lead-in line to your image, which gets the viewer's imagination going as to what made the prints as well as adding context to the image.
2. Ice and Icicles
I love taking images in really cold weather when the temperature is below zero and ice has formed. Look for quiet, flowing rivers and waterfalls; especially those that have several visible rocks and patches of melted water where reflections could appear.
These are perfect situations for that potentially iconic image. Below you can see where ice and icicles have formed on the river, yet parts of the river are still not frozen and so give the opportunity to capture reflections as well.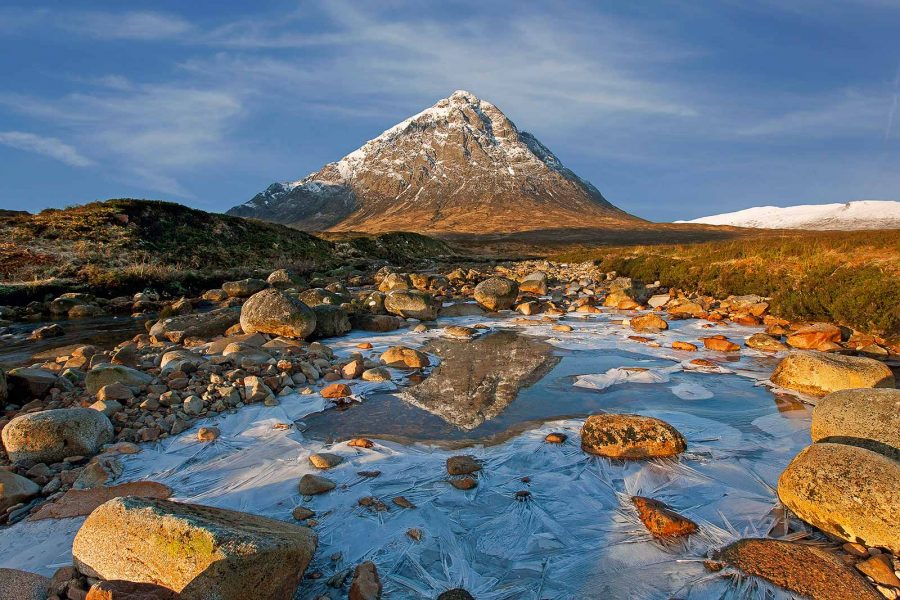 Position yourself so the backdrop, in this case Buachaille Etive Mor in Glencoe, Scotland, is perfectly reflected in the unfrozen pool. At the same place, I also took another image of the waterfall in the River Coupall, where parts of the waterfall had frozen.
Always remember, though, it's not only about taking images with great foreground interest but also think about your background too. Here, Buachaille Etive Mor has buckets full of structure and interest.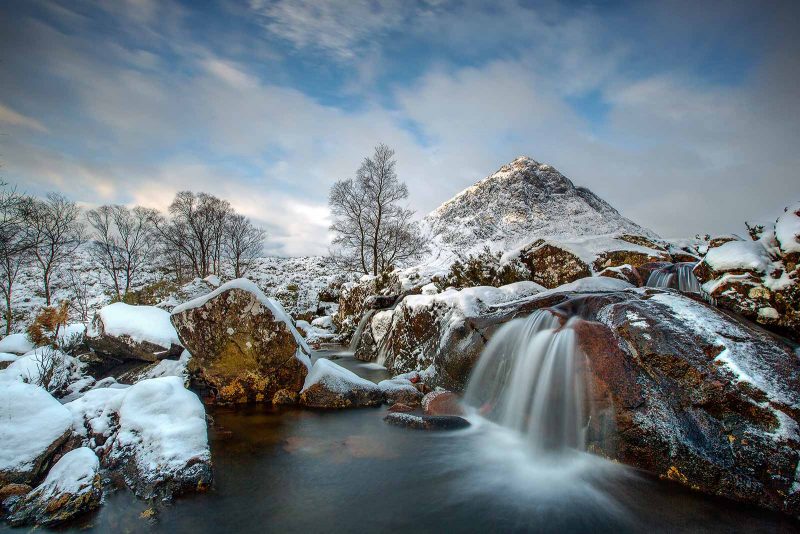 3. Trees
There is nothing more beautiful and rewarding than taking images of trees laden with snow. Try and search out those trees with more unique looks, especially when they stand out in their surroundings.
The below photos show trees that are laden with freshly fallen snow, but there is also "something else" about the images for me. Remember, capturing some colour as a backdrop can be a great contrast, helping the image to come alive.
You don't have to have snow in winter to capture great looking trees. Below is the iconic and much photographed "Buttermere Lone Tree."
This tree looks so much better in winter when leaves have fallen and it is silhouetted against a famous background.
Foreground interest
There are many different types of foreground interest that work in landscape photography. Here are just a couple to consider incorporating this winter.
1. Structures
There are always going to be times in the winter when the snow just doesn't appear. If you've done some earlier preparation, you'll know where to go to capture some structures that always look moodier in winter.
Structures like bridges, barns, or derelict buildings all have that air of mystery and suitability for great landscape images. A derelict croft on the road to Applecross, in Scotland, that has been left to decay does this well. You can imagine how beautiful this building would have been in an age now long gone.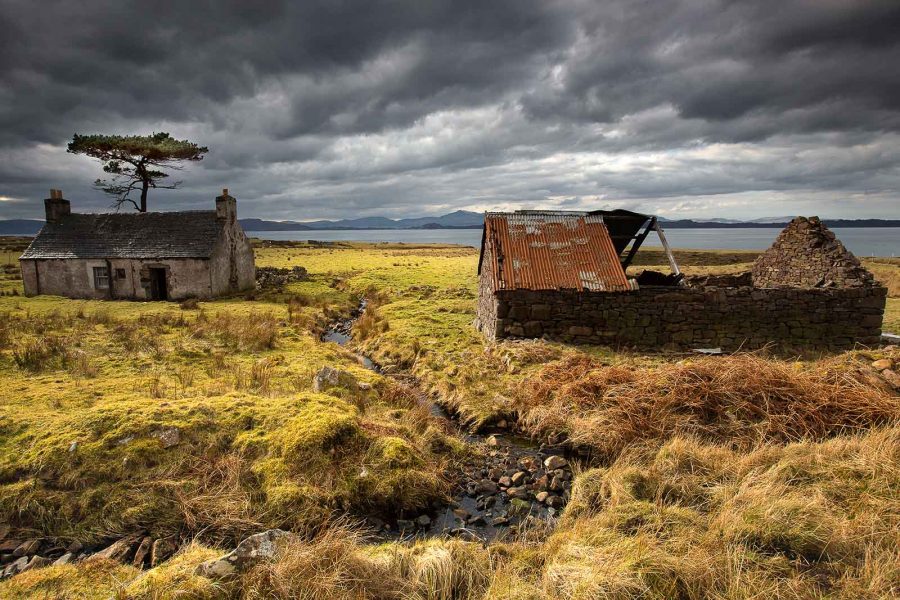 Of course, beautiful buildings enhanced by the fall of snow are always popular with photographers, and none more than here with the much-photographed Blackrock Cottage in Glencoe. I have taken this image hundreds of times, and it always seems to be different with each click.
I think the position of the cottage is what makes it so popular, but couple that with a fall of snow and it's always going to be a winning combination.
2. Mist and low cloud
One of the best aspects of winter photography is capturing low lying mist and clouds. These make for great compositions, especially when you introduce objects that enhance the look you want to achieve.
Such objects, like the Castlerigg Stone Circle and Bamburgh Castle, make for great images in their own right, but couple them with low lying clouds and mist respectively and you can achieve some stunning results.
Low lying mist and cloud inversions occur when the temperature is mild during the day, but then at night the temperature drops. They happen mainly over water, but also in valleys where the air is cooler.
They can also happen at night, but it's very unusual and I've only captured it once, as seen below, but they can happen! I saw this low-lying mist creeping down the valley just as the street lights in Keswick, UK, started to flicker on.
I quickly climbed Latrigg summit and took this dramatic image of Keswick with its lights shining through the clouds.
So, when times are not suitable to take your camera out of its bag, search out lakes and low-lying valleys where a building or boat might look great as an element of foreground interest in amongst mist and cloud.
I found a boat in a remote location on Derwentwater and made a note of its location. Then, next time there was mist over the lake, I made straight for the location and took this moody image. It wouldn't have worked without the mist.
In conclusion
Winter is a fabulous time for photography, and is in fact my favourite time of the year. Always do your preparations well, try and learn the weather conditions that work well for your type of winter photography.
Read more: How to Photograph Winter Wildlife
Snow is great to capture, but it's not the be all and end all. Remember those locations you've search out in lean times; this will save you running around like the proverbial headless chicken wasting time when the conditions are perfect.
Good luck!