How to Photograph Fast-moving Mammals
Unfortunately for us, many mammals tend not to stay in one place for long. This makes a wildlife photographer's job harder, but also far more interesting. Coupled with this, lots of our furry friends live in woodlands or only come out at dawn or dusk. A lack of available light brings more challenges to the table. Here are some hints to help you beat the odds.
Study and Predict Movement
When conducting one-to-one wildlife photography tuition, I often find that many clients have trouble keeping track of an animal in the viewfinder because of the speed it moves. The subjects we photograph are red squirrels, and boy can they move fast when they want to.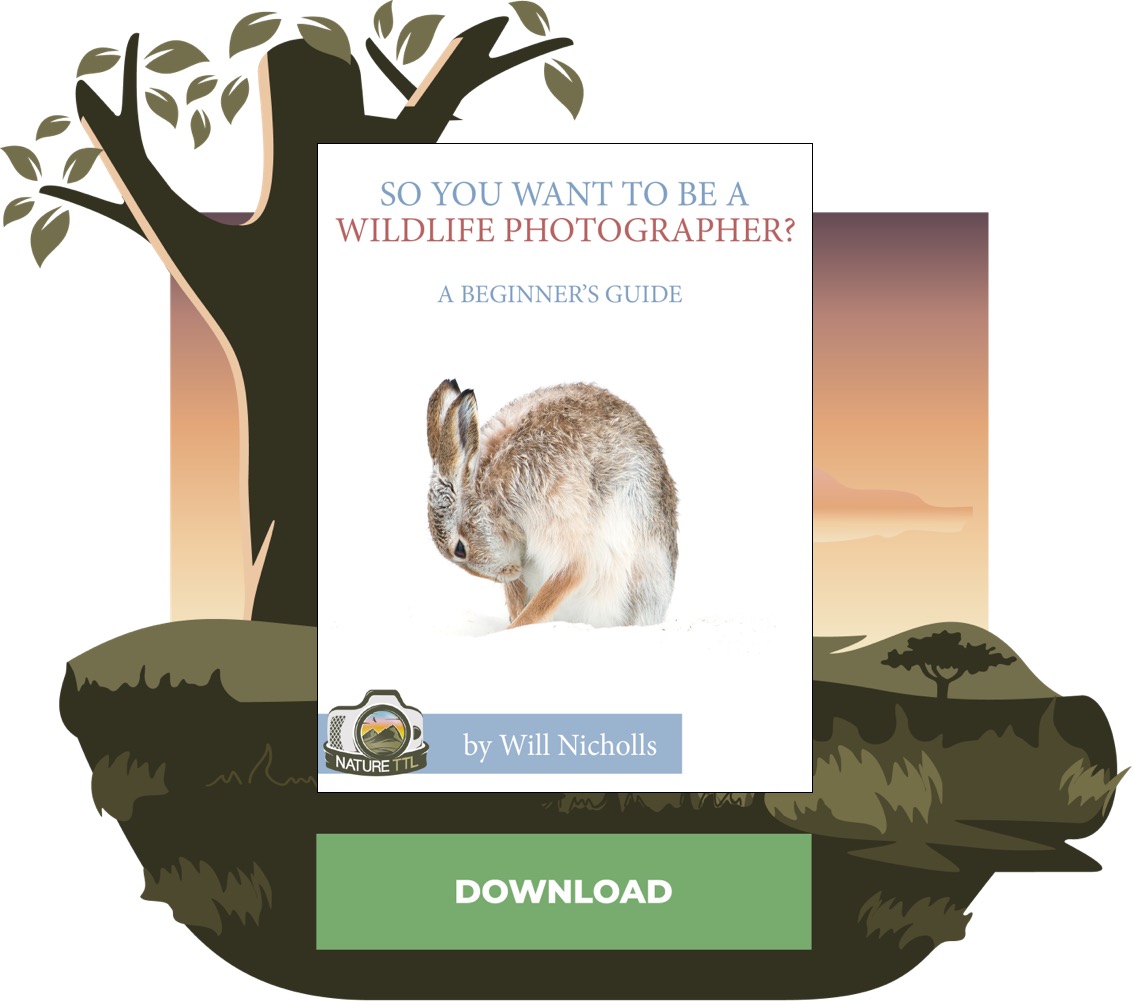 Sometimes it isn't likely you will capture a good photograph when following an animal with the lens as it moves through an obscured area, for example. If you have trouble keeping the subject in the frame, then try to spot patterns in behaviour. The squirrels will pause on certain features in the landscape, as they may provide good vantage points. Stay with your camera positioned on any regular haunts like this, and just wait for your subject to hop into view.
Another example of this comes from watching an animal's movements. Keeping with the squirrels, when they crouch down ever so slightly whilst looking forward intently, it is likely that they are about to begin a run. Little signs like this enable you to be ready for action when it happens, and not surprised.
Don't Use Live View
Live view is the term used to describe using the camera's LCD screen instead of the viewfinder for taking a photograph. It is difficult to keep track of animals this way, and it could be argued that it makes the camera less stable as you aren't resting it on your brow. Learn to use your viewfinder if you don't already.
Keep a Lookout
It may sound strange to those who haven't tried it, but you should keep both eyes open whilst looking through the viewfinder. This allows the spare eye to watch the surroundings, so if your subject jumps out of the frame you won't miss where it runs to. It takes some time to get used to, but it is a handy technique to have up your sleeve.
Use a Sufficient Shutter Speed
Whilst a slower shutter speed may be fine for photographing an animal that is sitting still, what happens when it starts moving? If there is enough light, ensure that your settings will suffice for any sudden movement, even if you don't need it for the portrait shots. Even a quick flick of the ears or a scratch can make for an interesting image, but a slow shutter speed will render the movement blurred.
Don't Let Your Tripod Hold You Back
I find that many people new to wildlife photography have tripods with ball heads. There is nothing wrong with this, and I myself had one just a few years ago. However, a fast-moving mammal will be difficult to track if you need to loosen clamps to move the camera. Consider leaving the clamps undone and just use the tripod for a little support. Depending on the weight of your camera, handholding can allow quick movement and freedom to move around easily.
For those with long telephoto lenses, it is a worthwhile investment to buy yourself a gimbal tripod head. They allow you to move the lens and leave it in any position without having to tighten any clamps. The best gimbal head on the market is the Wimberley Head WH-200, however it is also not the cheapest. Many photographers also use the Manfrotto 393 gimbal head.
Use Continuous Focussing Modes
AI-Servo (for Canon users) or AF-Continuous (for Nikon users) modes allow you to track an animal whilst it moves around. This means you no longer need to press, depress and then repress the shutter button to keep your subject in focus. However, this mode provides difficulty when photographing portraits where you wish to recompose after focussing. Consider switching to back button focussing, a technique which is explained in our article "Back Button Focus: A Game Changer".