How to Photograph Wildlife in the Scottish Highlands
After years of spending all my holiday time in the Scottish Highlands, I took the plunge and relocated to Inverness-shire from Glasgow in November 2019, setting myself up as a wildlife photography guide and rental cabin owner.
Even although Covid-19 put a large spanner in the works, it's still the best decision I have ever made, and one I've not regretted for a second. I love the Highlands and the photographic opportunities the region presents.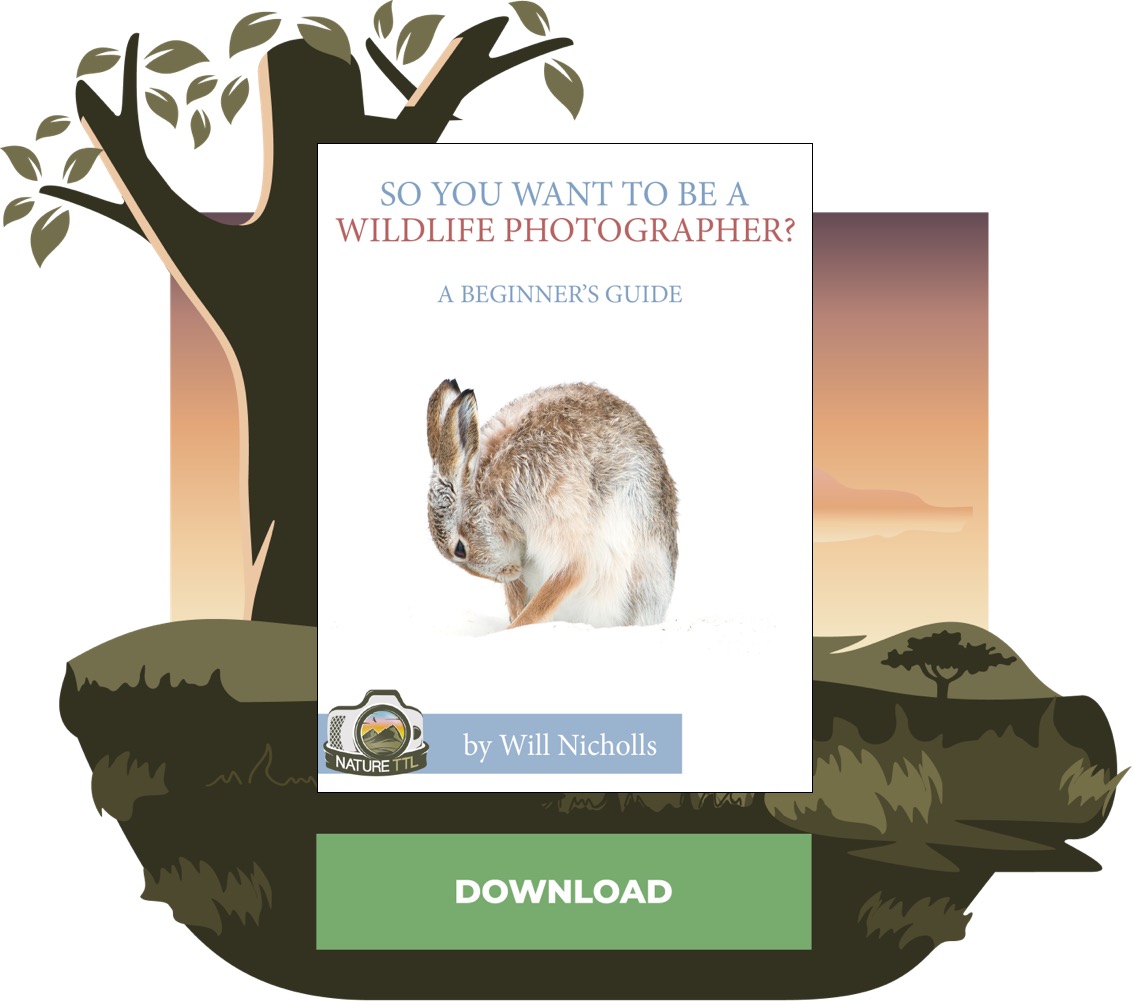 My personal preference when it comes to wildlife photography is to concentrate on a small number of species and to get to know their behaviours and habits. I think it makes for better photographs and I love to learn about these species as I sit watching them.
Equipment recommendations
For wildlife photography in the Scottish Highlands, I recommend mainly working with telephoto lenses. Many species are sensitive, and your chances of seeing and photographing them will increase with a greater distance (unless visiting a hide with habituated animals).
My primary lens is the Nikkor 500mm PF f/5.6, but I also regularly use an old Nikkor 300mm f/4 and the Nikkor 70-200mm f/2.8 VRII, depending on the situation. I recently bought a GoPro Hero 9 Black which I think is great for filming.
I also rely heavily on Browning trail cameras to monitor local nocturnal wildlife. Although a long lens is the most useful, the Scottish Highlands are beautiful. So, if you have the space, consider including a wide-angle lens in your kit bag for environment images.
Wildlife in the Scottish Highlands
We have a wealth of wonderful wildlife in the Highlands. It's a stronghold for red squirrels, mountain hares, ptarmigan, pine marten, golden eagles, white-tailed sea eagles, and crested tits.
During the summer months, many of the islands and shorelines are home to breeding sea birds, such as puffins, guillemots, razorbills, and gannets, whilst our rivers and lochs are ideal locations for fishing osprey.
Bottle-nosed dolphins are a common sight along the Moray Firth. It's a fantastic place to visit at all times of the year. I obviously can't cover all of this here, so I'm concentrating on the species that I love to photograph.
Read more: How to Photograph Dolphins
1. Red squirrels (Sciurus vulgaris)
Red squirrels are still doing well in the Scottish Highlands. We don't yet have greys here. They aren't always easy to spot though, as they spend the vast majority of their time in the trees, and can be wary of people except in popular tourist spots, established feeding stations, or hides.
I spend more time photographing red squirrels than any other species. They are such a joy to watch, and I am fortunate to have a healthy local population that I've come to know very well. The best time of day to see one is early to mid-morning.
Unlike grey squirrels they don't hibernate in the winter, but do only tend to leave their dreys (nests) in the mornings. In winter and spring, the squirrels have thick coats, orange tails, and wonderful ear tufts. During the summer the tufts disappear, the coats lighten, and the tails turn blonde, and gradually to black.
Kittens start to appear in April/May. They are recognisable by their spindly tufts and long, thin orange tails. You'll often see kittens playing together, which is wonderful to behold!
There are private hides for hire throughout the Highlands, where you're guaranteed to have some excellent photographic opportunities. Alternatively, you could go to wild locations that have feeding stations (or you could regularly leave out feed for a week or so). Photographs will be more unique, but chances often won't be quite so photogenic.
If you aren't in a hide that provides nuts, I'd recommend taking a bag of hazelnuts with you. They'll also eat peanuts, monkey nuts, sunflower hearts, or pine nuts, but hazelnuts are their favourite. They LOVE hazelnuts, and they are very good for their teeth too.
Squirrels move very quickly so, unless you have excellent light, it's best to wait until they pause to take a photograph. A fast lens (f/2.8- f/4) is recommended, and you'll often have to use your widest aperture and a relatively slow shutter speed.
Read more: Choosing Your First Telephoto Lens
If you're in an area with red squirrels but they aren't used to people, a pop-up hide can be a good idea. I used one for the first 6 months I spent photographing my local population and they weren't bothered by the hide, or me, at all.
2. Crested tits (Lophophanes cristatus)
Crested tits are awesome little birds named after their striking crest. If you're keen to see one, then it's best to familiarise yourself with their call. It's quite distinctive and a good indication of their presence. Crested tits can often be found amongst flocks of coal tits, as they are approximately the same size.
Crested tits are only really seen with regularity during the winter months, especially when it's cold. They breed very early so tend to disappear in March. They are really entertaining little birds, and very vocal! During the winter they will come down to peanut and fat ball feeders.
They are often seen in the trees surrounding the carpark at RSPB Loch Garten, as well as along the path to the visitor centre and on the feeders there. It's best to bring a peanut feeder or some fat balls with you. Simply hang them in a tree and wait patiently!
Do be careful not to disturb the surrounding environment, and the RSPB asks that you don't use peanut butter. You might be lucky enough to see a crossbill here too.
If you're based further north, crested tits can also be found in the pine woods on the Black Isle and the Moray coastline. Crested tits aren't particularly bothered by people, so a hide isn't necessary. Just stand a little distance away and wait patiently.
Being small birds, a long lens is advisable (although wider angled lenses are good for environment images). As with many small birds, the lifting up and down of a long camera lens can disturb them, so a tripod is a good way to make this less of an issue.
Read more: How to Photograph Garden Birds
3. Mountain hares (Lepus timidus)
My favourite species in the Highlands is the mountain hare, our only native hare. They are cousins of the brown hare, but are smaller with shorter ears. They live high up in the mountains, often on grouse moors, and turn from brown to white in the winter months.
They've recently received protection from the Scottish Government which is fantastic, but numbers in many places have decreased dramatically over the past few years, partly due to climate change.
They are hard to spot in the summer, but in the winter you might see one hunkered down in a sheltered spot. Depending on the location, approaching a hare can be tricky. They have exceptional hearing and a wide field of view, so are often aware of your presence long before you spot them. If the hare doesn't run when you first see it, sit down slowly and wait for a while.
Approach very slowly to gain the hare's trust, keeping low. I spend a lot of time crawling when photographing mountain hares. It's best to stay as far back as you can, so a long lens (and very warm clothing) is essential.
Patience is your friend where mountain hares are concerned, because they don't tend to do very much. Sit for long enough and, if the hare is relaxed, you may witness it grooming, stretching, or grazing, which is wonderful and such a privilege to watch.
Read more: 6 Tips for Better Fieldcraft in Wildlife Photography
The best way to find mountain hares is to hire an experienced local guide who will know the best locations, and how to approach them with the best chance of success. Depending on where you go, it might also be a good spot for ptarmigan.
Most photographers want to photograph mountain hares in the snow and yes, this is when they look their best. There's also the possibility of boxing. But I also love them in late March to May, when they are changing from their winter to summer pelages, at which point their fur is a mixture of brown, white, and ginger.
In August, if you're lucky enough to find one, hares look wonderful sitting in the flowering heather. You may find leverets at this time too.
Don't be afraid of inclement weather when photographing hares, so long as it's safe and you're confident you can get off the mountain. Some of the strongest images are taken when it's snowing, windy, or wet.
It's always best to bring your longest lens with you. However, bear in mind that you might be walking a fair distance over uneven ground, so don't bring anything you'll struggle to carry. I don't take a tripod but that's a personal decision- they can be an advantage if you spend a few hours with one, fairly static animal.
Binoculars are helpful for spotting wildlife. Always bring more layers of clothing than you think you'll need and, in the summer, midge repellent is an essential.
Read more: 10 Important Things to Keep in Your Camera Bag
4. Pine martens (Martes martes)
Pine martens are one of Scotland's current success stories. They are plentiful in both the Highlands and Perthshire. They are a member of the mustelid family, so are related to otters, badgers, stoats, and weasels.
For the vast majority of the year martens are nocturnal. However, during the summer months it is possible to see them in daylight: I recently saw a youngster at 10.30am during October, which was such a thrill!
However, they are shy, elusive animals, and it's highly unlikely that, unless you're very lucky like me, you'll come across one. The best way to maximise your chance of photographing a pine marten is to visit an established hide, or to rent a cottage where they visit the garden.
If you're lucky you'll be treated to visits from kits as well as adults, which can be an absolute joy to watch.
Read more: How to Build a Photography Hide
The chances are that visits will occur in the evening, so a fast lens is essential. As you're most likely photographing in low light, you will need a wide aperture and a slow shutter speed. Martens tend to look up when eating every so often. That's the moment to press the shutter, as they pause for a moment.
They can still be quite wary, so wear quiet clothing and use a hide as far back as possible. Unless you have a silent shutter, start by taking just one image and see how the marten reacts, before firing off continuous shots.
If you think a marten is visiting an area, and you're there for a few days, it might be an idea to put out a trail camera. This is how I follow my local pine Martens. One of the things I love about trail camera footage is that you can often witness totally natural behaviours, such as grooming, playing, or mating. It can be fascinating and entertaining in equal measure.
Another option, if the area is safe enough to leave gear unattended, is to use a camera trap. This requires a camera with a remote sensor and, if dark, at least one light source. The marten (or any other passing wildlife) will then trigger the camera. I've used this with some success to photograph the badgers that visit my garden.
Read more: How to Photograph Pine Marten
Things to consider when planning your visit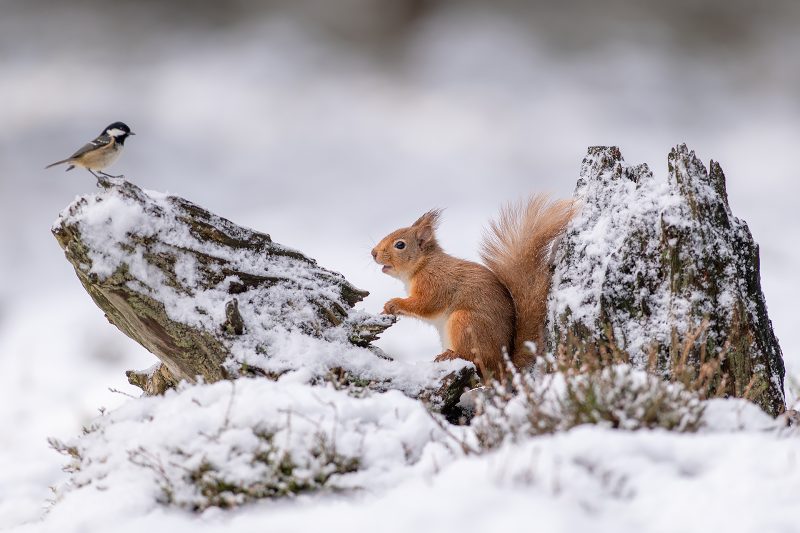 1. Getting around
If you're considering coming to the Scottish Highlands for wildlife, there are a few things to consider. Firstly, everything is quite spread out and, although it can be done using public transport and/or taxis, you will find it most accessible if you have a car.
2. Visiting in winter
Highland wildlife really comes into its own in the winter. It can be hard to predict what the weather will be like: it could be mild, wet, windy, cold, or snowy! Do be prepared for snow and cold winds though.
Good waterproofs and very warm clothing are essential, as you'll be spending a fair bit of time sitting with wildlife. I tend to tell visitors to think about what they would expect to wear when it's cold, and then add another layer or two.
A waterproof cover for your camera and lens is also very useful, and will allow you to take images in inclement weather without the worry of damaging your equipment. A word of warning: I managed to damage my camera because I had wet gloves on and, when using back button focus, I was pushing water from the gloves into the camera. So, you do still need to be careful!
If there is snow during winter, the roads tend to be treated and many are passable. However, do be aware that passing places and carparks are often not cleared, and can be treacherous.
Read more: Essential Equipment for Photographing in the Snow
3. Visiting in summer
Summer can be quite quiet for wildlife but very busy for visitors, especially in the Cairngorms. However, if pine martens, dolphins, ospreys, or seabirds are of interest to you, it is still worth visiting at this time of year.
During the summer months the dreaded midges appear. We also have mosquitoes now, and of course ticks. Some form of repellent is essential (Smidge is good), especially if, like me, you're a midge/mosquito magnet!
The Cairngorms can be especially bad for midges in August through to October, so a midge net can be very useful too. Mosquito nets have holes that midges can get though, so do check it's a specific net for midges.
Also, remember to tuck trousers into socks to help avoid ticks attaching themselves to your legs, and brush down trousers and clothing before entering your vehicle. I spray my outer clothing with Permethrin, which is useful to protect against the midges and ticks, or you can purchase clothing already treated with this.
It can still be cold and/or wet in the summer, so remember to bring warm and waterproof clothing. If you have room in your car/luggage at any time of year I would recommend bringing wellies. They can come in very useful on boggy terrain.
In conclusion
This is just the tip of the iceberg when it comes to photographing wildlife in the Scottish Highlands. It really is an incredible destination for wildlife photography, whatever the season!