Wildlife Photography Guide to the Peak District National Park
The Peak District National Park is nestled between the cities of Sheffield and Manchester, and covers over 555 miles of stunning countryside. It was the first National Park ever created in the UK in 1951, and sees over 10 million visitors every year.
The landscape is diverse, and is split into two distinct regions. The Dark Peak to the north is comprised of wild and barren heather moorlands, interspersed with imposing gritstone crags, while the White Peak of the south is made up of limestone dales and often secluded crags, green rolling hills, and patches of deciduous woodland.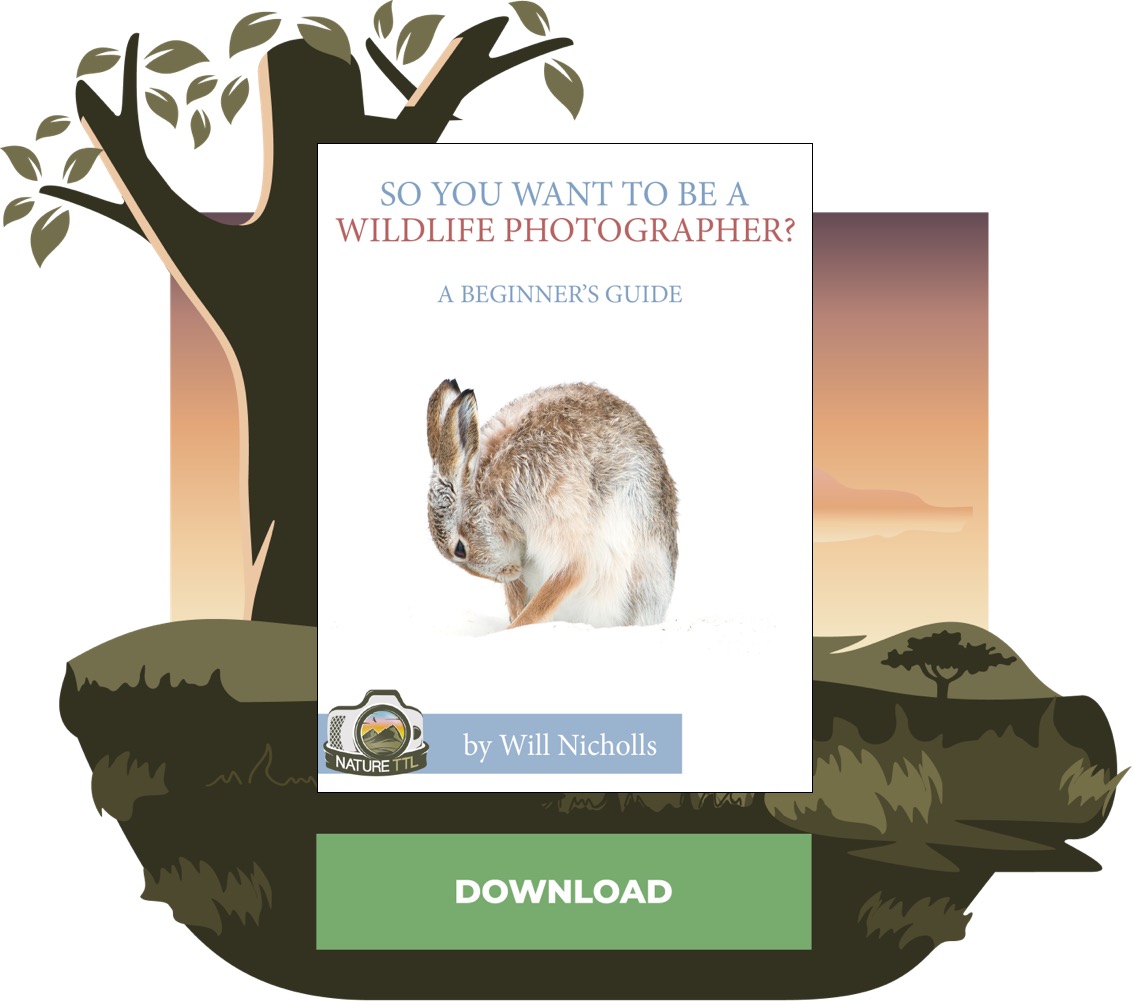 This mix of habitats draws in a wonderfully diverse range of wildlife, from dippers that can be seen flitting up and down the White Peak rivers, to mountain hares and red grouse that frequent the wild moors of the Dark Peak.
Where to find different species in the Peak District
The specific habitats of the Dark and White Peaks attract an abundance of wildlife and a welcome mix of species. The Dark Peak moorlands are home to good numbers of red grouse. The areas around Stanage Edge and Ladybower are excellent places to search.
These birds are full of character and are fantastic subjects to capture, especially during wintry weather, and also in high summer when the heather is in full bloom. Other residents of the moorlands include wheatear, stonechat, merlins, and short-eared owls.
Curlew breed on the moors during spring and summer, and their evocative sound can be heard echoing around the gritstone crags, adding extra atmosphere to an already wild and rugged landscape.
Ring ouzels also breed in the Peak District, and often nest on the crags at Stanage and Burbage after their long migration flight from North Africa. It is important to note that ring ouzel numbers are declining. They are red-listed as a species of major conservation concern, so please take extra care not to disturb their breeding grounds.
There are also plenty of mammals to be found in the Peak District. Badgers and foxes are in abundance, and brown hares can be spotted in the fields in and around the White Peak, while the Dark Peak is home to the only population of mountain hares in England.
Red deer also roam wild, and can often be spotted on the moorland areas to the south west, close to the Roaches.
Best locations in the Peak District
Having lived on the edge of the Peak District all my life, it's a region which I have come to know intimately. Both Derwent Edge and the tops of the Londendale Valley are great places to search for mountain hare.
These subjects are best photographed in winter when their coats are white. Naturally, they are more difficult to spot in snow, but there is no denying the aesthetic quality of a white mountain hare on a snow-covered landscape.
Red grouse can be found all over the Dark Peak moors. Derwent Edge is a good place to start your search, as they seem to be more accustomed to people and therefore easier to approach.
One of my favourite times of year to photograph red grouse is late August into early September, when the heather is in bloom. At this time of year, the moorlands turn into a sea of pink and purple, which complements the colour of a red grouse's plumage perfectly.
While scouring the moors, keep a close eye out for raptors. Buzzards and kestrels can be seen frequently, especially over the gritstone crags. Hen harriers and merlins also hunt over the Dark Peak moors, but are much more scarce and difficult to photograph.
Short-eared owls can often be seen on the Cat and Fiddle Road in-between Buxton and Macclesfield, especially in winter when an influx arrives from Scandinavia, Russia, and Iceland.
Read more: How to Find and Photograph Raptors
Over on the Staffordshire side of the Peak District, to the south west, a large and imposing gritstone outcrop called the Roaches is a wonderful place to explore. Wild and rugged, it is a fantastic location for landscape photography, but there is also plenty of wildlife to be spotted.
Barn owls can sometimes be seen quartering the fields below the crag, and red grouse are in abundance, often in flocks flying low over the heather above the crag. Watch out for red deer, too. I have often caught sight of large herds just off the A234 Leek to Buxton road, just north of the Roaches.
These deer are not used to people, however, and are notoriously difficult to approach closely. Lyme Park lies on the fringes of the Peak District in Cheshire, and offers a great opportunity for photographing red deer at relatively close quarters – and with much more ease!
Dove Dale is a great place to search for redstarts and dippers. Dippers are short-tailed, plump little birds, and are fascinating to watch as they dip under the water and walk along the river bed in search of food.
Photography tips and techniques
1. Mountain hares
There is no doubt that one of the highlight species of the Peak District is the mountain hare. My favourite season to photograph this species is winter, especially when the landscape is transformed by a covering of snow. As the days shorten, mountain hares turn from brown to white, helping them to blend into their winter environment.
Encountering a white mountain hare in the snow is always exciting. Fieldcraft plays an important part in mountain hare photography. Once you have spotted a hare, keep down wind, and make slow, measured movements towards it.
Read more: 6 Tips for Better Fieldcraft in Wildlife Photography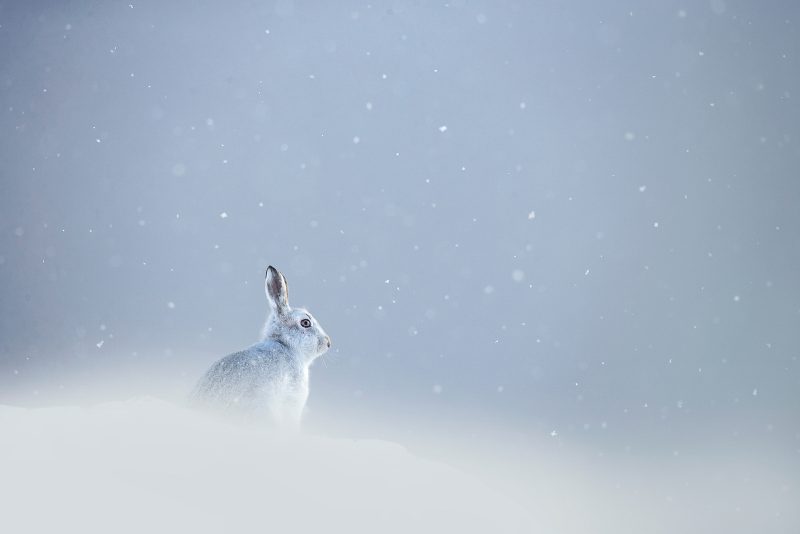 Unless you can find something to conceal your presence, it is best to let the hare see you and then approach it slowly and carefully, in stages, letting it grow accustomed to your presence. Working in snow can result in wonderful images, but care is needed when calculating exposure.
With predominantly pale tones dominating the frame, you will need to increase exposure by up to two stops to prevent under-exposure. Check your histogram regularly and increase exposure until the graph is nudging the right-hand side. This will ensure that your whites will be correctly exposed and maximum detail will be recorded.
2. Red grouse
Another of my favourite subjects found in the Dark Peak are red grouse. These birds are full of character and make fantastic subjects to photograph at any time of the year. In late summer, however, the heather moorlands burst into bloom, offering an extra palette of colours and tones.
By shooting with a long lens and using a wide aperture, you should find it possible to blow the background well out of focus, setting your subject against a wash of vivid colour.
Read more: How to Create a Beautiful Bokeh
Always carefully consider your shooting angle, especially when shooting ground-level subjects. By getting down as low as possible, you should find it possible to include some foreground heather (again, this should be blown out of focus by a narrow depth of field).
This diffuse foreground will give your images the perception of depth, as well as leading the viewer's eye into the picture. Smaller, more flighty birds, such as stonechats and wheatears, can also be framed by flowering heather, but will demand a faster shutter speed. So, it pays to keep a close eye on your settings to prevent any potential camera shake.
3. Dippers
The sweeping and undulating dales of the White Peak are home to an array of wildlife, dippers being one of the highlight species. When tackling dippers, it is important to keep away from nest sites, as too much disturbance can lead to adults abandoning the nest.
Dovedale and Bradford Dale are two of the best places to see dippers, but they also frequent many of the rivers that flow through the White Peak. They feed on small fish and invertebrates and need clean, clear water in which to thrive. Keep a close eye on any rocks that jut out of the water, as dippers often perch on rocks in fast-flowing water to consume their prey.
As always, a low angle will provide a more intimate view of your subject. For this reason, I usually opt for a beanbag rather than a tripod. It is less cumbersome and will allow for excellent freedom of movement.
When it comes to composition, look carefully at the surroundings. You may find a natural frame for your subject. In areas of fast-flowing water, try experimenting with a slow shutter speed to capture the motion in the water. A speed in-between 1/5th and 1/30th second will blur the motion of flowing water but still preserve pattern and texture.
Of course, for this type of image to work, the dipper must be sharp. This is no easy task, since they spend much of the time bobbing up and down! Rather than trying to time the shutter, your best chance of success is taking several images in sequence while the bird is stationary. With a bit of luck, the dipper will have remained completely still for at least one frame!
In conclusion
The Peak District is a wonderful National Park, full of varied landscapes and wildlife. Whether you are searching the Dark Peak moors for mountain hare, or following a bobbing dipper up and down a meandering river, there is always something interesting to photograph.
Take care when planning your trip, you might just want to extend your stay!