8 Best Places for Photography in Arizona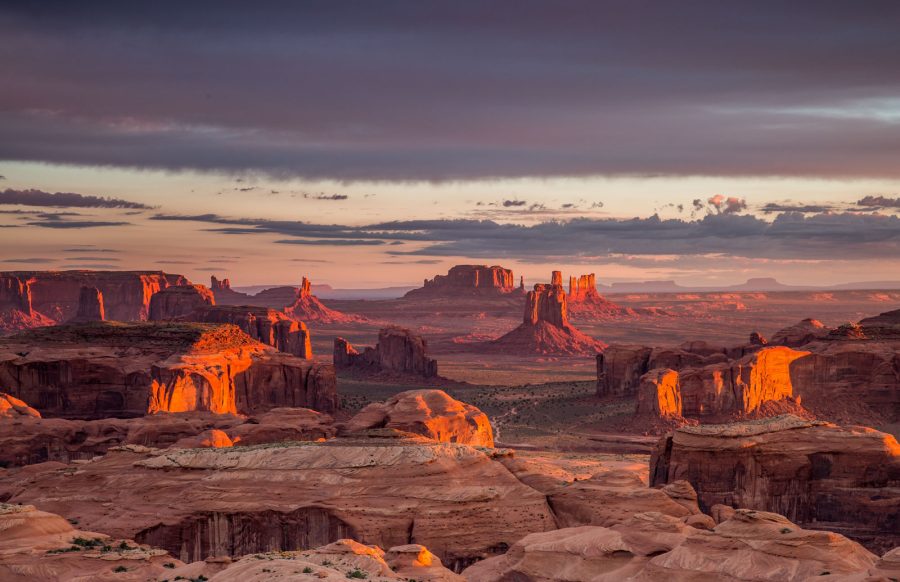 Renowned as the 'Grand Canyon State', there are several incredible places for photography in Arizona.
Arizona is a captivating tapestry of natural marvels, diverse cultures, and breathtaking vistas. From the iconic red rocks of Sedona to the awe-inspiring depths of the Grand Canyon, the state offers endless opportunities for photographers to capture breathtaking images.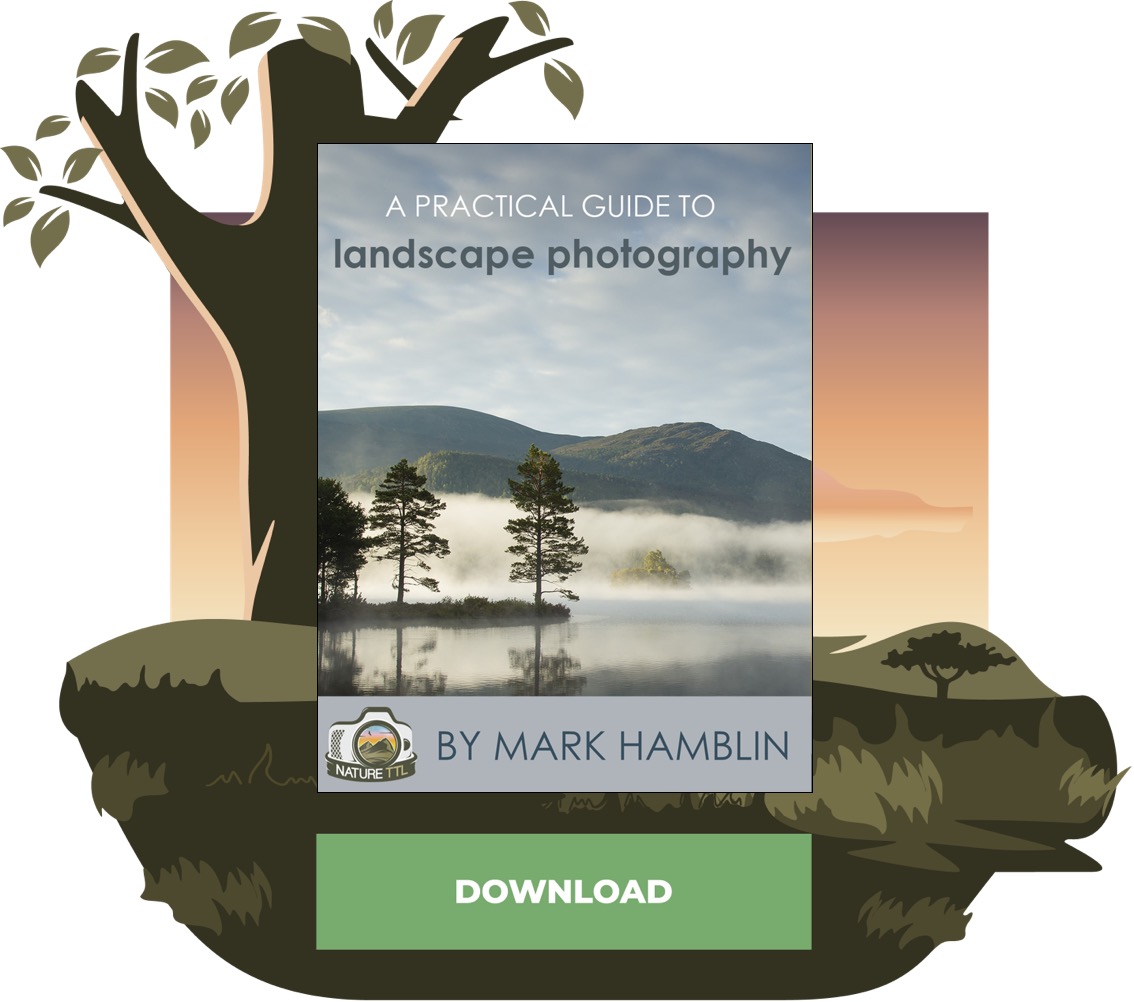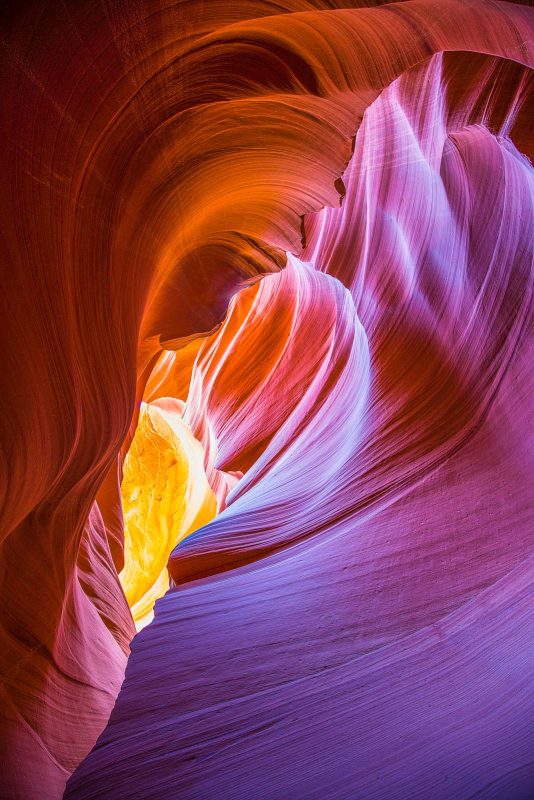 While the Grand Canyon undoubtedly commands attention, it warrants its own dedicated article, so I have chosen to explore beyond its awe-inspiring depths to focus on other incredible locations, each offering unique photographic opportunities.
Through this piece, I aim to provide you with invaluable insights, including photography tips, weather forecasts, safety precautions, and travel advice, enabling you to optimize your photographic expedition throughout this picturesque state.
It's worth noting when planning your trip here that Arizona is a popular destination for individual private and group photography workshops.
These workshops are designed to provide photographers of all skill levels with hands-on instruction, guidance, and the opportunity to capture the beauty of Arizona's scenery with a local professional. I highly recommend taking part if you're new to the area!
1. Antelope Canyon
One of the most popular and photographed slot canyons is Antelope Canyon. Located on Navajo land near Page, in Northern Arizona, it is a mystical and magical place renowned for its mesmerizing light beams and sculpted sandstone walls.
For the best photographic results, visit during the midday hours when the sunlight beams through narrow openings, creating striking patterns and vibrant colors. Capture the intricate details and play of light.
Combine your visit to Antelope Canyon with a trip to nearby Horseshoe Bend for a stunning photography double-feature.
It's important to note that due to the increased popularity of this location, tripods are no longer allowed at either Upper or Lower Antelope Canyon.
Don't let this deter you from this supernatural experience; there are several techniques and tips you can use to capture great images.
Optimize your settings to let in more light and maintain faster shutter speeds, use image stabilization if you have it, and look for any stable surfaces within the slot canyons that can act as impromptu tripods.
This could include rocks, ledges, or even your own body bracing against a wall.
With careful technique, creative composition, and working with the available conditions, you can still create stunning photographs in slot canyons without a tripod.
Also, remember that a cell phone with a good camera shooting in RAW can give you excellent results.
Aside from Antelope Canyon, there are many other slot canyons in the area that offer tours for photographers, and they do allow tripods.
Always check weather conditions and be mindful of flash floods, as the narrow canyon can quickly become dangerous during heavy rains.
Due to the fragile nature of the canyon, access is restricted to guided tours. Follow the instructions of your Navajo guide and be respectful of your surroundings.
Read more: The Best Settings for Landscape Photography
2. Horseshoe Bend
Carved by the mighty Colorado River, Horseshoe Bend is a natural marvel that provides another stunning photographic opportunity.
To capture the dramatic bend in the river, use a wide-angle lens and position yourself closer to the edge to emphasize the curvature.
Consider using a graduated neutral density filter to balance the exposure between the bright sky and the darker foreground, or preferably bracket multiple exposures.
I would recommend a 14mm or 16mm lens. Another option is to take multiple frames and combine them into a panorama.
When to visit Horseshoe Bend
Consider the time of day you plan to visit. The lighting conditions can greatly impact the look and feel of your photographs.
Many photographers prefer shooting during the golden hours, which are the first hour after sunrise and the last hour before sunset when the light is softer and casts a warm glow.
This can enhance the colors and textures of the landscape. Also, after sunrise, you can get some really harsh shadows.
While not essential, using a tripod is beneficial for achieving sharp images, especially if you're shooting during low-light conditions or want to experiment with longer exposures.
It helps to stabilize your camera and allows you to use lower ISO settings for optimal image quality.
Due to the high contrast in the scene, you may want to consider bracketing your shots.
Take multiple exposures, including the highlights, mid-tones, and shadows, and then blend them together using High Dynamic Range (HDR) techniques in post-processing to achieve a well-balanced and detailed final image.
Although there are now railings for safety at the main viewing area, a lot of the cliff edges are not fenced, so be careful with your gear and be mindful of others and watch out for those tripod legs!
Weather in Horseshoe Bend
Horseshoe Bend experiences hot summers and mild winters. Be cautious of the strong desert sun and bring adequate sun protection and water.
Safety tip
Be aware of your footing, as the sandstone can be slippery.
Travel tip
Horseshoe Bend is easily accessible and can get crowded, especially during peak hours. Consider visiting during less busy times or explore alternative viewpoints along the rim for a unique perspective.
Read more: How to Use Focus Stacking for Landscape Photography
3. Sedona
Sedona's otherworldly beauty, with its red rock formations and unique energy, makes it a photographer's paradise.
Utilize a polarizing filter to deepen the saturation of the red rocks and enhance the clarity of the skies.
Consider taking panoramic shots or using a wide-angle lens to capture the sprawling landscapes, and experiment with long exposures to create surreal effects with the flowing creeks and waterfalls in the area.
Some of my favorite spots in Sedona offer unique views and opportunities for capturing memorable images.
Cathedral Rock
This iconic rock formation is one of Sedona's most photographed landmarks. It offers stunning views, especially during sunrise and sunset. You can capture the reflection of Cathedral Rock in the nearby Oak Creek for a beautiful composition.
Bell Rock
Another prominent red rock formation, Bell Rock, is popular among photographers. Its distinct shape and surrounding desert landscape make for fantastic compositions. You can hike around the area and find various vantage points to capture its beauty.
Devil's Bridge
This natural sandstone arch is a must-visit spot for photographers.
It requires a moderate hike to reach the viewpoint, but the reward is a unique perspective of the bridge with the stunning Sedona backdrop. Be cautious when accessing the bridge, as it can be steep and exposed.
Airport Mesa
Located near the Sedona Airport, Airport Mesa offers panoramic views of the entire area. It's an excellent spot for sunrise or sunset photography, as well as astrophotography due to its dark skies.
From this viewpoint, you can capture the red rock formations and the town of Sedona below.
Red Rock Crossing/Crescent Moon Ranch
This picturesque area is known for its stunning views of Cathedral Rock and its reflection in Oak Creek. It's particularly captivating during sunrise or sunset. You can explore different angles along the creek for unique compositions.
West Fork Trail
If you're interested in capturing the beauty of Sedona's lush canyons and fall foliage, the West Fork Trail is a great choice.
It takes you through a scenic canyon with towering cliffs, colorful foliage, and a babbling creek, providing ample opportunities for nature and landscape photography.
Boynton Canyon
This majestic canyon is surrounded by red rock formations and offers breathtaking views. It's especially photogenic during the golden hours.
Consider hiking along the Boynton Canyon Trail to explore different compositions and capture the essence of Sedona's natural splendor.
Weather in Sedona
Sedona experiences pleasant weather throughout the year, but temperatures can soar during summer months. Check for monsoon season alerts during late summer, as sudden thunderstorms can occur.
Safety tip
Some trails can be strenuous and require sturdy hiking boots and plenty of water. Be cautious of wildlife encounters, especially encounters with snakes, and be mindful of your surroundings when venturing into the desert.
Travel tip
Sedona offers a wide range of accommodations, from luxury resorts to cozy bed and breakfasts and campsites.
Read more: How to Photograph Panoramas
4. Monument Valley
Monument Valley's towering sandstone buttes and vast desert landscapes have been immortalized in countless films and photographs.
To capture the essence of this iconic location, utilize a wide-angle lens to emphasize the scale and drama of the monolithic formations against the vast skies.
Play with silhouettes during sunrise or sunset for breathtaking results. Be prepared to experiment with different angles and compositions, as this location offers endless opportunities for unique and compelling images.
Although there is a self-drive loop around parts of the valley, consider a guided tour to access remote locations and learn about the history and culture of the Navajo people. Going with a local Navajo guide affords you many opportunities not available to every visitor.
Access to areas of the park like YeBe Che, Teardrop Arch, and Mystery Valley. For a real experience, you can book an overnight camping trip to Hunts Mesa overlooking the valley.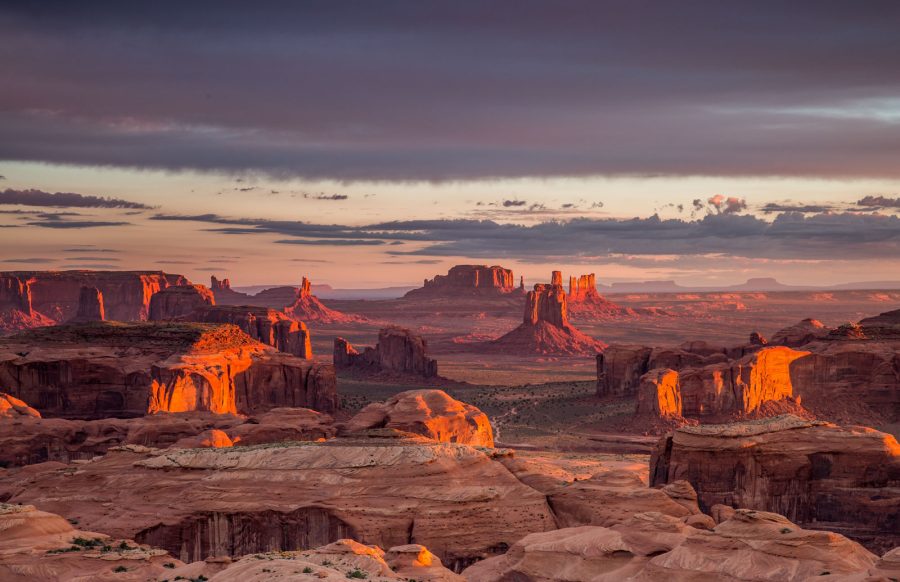 The journey to Hunts Mesa involves off-road driving on rough and sandy trails. Be prepared for a bumpy ride and hold on to your camera gear securely.
It's important to note that access to Hunts Mesa is restricted, and visitors are required to have a guide. Make sure to book this trip well in advance and confirm all the details with your chosen guide.
Weather tip
Summers can be scorching, while winters can be cold and windy. Check weather conditions and be cautious of sandstorms, which can occur unexpectedly.
Safety tip
Respect the Navajo Nation's rules and guidelines when exploring Monument Valley. Stay on designated roads and trails and be mindful of private land and cultural sensitivities.
Travel tip
Guided tours are available and highly recommended for exploring the valley.
Read more: How to Master Backlighting in Landscape Photography
5. Saguaro National Park
Saguaro National Park, located near Tucson, is home to the iconic saguaro cactus and offers a picturesque desert landscape.
To capture the charm of the park, focus on the contrast between the towering cacti and the sweeping desert vistas.
Utilize a telephoto lens to isolate individual saguaros or capture wildlife within the park.
Explore the park during the early morning or late afternoon for soft and warm lighting that enhances the textures and details.
Saguaro National Park offers both an East and West district, each with unique photographic opportunities. Plan your visit accordingly and consider taking the scenic Bajada Loop Drive to explore the park's diverse landscapes.
I suggest visiting the Sonoran Desert Museum if you are in the area. It offers a chance to capture the diverse flora, fauna, and natural beauty of the Sonoran Desert, plus it offers the best raptor free-flight shows I've seen.
Shows are held twice daily from the end of October to April. A perfect opportunity for your long lens, fast shutter speeds, and autofocus tracking!
Safety tip
Be cautious of desert wildlife, including snakes and scorpions, and carry plenty of water when venturing into the park.
Read more: 8 Best Lenses for Landscape Photography
6. Canyon de Chelly National Monument
Canyon de Chelly, located within the Navajo Nation, is a hidden gem rich in cultural and historical significance. Here you can capture images of the ancient ruins, red sandstone cliffs, and meandering river.
Both a wide-angle and telephoto lens are essential here. Once again, photographing during the golden hours enhances the warm tones and shadows within the canyon.
Utilize a tripod and experiment with long exposures to convey the serenity and timelessness of this sacred place.
Canyon de Chelly features several scenic overlooks that provide breathtaking views of the canyon. Spider Rock Overlook, Tunnel Overlook, and White House Overlook are popular spots.
Take advantage of these viewpoints to capture the grandeur and scale of the canyon. Use a wide-angle lens to encompass the vastness of the landscape and a telephoto to zoom into the far-off cliff dwellings.
Canyon de Chelly is home to numerous archaeological sites, including ancient ruins and petroglyphs. These provide excellent opportunities for capturing the rich cultural history of the area. Remember to respect these sites and not disturb any artifacts.
With a Navajo guide, you also have the opportunity to explore the canyon floor. This allows for up-close encounters with natural features and cultural sites.
Capture the intricate rock formations, flowing water, and the interplay of light and shadow. Create images that showcase the connection between the land, people, and their way of life.
Respect the area and ask for permission before photographing individuals or their homes.
Weather tips
Similar to other desert regions, temperatures can vary significantly throughout the day. Be prepared for hot days and chilly nights, and check for possible thunderstorms during the monsoon season.
Safety tips
Respect the Navajo Nation's guidelines and be aware of the restrictions for entering the canyon. Some areas require a Navajo guide, so plan accordingly.
Read more: 11 Landscape Photography Tips You Need to Know
7. The Wave
This is probably one of the most famous rock formations in the world! Tucked away within the Paria Canyon-Vermilion Cliffs Wilderness, The Wave is a geological marvel that attracts photographers worldwide.
Its swirling sandstone formations, resembling a wave frozen in time, create a mesmerizing and otherworldly landscape.
Due to its delicate and limited access, capturing The Wave's beauty requires careful planning and a permit. Apply through the Online Lottery: The Bureau of Land Management (BLM) administers the permit system for The Wave.
You can apply online through the BLM's website. The lottery opens four months in advance of the desired month of visit and closes several months prior to the actual month (for example, the lottery for permits in May opens in January).
A daily maximum of 64 people is permitted to visit. The hike out there is 3 miles each way, and you will spend the day wandering over this mind-blowing area.
Bring a wide-angle lens to capture the vastness of the formations and consider incorporating hikers or fellow photographers into your shots to provide a sense of scale. Remember to create some interesting abstract images and focus on some of the intimate details.
The best time to photograph The Wave is during the early morning or late afternoon when the soft light accentuates the textures and colors of the sandstone.
If you're lucky, you may also get water in the deep pockets, which makes for some amazing reflections.
Weather tips
The Wave, like most locations in Arizona, is hot and dry. Carry plenty of water, sun protection, and appropriate hiking gear.
Check weather forecasts before your visit to avoid potentially dangerous or impassable road conditions. Always take more water than you need, as fatalities due to dehydration and heat stroke sadly happen every year.
Familiarize yourself with the trail and bring a detailed map or GPS device, as the area can be challenging to navigate.
Travel tip
Plan ahead and apply for permits several months in advance. If you are unsuccessful in obtaining a permit, consider exploring other nearby areas, such as Buckskin Gulch, Coyote Buttes South, or White Pocket.
Read more: How to Create Drama and Mood in Landscape Photography
8. White Pocket
Located within the Vermilion Cliffs National Monument, White Pocket is a hidden gem that boasts surreal and intricate rock formations.
Composed of swirling layers of sandstone, this remote and lesser-known location offers endless photographic opportunities, showcasing nature's artistry. Quite frankly, I prefer White Pocket to the Wave, and as of this writing, no permit is required.
To capture the unique textures and patterns of White Pocket, bring that wide-angle lens and experiment with different angles and compositions.
Some of my favorite images were taken using an 11mm lens. It really allowed me to accentuate all the crazy lines and shapes.
Utilize a polarizing filter to enhance the colors and minimize glare on the rocks. However, be careful of a polarizer with a wide-angle lens as it can create a false gradient in the skies.
Sunrise and sunset are ideal here, as the warm light accentuates the vibrant hues and intricate details of the formations. However, fantastic images can be had all day. Midday can be great to capture black and white or infrared as well.
During the monsoon season, storms and clouds can roll in. They also fill the holes and depressions with water, which creates amazing reflections.
Also, consider long exposures to capture the movement of the clouds above the sculpted rocks, and this area is perfect for panoramas.
Safety tip
White Pocket is a remote location with no established trails or facilities. Be prepared for off-road driving and carry essential supplies, including food, water, and a first aid kit. Inform someone of your plans and expected return time before venturing into this isolated area.
Travel tip
Access to White Pocket is challenging, requiring a high-clearance 4×4 vehicle and navigation skills. I have had to help many people who got themselves stuck in the sand. I do recommend hiring a local guide who is familiar with the area and road conditions.
They can provide valuable insights and ensure a safe and enjoyable experience. Camping overnight here allows for early mornings, beautiful sunsets, and spectacular views of the Milky Way.
Northern Arizona has some of the darkest skies and the best conditions for stargazing and night photography.
The Wave and White Pocket offer photographers the opportunity to capture the extraordinary beauty and unique geological formations found in Arizona.
From the sculpted sandstone waves of The Wave to the surreal textures of White Pocket, these locations provide a visual feast for those seeking to capture the wonders of nature.
When is the best time to go to Arizona
Arizona experiences a diverse range of seasons, each offering unique opportunities to create great images.
Spring (March to May)
Spring is the absolute best, with mild temperatures and blooming landscapes. This season is ideal for capturing wildflowers, desert blooms, and vibrant cacti.
Locations like the Sonoran Desert and Saguaro National Park come alive with color during this time. Explore the Superstition Mountains, Boyce Thompson Arboretum, and the Desert Botanical Gardens in Phoenix to witness the beauty of Arizona's spring flora.
Summer (June to August)
Summer in Arizona is known for its scorching temperatures. However, it can still offer unique opportunities for photography.
The monsoon season, which occurs in July and August, brings dramatic thunderstorms and stunning cloud formations. These conditions create the potential for capturing dramatic lightning shots and unique desert landscapes transformed by rain.
Fall (September to November)
Fall here finally brings relief from the summer heat and presents a beautiful transition in colors. As the temperatures cool down, the diverse landscapes, including the mountains and canyons, showcase vibrant autumn foliage.
Areas such as Flagstaff and the North Rim offer breathtaking scenes of golden aspens and fall hues. Capture the changing colors reflected in the lakes and rivers of the state, such as Oak Creek Canyon in Sedona or along the Verde River.
Winter (December to February)
Winter in Arizona varies across different regions.
In the lower desert areas, such as Phoenix and Tucson, temperatures remain relatively mild, which reminds me of why I love to live here. However, higher elevations, including Flagstaff and the Grand Canyon, experience colder temperatures and even snowfall.
Winter provides wonderful opportunities for photographing snowy landscapes, frozen waterfalls, and snow-capped peaks.
The stark contrast between the snow and red rocks creates striking compositions. Consider visiting locations like Oak Creek Canyon or the Mogollon Rim, the Grand Canyon, and Flagstaff for picturesque winter scenes.
In conclusion
Arizona is a photographer's paradise, offering a multitude of captivating locations and sights that are a delight to explore and capture.
From the rugged beauty of Monument Valley to the vibrant landscapes of Sedona, each destination presents unique photographic opportunities.
Hopefully, by following this guide, being mindful of weather conditions, and prioritizing safety and travel considerations, you can embark on a remarkable journey to photograph the best that Arizona has to offer.
And by experimenting with different settings and lenses, you will help you develop your unique style and capture the beauty of Arizona's landscapes in a way that reflects your artistic vision.
Whether you're a seasoned professional or an enthusiastic beginner, the diverse landscapes, rich colors, and breathtaking vistas of Arizona will undoubtedly inspire and elevate your photography to new heights.
So pack your gear, embrace the adventure, and let your lens tell the story of Arizona's captivating beauty!