Black and White Landscape Photography Guide
Whilst the pursuit of many landscape photographers is capturing scenes bathed in golden light, or under the colours of a dawn sky, black and white landscape photography can open a world of creativity.
By removing the familiarity of colour, the scene is stripped to its bare bones and images become more about the light, shadow, shapes, and textures.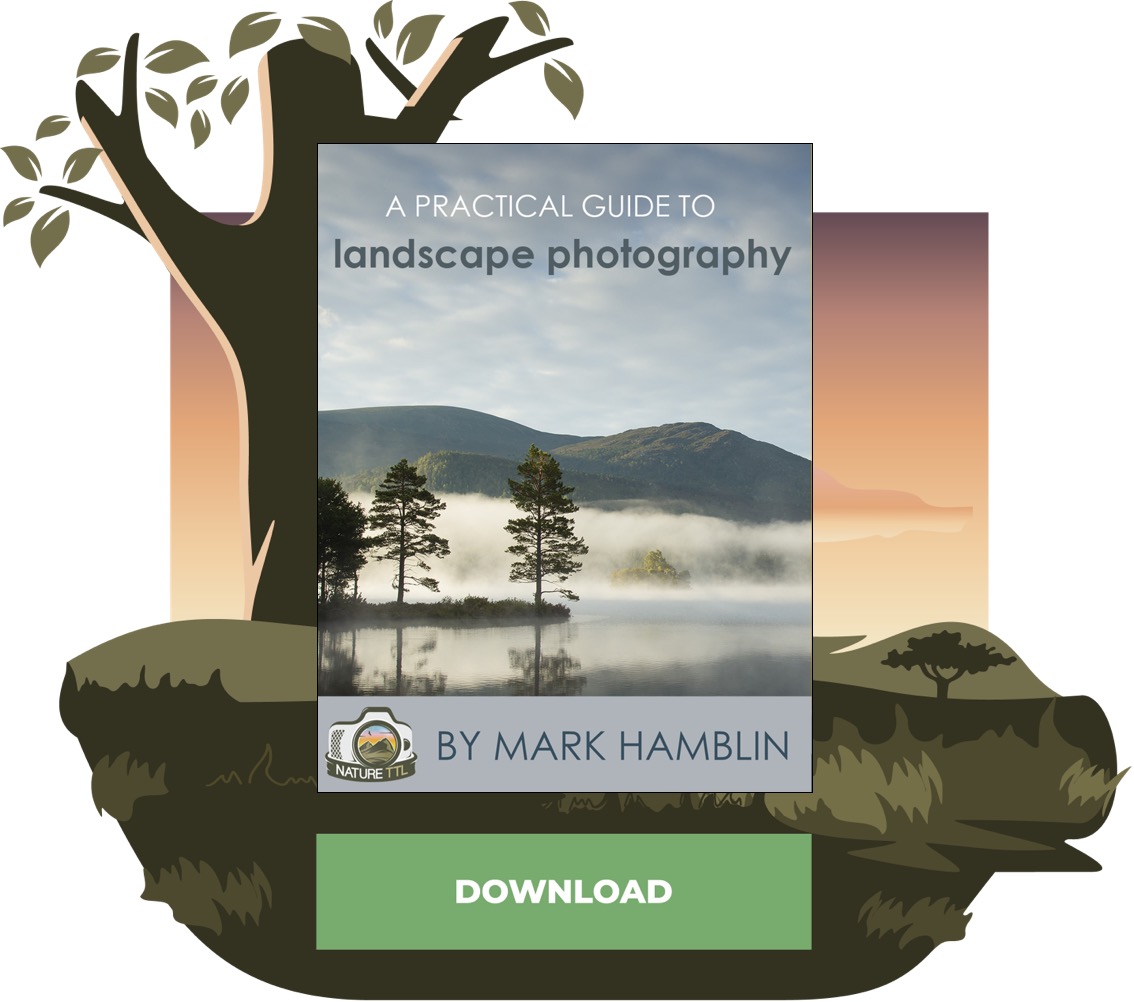 While there isn't a huge difference between working in black and white and working in colour, there are a few things to consider that may help improve your chances of success.
1. Think mono
The ease of converting digital colour images to black and white has led to it being something of a fallback option for many. Often, it becomes a way to try and salvage a shot that wasn't working in colour. For better black-and-white photography, it pays to 'think in monochrome' from the start.
In colour photography, the impact of an image often comes from the relationship between different colours. Without the colour, it is instead the contrast and tonal values that are important, and this is what we need to try and visualise in camera.
Unless you shoot solely in monochrome, picturing how colours will look in black and white isn't always intuitive. Colours which often contrast quite strongly, red and green or green and blue for example, can appear very similar tonally. With practice, it naturally becomes easier, but thankfully your camera can help.
Set the camera to monochrome and the preview on the screen will be black and white, giving you a good idea of how the scene will work. The RAW file will still be colour-ready for you to convert yourself.
This will work on any camera with live view, especially mirrorless cameras, as the scene will also appear in black and white through the viewfinder. Though on any camera, the image can be reviewed in monochrome.
Read more: All You Need to Know to Process a Raw File in Lightroom
2. Keep it simple
Many of the principles of composition still apply: foreground interest and leading lines are just as effective in black and white as in colour landscape photography.
Although the intricacies of a colour scene can often be lost when converted to black and white, for striking black-and-white compositions, simplicity is key.
Strong, simple subjects in the landscape work very well; lone trees, pathways, old buildings, follies, lighthouses, and piers for example. Take care to isolate the subject as much as possible, avoiding distractions in the periphery so that the focus of the image is clear.
3. Use the light
Monochrome photography isn't only for when the light is poor and thus colour uninspiring (although it is effective in these circumstances). In fact, in the absence of colour, light and shadow become even more important.
As with any landscape photography, frontal lighting is generally best avoided as the even light will flatten out texture and contrast in the scene.
Low, side light is much more desirable, revealing textures in the landscape. For example, the curved ripples in a sand dune will be sculpted by the light and shadow playing across them, creating strong lines that draw us into the picture.
Even more dramatic is the high contrast of backlight: shooting towards the light source to create strong silhouettes and bold graphic shadows that stretch out towards the camera. Effects that can be used in black-and-white photography become compositional elements in themselves.
Read more: How to Use Backlighting in Landscape Photography
4. Slow it down
Long-exposure photography lends itself very well to black and white. By using slow shutter speeds (upwards of 30 seconds) you can create beautifully minimal compositions.
It works particularly well at the coast in the soft light of an otherwise uninspiring, dull, and overcast day. Look for simple structures, e.g. a row of groynes or a breakwater, which can be contrasted against the blurred sea and sky.
Unless you are shooting in low light you will need to use ND filters to achieve shutter speeds slow enough. I use a LEE Filters Big Stopper (10 stop) and often combine it with a 0.9 ND filter (3 stops) for exposures of 2-3 minutes, even on bright days.
Set the camera up on a tripod, and before putting in the filter, compose your image and take a test shot. Then use the shutter speed from the test shot to calculate the shutter speed needed with the filter (there are phone apps to do this).
Experiment with different shutter speeds; very long exposures are great for the minimal look. A shutter speed of around 1 second can add a feeling of motion and impact to foreground water in coastal scenes without losing detail.
Read more: How to Take Long Exposure Landscape Photos
5. Different wavelengths
Infrared black-and-white photography is perfect for making the most of the bright, sunny days that landscape photographers usually shy away from.
An infrared-converted camera or an infrared lens filter blocks most of the visible light spectrum, only the infrared wavelengths are captured.
The results can be dramatic in black and white, particularly on those sunny days, with blue skies appearing black and foliage rendered almost white giving the image something of a dreamlike quality.
Read more: Infrared Photography Guide – The Invisible Light
6. Be bold
Processing is a crucial stage in black-and-white photography, and I enjoy the opportunity to push things a bit further than perhaps I would when processing a colour image.
If you are a member of a camera club you will be well aware of the perils of blown highlights and blocked shadows. Yet, when it comes to black and white processing, prioritise the mood and drama of the image and don't be afraid to throw off those shackles along with the colour.
If, like me, you prefer your black-and-white images to be just that – black and white, with rich blacks, crisp whites, and plenty of contrast, then process accordingly. Be confident and don't feel that you have to show detail in every shadow and highlight, it will make for a more dramatic image.
That said I generally try and process sympathetically: enhancing the strengths of the image rather than fighting them.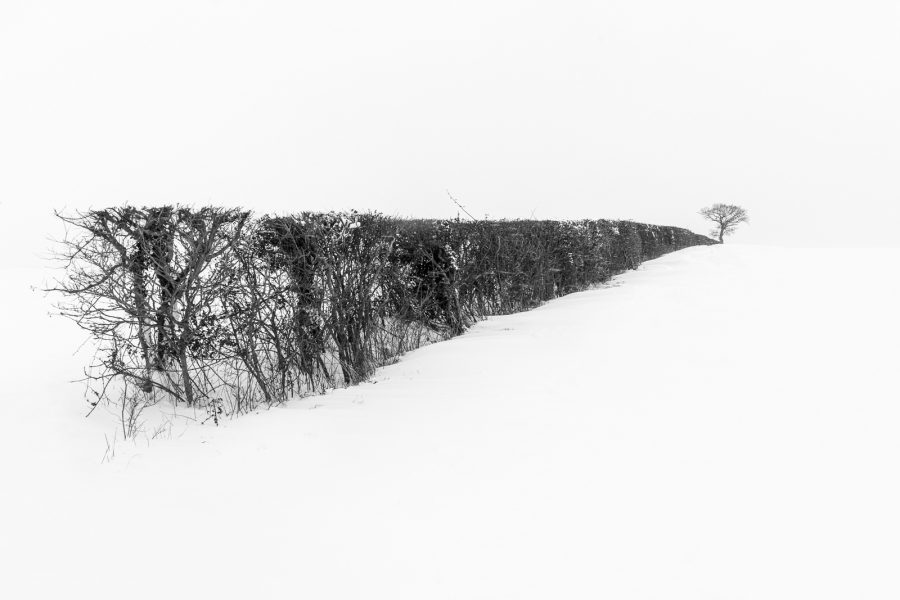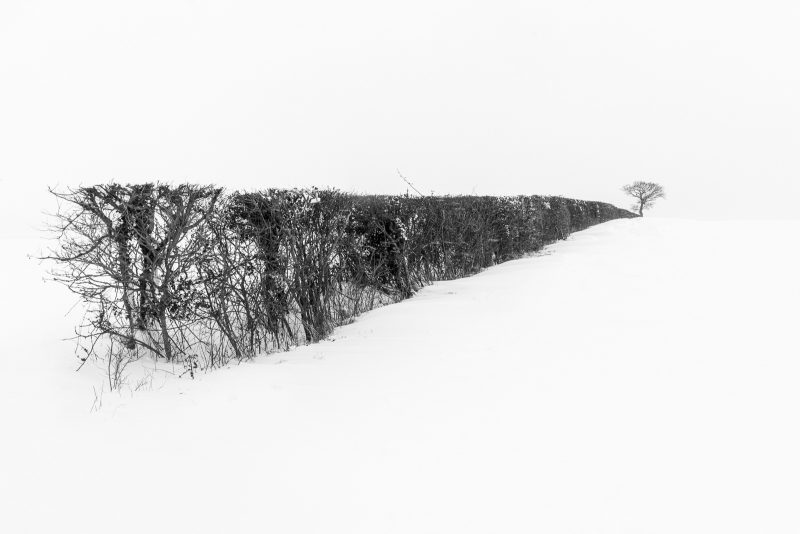 A moody, stormy image has the potential to be more dramatic when processed boldly in black and white. A minimal, high-key scene can be made more delicate when processed with a lighter touch.
Existing light and shadow in the image can be further enhanced with localised adjustments, dodging and burning in effect, to guide the viewer's eye to the area that we want them to focus on.
Read more: The Basics of Editing Black and White Wildlife Photographs
Steps to mono success
Black and white landscape photography gives us the freedom to get creative, and I believe these final few tips will help you to succeed in this style of photography.
• Shoot with black and white in mind rather than using it as a last resort later
• Set your camera to monochrome to help you visualise the scene in black and white, but remember to shoot in RAW so you can still convert to mono yourself
• Keep your compositions simple, look for simple subjects, strong shapes, and contrasts
• Play to your strengths: if there is a big dramatic sky, compose the image to show more of it
• Go out in all weathers: bad weather can look dark and atmospheric in black and white
• Get creative with filters: ND filters, infrared filters, or even a polariser can transform your images
• Process for impact, don't be afraid to experiment, and push things further than you would with a colour image
• Use toning to add a hint of colour: a subtle, cool or warm tone can alter the feel of your black and whites
• Looking for inspiration? Study the work of your favourite black and white photographers and work out what it is that makes them special
Read more: Black and White Landscape Photography Tips
In conclusion
Shooting in black and white gives landscape photographers the opportunity to let their creativity shine.
It's the perfect chance to push things a little further than you might in colour, both in camera and in post-processing, so give it a go!