8 Best Places for Photography in Florida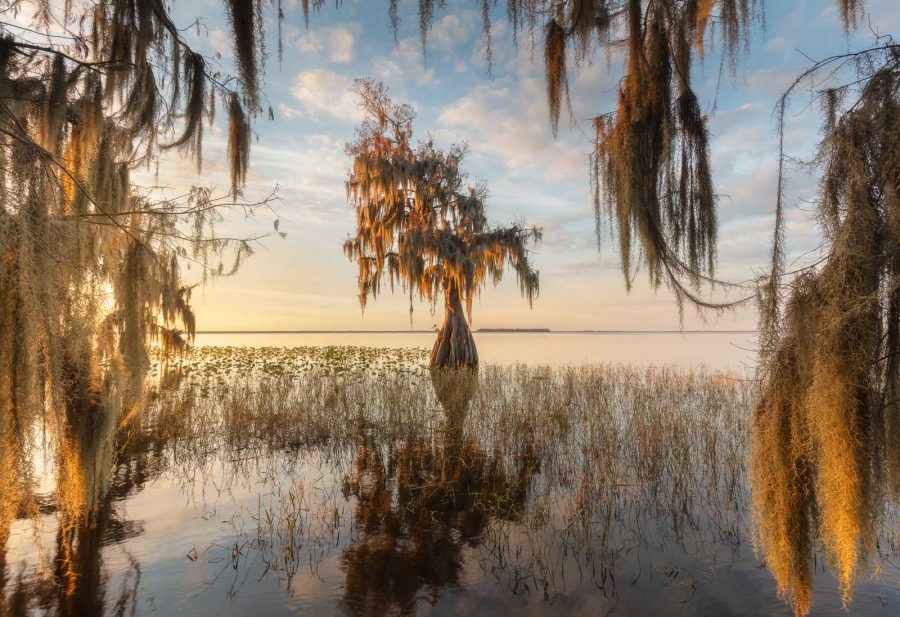 Florida ("the Sunshine State") is a popular destination best known for vacationing, retiring, and spring break shenanigans. However, there are also plenty of great places for photography in Florida.
Florida has a unique subtropical landscape composed of coastlines, wetlands, and swamps, all of which offer a variety of opportunities for landscape and wildlife photographers.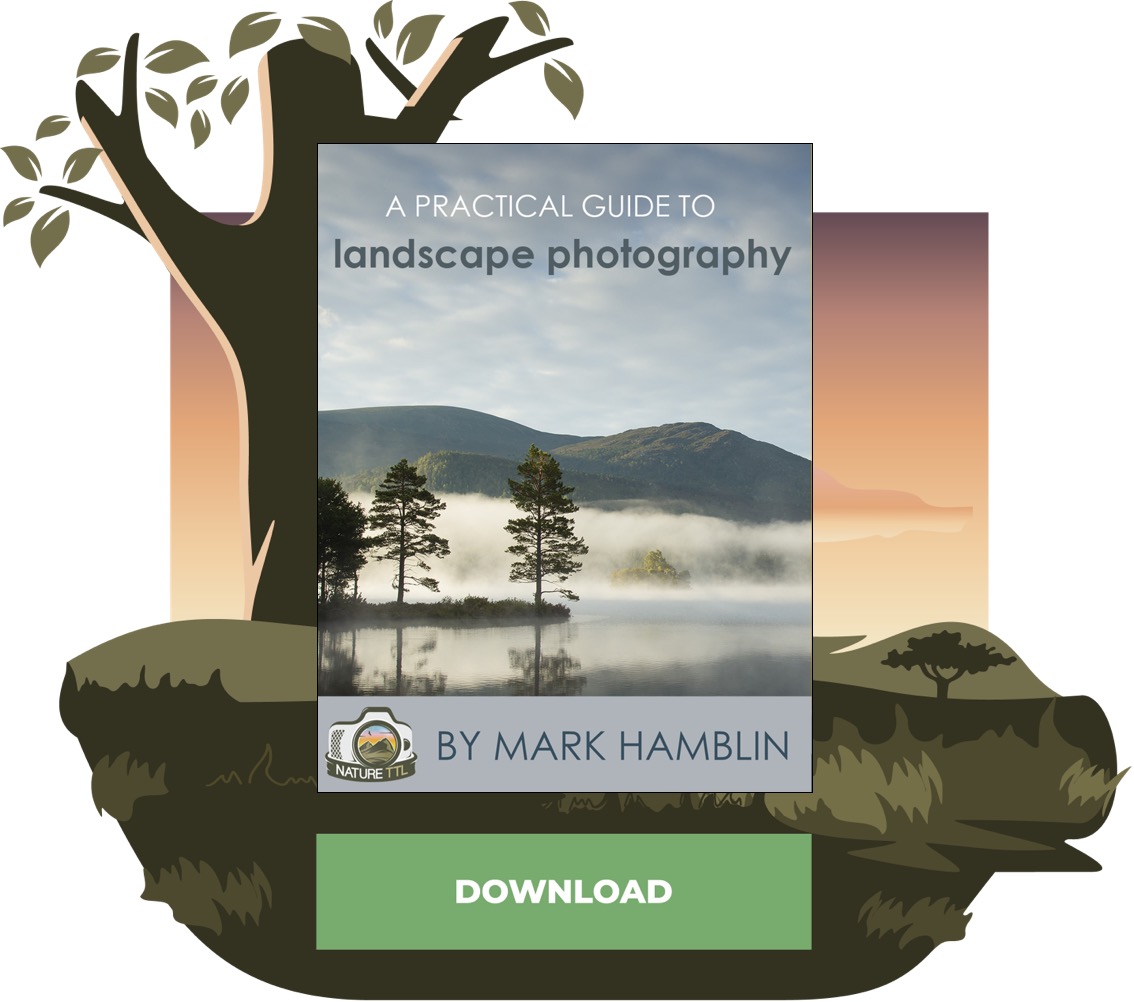 While there are no mountains or grand vistas, Florida certainly doesn't lack beauty… you just have to know where to look!
Come along with me as I share some of my favourite destinations for photography and offer a few tips to help you walk away with a great experience and some beautiful pictures.
Best of all, most of these locations don't have huge crowds to compete with you'll often find you have the place all to yourself.
Let's start the journey from Florida's historic first coast in Jacksonville. Then we'll meander our way through the state, down to the conch republic in The Florida Keys.
1. Boneyard Beach
Located along the shores of Big Talbot Island State Park, Boneyard Beach gets its name from the sun-bleached fallen oak trees resembling skeletal remains scattered across the beach.
This location offers an abundance of compositions and is ideal for black-and-white enthusiasts, as well as those who love taking long exposures.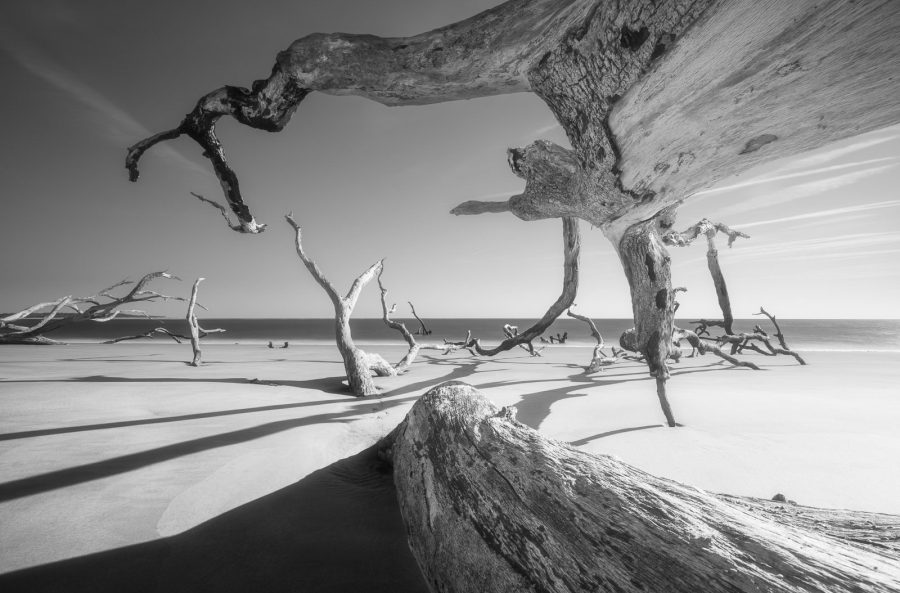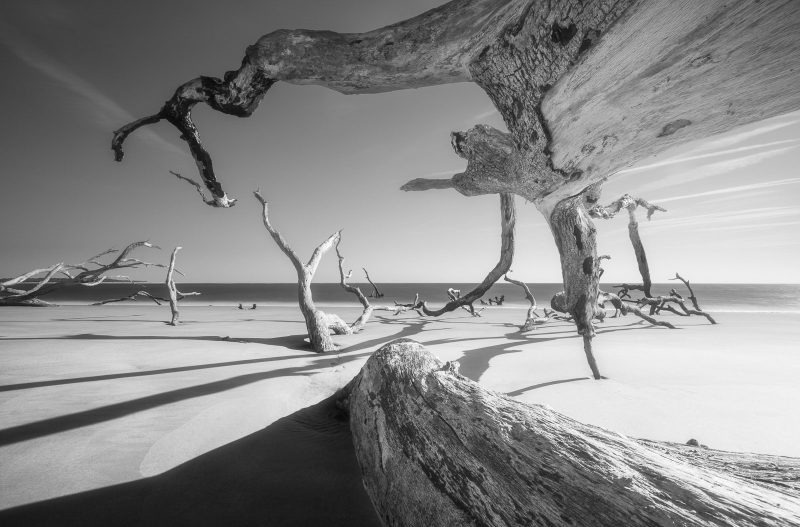 Using a 6 to 10-stop neutral density filter will help to smoothen out the movement of the water, which can add an ethereal mood to scenes like this.
Sunrise is the perfect time to photograph here, but since the main entrance doesn't open until 8 am, you'll have to park at the Black Rock trailhead and walk to the beach.
The trail is relatively easy, taking you through a forest of native Florida trees like slash pine and live oaks. You'll want to plan your trip around low and mid tides since the beach is submerged during high tide.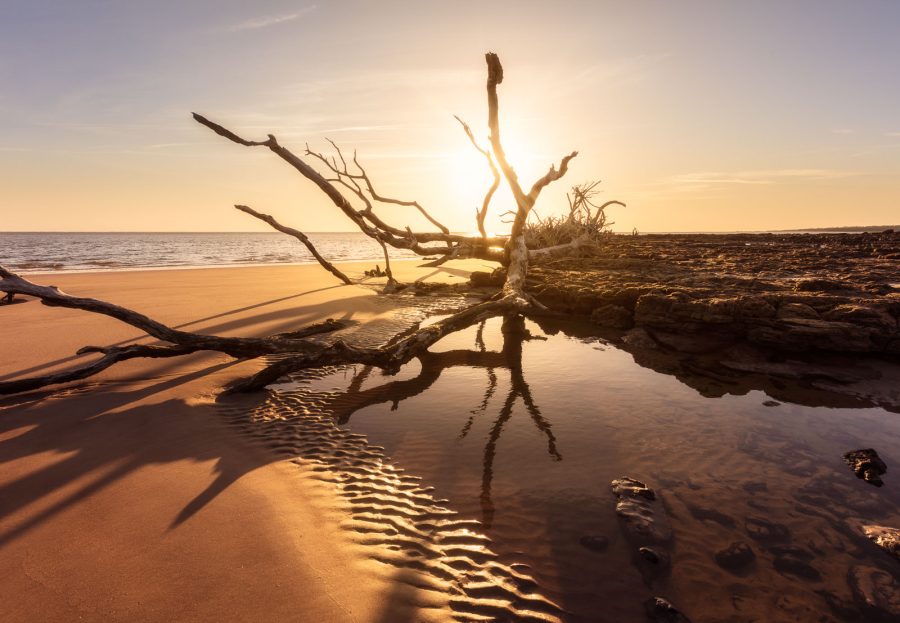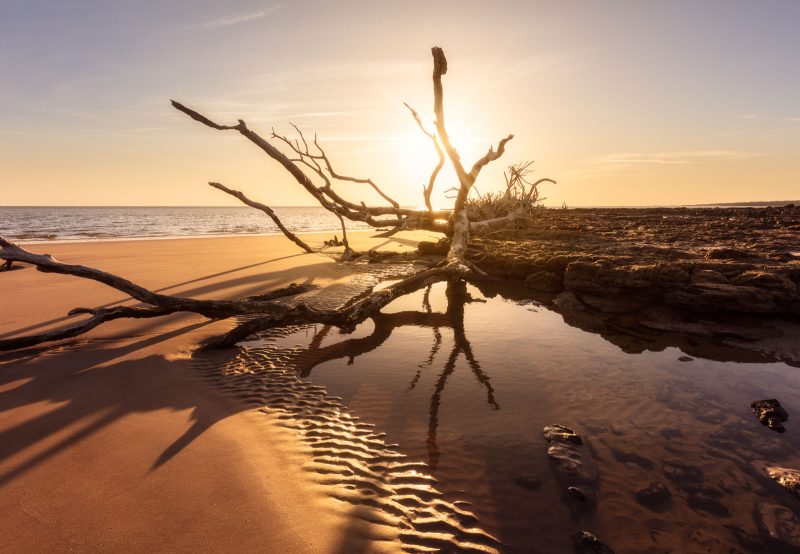 As mentioned earlier, if you appreciate black-and-white photography you'll want to stick around well after sunrise.
On clear mornings, the sun creates a contrasting scene, with the trees casting beautiful long shadows across the sand.
The gear I recommend includes a wide to medium-angle lens, a tripod, and ND filters. It's also worth noting you may want to bring along a macro lens to photograph the abstract textures on the trees.
You'll also want to pack bug spray and wear trousers for protection against ravenous mosquitoes and what we locals call no-see-ums (midges).
Read more: Black and White Landscape Photography Guide
2. River to Sea Preserve aka Marineland
The majority of Florida's coastlines are made up of white sandy beaches, but there are a few that have rocky coastlines.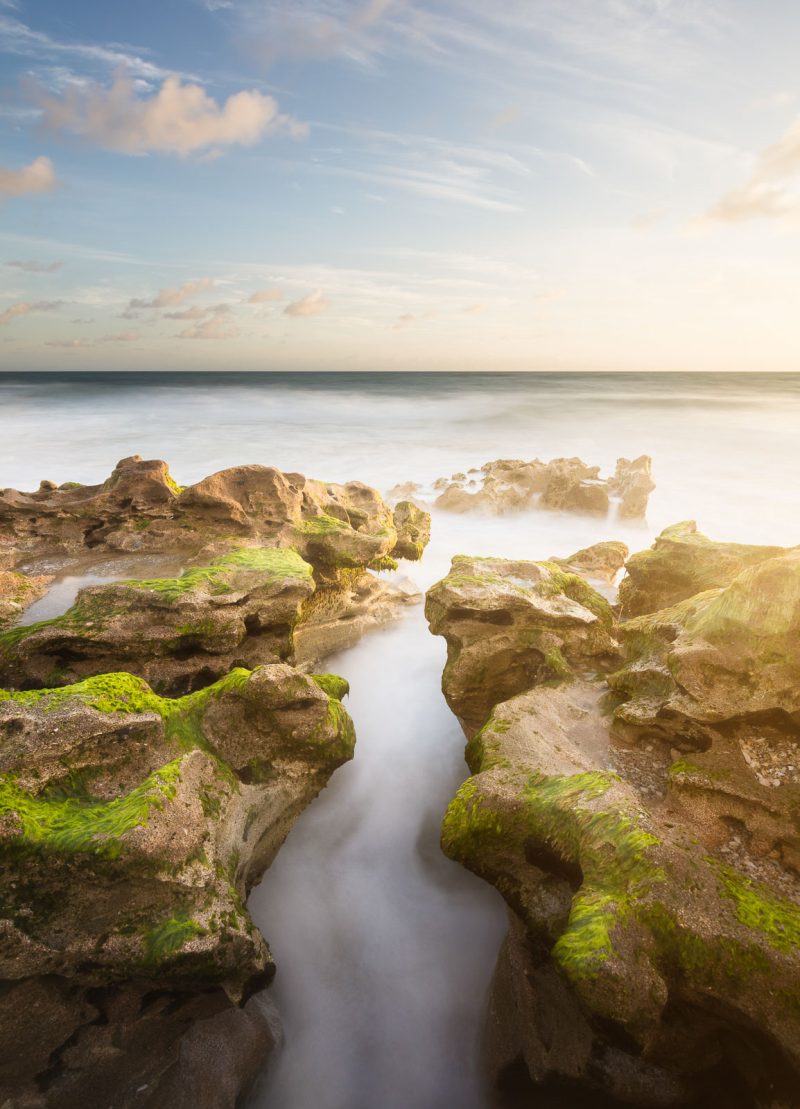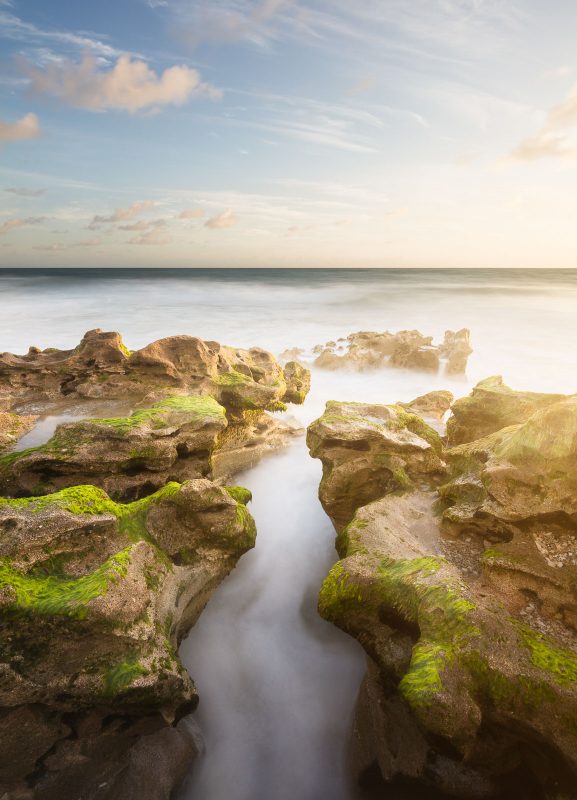 Marineland is located on the east coast of Florida in the town of Palm Coast and is a wonderful playground for seascape lovers. This stretch of beach has the largest outcropping of coquina limestone formations found in the state.
The formations here are unique from the rest because they have lots of large holes, resembling miniature craters. They are terrific for adding foreground interest as well as anchoring the scene.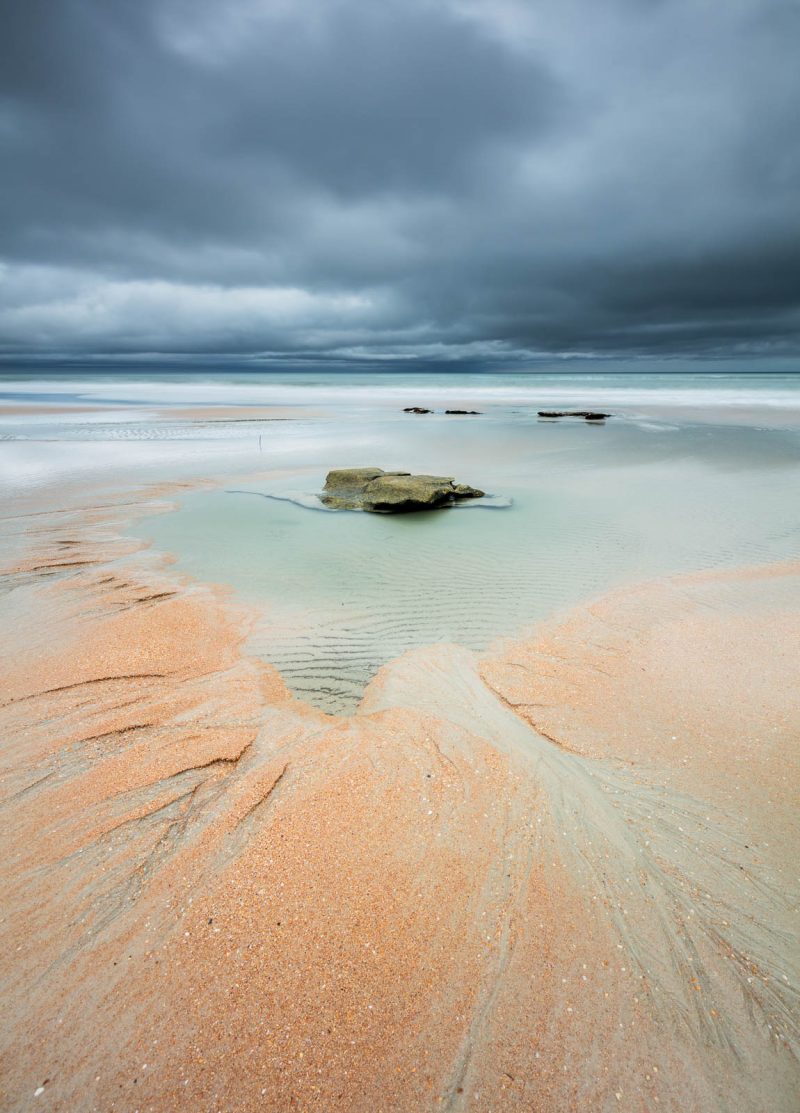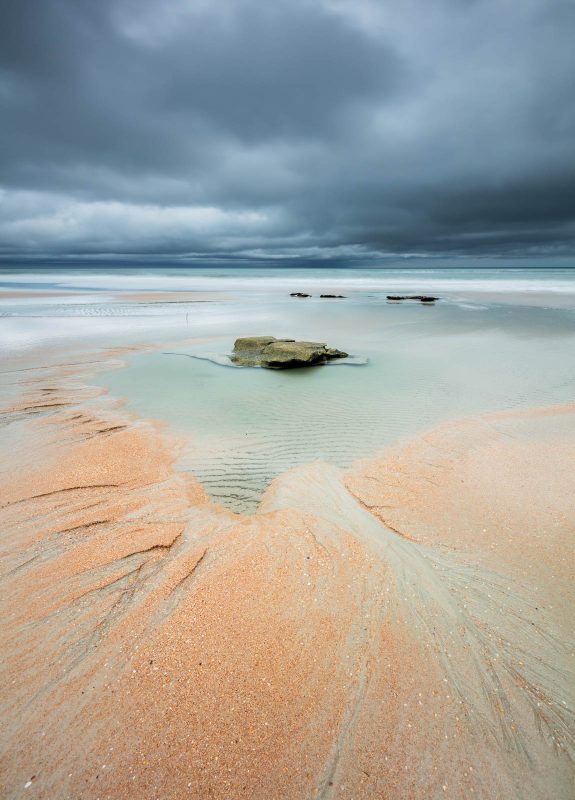 During high tide, waves crash against them creating dramatic splashes and miniature waterfalls as the water cascades down the edges.
It's useful to experiment with varying shutter speeds here depending on the look you're going for. I tend to keep mine between ½ and 2 seconds to get it nice and silky while still retaining a bit of texture.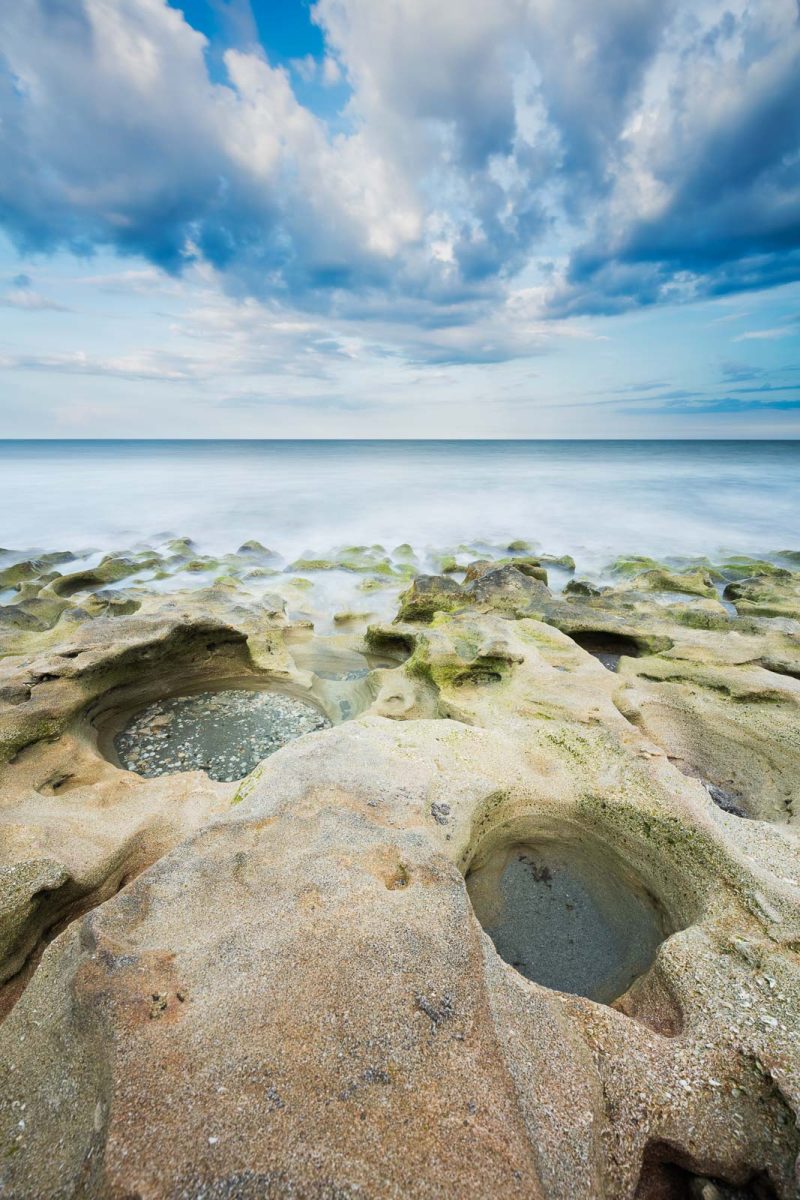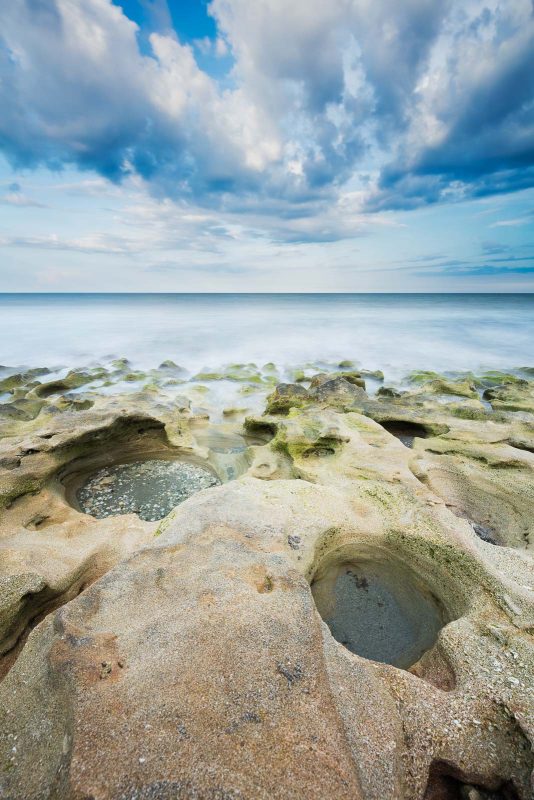 If you're into minimalism, then you'll love this location during low tide! The beach gets filled with rippled textures and tide pools reflecting the sky.
Since this location is on the east coast, it is ideal for catching sunrises, especially during the summer months when we have some of our most vibrant and dramatic skies.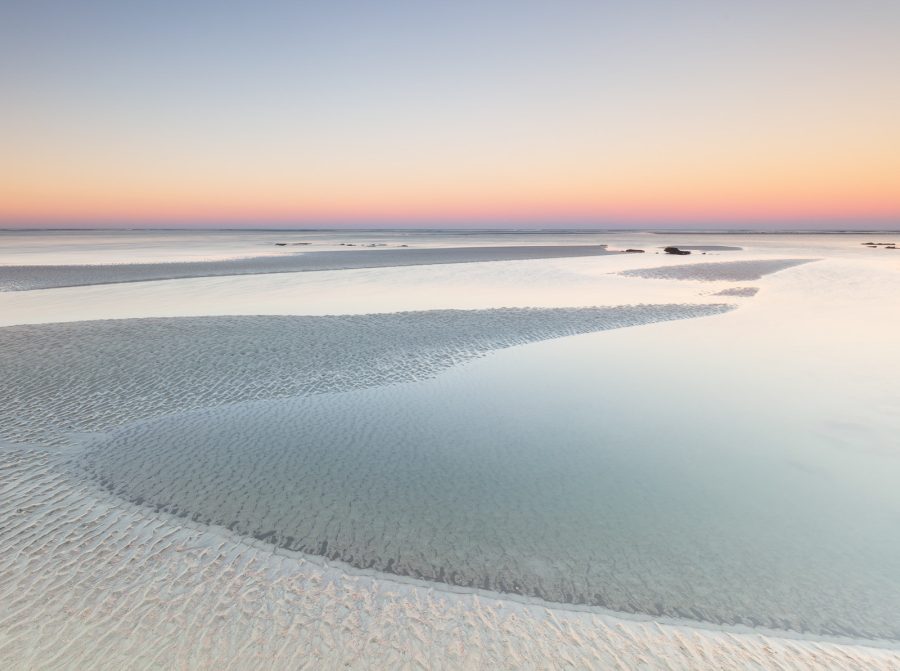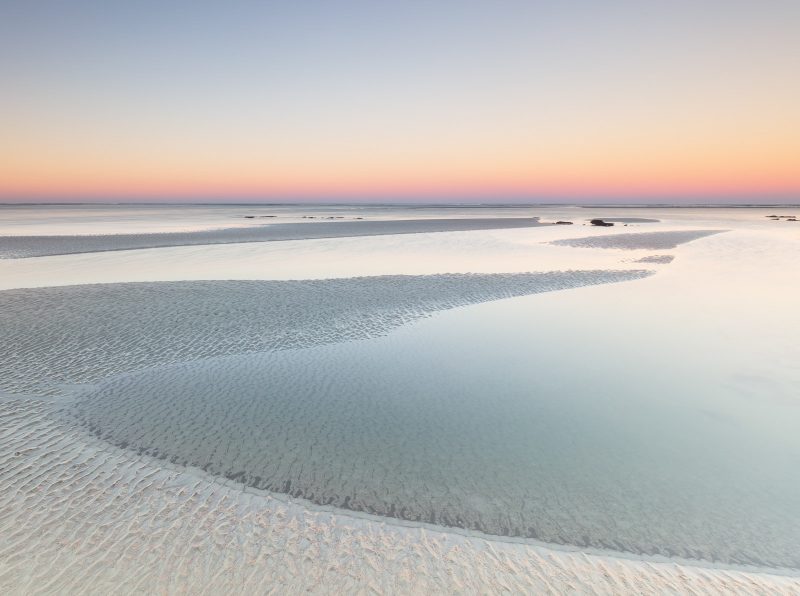 Another interesting detail to look for is the light dusting of orange on the sand that's produced by the coquina. At sunrise, this dusting catches the light and creates a gorgeous glow and stands out against the white sand.
The gear I recommend is a wide-angle lens, a sturdy tripod, and a 3-6 stop ND filter.
Read more: Long Exposure Photography – Creative Landscapes with a Slow Shutter
3. Flagler Beach Pier
Florida is abundant with fishing piers that stretch out hundreds of meters into the ocean, but there are only a handful that are eye-catching.
The Flagler Beach pier stands out above most of them because of the staggered stilts and trusses holding it up.
While most piers have a very symmetrical design, this pier has a complexity to it, and at the same time a very rustic feel as if it was constructed using scrapyard lumber simply nailed on.
You can choose to photograph the pier from a few vantage points, but my favourite is standing directly under it and capturing its best feature, the stilts.
I have found that this pier can be photographed at both sunrise and sunset, but it does get crowded in the afternoon as residents go for an afternoon stroll.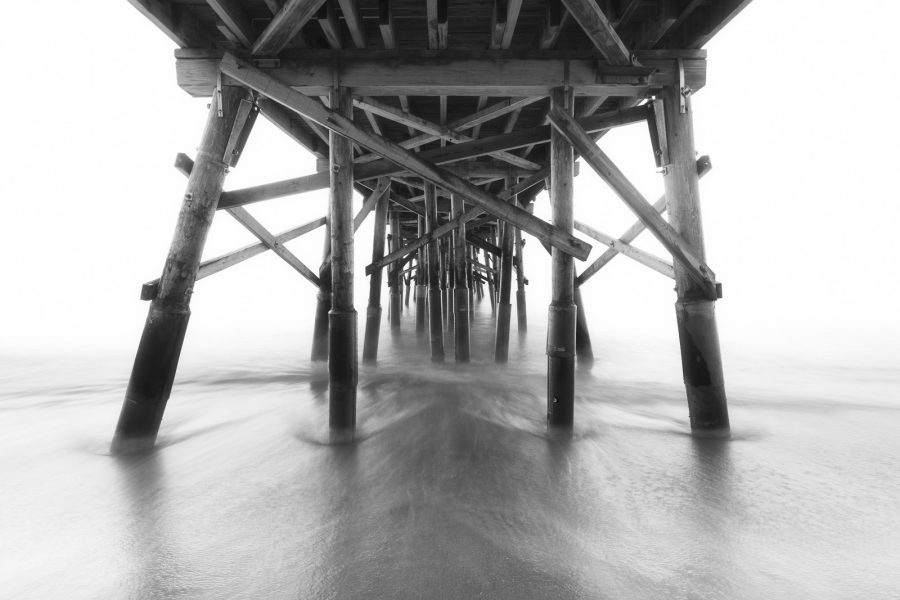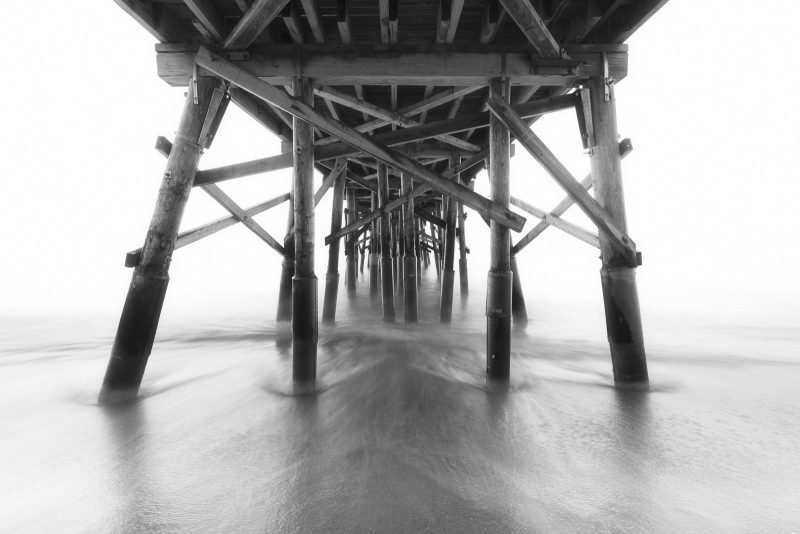 Of course, you'll have a better chance for a colourful sky at sunrise, but you can also capture some soft pastel colours just after sunset with the Belt of Venus in the background.
Plan your visit during mid and high tide as the water will rush across the stilts creating some lovely foreground interest and adding movement to your photos.
I like to use a slow shutter speed and take the shot as the waves are receding, which will create pleasant leading lines guiding the viewer down to the end of the pier.
You'll want to use a wide-angle lens to capture the entirety of the pier with both sand and sky in the frame.
Top tip: After photographing seascapes, be sure to always rinse your tripod fully with fresh water to keep the saltwater from eroding it. Also, use a damp cloth to wipe your camera body and lenses that may have tiny sea spray drops on them.
Read more: Composition Tips – Leading Lines and Vanishing Points
4. Merritt Island Wildlife Refuge
Our next stop is along the 'space coast' of Florida, where NASA launches its space shuttles from.
Merritt Island Wildlife Refuge is a bird and wildlife photographer's dream location.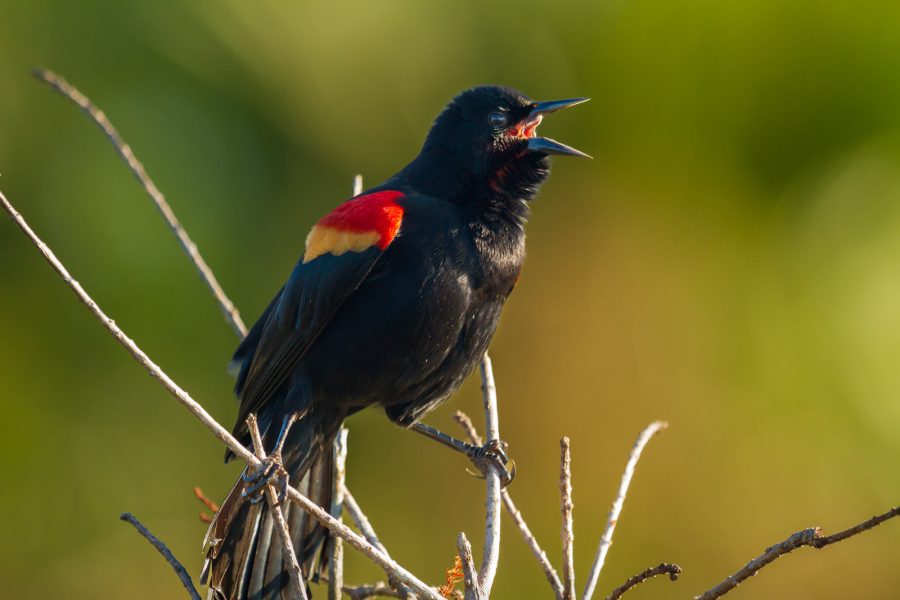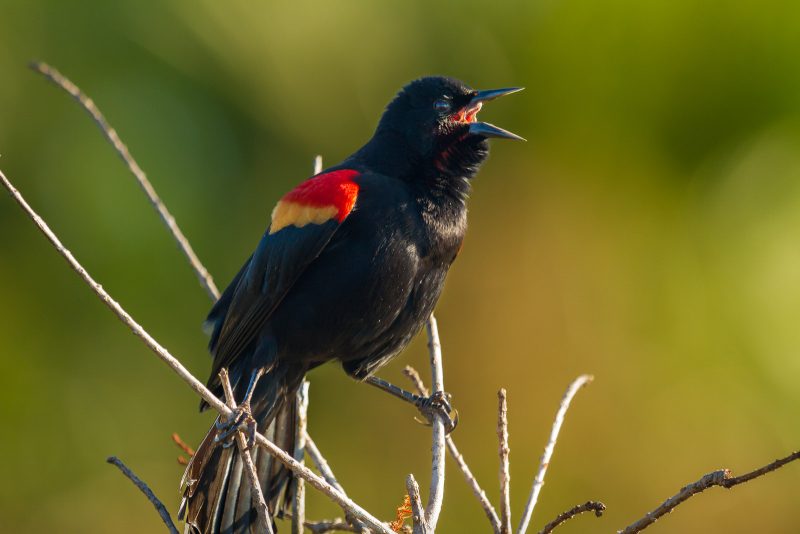 Here you will discover a vast amount of bird species ranging from wading birds like the roseate spoonbill and great blue heron to birds of prey like osprey and harriers.
There are a few trails to choose from and they all offer excellent vantage points to photograph these birds in their natural habitat.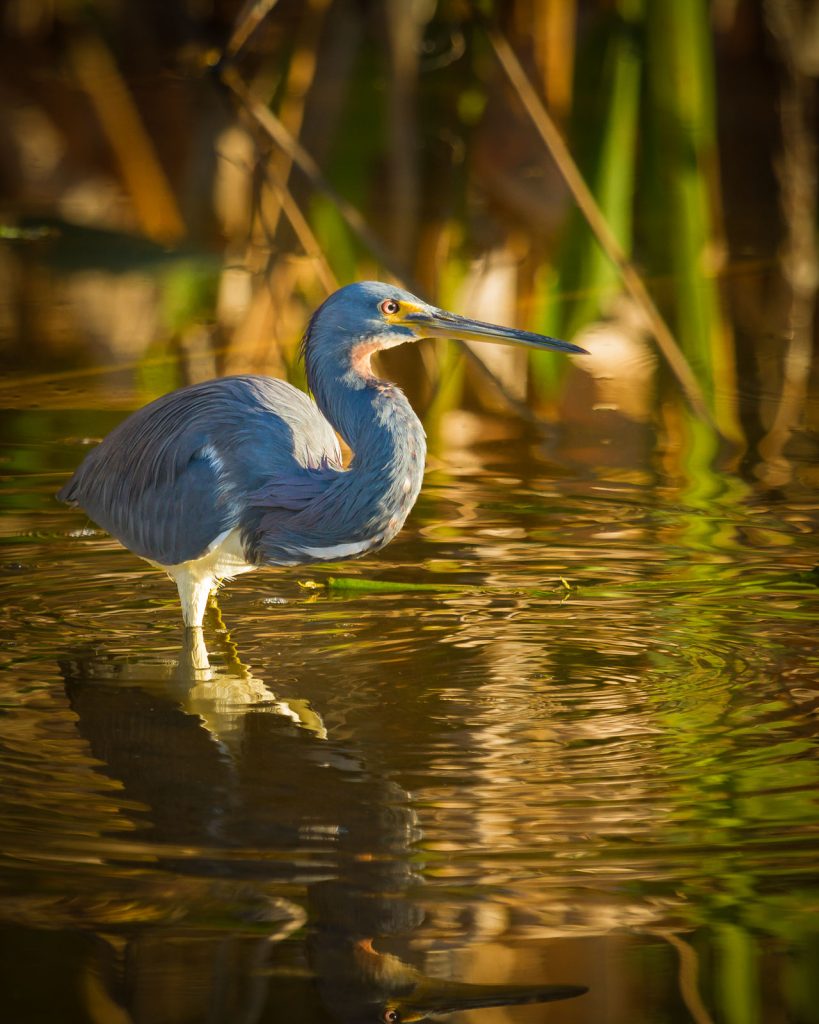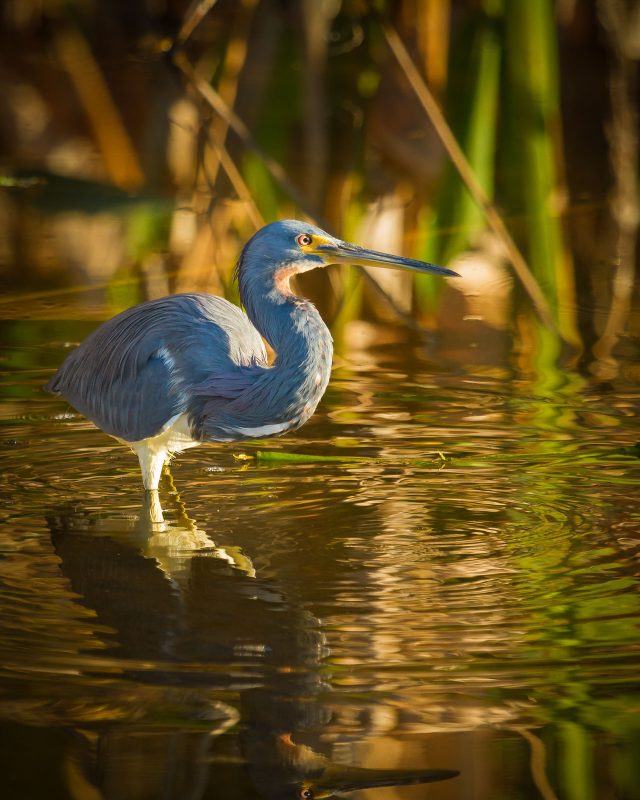 Be sure to bring a telephoto lens that is 400mm or higher to get in nice and close. I also recommend a camera that has great ISO performance since most of these birds are in action during hours of low light.
You'll need to keep your shutter speed high to avoid blurry photos. I also highly suggest using a gimbal head on a tripod. It will not only help stabilize your shots but also alleviate the fatigue in your arms from hand-holding those hefty lenses for hours!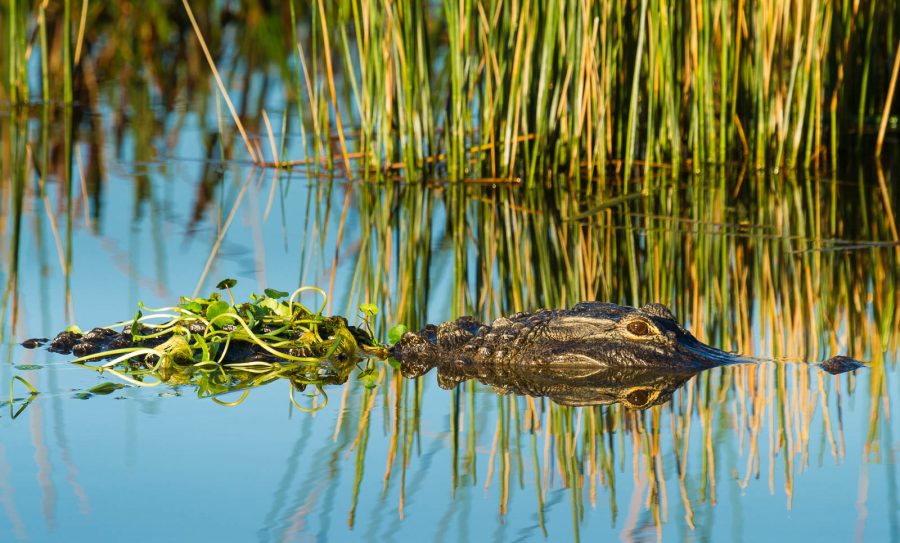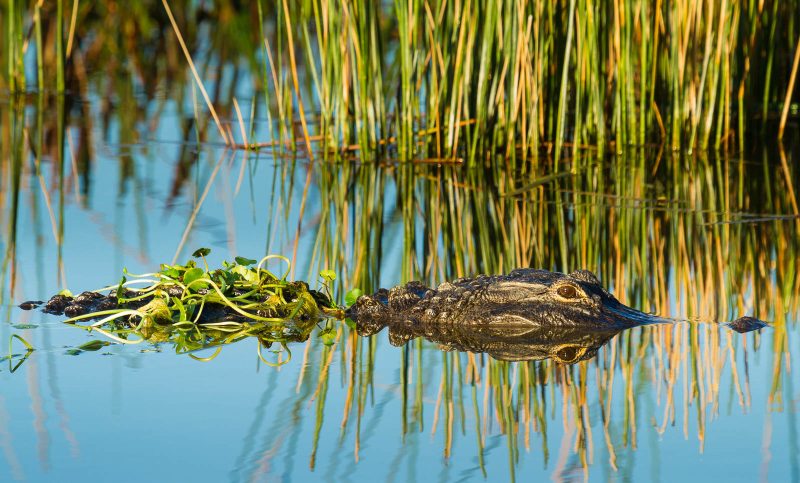 Plan your visit between October through early March as this is when most of the birds start building their nests and become very active.
The males will also have their mating plumage on full display as they try to impress the females. Other abundant wildlife you'll be sure to see are alligators, turtles, snakes, bobcats, and deer.
Read more: What are the Best Lenses for Bird Photography?
5. Hillsborough River State Park
Crossing over to the west coast of Florida, just a bit north of Tampa, is one of my favourite places for landscape photography – Hillsborough River State Park.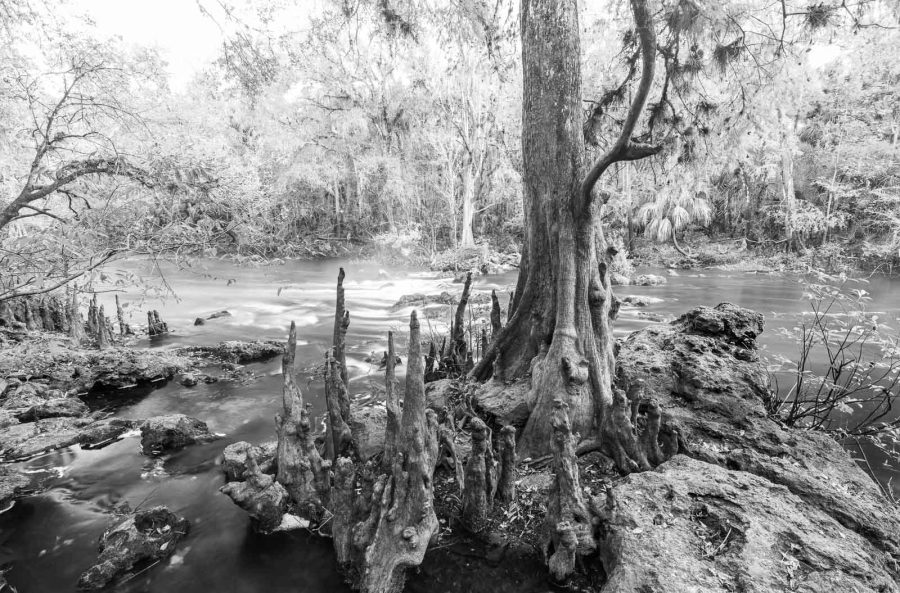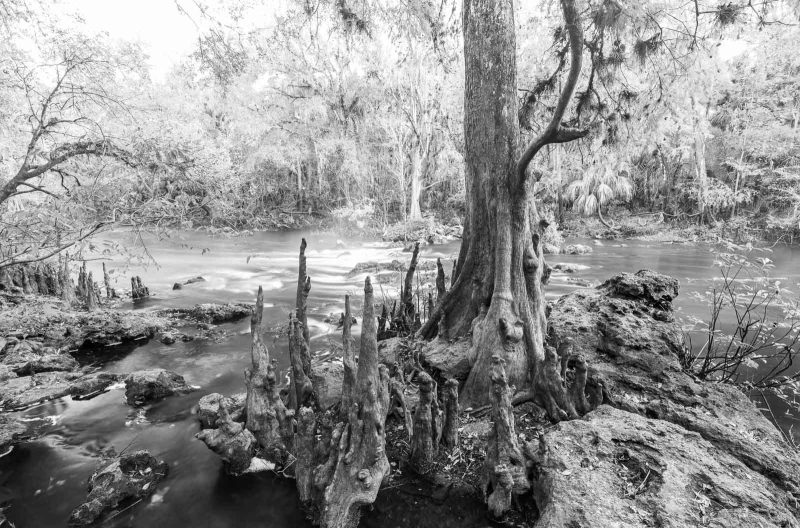 The entire park has endless photographic opportunities for landscapes, wildlife, and even macro.
The main attraction for me is the class two river rapids that are surrounded by old cypress trees and saw palmetto.
Getting to the rapids requires a short walk through the River Rapids trail. You'll know you're getting closer as you hear the soothing sound of rushing water getting louder and louder.
Once you get there, you'll be in awe of the beauty as you stand on the observatory and witness the only class 2 river rapids in the state.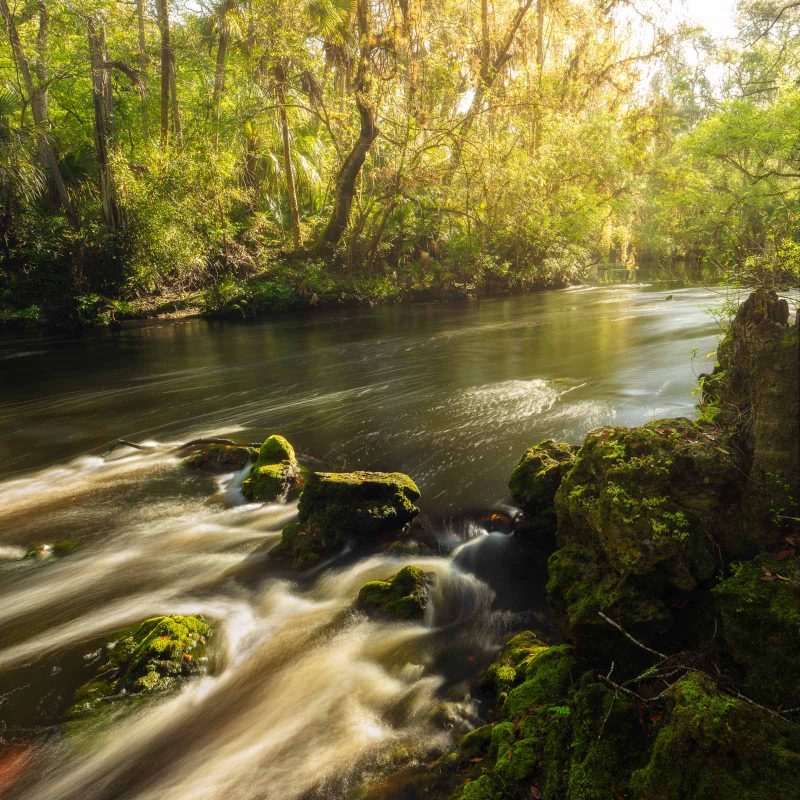 You can choose to explore more of the river either to the right or left, but I primarily go left since there are more interesting compositions to be found there.
About a half mile to the left, you'll encounter a large suspension bridge that offers a stunning view of the river. As a safety note, if you choose to get into the river or set up along the riverbank, be sure to watch out for wildlife such as alligators and snakes.
Although they are very skittish and usually avoid humans, they may bite out of self-defence if you step on them by mistake.
There is other less dangerous wildlife you'll come across as well, such as barred owls way up in the trees, also pileated woodpeckers, and one time I came across a family of wild hogs.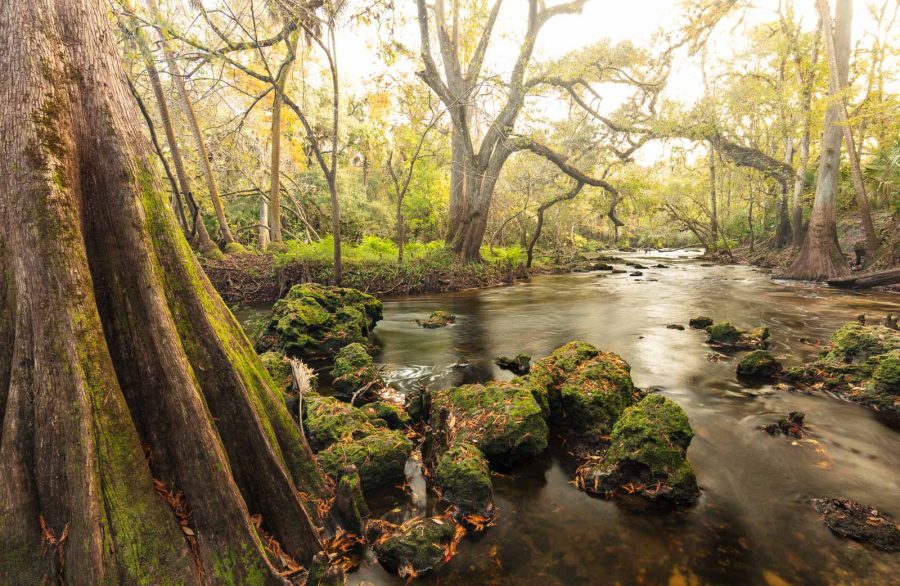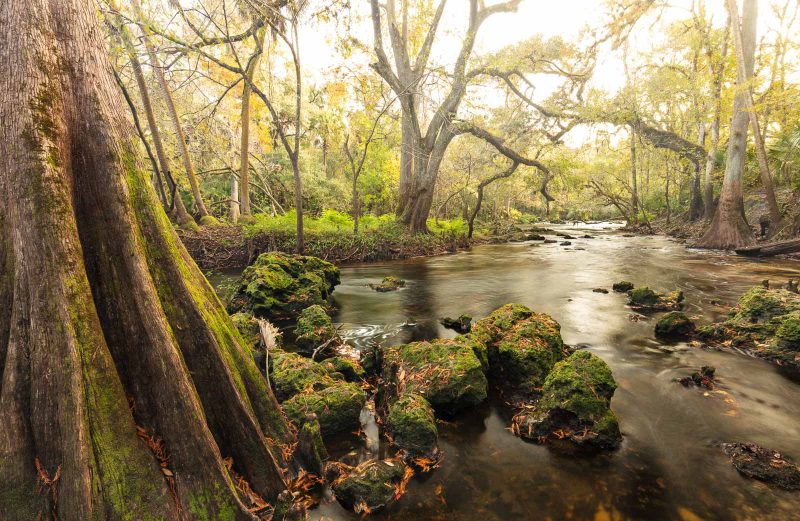 My favourite time to photograph this location is in early to mid-winter when the weather is cooler and less humid, but also because the cypress trees will have their peak fall colours.
I also suggest camping in the park so you can have access to the trails early and can have your shot set up in time for golden hour. Otherwise, you'll have to wait until the park opens at 8 am.
As far as gear, I bring it all since there is so much to capture!
There is one accessory I constantly use here and that is a polarizing filter. As the area is so vibrant and lush, you'll want to cut out as much reflection as you can to make your photos pop, so be sure to turn the polarizing ring to the maximum.
Read ore: How to Use Water in Your Landscape Photos
6. Blue Cypress Lake
Central Florida has a large number of freshwater lakes that are home to ancient bald cypress trees, most of which are hundreds of years old and some possibly a thousand years old.
These massive beauties grow out of the dark tannic waters, which can look black to the naked eye. They are covered in Spanish moss, giving the illusion that the trees have long wavy hair.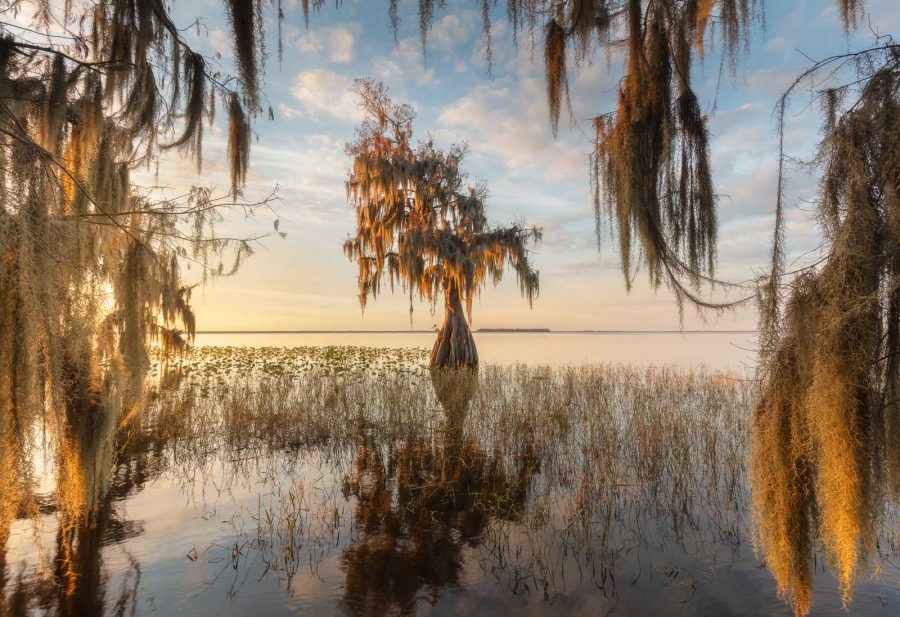 Blue Cypress Lake has some of the largest and most unique bald cypress trees in all of Florida.
You'll need a boat, preferably a kayak, to explore the lake and get up close and personal with these giants.
There is a fishing camp located on the lake that offers pontoon and airboat tours, but they are limited in the areas where they can take you due to the size of their vessels, and they are also prohibited by law to get close to the nesting osprey. I
t's so much more rewarding to use a kayak to paddle around and in between the trees seeing them up close and taking in their grandeur! Kayaking can be an immersive experience but very few people will take it on as it can be very intimidating.
If you haven't taken photos from a kayak before, it is a learning experience and can be quite frustrating at first so pack your patience.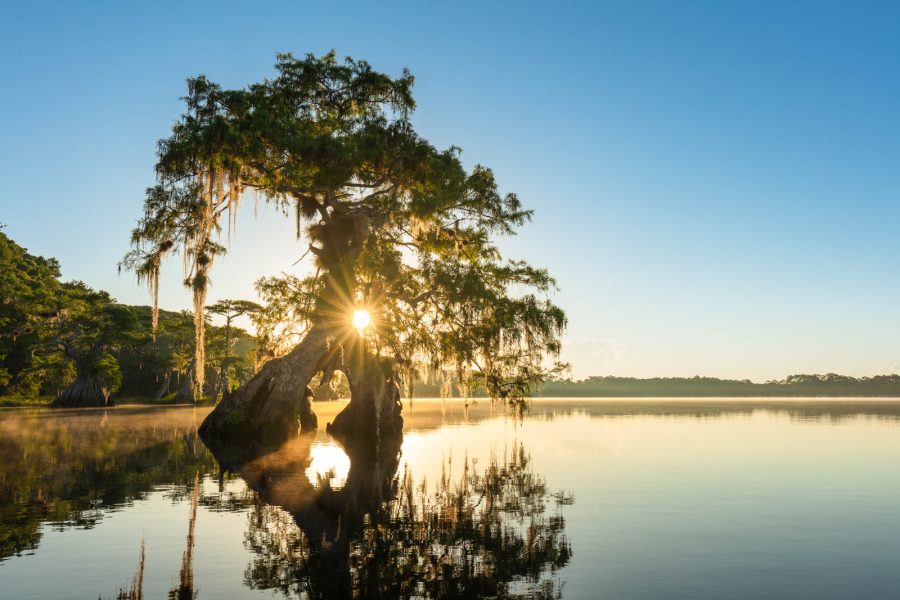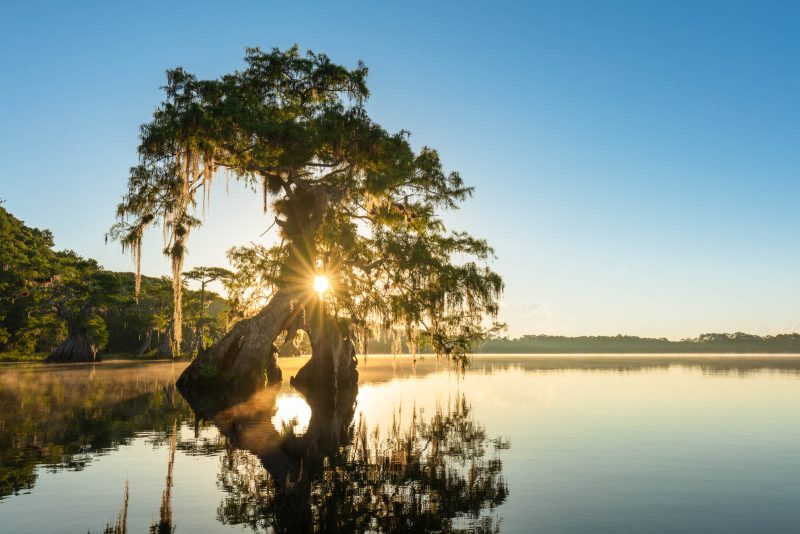 The average depth of the lake is 8 feet or 2.4 meters, so unless you have a giant tripod, you'll have to take all of your shots handheld.
Most modern mirrorless cameras designed within the last 2 years come with a feature called IBIS (in body image stabilization), so make sure you turn that feature on before shooting handheld.
For DSLR owners, some of your lenses may come with image stabilization that can be activated by a switch directly on the lens.
By using image stabilization, you will be able to shoot handheld at lower shutter speeds without worrying about motion blur in your photos.
I recommend a 24-70mm zoom lens for landscapes and a 400mm and above to get shots of the osprey and other wildlife.
If you decide to kayak around, you'll also want to have your gear in a watertight pelican case or a dry bag just in case you flip overboard. Make sure to also tether your case/bag to the kayak so it doesn't go sinking to the bottom of the lake.
Blue Cypress Lake is a perfect spot to shoot year-round. In spring and summer, the cypress needles are a saturated bright green that is striking against the blue sky and dark iridescent water.
During the winter months, fog will engulf the lake at sunrise which creates a moody, ethereal atmosphere that is hauntingly beautiful.
Read more: 8 Tips for Photographers on Boats and at Sea
7. Everglades National Park
If there is one place that has to be visited, it would have to be Everglades National Park. It is the quintessential location that has everything you want to photograph in Florida.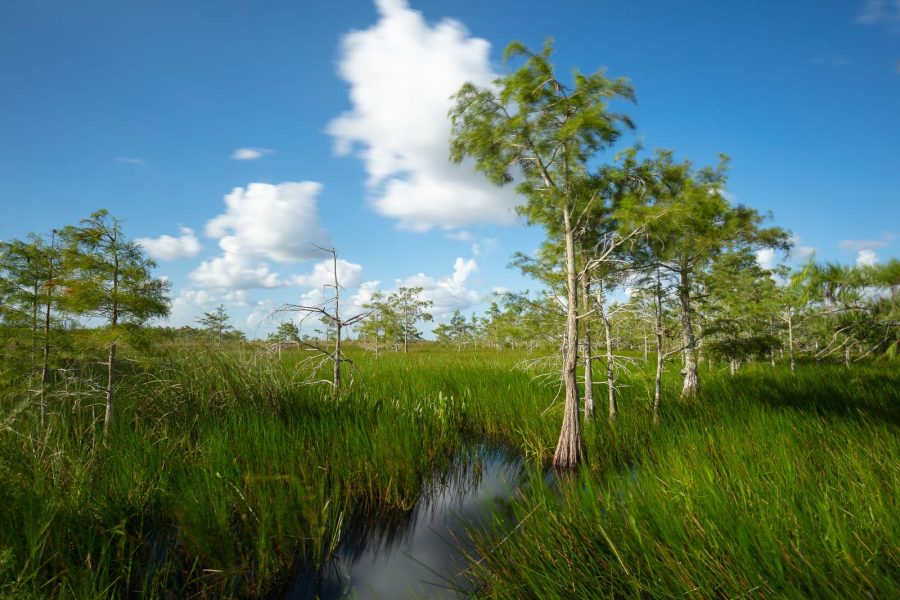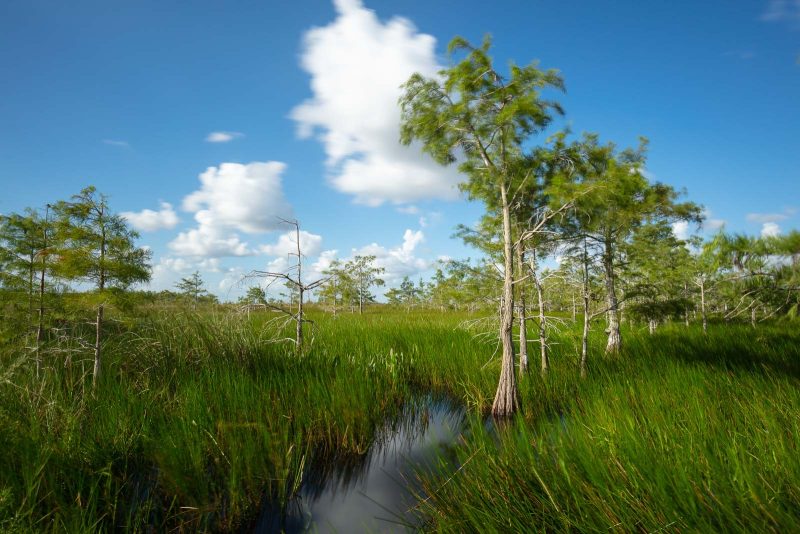 You can shoot landscapes, wildlife, macro, and even astrophotography is possible! Once you enter from the main entrance in Homestead, you'll be on main Park Road, which is about 38 miles long and takes you to the very end of the park called Flamingo.
There are numerous locations to stop and photograph along the way, but here are my two favourites that rarely disappoint!
Pine Glades lake is a great spot for catching Florida's famous sunsets. It's a bit of a "secret" location since the gravel road to get there is unmarked, but you can find it easily on google maps.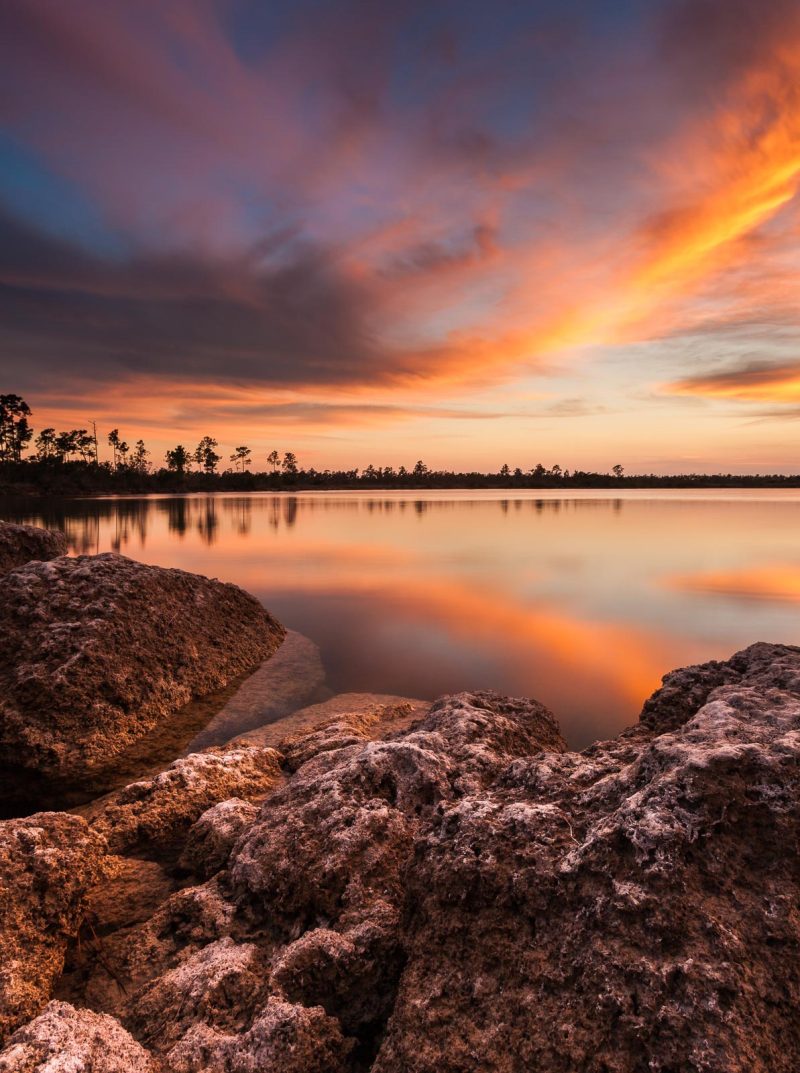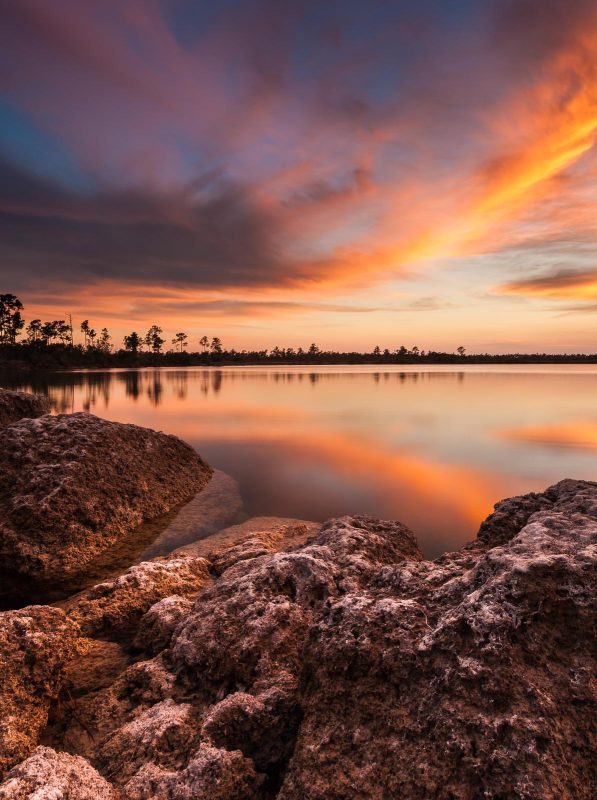 It's a bumpy 1-mile drive since the road to get there is not maintained and has potholes the entire way, so take it slow to avoid getting a flat tire.
The lake has a wide-open view, and the water is crystal clear so you can expect to see some spectacular reflections at sunset, especially if the sky puts on a light show!
A 16-35mm lens will cover all your bases here, and polarizers will not be necessary since you'll want to keep the reflections. In the dry season, a large grouping of limestone is exposed, making for a nice foreground.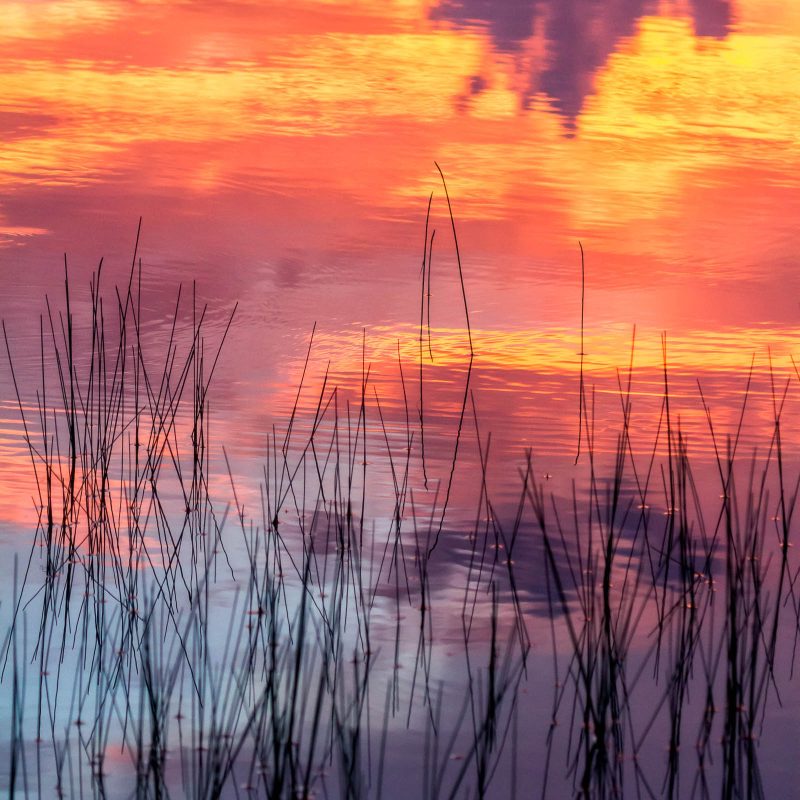 Pa-Hay-Okee is a beautiful, lush location made up of cypress tree domes. If you enjoy photographing fauna and flora, you'll love it here.
It is teeming with air plants and wildlife like alligators, red-shouldered hawks, barred owls, herons, and Florida gar just to name a few.
From November to March, you can join a slough (slew) slog guided by local naturalists and park rangers that will take you out into the river of grass to explore and learn more about the ecosystem. I would pack light if you join in – just bring your kit lens.
8. Bahia Honda State Park
If you're looking for iconic Florida landscapes filled with palm trees and turquoise waters, then Bahia Honda State Park in the Florida Keys is the place to go. This location is a living postcard!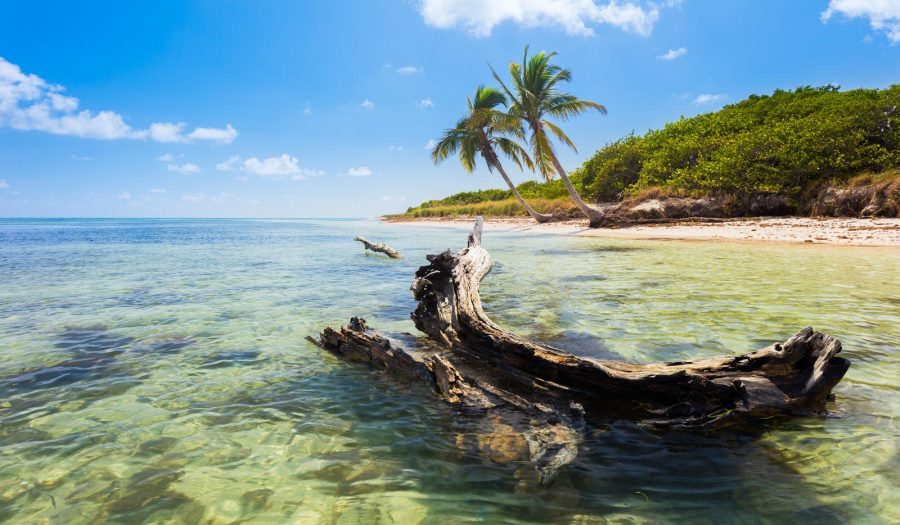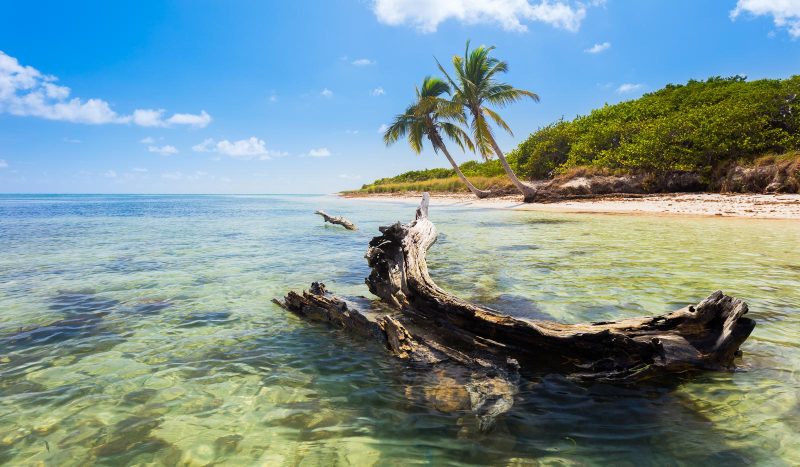 Besides the palm trees, you'll also find extra-terrestrial-like black mangroves and tons of driftwood that are like abstract sculptures along the shoreline.
There's also the old Bahia Honda bridge.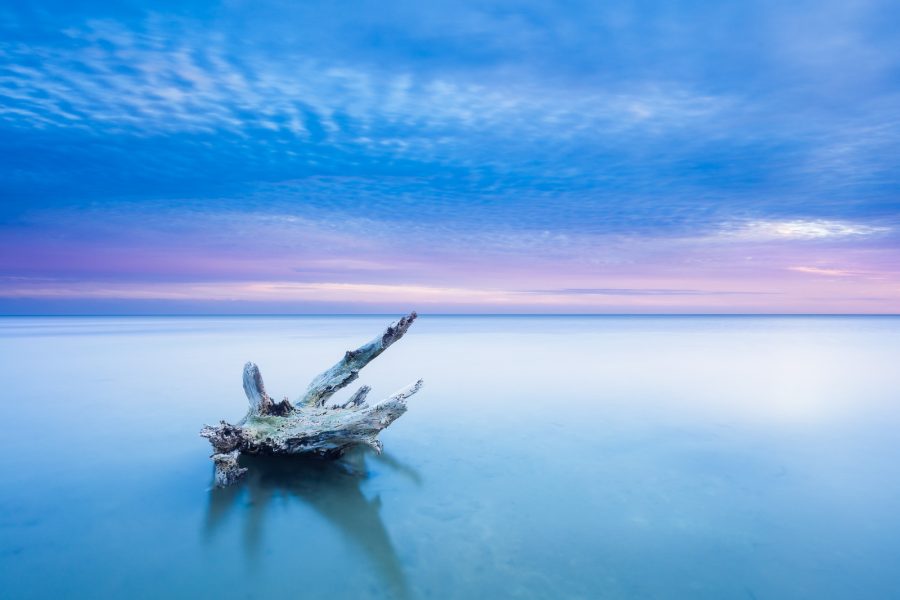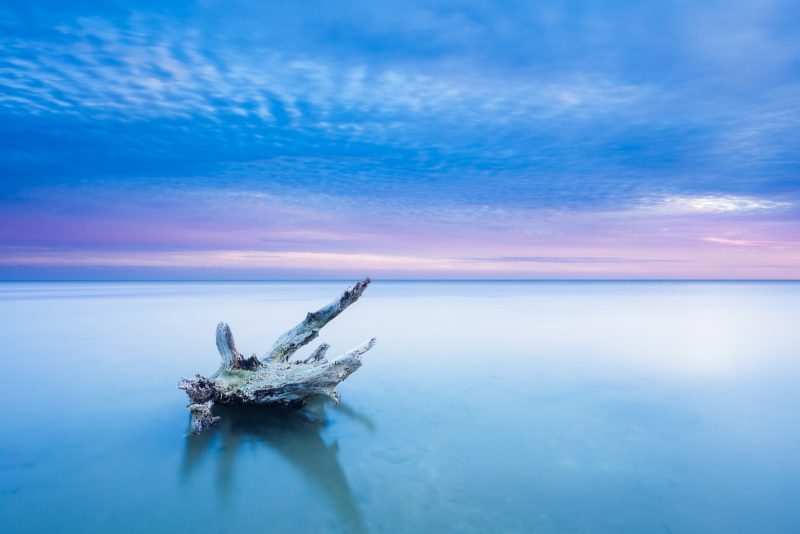 Subjects like these just scream for long exposures! Using a 10-stop ND, you can get exposures for up to 30 seconds or more depending on the time of day.
Aside from being neat looking, long exposures are a handy way to simplify scenes, create minimalist images, and remove distractions such as textures in the ocean.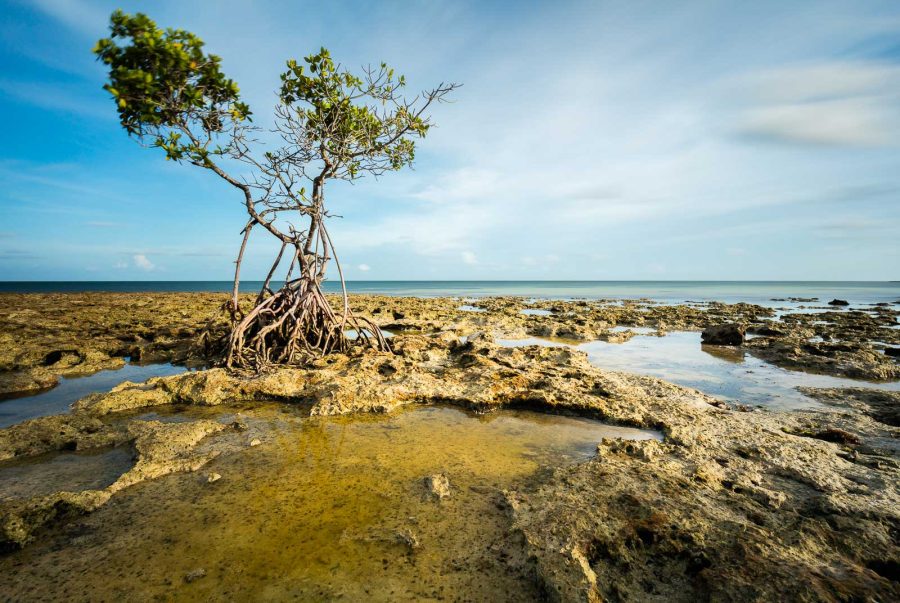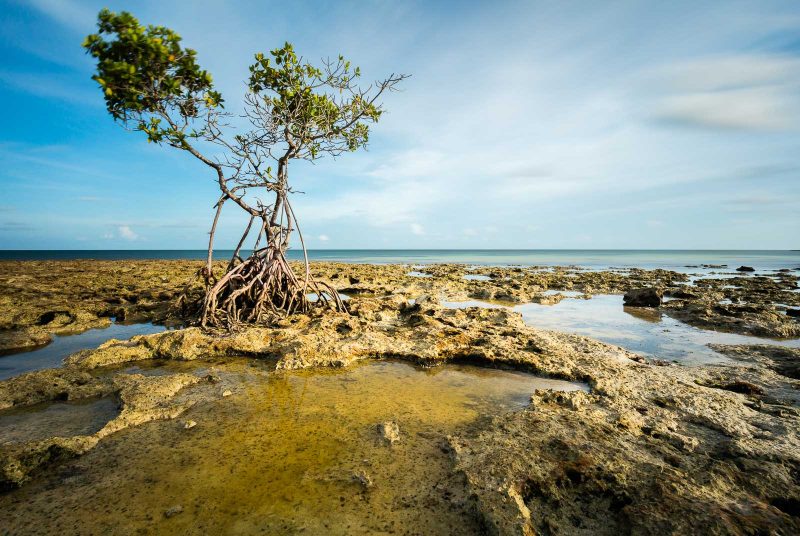 Doing a black-and-white conversion can also add a bit of drama to your long exposures.
If you want to take the drama a bit further, then consider using an infrared filter or even better, an infrared-converted camera. The sunshine, blue skies, and abundant greenery found in The Keys are the perfect recipe for what's needed in infrared photography!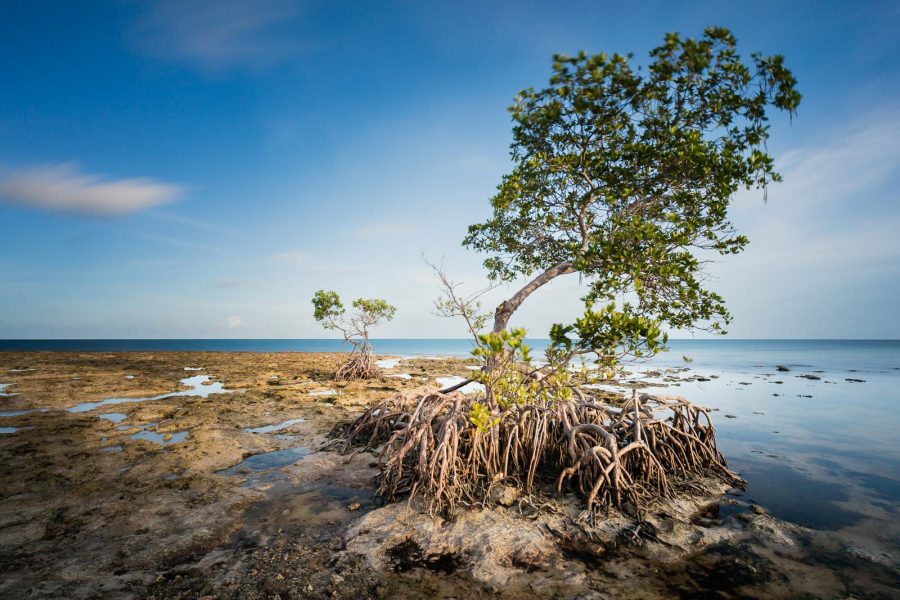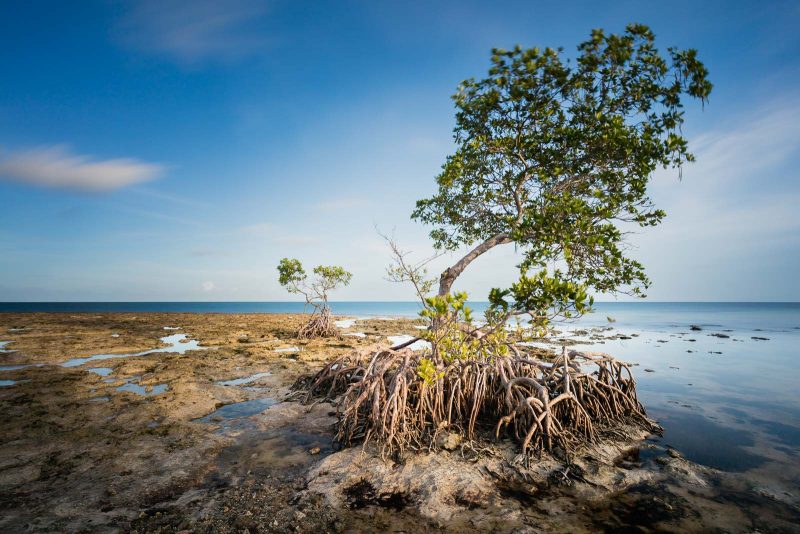 It also allows you to shoot during the day without worrying about the harsh midday light. The harsher the light, the better your IR images will look because of all the contrast.
Read more: Infrared Photography Guide – The Invisible Light
In conclusion
It seems we've reached the end of our journey exploring Florida in search of unique landscapes and wildlife to photograph.
I don't necessarily want to close on a political note and push thoughts on climate change, but I've lived in Florida for 40 years and have photographed it for over a decade now.
The negative changes I've seen in the landscape just in the last few years alone are very disheartening.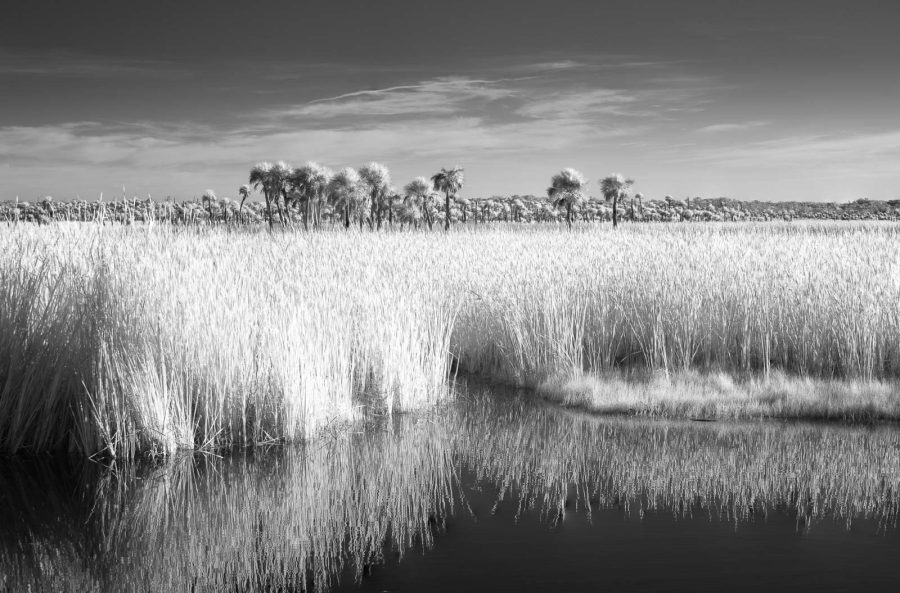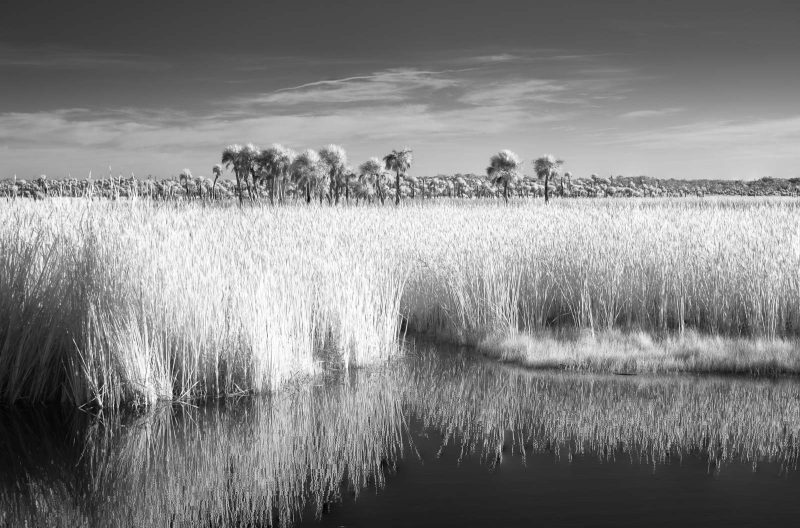 I would have loved to include some other amazing locations, but sadly they no longer exist due to coastal erosion, overdevelopment, and pollution, among other environmental factors.
Despite this, I hope I've inspired you to look beyond the usual hotspots and choose to hike the trails or explore in a kayak. Florida has so much more to see and experience than what I've included in this article.
I invite you to also visit places like the Big Cypress National Preserve, Fisheating Creek, Fakahatchee Strand State Park, and the House of Refuge! So go ahead and put Florida at the top of your list of must-see places to photograph.
You'll be glad you did!