Wildlife Photography Guide to Quebec, Canada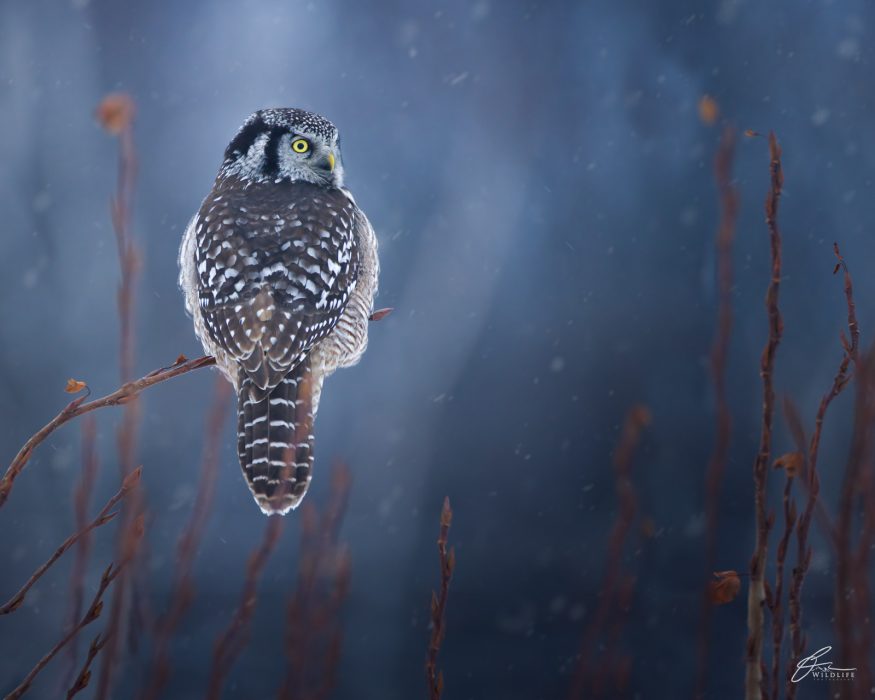 The province of Quebec, Canada is, obviously, a large area, rich in biodiversity and varied habitats that delight outdoor enthusiasts, but also wildlife photographers. Whether it is the St. Lawrence River passing through the vast boreal forest, or the different sectors of temperate forests mixed with agricultural environments, Quebec is full of surprises.
As a native of Quebec City, and having spent most of my time looking for wildlife not far from my place, I have developed a certain expertise in the identification of wildlife near and around the city.

In this short guide, I present to you some of my favourite areas for wildlife photography near Quebec City for the coldest times of the year: fall and winter. Some tips regarding wildlife spotting and photo-taking techniques and equipment are provided throughout the text, in addition to the different species on which you should focus in the different places mentioned.
Firstly, I want to mention that I don't like giving specific locations, in order to avoid the traffic and the disturbance of the same natural habitats and animals by too many enthusiasts.
However, the tips and tricks that I disclose to you for each of the hotspots will allow you to build your own 'mental map' of favourable places to encounter certain species. At the same time, it will allow you to become more immersed in the work of the wildlife photographer: explore, observe, and contemplate.
Read more: Ethics in Wildlife Photography – Code of Conduct
1. The Réserve Faunique des Laurentides
Located between Quebec City and the Saguenay-Lac-Saint-Jean region, this reserve of 7861 km2 is characterised by its hilly terrain, numerous lakes, and typical boreal forest. This reserve has great animal diversity, including beavers, minks, otters, great heron, porcupines, foxes, moose, and spruce grouse.
However, its huge area means that you need to be prepared and to know where to look if you want to see an animal. Therefore, before you arrive you need to identify potential observation spots, based on specific behaviour of the sought after animal.
Maps that show forest stands, topography, roads, and others indications will be useful. The platform Forêt ouverte, made by Quebec government, gathers all this information.
Here are some tips for the observation of moose, one famous inhabitant of this great reserve. From mid-October to mid-December, moose feed on young trees growing in areas where logging occurred some years back. They prefer the fresh morning temperature to get to these feeding spots.
This means that you'll need to get to the pre-identified spot very early in the morning, in warm clothes that'll keep you dry, with a good pair of binoculars and your photography equipment. Although moose are huge animals, binoculars may be useful to locate them, since they camouflage themselves well in the surrounding coniferous trees and may be difficult to see.
Make sure you have with you a good telephoto lens to capture images from a distance, but also a lens for short distance, in case one of these big ungulates appears some metres in front of you. If this happens, move slowly and, if the situation allows, take your time to get all of the animal in frame – it's not that easy, believe me!
They usually move slowly when not stressed, and you could probably predict their next move. Also, they may ignore your presence while feeding, which gives you the opportunity to reduce the shutter speed of your camera and wait for the moment when it lifts its head.
A reduced shutter speed may also be useful if you have an encounter before sunrise. Beware of the fact that moose hunting is permitted in selected areas of the reserve in the fall. It is best to get informed about these specific areas, so you can avoid them and prevent any incident.
Read more: Photographing a Species In-depth
2. Jacques-Cartier National Park
This national park is the twin brother of the Réserve Faunique des Laurentides in terms of habitats and wildlife, but is much smaller at 670 km2. It is located nearby, about 30 minutes in the car from Quebec City, in the valley of the Jacques-Cartier River.
Its main attraction comes from the presence of numerous trails that are maintained all year round, even during the winter when there are several metres of snow on the ground. There is also an absence of hunting, as it is prohibited in the park. However, you'll be restricted to the opening hours, since it is a park with controlled access at a minimal cost.
During the winter, I've had the chance to observe a charismatic species not found in the Laurentides reserve: the American marten, a mustelid found in dense coniferous forests of high altitude. The trails in the Jacques-Cartier National Park allow for nice winter ascension, with breathtaking panoramic views.
In the trails towards the summit, you need to pay attention to paw prints and urine traces which indicate the presence of the American marten. If found, take the time to sit somewhere and wait patiently for one of these little creatures to show their face.
Active night and day during the winter, you'll have a good chance of seeing one during its search for food. You might also see one in a tree, since they are good climbers and sometimes travel from tree to tree to surprise their prey. They are fast, agile, and unpredictable little predators, which represent a challenge for any wildlife photographer.
You will need patience, a high shutter speed, and a versatile lens of around 150-600mm (Tamron/Sigma), if you want to take good pictures. A versatile lens is key for adjusting your photograph according to the distance of this fast-moving animal.
Furthermore, they are found in altitude where it is cold and windy. It is crucial to have the right clothing for the weather, and some food and water to last during long waiting periods.
Read more: Essential Equipment for Photography in the Snow
3. Agricultural fields near l'Ancienne-Lorette and Saint-Augustin-de-Desmaures
Many agricultural fields are found around Quebec City, and these are the places to observe and photograph Quebec's avian emblem, the snow owl. These avian predators can be seen from December to March in different agricultural regions of the province of Quebec, where they spend the cold season.
Binoculars are a must when observing these birds, since their white feathers render them difficult to distinguish from the snowy background. When it is windy, great owls tend to stay on the ground and are thus more difficult to spot. If it is just a little bit windy, or not windy at all, they tend to perch on top of an isolated tree or post.
To have a better chance of seeing one, select a calm day with few winds and no precipitation (snow). You will also have a better chance of observation towards the end of winter, in February and March. This is because in December they have just arrive from the north, and are more fearful and not yet adapted to their new territory.
In March, most of the snow owls are more at ease and have specific perches in their hunting territory. It is then much easier to observe them and predict their movements, allowing you to capture great pictures.
It is important to know that snow owls are naturally fearful of humans, so you should never chase one of these birds. If you do so, you'll not only be using non-ethical wildlife photographer behaviour, but you'll get lousy pictures, showing how uneasy the snow owl is in your presence.
My personal strategy is spread over several months. In the beginning of winter, I use my car to conduct a survey of snow owls in different rural areas. Later, I select some individuals that I observe more rigorously in the field for many hours and days.
I can then get a good idea of their routines and their different perches. Finally, at the end of February and during the month of March, I wait patiently near one of the perches for the snow owl to come. In this situation, a tripod may be very handy to help clearly capture the bird on its perch.
During your observations, you may encounter some wild canids which, during the months of December to February, are in search of partners for reproduction. During these periods, they travel long distances in fields and are easy to spot. I saw foxes and coyotes many times during my scouting of snow owls.
It is important to know that agricultural fields are private properties, and that it is necessary to ask permission from the owner before you go on their land to take wildlife pictures.
4. Owls in urban parks around the city
We often think that we need to get far away from the city to observe wildlife. However, you would be surprised to learn of all the species that hide in the dark corners of our urban environments, especially in urban parks. These sites are the favourite places of many birds, particularly different owl species during the winter season.
Most of the owl species we find in Quebec City are winter migrants (like the snow owl), seeking refuge for some months before moving again towards their reproduction site. While here they spend most of their time looking for a refuge, hiding from predators and hunting for food. They tend to look for forest island (urban parks), which are ideal for them.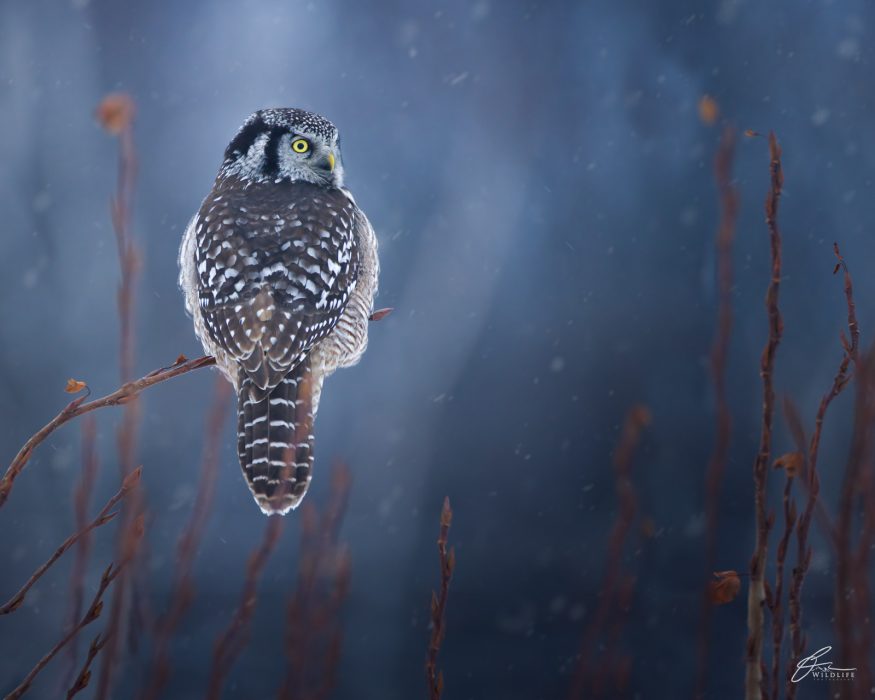 This makes it easier for a wildlife photographer like me to find them. I usually start my search with a map, looking for these green spaces. Some tools, freely available on the internet, are well adapted for this task. Isolated parks surrounded by residential neighborhoods, or around fields, are usually great spots.
For example, Boisé des Châtels, Boisé Neilson, Parc des Moulins, and Parc de la Montagne-des-Roches are all examples of places where I have applied this method, and where I have encountered various owls over the past two years.
Do not forget your binoculars, which are essential to locate some owl species that are active at night but hide and rest during the day. A good tripod and a telephoto lens are essential for both stability and proximity during shooting.
The combination of the immobile bird and the tripod give extra stability, allowing you to reduce the shutter speed value with a resulting clear image. This is essential, since owls, usually dark in colour, are often found in dark undergrowth with little light.
Composing images of these predators in action is, for me, the crème de la crème of owl photography. In addition to being a challenge itself at a technical level (action shots in low light environments), you will have the chance to really see the majestic dynamics that these birds possess.
Normally, I would say that most owls tend to be active at dusk (golden hour and blue hour). However, sometimes it is necessary to know the behaviour of a specific species, or even the individual owl.
I once found a great grey owl that was active day and night, taking an occasional power nap of a few hours to get some rest. Another that I had the chance to observe slept all day, and was active for hunting only from dusk.
Generally, northern hawk owls and snow owls are diurnal hunters, while saw-whet owls have the tendency to be strictly nocturnal. If you look for a given species, do some research about its biology to target the best approximate observation time, and give yourself the best chance possible.
Read more: How to Take Creative Urban Wildlife Photos
In conclusion
Of course, there are several other places that are known to shelter charismatic species outside the city. Bonaventure Island is home to a large colony of northern gannets in Gaspésie, and the Chic-Chocs wildlife reserve and the Parc de la Gaspésie are home to the last, and unfortunately small, population of mountain caribou in the south of the province.
The Island of Montreal is also a favourite place to find isolated populations of eastern screech owls, and the city of Rouyn-Noranda in Abitibi is one of the only places in the province where you can find red-necked grebes and sandhill cranes during the breeding season.
And so on! You will certainly not have time to visit everything, so focus on the species that tempt you the most and, above all, enjoy these moments of immersion in Quebec's nature!
See you on the field!