Photography Guide to Arches National Park
I have been fortunate to be able to travel the world as a nature photographer. The one place I have returned to more than any other is Arches National Park. Part of the appeal for me is the number of photographic possibilities that are tucked into such a small area.
The park is one of the smallest in the western U.S., but the opportunities for capturing spectacular images are nearly limitless. There are over 2,000 arches and countless other rock formations, including fins, spires, pinnacles, and balanced rocks. The La Sal Mountain range is visible to the southeast, providing a stunning backdrop for many photos.

In this article, I will offer advice that I have learned first-hand from 30 years of photographing every section of Arches.
How to get to Arches National Park
Arches National Park is located just a few kilometres north of Moab, so it is easy to get to from town. Just drive north on Main St until it turns into Highway 191, then look for the sign to Arches on your right.
There is a small airport 18 miles north of town called the Canyonlands Field Airport (CNY). United Airlines now has daily non-stop flights to this airport from Denver International Airport (DIA). There are also some flights from Salt Lake City International Airport (SLC).
Read more: 10 Incredible Landscape Photography Locations Near Moab, Utah
Reservations
In 2022, Arches required a timed-entry ticket for visitors arriving between 6 am to 5 pm daily, from the 3rd of April through to the 3rd of October. This was a pilot program, and it could change in future years. Click here for current information.
Fortunately for photographers, the best photo conditions usually occur between sunset to sunrise. So, under the current rules, you can arrive before 6 am for a sunrise shoot or after 5 pm for a sunset or night shoot without a reservation.
When to go
Winter is probably my favourite time to visit Arches National Park. There are far fewer visitors this time of year, and you can sometimes have areas of the park all to yourself. Also, snow can add immeasurable beauty to the red rock formations.
Spring is also a great time to visit Arches National Park. The weather is usually ideal this time of year. The crowds do start returning in the spring, but there are still fewer visitors in March and April than in the summer. If you visit in early – mid May, you will often find vibrant wildflowers in the park.
The summer months bring the biggest crowds, especially during June and July. It can also be very hot in the summer, with temperatures often exceeding 38°C (100 ° F).
However, it can still be an opportune time for photography, especially if you enjoy night photography. The temperature will drop quickly after the sun sets, and the brightest part of the Milky Way will be visible most of the night.
The summer monsoon season from late July to mid-September can be an excellent time for photography, as there are often dramatic thunderstorms throughout the canyon country.
During autumn, the crowds begin to decline, and visitation drops significantly in November. The fall colours will usually peak in late October and early November. You can find the most colour near washes with cottonwood trees, like Courthouse Wash.
Weather
My favourite time to shoot at Arches in the daytime is when it is partly cloudy or when there are dramatic storm clouds in the sky. During these times, you can get striking sunsets and sunrises.
If the skies are clear, you will get warm, glowing light on the rock formations at sunrise or sunset, but the skies will appear rather dull. On days like these, I usually spend most of my time shooting at night since the stars will never fail to put on a stunning display.
On completely overcast days, it can be difficult to capture dramatic landscape images. On such days, I prefer focusing on close-up photos; my favourite place for close-up images is Lower Courthouse Wash. You can shoot cracked mud, reflections in puddles, cottonwood leaves, and wildflowers.
Read more: Landscape Photography Settings for Cloudy Days
Biological soil crust
Much of the soil in Arches National Park is alive. It contains cyanobacteria, which binds the soil together, allowing plant life to grow.
When hiking or photographing, you should avoid disturbing the crust by walking only on official trails, sandstone rocks, or washes where water flows.
Animals in Arches National Park
Although wildlife is plentiful in Arches National Park, much of it consists of nocturnal animals, like foxes, bobcats, owls, and the occasional mountain lion. Animals you will see during the day include birds, lizards, and rabbits. The only larger mammal you are likely to see is a mule deer, but if you are fortunate, you might spot a bighorn or a coyote.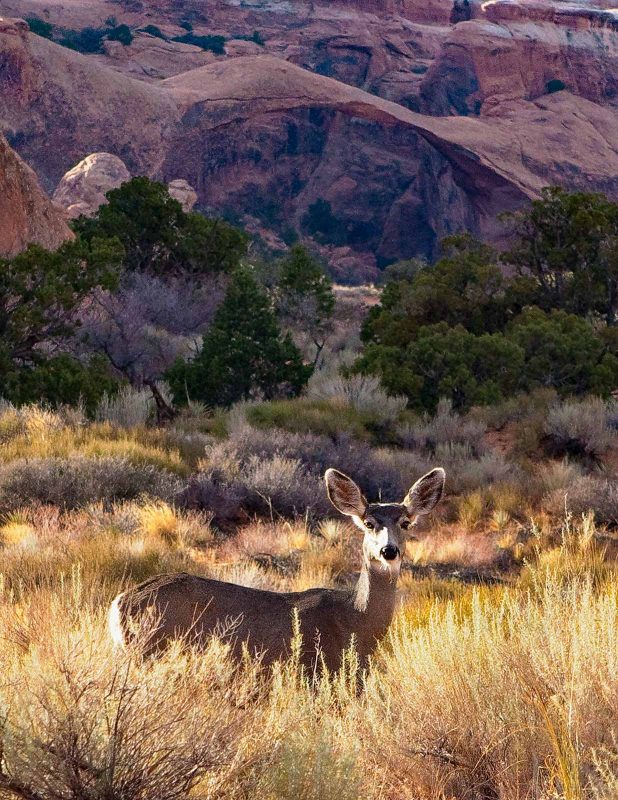 If you happen to see an animal, you may want to snap a few photos, but if your main goal is wildlife photography, Arches is probably not your best option.
Read more: Where to Photograph Wildlife in North America
Camera gear
It can be difficult to advise on what equipment to bring, as people have different styles of shooting. What works for one person may not be suited to another.
However, for the most part, I recommend using wide-angle lenses ranging from 14-24mm (or wider for crop-sensor cameras). This allows you to get close to, or even under, arches and other rock formations, and capture images from varying angles and perspectives.
However, it is always preferable to have lenses ranging from ultra-wide to telephoto, as you never know what will catch your eye.
I recommend always using a tripod for landscape photography, but it is possible to get by without one during the day. Of course, for anyone wanting to shoot images at night, a tripod is essential.
One piece of gear you should not take is a drone, as they are banned in all U.S. national parks. There are plenty of opportunities for drone photography in the canyon country outside of Arches and Canyonlands National Parks.
Read more: What's the Best Camera for Landscape Photography?
Composition
I am also hesitant to advise on composition. I believe photographers should try to develop their own style of shooting. Things like the "Rule of Thirds" may be a good starting point, particularly for newer photographers, but ultimately there are no rules to composition.
I would recommend that you walk all around the area you are photographing to look for different compositions (without leaving the trails or sandstone and stepping on the fragile soil). Look for interesting foreground objects that can produce unique compositions.
Consider how the image will change if you get down low or up high. Consider both horizontal and vertical compositions.
You will usually want to keep things simple and avoid extraneous objects sticking out from the edge of the photo. I try to include all of an object or none of it.
Read more: How to Develop a Photographic Style
Night photography
Arches National Park is one of the best places on the planet for night photography. It has darker skies than most places in North America, and the sandstone rock formations that rise towards the heavens can perfectly complement the starry skies.
It is almost impossible for me to give adequate advice on night photography in this short article, as I could write an entire book on the subject (come to think of it, I have written an entire book on it).
I will say that it is best to use a lens with a very wide aperture, like f1.8, to capture as much light as possible. You should usually use a high ISO like 1600, and you will generally want to expose your images for 15-30 seconds.
You will often need to use a very wide-angle lens to capture more than a fraction of the night sky and the Milky Way.
After you take your first shot, you should zoom in on the image on your camera's LCD screen to make sure it is in sharp focus.
If you have never hiked in the wilderness at night, I advise staying close to the road or on prominent trails. You should always bring a flashlight, and I recommend keeping your phone charged so you can use it as a backup flashlight.
Although you will want a flashlight for hiking, the park now discourages photographers from using one to illuminate the subject they are photographing. This can disrupt nocturnal wildlife and annoy other visitors. If you learn the proper shooting techniques, you do not need a flashlight to capture sharp detail in the landscape at night.
The rock formations can also look good when rendered as dark silhouettes. None of the night photos in this article were illuminated with a flashlight. Of course, even if you do not use a flashlight, other photographers may be using one at popular locations. Hopefully, you can cooperate to both get the shots you want.
You can also try shooting very late at night, early in the morning before sunrise, or in the cold winter months. Typically, there will not be other photographers out at these times.
Read more: A Beginner's Guide to Astrophotography
Most popular places to photograph
There are numerous places to photograph in Arches National Park, but here are a few of the most popular spots.
Delicate Arch
Delicate Arch will be at the top of most photographers' lists when they first visit Arches National Park – for good reason. There is nothing else on the planet quite like this remarkable free-standing arch rising above an enormous sandstone bowl.
I must confess, I have not visited Delicate Arch in over 15 years! This is partly due to a bad back and partly due to the huge throngs of people who congregate here.
If you do not mind the crowds, this will probably be the first place you want to visit. If you prefer not to photograph alongside 300 of your newest friends, you may want to head elsewhere.
The hike to Delicate Arch is about 2.5 kilometres, but it is uphill most of the way there and you will be at nearly 1,500 metres elevation (5,000 feet). You might want to avoid this hike if you have any health issues or are not sure of your physical condition.
As you approach Delicate Arch on the trail, you will see a small arch in the sandstone wall to your right, which is called Frame Arch. You can photograph Delicate Arch through the opening of Frame Arch, which is an often-overlooked composition.
Unless you arrive very early or during the winter, you will probably be somewhat limited in places you can set up your camera, due to all of the other photographers. This does not matter too much, since Delicate Arch looks good from many angles.
Shots with the La Sal Mountains directly behind the arch are popular, though other perspectives can yield somewhat less-common photographs.
Delicate Arch is generally best photographed at sunset or night. However, the hike back in the dark can be perilous, as it is easy to lose sight of the cairns marking the trail. So, I do not recommend shooting this at night on your first visit unless you are experienced with hiking at night or are with someone who is.
Double Arch
Double Arch is the largest double arch in the world. The southern opening has a vertical height of 34 metres (112 feet), making it the tallest arch in the park. Despite its grandeur, it can be hard to capture great images since the light is often blocked by nearby rock formations during the golden hours.
Nevertheless, it is still possible to get good light on or behind the arches at sunrise or sunset. Especially in autumn and winter, when the sun sets and rises farther south.
Another option is to shoot during mostly cloudy days, particularly if there are dramatic clouds in the sky. This is a great time to shoot ultrawide images from underneath the arch since you can get even light throughout the scene.
Perhaps the best time to photograph Double Arch is at night. If you stand underneath the arches, you can capture stars shining through each of the openings. You will need a very wide-angle lens and you may need to stitch multiple images together to capture the openings of both arches.
Read more: How to Master Exposure in Your Landscape Photography
Landscape Arch
With a span of nearly 100 metres (300 feet), Landscape Arch has the widest opening of any arch in North America. It is remarkable that this slender arch is still standing since it is only two meters thick at its narrowest point. It could collapse tomorrow, or it could remain standing for centuries. Out of caution, the park service has closed the path leading up to the arch.
Therefore, your composition options will be somewhat limited, but it is still well worth visiting this remarkable arch. Landscape Arch is best photographed during sunrise (preferably close to the summer solstice) or at night.
Balanced Rock
Balanced Rock is a massive, 3,500-ton rock that seems precariously balanced atop a narrow pedestal. One of my favourite locations to shoot it is along a dirt road that branches off from the main road just opposite the parking area. You can use a long telephoto lens and capture the La Sal Mountains looming majestically above Balanced Rock.
Balanced Rock is generally best photographed at sunset or night.
North Window & Turret Arch
The Windows section of Arches National Park contains many large, impressive arches in a small area. The most popular image from here is probably a shot of Turret Arch through the opening of the North Window. To capture this photo, you will need to walk through the opening of the North Window and then carefully make your way about 40 metres behind the arch.
To get to the view seen above, you will need to climb atop a narrow boulder. There is only room for one person atop this boulder. If someone is there before you, you can still take photos from lower down. Alternatively, you can save this shot for another day and take advantage of the countless other photo opportunities within the Windows.
It is a bit treacherous getting to this spot, so if you are unsure of your rock-scrambling abilities you should avoid this location. This image is generally best shot at sunrise, though it can also be shot at sunset.
Other locations
Although I have gone into some detail on the more popular locations, there are countless other locations to photograph within Arches National Park. Under the right light, you can take images that are just as good or better than what you might capture at the more famous locations.
Here are some other places I recommend, including the times I recommend photographing them in parentheses: Courthouse Towers (sunrise, night), Lower Courthouse Wash (daytime), Garden of Eden (night), Upper Delicate Arch Viewpoint (sunrise, sunset), Broken Arch (sunrise, night), Skyline Arch (sunset, night), Navajo Arch (morning), Double O Arch (sunrise, sunset), Fiery Furnace (daytime), Marching Men (sunset, night), Tower Arch (sunset).
The last two locations can only be accessed via an off-road track or a long walk. The 4×4 track can become very sandy, so you should ask about its current status at the visitor centre. Also, Fiery Furnace requires a permit or a group tour. First-time visitors should opt for the group tour since it is easy to get lost in the maze of sandstone fins.
In conclusion
Although many visitors try to view Arches National Park in just one or two days, I hope you can spend more time at the park. There is such a dazzling array of rock formations that you need to spend a lot of time in Arches to see a fraction of them.
You will often have to return to a location multiple times to capture it under the right light. If you schedule enough time for your visit and remain persistent, you are sure to come away with some stunning images.