Nature Photography Guide to Costa Rica
Costa Rica is one of the tiniest countries in the world at only 51,100 kilometres squared (close to the size of Croatia). Regardless of its size though, bird and wildlife photography in Costa Rica is a must for any nature photographer.
Costa Rica hosts a myriad of life, boasting 6% of the total global biodiversity and more bird species than the whole of the European continent! This "little giant" has become a playground for wildlife and nature photographers, thanks in part to the infrastructure it has offered since the beginning of ecotourism in the late 1960s.

Photography in Costa Rica
Nature photography has grown as a hobby for the local guides and landowners. They now have a deeper understanding of wildlife activity, lighting, good photography backgrounds, and realistic, natural setups.
With an endless array of bird feeders, photography platforms, hides, comfortable tour boats, and experienced photography guides to choose from, Costa Rica is the perfect destination for nature photographers in search of an adventure. There is no shortage of selection when it comes to photography opportunities!
If you are a bird photographer at heart, as many of Costa Rica's visiting photographers are, you can expect to find a bird garden in almost every corner of the country, as well as owners that are ready and willing to have you as a guest.
I hope this article will help guide you in your plans to visit Costa Rica.
When to visit Costa Rica
As a tropical country, Costa Rica has plenty of opportunities for nature photographers all year round. Depending on what species are you looking for, you will need to plan your visit accordingly.
For example, the resplendent quetzal nesting season occurs from March to mid-May, and the bird feeders are considerably busier in December, January, and February. So, my recommendation is to choose your targets and plan ahead of time.
Research the species that you hope to photograph thoroughly. You may not be able to see everything in one go, but you need to have an idea of what you aim to shoot before you arrive so that you do not miss it.
Do not try to avoid the rain – that is why it is called a rainforest!
Read more: Using Cameras in Tropical & Cold Environments
Nature in Costa Rica – where to go
We can divide the country into four main areas for wildlife photography: the Highlands, Caribbean Wonders, Tropical Dry Forest, and Pacific Coast Rainforest.
1. The Highlands
This includes all the mountains, volcanoes, and cloud forests, with popular locations such as Poas, Irazu, Turrialba, and the Cordillera de Talamanca (Talamanca Mountain Range).
The latter is a stunning location with chilly temperatures and is predominantly covered in cloud forests. It hosts a high density of hummingbirds as well as many of its endemic plant and animal species. The area also provides a vital habitat for many larger mammals that are threatened in much of their range but are great wildlife photography attractions.
Some of the most iconic animals in the highlands of Costa Rica are the resplendent quetzal, spiny lizard, and Talamancan palm-pit viper. Some lucky individuals may even have a chance to see and photograph the Central American tapir.
The Highlands have very marked seasons; the rainy season usually extends from mid-May until mid-November, with September and October historically having the worst rains. From December until April there is a well-marked dry season.
Be aware when planning your trip here that the principal roads are accessible for any kind of car, but the majority of the secondary roads need a 4×4.
Read more: How to Photograph Trees and Forests
2. Caribbean Wonders
From the expansive wetlands in the north to the amazing rainforest in the south and centre, this area includes Sarapiqui and is considered the birdwatching capital of Costa Rica. The high density of mammals, birds, and vast landscapes mark this area as one of the top priorities in your Costa Rica wildlife journey.
This area is home to the best birding in Costa Rica with exciting species such as the golden hooded tanager, shining honeycreeper, keel-billed toucan, and all kinds of kingfishers including the amazing green-and-rufous kingfisher. Here you can also find the enigmatic Agami heron and the most accessible colony nest in the world.
If you are looking to visit bird feeders in this area, the best season is from December to April. Don't forget to visit Braulio Carrillo National Park (the 'Quebrada Gonzalez Sector').
Be prepared to face some harsh difficulties with light in the primary forest.
There are some amazing species to be seen here like the black-crowned antpitta and the yellow-eared toucanet, so it's well worth a visit!
Read more: How to Master Exposure in Your Wildlife Photography
3. Tropical Dry Forest
The North Pacific Region of Costa Rica faces six months of proper rains and six months of the well-marked dry season. This area is mainly confined to the Guanacaste province and contains some of the best national parks in Costa Rica.
These include Palo Verde, perfect for aquatic birds and raptors, and the incredible Santa Rosa National Park, home to the biggest population of jaguars in Costa Rica. There are also plenty of photo opportunities for other wildlife encounters and other great bird sightings.
You should not miss the yellow-naped parrot, elegant trogon, and the white-necked puffbird!
Remember to mark the months from November to April, as this is the dry season and will offer the best photo opportunities here. However, the rainy season has a magic of its own and you will find better prices in the lodges, hotels, and other tourist attractions.
Read more: How to Improve Your Wildlife Action Shots
4. Pacific Coast Rainforest
This area begins close to Costa Rica's capital San José and finishes by the international border with Panama. You will find some very popular tourist places here, such as Manuel Antonio National Park and Corcovado National Park.
There are fewer bird feeders and photography platforms here when compared to the Caribbean area. It compensates by offering more mammals including all four species of monkeys (including the endangered squirrel monkey) and the easiest place to see the tapir in the country – Sirena ranger station in Corcovado National Park.
It boasts a fascinating array of endemic species and many rural roads which lend themselves perfectly to bird photography sessions from the car.
Read more: How to Photograph Rainforest Wildlife
What photography equipment to bring to Costa Rica
The longest lens that you have is indispensable. As the majority of the birds are tiny, if you are looking to get close-ups or classic portrait shots, a long lens is a must. My lenses include 600mm, 150-600mm, and 500mm.
A zoom lens such as a 70-200mm or 100-400mm is a perfect complement to the long telephoto. It'll be very useful when you are using photography hides and/or travelling on photography boats, as you will have more flexibility with the distance of the wildlife you hope to photograph.
A macro lens (90mm, 100mm, or 105mm) is also absolutely necessary for insects, amphibians, reptiles, and flowers. It will work best in combination with a ring flash or continuous LED light to combat the darkness of forested areas.
Wide-angle lenses from 10mm to 35mm are also an option of course, especially if you are looking to get waterfall images, immersive forest shots, sunsets, sunrises, and other landscape imagery.
A tripod is a very good idea, since you may spend a lot of time waiting for action, whether it be in front of a bird's nest or in a photography hide. You will need good support for all your equipment and plenty of spare batteries and SD cards as you will likely be travelling to remote locations.
Last but not least, make sure you bring a rain cover for your camera and lenses. When you are visiting any rainforest country you need to be prepared for sudden showers at any time!
My advice is to always carry your equipment in a backpack with the possibility of integrating rain cover. Some equipment is built for very hard tropical conditions, but with technological advancements have also come some issues with the durability of cameras.
The humidity here in the tropics is always very high (condensation alert), so it's best to avoid air-conditioned rooms. Or, when you sleep in an air-conditioned place, ensure you put your equipment in another place like the bathroom.
Remember that in Costa Rica you can go from a very cold place to a humid, warm place in just a few hours; always bring your equipment with you and let it be in contact with the environmental temperature changes. Avoid having your equipment in your backpack all day as it will struggle to adjust!
Read more: What's the Best Camera for Wildlife Photography?
Wildlife in Costa Rica
The following are, in my opinion, the top 5 species that you don't want to miss out on seeing if you come to Costa Rica.
1. The keel-billed toucan
These toucans are fruit lovers, and their elegance, amazing colours, and beak make them delightful subjects to photograph. The Boca Tapada area, Sarapiqui, and Guapiles are perfect places to photograph this bird. This toucan is very used to people and is tolerant of us, though you should still avoid quick movements and loud noises when photographing them.
You can find them at many bird feeders in the Caribbean of Costa Rica. Be sure to ask the owners of the feeders (or guides) if the toucans are regular visitors to the feeder, and have patience of course!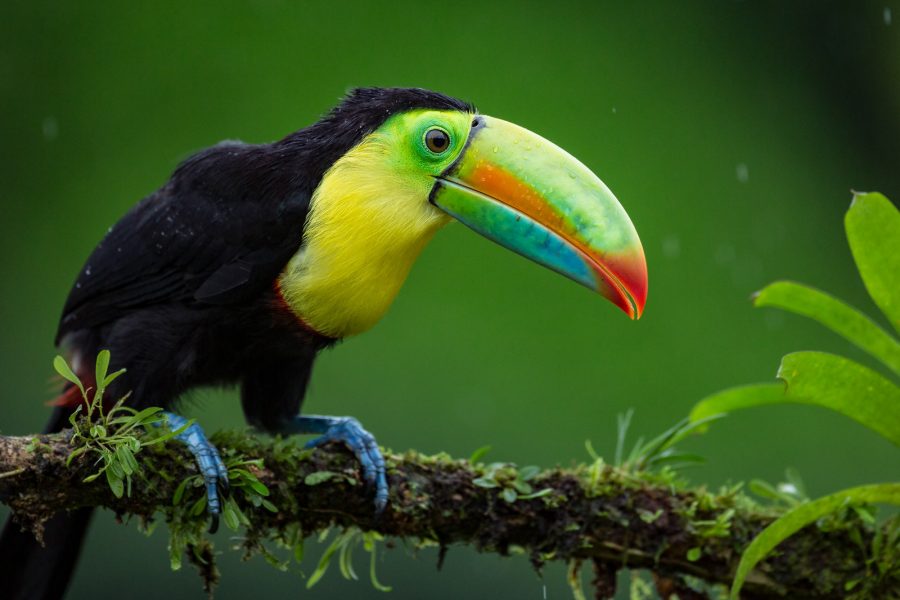 Top Tip: If you want to have the best photos of toucans, don't forget that vertical shots exist. Focus on the eyes, and work quickly to try to get a photo before the bird gets its beak dirty because of the fruit!
Read more: How to Harness Light in Bird Photography
2. Sloth
This slow mammal lives all around the country in lowlands and mountain slopes, but you'll need to have your eyes wide open if you want to find it.
The biggest challenge you'll face when photographing these slow-moving creatures is that sloths sleep around 20 hours per day!
They also live in trees and usually get down only once a week, so it can be difficult to get a shot of them doing anything interesting. To maximize your chances, don't hesitate to hire a local guide.
If you spot a sloth, wait patiently; they will make some movement eventually. Manuel Antonio National Park, Península de Osa, and the Caribbean area are perfect hotspots for this animal.
Read more: 12 Ways to Evoke Emotion in Your Wildlife Photos
3. Resplendent quetzal
One of the most beautiful birds in the world, the resplendent quetzal attracts thousands of visitors every year to Costa Rica, all hoping to get a photo of the male's stunning plumage.
The best time to photograph this bird is during their nesting season – from late March to mid-May.
The areas of Zona de los Santos (in the Talamanca Mountain Chain), Monteverde, and San Ramon are the best places for an opportunity to see and photograph this species.
Read more: What's the Best Focal Length for Bird Photography?
4. Eyelash pit viper
This highly venomous snake lives in the rainforest on both the Caribbean and Pacific sides of Costa Rica. It is a good idea to employ a local guide or ask local people for a tip-off if you are hoping to photograph them. This species often stays in the same place for several days waiting to ambush their prey.
Of course, they can be dangerous, so an experienced herping guide is highly recommended for all snake photography.
This snake normally has a very calm nature, but please ensure you follow the safety guidelines of your guide. Cahuita National Park and Arenal Volcano National Park are perfect places to find this snake.
A macro lens is your best option for this species as they are quite small, and don't forget to use a high F-stop for more depth of field. If you are struggling due to lack of light, a flash with a good diffuser is also recommended.
Read more: How to Photograph Snakes
5. Red-eyed tree frog
The star of the show, this frog is famous in the nature photography world, desired by amateurs and professionals alike. You can find it near bodies of water at night-time.
Don't forget to bring your headlamp and listen out for the call of this frog to identify the place that they are hiding.
The sound of this frog is very distinctive – search on the internet and try to learn it. You will definitely need a macro lens for this species, and you can use a flash with a good diffuser.
Hiring a guide for amphibians and reptiles will always increase your success rates for photography. Tortuguero National Park and Sarapiqui are great places to look for this species.
Top Tip: In macro photography, when using a diffuser, always use a diffuser bigger than the subject that you are photographing and get as close as you can!
Read more: How to Photograph Frogs and Toads in Water
In conclusion
Now that you know more about where to go and what to photograph in this jewel of a location, the only thing left to recommend to you is that you employ a local guide or tour service. It will simplify your adventure – guides will know exactly where to go and how to find the species you are after, allowing you to focus on the most important thing: getting great photos.
Please remember that you are dealing with live animals, and some of them are endangered. Do not forget the good ethics of a wildlife photographer and if you are ever unsure, follow your instincts and use common sense. Always ask the question: is my behaviour affecting the normal life of this species?
I hope that you enjoyed this information and that it has inspired you to visit the beautiful paradise for photographers that is Costa Rica. There is so much to see – one trip probably won't be enough. Take care and good light to you!