How to Photograph Jaguars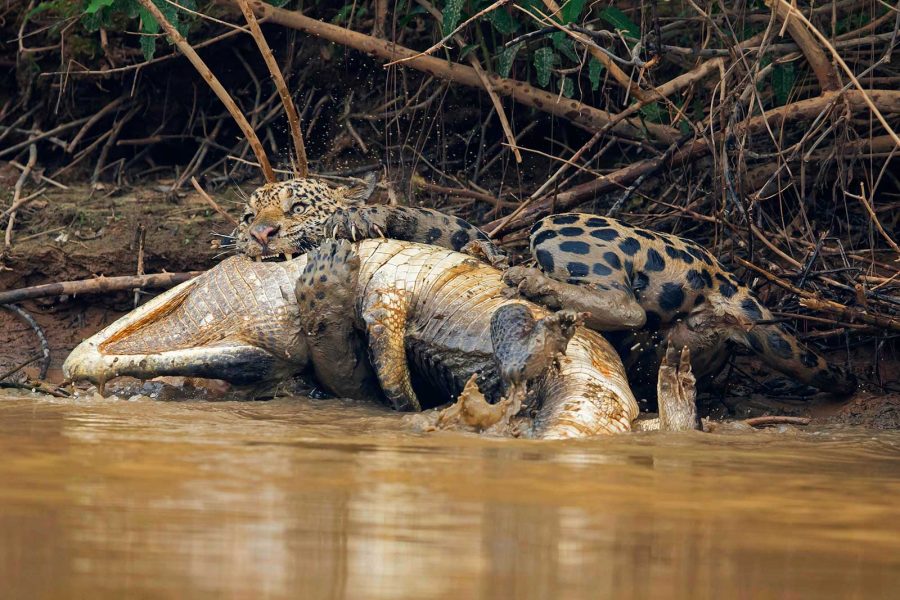 At more than 42 million acres, the Pantanal, which spans three South American countries (Bolivia, Brazil, and Paraguay), is the largest and most pristine wetland on the planet.
Towards the north of this aquatic paradise, upriver from the small fishing enclave of Porto Jofre, is the only place on the planet where you have a realistic chance of photographing a wild jaguar. In the last ten years, a small number of cats have gradually become habituated to the fishing boats that cruise this remote river system in search of them.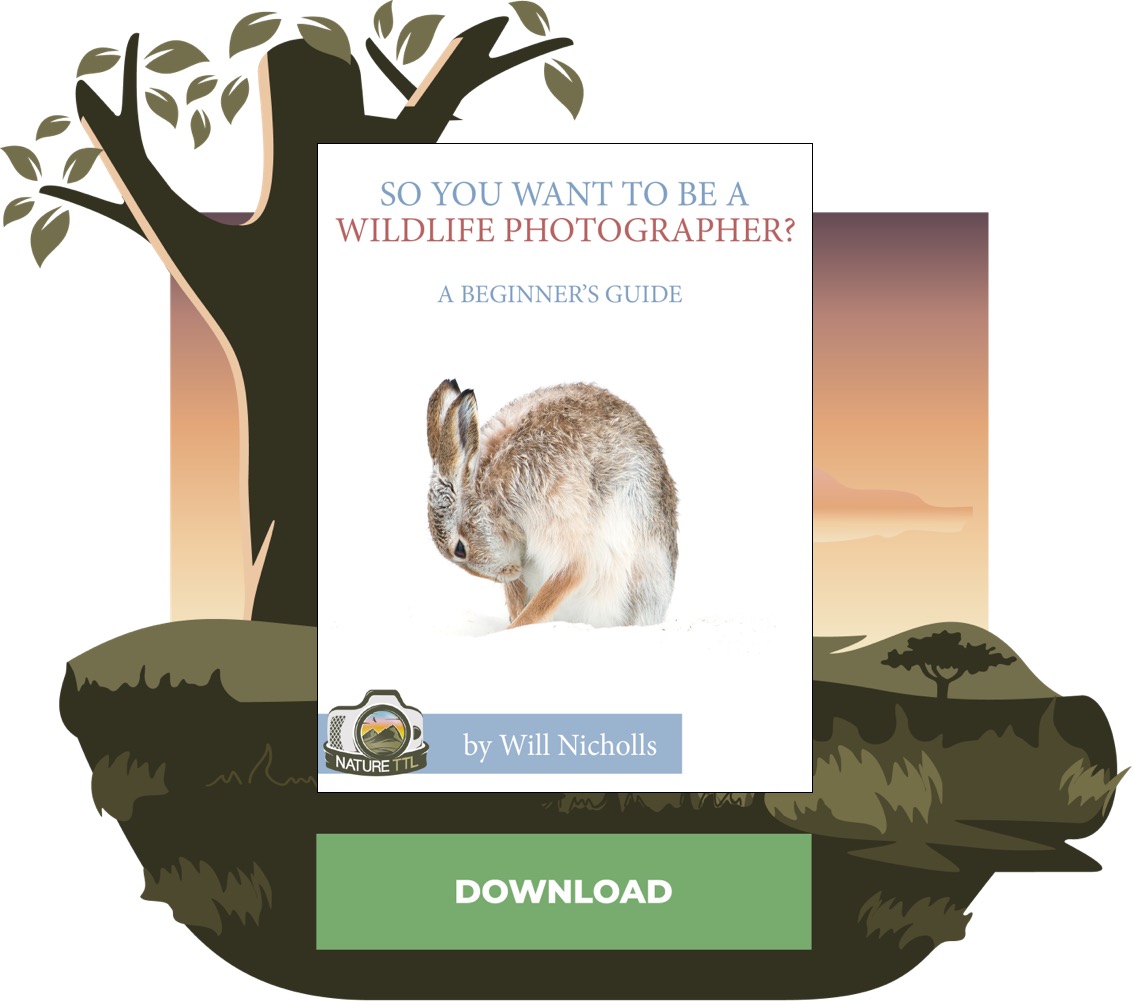 This decade-long process of habituation was witnessed by a steadily increasing number of photographers and filmmakers. Year on year, sightings got better and longer, as the cats became more and more relaxed being followed and observed.
The astonishing images that followed, many showcasing natural behaviours never before captured on camera, featured the cats hunting, mating, fighting, and raising cubs on the edges of the rivers and narrow creeks that criss-cross the area.
Suddenly the trickle of visitors became a flood, and the Pantanal became the latest must-see destination for wildlife photographers around the world.
Finding jaguars – Porto Jofre and the northern Pantanal
The habituated cats in the Porto Jofre region are numerous and relatively easy to find, compared to almost all other solitary big cats. A regular day on the river with nice weather can produce an average of five or six different individuals, and on a good day ten or more may be seen.
Racking up these kinds of numbers can be achieved by searching the creeks and riverbanks of three main rivers – Cuiaba, Piquiri, and Tres Irmaos (and their tributaries) – in a small motorised boat from sunrise to sunset. Small, individually focused trips are the best option here, using experienced local operators with reliable boats and bi-lingual pilots.
Be aware that there are lots of small motorised boats for day hire in Porto Jofre. However, they have loud engines with poorly trained pilots, many of whom do not know how to approach jaguars, or how to watch from a distance when the jaguars are hunting at the river's edge.
Unlike tracking tigers in India, pugmarks are relatively unimportant when it comes to jaguars, as most of their movements take place on top of covered riverbanks. Prints are occasionally visible on the small sandbars that dot the river's edge, but very rarely do they lead us to jaguars.
A keen eye is the most important attribute when it comes to locating the world's third largest feline. This, aligned with experience and an understanding of the resident cat's movements, habits, and behaviour, is crucial to the outcome of a successful jaguar expedition.
One huge advantage when searching for jaguars is that they are active at all times of the day. So, with numerous boats on the river, all with radios to report sightings, it is never long before calls come in from different locations, and the lottery of choosing which cat to follow comes into play.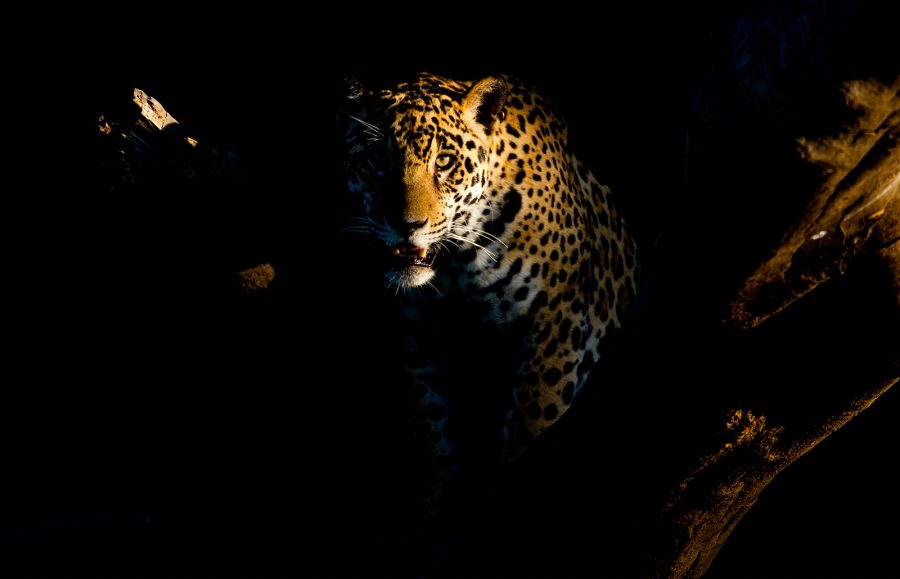 The photograph above is a prime example of this. I had found another hunting cat earlier that morning, which was being followed by five or six boats. When we got word of another jaguar sighting further up the river, I chose to make a gamble and head ten minutes upriver to the other cat.
With fewer boats at the sighting, I thought it would increase my chances of being in a better position should the cat make a kill. One hour after arriving, and with most of the other boats downriver, the jaguar caught a huge caiman right in front of my boat. My gamble certainly paid off!
Read more: Photographing a Species In-depth
Photographing jaguars
Once located, photographing a jaguar is dependent on a variety of factors. The position of the cat will dictate what type of image you can record of the sighting. Ideally, it will be moving, searching for caiman, or interacting with cubs or another jaguar.
Recording these rare images of behaviour and interaction is crucial to building up a broad portfolio of images. This is where the dawn to dusk activity of jaguars comes to the fore, and is the reason why, in one short trip, you can come away with a bewildering variety of photographs.
In my opinion, the jaguar is undoubtedly the best cat to photograph in action, and that action is, more often than not, spectacular.
I predominantly use two main lenses on two camera bodies: a 400mm f/2.8 mounted on a monopod, and a 70-200mm f/2.8 which I handhold. The 400mm is my workhorse and accounts for most of my images, while the the 70-200mm is useful for close range action, or when a jaguar jumps from the riverbank into the water below in pursuit of prey.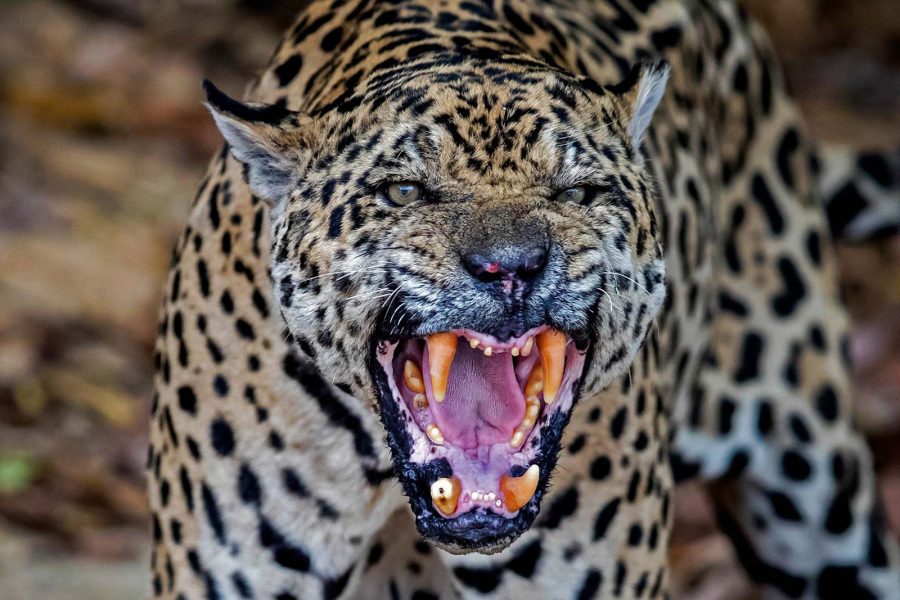 I have lost count of the number of spectacular jumps I have cut in half from being too tight on the 400mm, so I tend to favour the shorter lens at sightings where I think there is a possibility of a jump.
I find a tripod too restrictive in a small boat, especially when reacting to action. It is much quicker and easier to reposition a monopod or handheld camera, should the action happen to the side or behind you. These crucial seconds can make all the difference in capturing rare moments.
Keeping the head of the cat in focus is always a crucial part of capturing any image, especially when working at close range on the smaller creeks. I use AI Servo mode, moving the focusing point continuously in order to keep the cat's head sharply in focus as I follow alongside in the boat.
A conscientious pilot is another must. Positioning the boat in anticipation of where you think action may happen, and getting the correct angle in relation to the sun, helps the photographer enormously.
Read more: How to Take Impacting Portraits of Wildlife
Photographing the hunt
I have always been obsessed with documenting big cats hunting. For me it is the most exciting behaviour to witness, and also the most difficult to photograph, as it is seen so infrequently.
Jaguar hunting strategy in the Pantanal is centred around the river's edge. Although they have been recorded predating on close to 90 species across their range, the diet of a jaguar in the Pantanal is predominantly made up of just two species: caiman and capybara.
After a spectacular predation on the banks of the Three Brothers River received over 50 million hits on YouTube in 2013, the caiman attack became the obsession for every photographer visiting the area. Some years are better than others with regards to visible caiman predation.
It helps to have fully habituated cats hunting regularly in the prime areas where there are a lot of boats. This past season in 2021 was one such year, as three females, all with young cubs in need of regular food, shared the same territory in the heart of the Encontro Das Aguas state park.
In just a few short weeks I managed to record over ten attacks in a perfect sliding doors style situation. All the elements came together to produce the ideal conditions to record so many spectacular predations.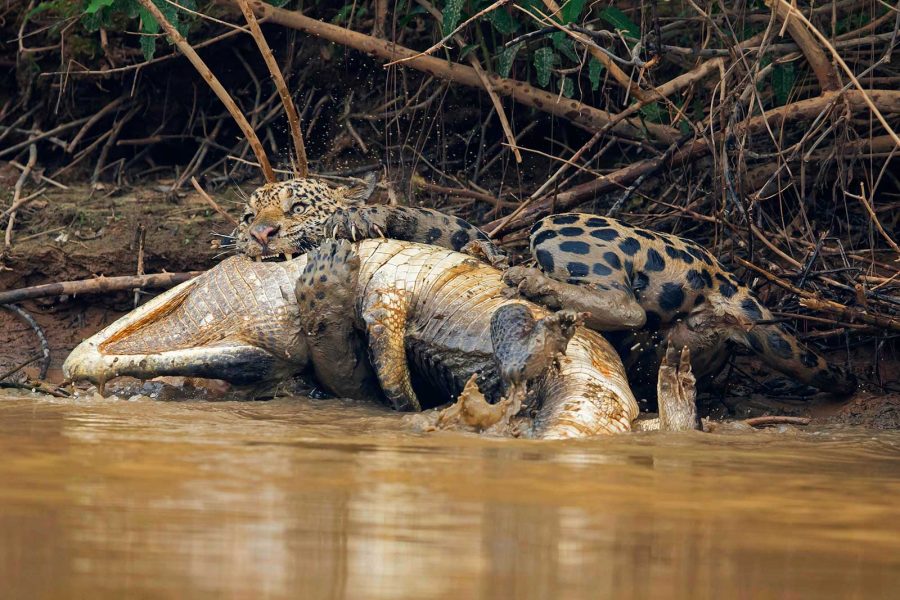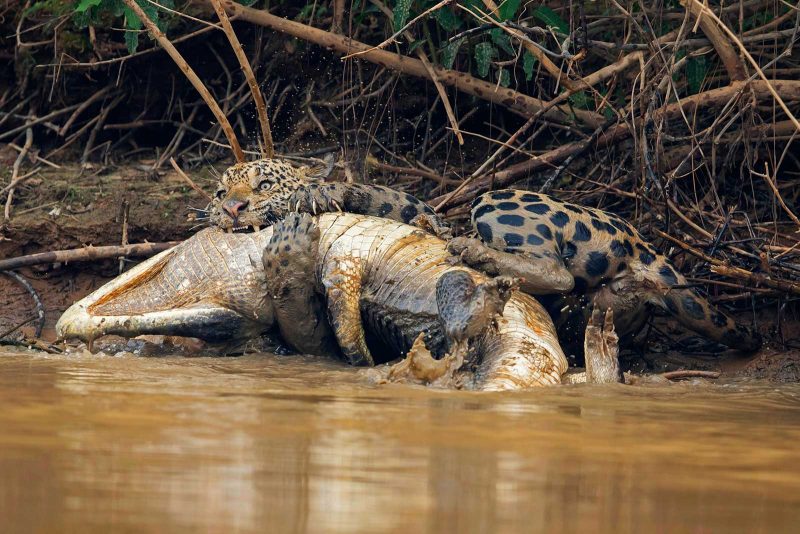 As with most wildlife photography, patience is key. Cats can search for hours and hours on end without even seeing a caiman. Days can go by in-between successful attacks, and being in the right place at the right time is more often down to luck rather than judgement.
Jaguars try to inch as close as they can to their prey before springing an attack. They mainly try to jump down from the riverbank onto the top of the unsuspecting caiman below. This is where fast reactions come to the fore. Switching off, even for just a few seconds, can result in the missed opportunity of capturing a cat in full flight.
Fast shutter speeds to freeze action are essential. I shoot at 1/2000th of a second at all times, adjusting the ISO as and when the light dictates. Exposures in the water can be more difficult to predict, especially at midday when the reflected light from the river's surface can result in harsh shadows and messy images.
In conclusion
The jaguar season in the Pantanal runs during the dry season from June to November. The later in the year you go, the more favourable the conditions, with less water and less vegetation on the riverbanks making observation and photography much easier.
There are very few good hotels in the area, and many get booked up years in advance during the peak months of August to November. Use a trusted operator with good connections to the hotels and the best pilots.
Hotel Pantanal Norte in Porto Jofre is the ideal place to stay, but you cannot book directly. You have to go through an operator who will book both boats and rooms for you, often over 12 months in advance as demand is very high. The Pantanal is an expensive destination in comparison to other parts of Brazil.
Boat hire and gasoline are not cheap, and the shortage of accommodation means hotel rooms are in high demand. A stay of at least a week is ideal, and should see you return home with a lifetime of memories and a hard drive full to bursting with jaguar images.