A Wildlife Photography Guide to the Pantanal, Brazil
The Pantanal is a vast tropical wetland region of over 140,000 square kilometres. Its dense, sprawling jungle and flooded grasslands stretch across Mato Grosso in Brazil and into portions of Bolivia and Paraguay.
Nature lovers and wildlife photographers are drawn here from all across the globe for the incredibly diverse flora and fauna. Over 460 species of birds inhabit the Pantanal and more than 230 species of mammals, making it one of the most biologically rich environments on the planet.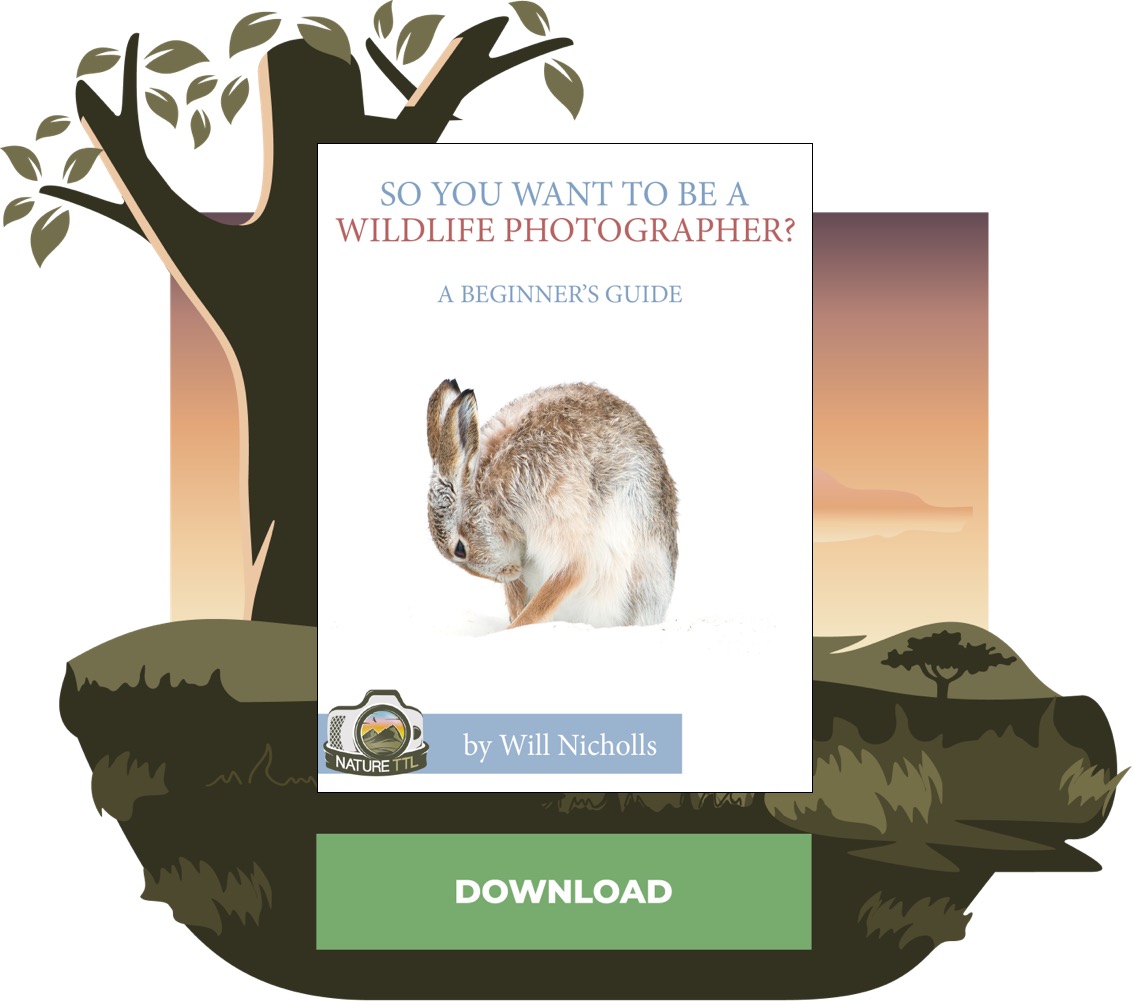 What you can hope to see in the Pantanal
The Pantanal contains South America's highest concentration of jaguars, and it is these magnificent cats that attract so many wildlife photographers each year. They can be sighted up and down the river systems, often hunting capybara and caiman.
The giant river otter is another impressive mammal of the Pantanal. These formidable predators grow to over 5 feet in length and can be seen cruising the rivers, catching fish, and interacting with one another. They are fascinating animals to watch and photograph, and should create some great opportunities for behavioural images.
Another animal of the Pantanal which is abundant and easily photographed is the capybara. As the largest rodent in the world, they can grow to a whopping 4 feet in length! They are social animals and are usually seen in groups, often lounging at the edge of the riverbanks.
The birdlife in the Pantanal is extraordinary and hugely diverse. Five species of kingfisher breed in the region, and can often be spotted perched next to the water or hovering, waiting to dive on an unsuspecting fish.
The anhinga is a particularly photogenic bird. They are also known as the snake bird, as their long necks closely resemble a snake when swimming through the water. They are numerous throughout the Pantanal and can often be seen perched next to the river, drying their wings in the sun.
White-winged swallow, cocoi heron, toco toucan, limpkin, tiger-heron, black skimmer, and great egret are just a handful of the spectacular birds that you are likely to see.
The hyacinth macaw is a large, bright blue parrot with yellow markings on its face. Their numbers have suffered, mainly due to habitat loss, but they can still be seen in the Pantanal. This beautiful bird is one of the jewels of the region and well worth seeking out.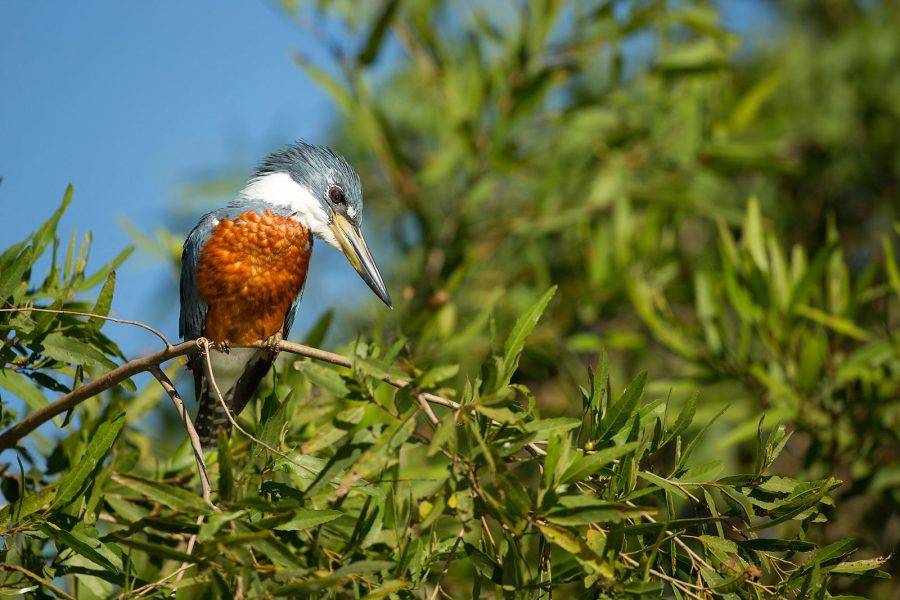 There are also around 80 different species of reptiles that inhabit the Pantanal. Caimans can be found in abundance and, despite their size, are one of the main sources of food for jaguars. Iguanas make great subjects but are more difficult to spot. They can sometimes be seen basking in trees, so keep a close eye out as you cruise up and down the rivers.
Read more: Bird Photography – 8 Common Mistakes to Avoid
Best time of year to visit the Pantanal
During the rainy season, between the months of December and March, around 80% of the Pantanal wetlands are submerged underwater. The dry season, between May and October, is when rainfall is at its lowest. During this period, animals are attracted to the shrinking oxbows, lakes, and rivers, making this by far the best time of year for photography.
The dry weather causes the vegetation to shrink, further increasing the opportunities to see the incredible wildlife of the Pantanal. I prefer to visit during the months of July and August, and find this is the optimum time for jaguar sightings.
Read more: 6 Tips for Better Fieldcraft in Wildlife Photography
Where to stay in the Pantanal
There are various lodges dotted around the Pantanal, most of which offer comfortable and relatively spacious accommodation, with easy access to the surrounding wildlife.
For jaguar photography, one of the best places to stay is the Southwild Jaguar Flotel. This floating accommodation is moored on the Cuiaba River, close to the mouth of the Three Brothers River, in the heart of jaguar country. It is in the prime position for jaguar sightings.
My advice would be to book a package which includes radio equipped boat excursions into the jaguar zone and a local guide. This will increase your chances of seeing jaguars, as well as other wildlife such as giant otters.
To get to the Pantanal, you will need to travel by vehicle down the Transpantaneira Highway. This unpaved, dirt road is the only way in and out of the Pantanal, and is one of the best wildlife viewing areas in the world.
It is an elevated road with over 136 wooden bridges, and can provide opportunities to see some of the Pantanal's more elusive mammals, such as giant anteater and tapir, as well as harbouring a record 82 species of large birds.
Equipment to take to the Pantanal
Subjects in the Pantanal vary from small birds to large mammals, so I would recommend taking a variety of focal lengths. Wide-angle lenses can be useful for environmental images, and are well worth taking. A mid-range tele-zoom, such as a 100-400mm or similar, will offer great flexibility and can be used to cover a variety of different situations.
When shooting from a boat, using a zoom can be a big advantage as it will allow you to make fine and quick adjustments to your compositions. Without the ability to move around freely, this is a huge advantage.
However, prime lenses still have their place in the Pantanal, especially for bird photography. Due to the dense environment, you will often find yourself shooting against busy backgrounds, and to overcome this I usually take a long lens, such as a prime 500mm or 600mm.
With their shallow depth of field, particularly at wider apertures, these lenses are ideal for eliminating distractions and isolating your subject from the surroundings. This is especially important for portrait images, where you may be aiming for instant impact.
You must expect that most of your photography in the Pantanal will be done from a boat. Two camera bodies will make life much easier, especially in unexpected situations where quick reactions could mean the difference between the shot of a lifetime, and a missed opportunity.
There is nothing more frustrating than being faced with a jaguar pouncing on a caiman, only to find you have the wrong lens on your camera. Unfortunately, I speak from experience! Having a mid-range zoom lens attached to one body, and a longer telephoto on another, should cover you for any opportunity that might present itself.
Jaguars can sit for very long periods of time without doing much, so you may find yourself in one position for a while. So, a tripod is essential for longer lenses. I would not normally recommend using a tripod on a boat but, apart from those moments when boats are passing, the water is very still.
A gimbal head will allow complete freedom of movement while eliminating the weight from the lens, so you can be ready to fire at all times.
A pair of binoculars is a must have, as you will find yourself scanning the environment in search of new subjects to photograph. I usually take a small pair of travel binoculars to save space and weight.
What to wear in the Pantanal
With its tropical climate, the Pantanal is hot all year round, with temperatures easily reaching 30 degrees centigrade and upwards. Light, breathable clothing is essential, and a wide-brimmed hat will help keep the sun off your face and improve your chances of spotting wildlife. A neck gator will offer further protection from the sun.
Despite the hot temperatures during the day, you will be travelling to and from your accommodation by boat, usually during early morning and evening. Temperatures at these times can drop substantially, so I would recommend taking a fleece or a windproof jacket and a beanie, to keep you warm on those chilly boat rides.
Mosquito repellent is also a must have in the Pantanal, especially during dawn and dusk. Repellents that contain DEET are the most effective. I would recommend around 40% DEET, but take care when handling equipment, as it can eat into the plastic finish on both cameras and binoculars!
10 tips for wildlife photography in the Pantanal
1. As much of the photography in the Pantanal is done by boat, positioning is important. Keep a close eye on your backgrounds and don't be afraid to direct the driver into the best position.
2. The light can become harsh very quickly, so head out as early and as late as possible to make the most of the rich, warm hues that occur during golden hour.
3. Sunsets in the Pantanal can be spectacular. When heading back to your lodge in the evening, keep a close eye out for opportunities to silhouette birds that are perched in the treetops.
4. Often, distracting elements can be eliminated with clever use of exposure. By under-exposing in harsh lighting conditions, areas of shadow will become completely black and devoid of detail. This can be a useful technique for eliminating distractions when the light is not optimal.
5. Jaguars are reclusive cats and will often sit for long periods of time in shaded areas. You may need to raise your ISO to give yourself a fast enough shutter speed to eliminate any camera shake.
This can be especially problematic when shooting from a boat. Wait until the water is completely calm, or handhold your lens to counteract the motion of the boat.
6. With so much vegetation, backgrounds can be busy in the Pantanal. Dense jungle will often be directly behind your subject. Using a wide aperture will reduce depth of field and help the background fall out of focus. However, be wary of too little depth of field.
Jaguars have large heads and, when looking towards the camera, the distance between the eyes and the nose is substantial. Stopping down to f/8 will give you a better chance of rendering both the eyes and nose pin-sharp. When shooting in profile, stopping down to a wider aperture will help to isolate your subject.
7. Jaguars are wild animals and, unfortunately, don't show up on cue! As with any wild subject, there can be slow days with little to no sightings.
When planning your trip, I would advise spending at least 5 nights close to the jaguar zone (near to Porto Jofre in the northern Pantanal) to give yourself the best possible chance of success. Of course, the longer you can stay, the better!
8. If you find yourself photographing a subject for a long period of time, such as a jaguar lying on the bank, use your time wisely and experiment with a variety of compositions. Change focal lengths and try both landscape and portrait formats, to explore every possible variation.
9. With such a high diversity of birdlife, you should find plenty of opportunities to explore flight photography. This is best done towards the beginning and end of the day, when the sun is low in the sky and its rays light up the underside of the bird.
10. The Pantanal is a beautiful place, with rivers and tributaries meandering through thick, green forest. Think about the bigger picture. Avoid framing too tightly; instead, look at ways in which you can show your subject in context. This will give your images a sense of place and help tell a story.
Read more: Composition in Wildlife Photography – Getting Creative
In conclusion
The Pantanal is seeing more and more visitors each year, and it is easy to understand why. Its lush forests and wetlands, home to an incredibly diverse range of wildlife, coupled with the chance to see and photograph one of the world's most elusive big cats, make it a true wildlife photographer's paradise.