Top Locations for Landscape Photography in Sussex
Sussex owes its roots to the Kingdom of the South Saxons, part of Anglo-Saxon England. It's located in South East England, between Hampshire in the west, Surrey in the north, and Kent in the east. Sussex landscape photography is a must, as this historic county is famed for its breath-taking countryside, fairy-tale castles, and 90 miles of stunning coastline.
The High Weald is a medieval rural landscape which lies across Sussex and is designated as an Area of Outstanding Natural Beauty. In the heart of the High Weald is Ashdown Forest, containing 11 square miles of forest and heathland, and is famous for inspiring the Hundred Acre Wood in the Winnie the Pooh stories.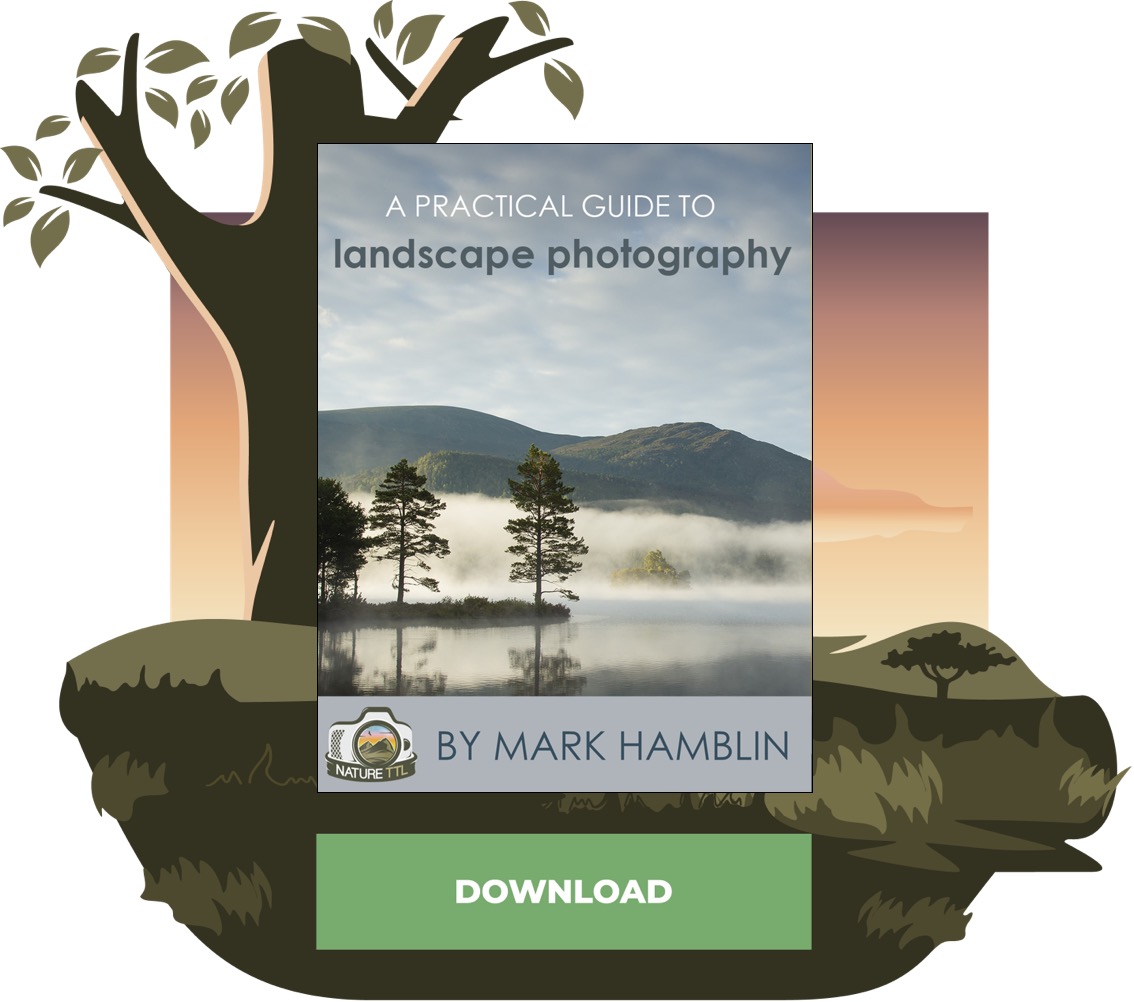 One of the most popular and most beautiful national parks in the UK, the South Downs National Park also runs through Sussex. It is famous for its rolling hills, river valleys, ancient woodlands, and chalk cliffs. The range of different types of locations makes Sussex a great place to visit for landscape photography.
Below is a list of my favourite spots for landscape photography in Sussex, and will hopefully offer some inspiration for your next visit.
1. Seven Sisters
Not far from Eastbourne, set between Cuckmere Haven and Birling Gap, is one of the most recognisable views in southern Britain: a series of dramatic chalk cliffs known as the Seven Sisters.
A popular composition is to include the Coastguard Cottages when photographing the cliffs, which are on the western side of Cuckmere Haven. This is a location you can visit all year round, but if you prefer to see the sun rising over the sea, come for sunrise between November and February.
Before sunset is also a good time to visit, when the sun casts a golden light on the cliffs.
The photo above was taken using a 24-70mm mid-range zoom lens, just south of the Coastguard Cottages, where you can see a composition of the cliffs with a foreground of the sea. When planning your visit, I recommend checking coastal tides, using the app AyeTides.
Higher tides work best to avoid the rocks that are revealed at low tide, which are dark and cause too much contrast in the scene.
You can also head down to the beach and look for reflections in the rock pools or use the sea defences found on the beach; both can make an interesting composition.
Parking Postcode: BN25 4JQ
Read more: Landscape Composition – Using Foreground to Create Depth
2. Arundel Castle
Arundel Castle is set high up on a hill overlooking the River Arun in West Sussex. It dates back to 1067 and is the second largest castle in England. A good location to photograph this impressive structure is from the riverside, using the river and boats in your foreground, leading into the castle.
I used a polarising filter here, and I recommend bringing one with you to this location as it will help you to remove any glare, whilst simultaneously adding some punch to the shot. It was difficult to get a steady reflection, so I added a 3-stop ND filter to smooth out the movement in the water.
To avoid the muddy banks which can be revealed at low tide, I checked the river tidal times before I came using Tides Chart. It is well worth doing this so that you know the conditions you'll be faced with.
Parking Postcode: BN18 9JG
Read more: The Use of Perspective in Landscape Photography
3. Brighton
You can't come to Sussex without visiting the vibrant and cosmopolitan city of Brighton. Due to its central Sussex location, it makes a great base for you to stay in. During the summer, Brighton is a very popular destination for holidaymakers. However, the best light on the coast occurs during the autumn and winter months when the sun rises and sets over the sea.
Brighton's most photographed structure is the remains of the West Pier – and for good reason. It first opened in 1866, but after falling into disrepair it then burnt down in 2003, leaving the iron skeletal remains of what we see today. It's a reminder that nature reclaims everything eventually, making it a great subject for seascapes and long-exposure photography.
Brighton has a pebble beach, but this photo was taken during a low tide of less than 0.7m. Consequently, you can view the pier on a sandy beach which allows you to get much closer to the structure.
I used a 24-70mm mid-range zoom lens, with a LEE 3 stop ND Filter and a LEE 2 Stop Medium Graduated ND Filter, to slow the shutter speed to 0.6 seconds and equalise the light from the sky across the scene. When capturing a reflection shot, I would always recommend trying to get low to minimise the gap between the structure and its reflection.
During higher tides, you can try using a nearby groyne or the iron pillars on the beach to use as foreground interest in your composition. You could also try capturing interesting wave movement with shutter speeds of around ½ a second, or if you want to smooth out the water, use longer exposures, such as 30 seconds or more.
From December to February, just before sunset, starlings fly together in a murmuration, mesmerising everyone on Brighton beach.
Until recently this occurred over the West Pier, but the best location to see them now is close to the western side of Brighton's Palace Pier. Compositions can be obtained of the birds flying near the Palace Pier, but you can also photograph a murmuration flying over the sea, with the West Pier in the distance. A medium telephoto such as a 70-200mm lens is very useful here, with shutter speeds of at least 1/500.
Parking Postcode: BN1 2FG
Read more: How to Take Long Exposure Landscape Photos
4. Halnaker
The village of Halnaker lies a few miles northeast of Chichester in West Sussex and is probably best-known to photographers for its ethereal tree tunnel, which takes you to its equally popular windmill.
The tree tunnel on Mill Lane is reminiscent of something you would find in the Shire from Middle Earth. It owes its heritage to an old Roman road connecting Chichester to London. The footfall has caused a sunken path, which adds to the sense that you are walking through a woodland kaleidoscope.
It's best photographed in autumn when the colours are at their most rich, and the orange leaves coat the floor. It's a location popular with walkers, so it pays to be patient when trying to get a clean composition. If you can avoid coming during peak times, such as weekends, then do just that.
This is the classic viewpoint at Halnaker, which is halfway up the lane, looking towards Denge Lane. A tripod is necessary here as the lane is dark, which can result in the need for slower shutter speeds. During windy conditions, it's worth checking your initial shots to see if the leaves are blurry. If you don't like that effect, try raising your shutter speed and take your shots between gusts of wind.
At the end of the tunnel, there is a path northward that leads up Halnaker Hill, where you will find the windmill.
Parking Postcode: PO18 OEE
Read more: How to Master Exposure in Your Landscape Photography
5. The South Downs
The South Downs are a line of beautiful rolling chalk hills stretching across Sussex. A 24-70mm lens is useful for a lot of locations here, but a 70-200mm telephoto lens will allow you to zoom in to capture more intimate landscapes, such as from the fields and villages below the South Downs.
This photograph of Fulking Escarpment was taken one summer evening just before sunset and gives you an indication of what a great place this is for highlighting the curves and patterns of the South Downs.
The renowned landscape painter John Constable described this location, looking out over the Fulking Escarpment and the Sussex Weald, as 'the grandest view in the world.'
Parking Postcode: BN1 8YL
Firle Beacon stands 217 metres high on the South Downs, overlooking the village of Firle, and offers panoramic views of the Sussex weald. This photo was taken at Fire Beacon during a summer sunrise with a 24-70mm lens, using an aperture of f/16, to add a sunburst effect. The composition captures a cross-section of the undulating South Downs, as the sun rises over mist-filled fields.
To improve your chances of getting misty conditions, I recommend using a weather app such as Clear Outside so you can check that the humidity is higher than 90% and that the dew point is within 1 to 2 degrees of the temperature.
Parking Postcode: BN8 6LR
Read more: Why You Should Use a Telephoto Lens for Landscape Photos
6. Bosham Harbour
Bosham is an idyllic village lying on Chichester Harbour in West Sussex. It's renowned for being the location where King Canute failed to turn back the tide, illustrating the limits of a king. This lesson has sadly not stood the test of time, as the oncoming tide regularly catches out unsuspecting visitors, who park their cars below the shoreline.
A mid or higher tide can provide some good opportunities to photograph reflections, swans, and boats bobbing up and down in the harbour. If you like crisper reflections, try to come when the wind speed is low.
Parking Postcode: PO18 8HZ
Read more: How to Create Drama and Mood in Landscape Photography
7. Cuckmere Valley
Stretching from Alfriston to the coast lies Cuckmere Valley in East Sussex. At High and Over, you can see the stunning views of the meandering River Cuckmere and its oxbow lake.
This area lends itself well to wide angles and panoramic views. The shot above was taken during a winter's sunrise, using a wide focal length on my 16-35mm lens. A LEE ND 0.6 Graduated Filter was used to balance the exposure of the sky with the foreground.
Parking Postcode: BN25 3AB
Read more: How to Take & Stitch Panoramic Photos
8. Newhaven
Newhaven is a ferry port located nine miles east of Brighton, at the mouth of the River Ouse in East Sussex. Weather conditions make or break a landscape photograph and during gale force winds, which tend to be in February or March, there is no better place on the English South Coast to capture the ferocity of the sea than at Newhaven Harbour Arm.
During rough weather, never underestimate the sea's power. Do not stand too close to the shoreline, as it's impossible to predict when a rogue wave may hit, so instead use your telephoto lens to zoom in and get closer to the action.
In such conditions, I prefer the freedom of going handheld, with a lightweight telephoto such as a 70-200mm f/4 lens. An aperture of f/9 should be fine for most scenes, together with a shutter speed of at least 1/500 or faster to capture details in the waves.
A classic composition is to shoot from the beach towards the harbour arm, where the lighthouse makes a great focal point. It's important to capture the waves at the decisive moment they hit the harbour wall. Sometimes the best shots here are taken when the light breaks through the clouds and illuminates part of the scene.
As well as standing still, it can also be challenging to keep the camera dry. Even if your camera and lens both have weather sealing it's still advisable to protect them. I use an Optech camera waterproof cover, which is fairly cheap and always worth keeping in your bag.
If you do visit during the winter months and the conditions are relatively calm, then it's worth trying a sunrise from nearby Fort Hill, overlooking the harbour arm.
There are also some old metallic sea defences halfway along the beach, which are revealed during mid-tide.
This photo was taken with a 70-200mm telephoto lens and I used a 6-stop ND Filter to slow the shutter speed here, down to 0.6 seconds, to capture breaking waves over the metal objects.
I find it is important when trying to capture wave movement to try a range of shutter speeds and then quickly review the photos in-camera, deciding which one gives the best effect. You can then stick with your favourite speed and won't kick yourself when you get home!
Parking Postcode: BN9 9DN
Read more: 10 Ways to Photograph Water
In conclusion
Those are my top 8 Sussex landscape photography locations, but there are plenty more locations to explore around the county. For example, the South Downs Way – the UK's oldest national trail – which traverses the most scenic parts of the South Downs.
Hopefully, this inspires you to come to Sussex for your next landscape photography trip; you will not be disappointed.