How to Photograph Swans
Swans are such beautiful birds and are steeped in history. Being such an accessible bird, particularly in the UK, they make such a fantastic subject to photograph.
I started photographing swans around 10 years ago and now I can't see myself ever stopping, because there are infinite ways to photograph these majestic and charismatic creatures.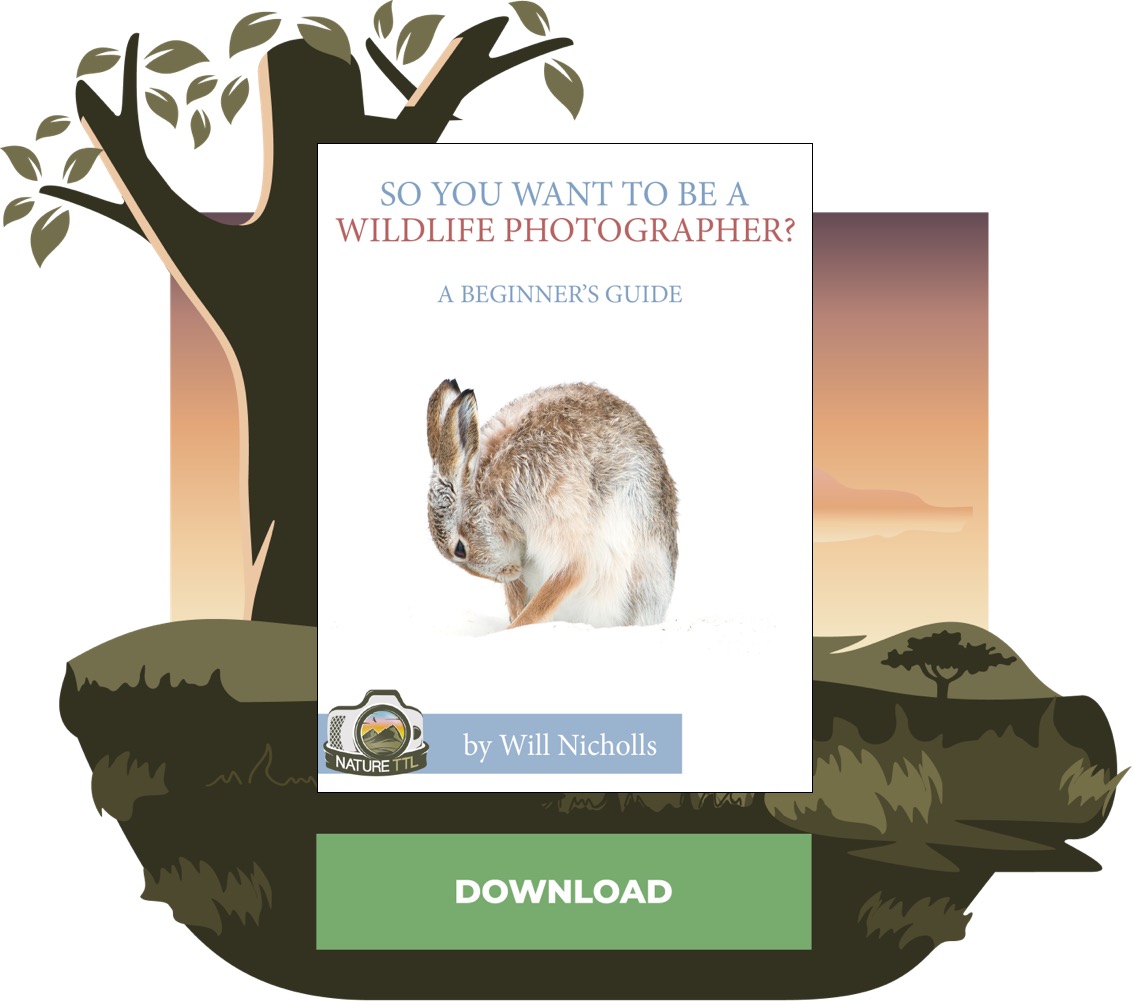 I have used many techniques, both above and below the water, to capture the character, grace, and power of swans.
In this article, I will share some of the techniques I employ and, hopefully, if you haven't photographed a swan before this will inspire you to head to your local lake and start snapping!
1. Improvising for underwater images
A few years ago I wanted to photograph these birds in a local marina and capture a split level picture (half the subject above the water and half below). I couldn't afford the underwater camera housing and dome port necessary, so I invested in a second hand fish-tank for £5.
This gave me a primitive housing to start taking photos underwater. By using a wide-angle lens, which is pushed right up to the edge of the fish-tank and manually focused, I could start to take split-level images.
It's tricky at first, especially wading waist-deep in freezing water with an uneven floor. But after persisting and gaining confidence I was able to position myself close enough to the swans to get some interesting photos.
I used a flash unit to illuminate the subject above the water, and by taking photos on a sunny afternoon the water below was bright and clear.
2. Close encounters with a wide-angle
Using a wide-angle lens is great for incorporating the surroundings of your subject. In the case of the below image, I was looking to document the urban environment where these swans live.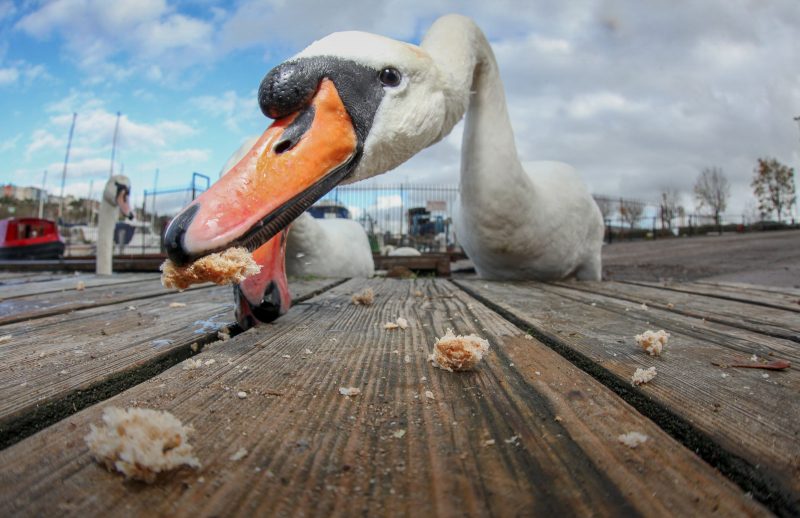 Getting down low, I was able to be on eye-level with the swan and generate some impact with a sense of scale. Once again I used a flash unit, but set to a lower power so as not to blow out the detail in the feathers – something you must be wary of with a predominantly white bird.
Someone had been feeding the swans before my arrival, so I had them as a captive audience. I used an aperture of f/11 for this shot to keep the background detailed and relatively sharp.
3. Using weather to your advantage
This moody shot was taken at a lake in Somerset, UK; it was captured at the end of a freezing winter's day.
I was almost ready to go home when I saw a huge storm blowing in. I decided to stay a little longer and take some landscape shots of the lake with this beautiful and ominous sky.
After 10 minutes I started to lose the feeling in my fingers, but soon two swans swam around the corner of the lake and passed right in front of my camera.
I underexposed the image to bring out the clouds in the sky, creating a more atmospheric image of the swans against a stormy background – something more unusual than your "typical" swan image.
4. Capturing the action
Using my DIY fish-tank housing, I was able to position my camera just above the water level. This gives a really low-level perspective and puts you right in the middle of the action.
I noticed, on this occasion, that a dominate swan was fighting with the others to get to the front of the pack and find potential food.
I was ankle-deep in the water and the group of swans decided to come over and pay me a visit. This is when the dominant bird started to show its authority by striking out and biting any other birds which were getting close.
I knew this would make for a great behavioural shot, so I attached my flash unit and started taking pictures. By using a shutter speed of 1/200th of a second I was able to perfectly capture the water particles flying off the swan's beak.
5. Capturing the gentle side of swans
At dawn, the Somerset Levels are a truly magical place. On one particular morning, I spotted a swan slowly drifting along and resting in the beautiful morning light.
Using a 400mm telephoto lens I was able to pick the bird out between the reeds and capture a tranquil moment. The Somerset Levels are an excellent location to photograph swans and a huge variety of other birds.
Get there early and you can be treated to some spectacular sunrises, too.
6. Family life underwater
This shot was a long time in the planning. I wanted to capture an underwater picture of a family of swans feeding on the bottom of a lake or river.
First, I had to find a location which had a family of swans I could photograph and get into the water with. Next, a location where the water was clean enough to show all the swans in detail underwater. The location I finally found was the River Avon in Wiltshire, UK.
One issue I did have was the current in the river was moving quite fast, so I had to weigh down my GoPro to keep it at the bottom of the river in the gravel.
I used the camera remotely to capture the images; this is a really handy feature on GoPro cameras. Once all this had been done it was just a waiting game! Sometimes something as simple as a GoPro does the job effectively.
In conclusion
If you're looking to develop a portfolio of swan images, then start by doing some research and finding out where families of swans are living in your local area.
Next, pay a visit and scope out the location and see what kind of photographs you can get. Be creative and try to take some photos with a different approach. There really are no limits to the images you can capture – there are many different techniques you can employ!
Once you start photographing these beautiful birds, you will find yourself heading back again and again.