Best Places for Landscape Photography in Northumberland
Northumberland hosts some of the best places for landscape photography across its 2000 square miles. There is also ample opportunity for you to practice your wildlife photography, with a great variety of species to be seen.
Northumberland is bordered to the south by Durham, Tyne and Wear, and Cumbria. The county's northern limit forms the border between England and Scotland. Its many castles and strongholds are living reminders of the fierce battles that have raged throughout history, showing the strategic importance of this area.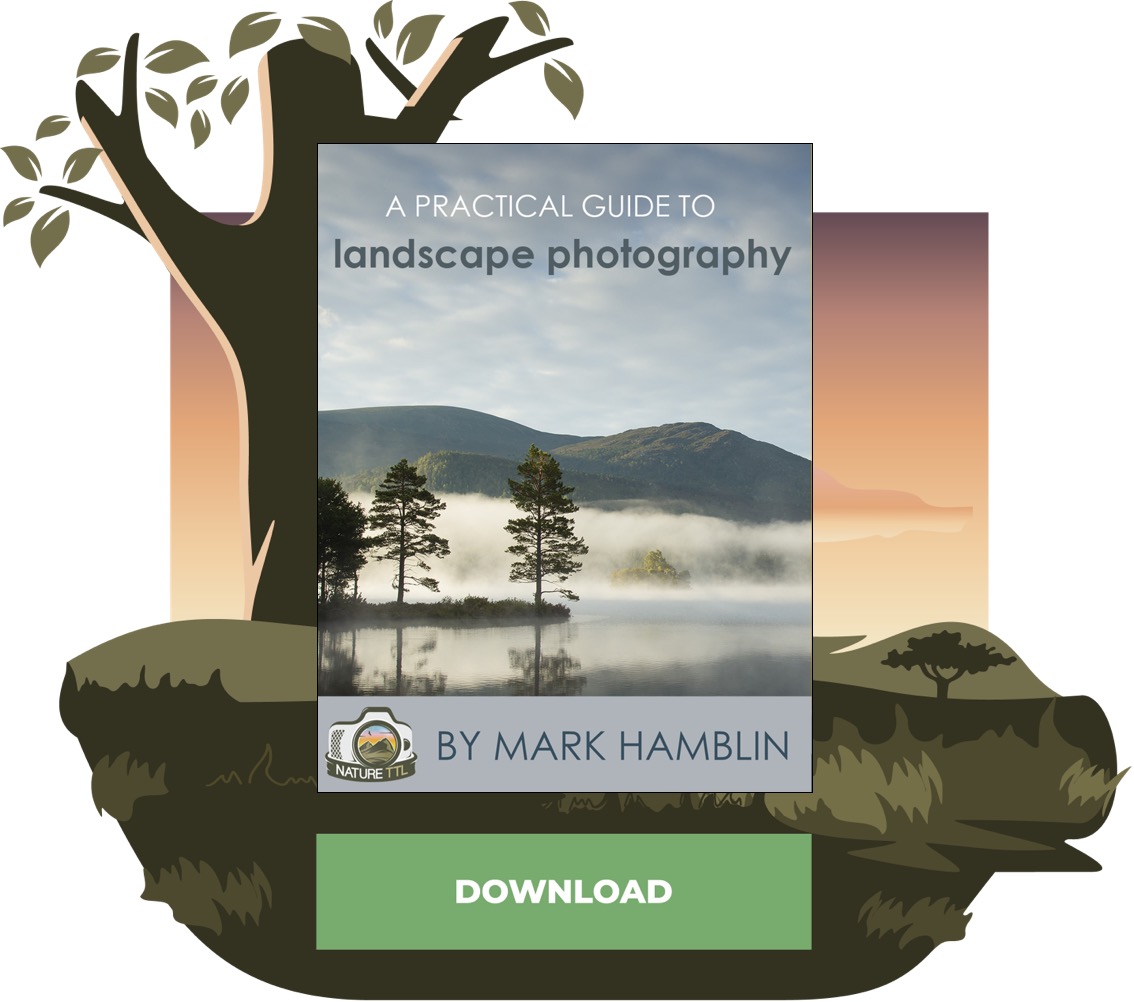 The violence began long before the border wars between England and Scotland, with the Vikings landing and sacking Lindisfarne in 793AD as their first invasion of English soil. Their pillaging and plundering left a trail of death and destruction as Viking armies conquered other larger areas of Britain in the following years.
Thankfully, you're unlikely to encounter a gang of marauding Vikings nowadays and the Northumberland of today is an altogether more peaceful place.
Its vast white sandy beaches are fringed with tall Marram grass, and the unspoiled coastal and countryside regions provide a haven for many species of plant and animal life.
From a photographic perspective, Northumberland is as diverse in its subject matter as it is rich in history.
Those dramatic castles guarding the beaches against attack from the sea, are an obvious and dominant focal point, complementing the wider views up and down the coast. However, as breathtaking as these locations are, there's so much more to the area than that which is most obvious.
Coastal geological features
Lindisfarne Castle is built on part of the Great Whin Sill: a layer of hard volcanic rock, or dolerite as it's known. This sill stretches down through Cumbria and into Teesside, forming part of the spectacular glacial valley of High Cup Nick (Cumbria), and the exposed cliff face of High Force Waterfall in Teesdale.
There are more exposed areas near Dunstanburgh Castle and Howick (Cullernose Point) where you can see a cross-section of the rock face that resembles Basalt columns rising from the sea.
Read more: How to Photograph Seascapes
Inland
Most people visiting Northumberland will quite rightly be drawn to the often-publicised coastal locations. However, there are certain times and conditions when the more dramatic, wider views might not work so well. It always pays to have a plan B.
Inland, much of the countryside is agricultural. There are still opportunities for interesting images if you work to find them, especially as new crops are planted or harvested, from spring through to summer.
There are a few waterfalls that are worth visiting, the most notable of these being Roughting Linn, and even an ancient stone circle at Duddo. I find autumn is a great time to visit the waterfalls, and the surrounding woodland is well worth exploring.
Read more: How to Photograph Woodlands – Trees, Streams, and Fungi
Must-see places in Northumberland
Undoubtedly, Northumberland has some of the most iconic views to be found anywhere in the UK. I remember being captivated by images of Dunstanburgh Castle years before ever deciding to pick up a camera to photograph the landscape. I thought 'I simply must visit this place!'
Lindisfarne, Bamburgh, and Dunstanburgh Castles are among the most dramatic locations along the Northumberland Coast. As such, they tend to be the most popular with photographers from all over. Everyone wants to capture an iconic image of them.
Read more: The Use of Perspective in Landscape Photography
Lindisfarne Castle
Lindisfarne Castle is situated on a rocky hilltop on Holy Island, overlooking the North Sea near Berwick. The island itself is accessed by a causeway that floods when the tide comes in. It's important to time your visits carefully to avoid getting stranded on the island until the tide goes out again.
Thankfully, this is quite easy to plan for as you can find the predicted safe crossing times online, here. There's ample parking in the National Trust car park up above the village and it's only a 15 – 20 minute walk to reach the castle.
My visits to Lindisfarne Castle tend to coincide with the autumn and winter months. At these times of the year, the sun rises from a southerly position and moves down the coast towards Bamburgh Castle. If you're lucky enough to have a break in the clouds, the first hour or two of the day can be beautiful. The castle and rocky foreshore are bathed in the early-morning, soft, golden light.
I tried for something slightly different in the second image (shown above).
The geology at Lindisfarne is made up of dark, volcanic rock which is usually covered in patches of yellowy-orange-coloured lichens. I wanted to show some of the detail in the rocks as well as the rusty mooring ring.
As the camera was so close to the mooring ring, even a very wide focal length of 17–18 mm couldn't give sufficient depth of field to keep the ring in the foreground and the castle in the background sharp.
To get around this problem I decided to use focus stacking: shooting multiple images with different planes of focus, and later merging them using post-processing software.
I was pretty lucky with the conditions and this image was shot at sunset.
Read more: Golden Hour Photography – A Landscape Photographer's Guide
Bamburgh Castle
Obviously, the first and last couple of hours will usually provide the best light of the day. However, the beach and rocky areas around Bamburgh Castle provide so many different options for images. It's one of those locations you can return to at different times of the day and stages of the tide and still, come away with something unique each visit.
The sand dunes on the edge of the beach are a favourite once the sun breaks the horizon.
Composition can be tricky, but I look for taller, shapely areas of Marram grass. The textures of the grass lit by warm, early morning light perfectly complement the view of the dominant castle, on the horizon in the background.
The beach itself can feel a bit open and featureless. Depending on how heavy the tide has been prior to low tide, it can often be worth looking at the small pools and patterns created by the receding waves. These can make for a great foreground, especially once they begin to reflect the sky and clouds above as twilight approaches.
This image was shot just after sunset and our visit was timed to coincide with the low tide that evening. Watch where you put your feet!
The rocky ledges at the northern end of Bamburgh Beach can provide some fantastic zig-zagging leading lines towards the castle, and they give your images a real sense of depth.
I like to photograph the castle from here when the tide is in. You can wait for a wave to lap up against the shelf and hit the shutter just as the wave falls back down the beach.
If you can achieve a shutter speed of anywhere between 1 – 2 or 3 seconds, this should give a nice sense of movement to the receding waves. Rather than totally blurring the water into a mist, you should have some nice swirling lines and patterns from the froth in the water.
Your actual shutter speed will depend on just how fast the waves are moving, so it's worth experimenting until you find the effect you're happiest with.
Depending on the lighting I'm working in, I may opt to use a 2 or 3-stop ND filter. I wouldn't advocate anyone standing in the surf unless you know that it's safe to do so, and you're not too bothered about your feet getting soaked!
For the images above, I wanted to capture the incoming tide flowing over the shelf. As the light levels dropped, I had to shift ISO to achieve a fast enough shutter speed, in this case, 2 seconds at f/11, ISO 200.
Just for comparison, here's an alternative image.
Same composition, but slightly more wave energy and with camera settings of 1 second at f/11, ISO 400. As you can see, each wave creates a different pattern/foreground for your image, so it's well worth hanging about and experimenting with… as long as it's safe to do so.
Read more: Long Exposure Photography – Creative Landscapes with a Slow Shutter
Dunstanburgh Castle
Dunstanburgh's twin towers are a visible landmark for miles around. It's only when you get closer up to them that you begin to appreciate the massive scale of the place and what a truly amazing structure it must have been when complete.
The 14th-century castle ruins are situated on the cliffs at the southern limit of Embleton Bay, and you can reach them in a couple of ways. Drive down and park at Dunstan Steads, near Embleton village. It's then around a 20 – 25-minute walk along the path that skirts the edge of Embleton Bay.
Alternatively, you can park in the large car park at Craster and reach the castle ruins from the south (again, around a 20 – 25 min walk).
There are several different viewpoints to try. A favourite composition for many photographers is to include the round, black, dolerite boulders that line the shore as you near the castle.
If you can capture the movement of the waves streaming through the boulders this can emphasise the shapes of the rocks and create a lovely contrast in your foreground. A word of warning though: the rocks are treacherously slippery in places, so keep a very low centre of gravity if you're going anywhere near them.
Photographing the ruins from the south can make it difficult to convey the scale of the castle in the distance. Although the ruins are huge, once you try and include a close foreground using a wide-angle lens, the castle can look tiny on the horizon and make your composition unbalanced.
This is obviously not the only approach available.
You can use a longer focal length to compress perspective and pull the castle into your composition (if this works with your chosen foreground). I tend to get as close to the castle as I can, and there are one or two channels that the tide flows in and out of, and these break up the foreground quite nicely.
Read more: How to Use Water in Your Landscape Photos
Close-up photography
So, it's overcast, dull, and grey. It's even beginning to rain, as it so often does! You're beginning to suspect that the fiery, dramatic sunrises and sunsets you wanted from your few precious days away with your camera, might not become a reality.
What do you do?
The Northumberland Coast is my absolute favourite place for shooting abstract and close-up details.
If it's dull, grey, overcast, or raining, you certainly shouldn't let this put you off looking for interesting images of a more abstract nature. This flat, even, soft, cloud-diffused light can be great for capturing close-up detail.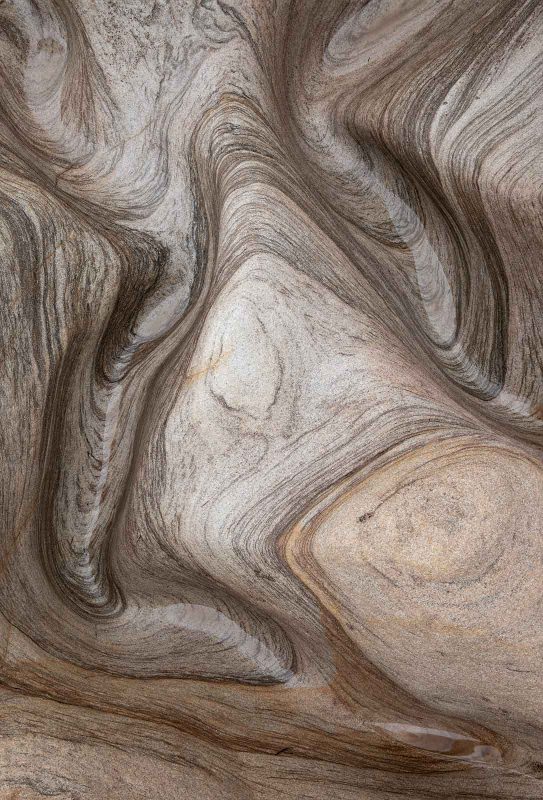 One location that really does stand out for this type of photography is Spittal Beach at Berwick. A few sections of sandstone here have been eroded by the constant abrasive action of the sea combined with shifting sands.
Where the rocks have been eroded, a swirling grain is exposed in places that make for some amazing patterns and colours.
The image above was shot on a very damp, drizzly grey day. It's a slightly wider area of the rocks, shot looking straight down.
Because of the fairly close proximity of the camera, and the slightly longer focal length, I was unable to get both the top of the rock face (nearest to me) and the bottom of the grooves in the rocks sharp. Therefore, I used focus stacking again to get around this issue.
Certain areas and patterns in the rocks are similar to each other. Perhaps, try to put together a panel of your images. I think it can work really well, and the combination of different patterns across the panel only helps to strengthen the appeal of the individual images. It's also very enjoyable!
Once you start looking for patterns, textures, contrasting colours, and interesting close-ups, etc, this type of photography can become quite addictive as it's enjoyable and spontaneous.
Don't restrict yourself to just photographing rocks.
Once you start to really look, there are interesting patterns to be found in many places and all kinds of everyday subjects. I find I have to work quite freely and without the constraint that a tripod brings.
For me, this type of photography is very experimental, and I need to be able to frame a scene quickly and decide whether or not the subject works.
If it does, then I may bring in the tripod if it's required and work as long as is necessary to get the result I want. If not, I can quickly move on and cover more ground, and a greater number of subjects.
Many of the images above were shot at Holy Island. The old boats and fishermen's huts are brilliant places to explore with a short telephoto lens.
Amble
A short drive down the coast from Embleton brings you to the fishing port of Amble with its ancient wood-framed piers and harbour. The town sits at the mouth of the River Coquet and if you look out to sea from the harbour, you'll see Coquet Island off in the distance.
The more interesting subject for me is the south jetty and its little red and white lighthouse. This can be a good location to try out some long exposure.
I liked the symmetry that the railings provided in the image above. That evening, I was pretty lucky as the sky took on a pinkish tinge once the sun dropped below the horizon.
Finally, if you have time to fit it in, a visit to the Farne Islands is well worth the effort.
Between April and July, the Farne Islands are home to around 35,000 pairs of breeding puffins. They are one of the very best places to photograph them as you can get reasonably close without disturbing the birds.
There are daily boat trips that set off from Seahouses but be sure to check the weather before travelling as they are cancelled in times of rough seas. You're also likely to see seals, Eider ducks, Common Shag, Guillemots, Razorbills, and four different species of tern.
Read more: How to Photograph Seabirds
In conclusion
Although this is only a very quick guide to what is a very large and diverse area, I hope I've convinced you to get out of your comfort zone just a little bit.
Maybe try some abstract photography. Or if you're thinking of calling it a day, try another location or subject. Keep persevering even if the weather is not quite what you wished for.
Try focus stacking if you find the right scene and the technique will do it justice.
Dust off the long lens and have a go at some wildlife photography.
The end result of all your work is not really what photography is all about. It's an enjoyment of the process and how you got there. If you can keep enjoying the process and keep experimenting, your results are certain to improve.