12 Best Places for Landscape Photography in Scotland
Scotland is insanely beautiful, whichever part you visit; that makes it tricky to come up with the best places for landscape photography in Scotland. The country allows you to travel across the snow-capped summits of its many mountain ranges, descend through Caledonian woodland rich with wildlife, cross the shores of the country's vast lochs, and move on towards the rugged and picturesque coastline.
There's a whole array of locations which will satisfy even the most picky landscape photographer. That's just the mainland, too, as let's not forget the stunning selection of islands and their sandy beaches, which are on par with the best in the world.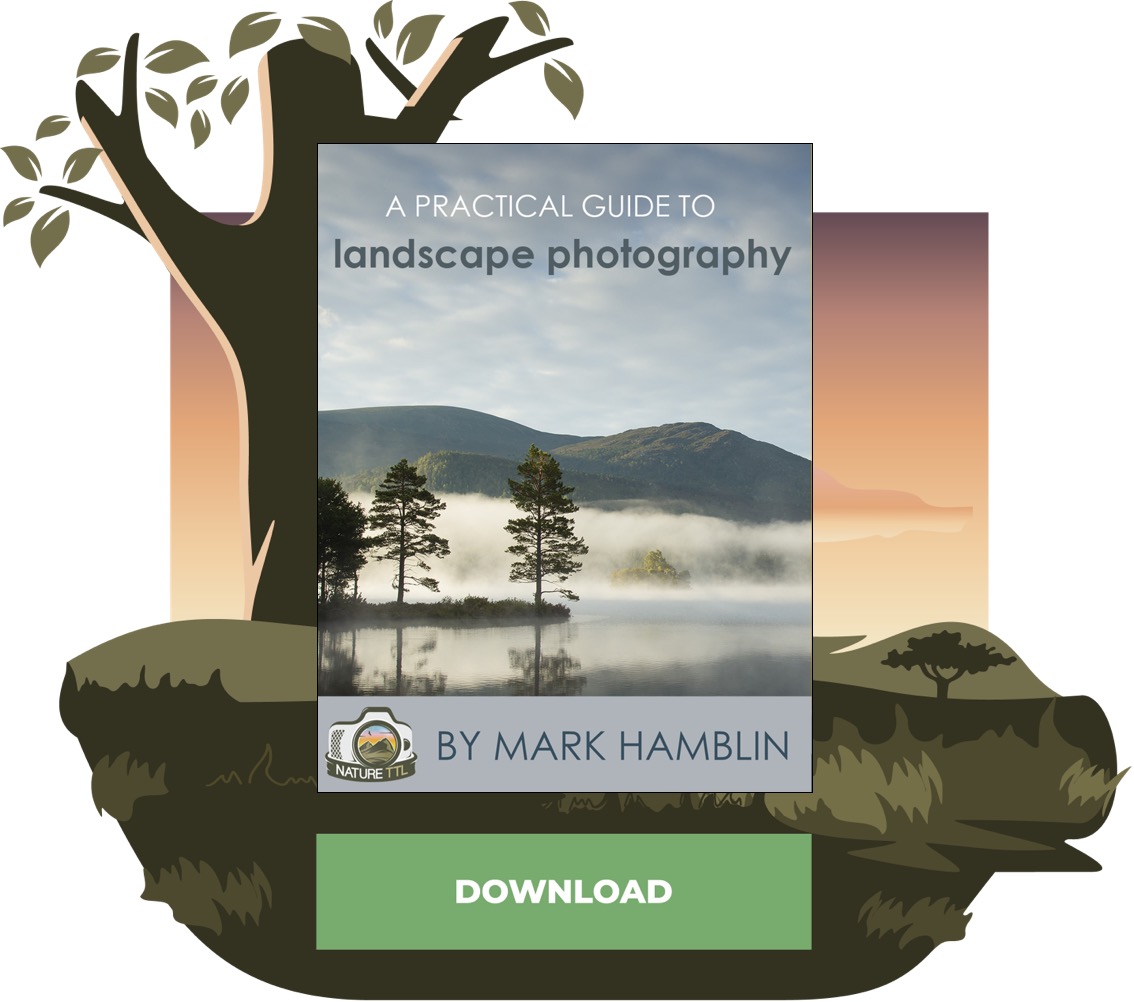 My choice of locations below is by no means a concise list; there's far too many to choose from for that! This article forms a selection of highlights where I tend to return to time and time again, as they offer so much whatever the weather and season.
1. Cairngorms National Park
One of Scotland's two national parks, the Cairngorms covers an area of nearly two thousand square miles across a mixture of farmland, woodland, and its iconic mountain range. It's a firm favourite of mine and an area I always try to visit at least once a year due to its sheer beauty and variety of subjects on offer.
As a resident coastal shooter in the south-west corner of Wales, I'm always drawn to anything with water and the Cairngorms has its fair share of interesting lochs.
As with any bodies of water, if you can time your visit to be after a calm night (making for a good sunrise) or a day with little or no wind, you'll be greeted with mirror-like reflections which work perfectly together with a static element in the frame, such as shoreline rocks or trees.
2. Loch Morlich & Glenmore Forest
Located near Aviemore, Loch Morlich is a large freshwater loch surrounded by sandy beaches, acres of Caledonian forest, and home to a water sports centre. The loch also boasts an impressive backdrop in the form of the Cairngorm mountains, which change appearance throughout the year and they're always blanketed white with snow in winter.
Working along the shoreline near to the Glenmore Lochside carparks will reward the photographer with interesting foreground subjects such as round boulders, small trees in the water, or collections of rocks.
Wearing wellies is a good option here as the immediate shore isn't too deep, so it'll allow you to wade out to create cleaner foregrounds. Stand still and wait for any ripples to settle before taking your images.
Head to the east end of the loch for the "beach" which is often covered with sand patterns and interesting exposed tree roots. Also, here (and surrounding the loch to south and west) is a lovely area of Caledonian forest, with many trails that crisscross and allow access to almost everywhere.
Visit in late summer or early autumn for flowering heather; the smell together with the Scot's Pine trees is sublime.
3. Loch an Eilein
A hidden gem in the Rothiemurchus estate, and not too far from Aviemore, this large loch has a footpath that takes you all around it.
Near the carpark is a shoreline beach area with foreground boulders and lead-in lines. There are a few lone trees and an old castle ruin on an island in the centre of the loch, which work well if included in longer telephoto images.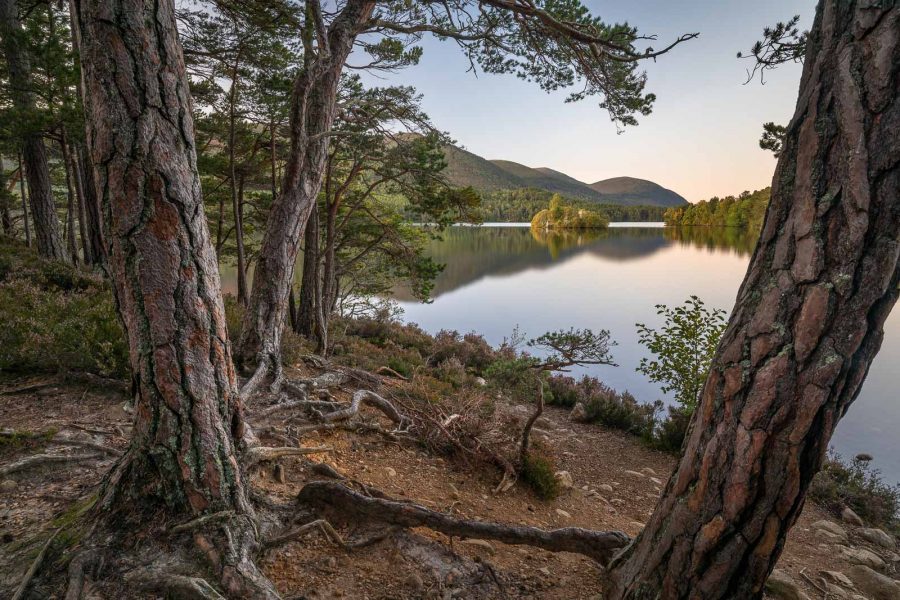 Heading further away from the carpark, you'll find yourself in woodland. Where it meets the loch's shore, there's a great mixture of low-lying plants, heather, and tree roots which make for nice framing to any image.
4. Loch Garten
An easy location to shoot, especially if you are of limited mobility, as you can photograph great views from the small road that skirts along the northern shore. Not far from Aviemore, Loch Garten is a large freshwater loch, surrounded by woodland.
There's more in the way of grasses that edge some shoreline areas, making for alternative foreground interest – play around with varying shutter speeds to include some blur.
Walking along the western edge takes you through woodland, where it connects back with the loch. There are small inlets that can be still on calmer days, providing glassy water for reflections of the trees.
5. Linn of Dee
To the eastern side of the national park, you'll find Royal Deeside and the iconic town of Braemar. Home of the world famous Braemar Gathering, heading west from the town along the river Dee for a few miles will take you into complete wilderness.
Here the river flows and tumbles over series of waterfalls and, heading further upstream, you'll end up at Mar Lodge where the road ends at the iconic Punchbowl waterfalls.
For the adventurous, walking many miles west from here will take you up and over the Cairngorms, ending up near to Aviemore.
6. Isle of Skye
No article about the best landscape photography locations in Scotland would be complete without featuring the Isle of Skye. A photographer's dream location, there's no wonder why it features heavily in many photographs.
A relatively small island at just over six hundred square miles, what it lacks in size it makes up in bucket loads for with photographic interest. It is incredibly diverse, with towering snow-capped mountains, rugged coastal cliffs, sea stacks, rocky bays, sandy beaches, tidal inlets, and tumbling waterfalls. It even has quaint fishing harbours and 12 lighthouses.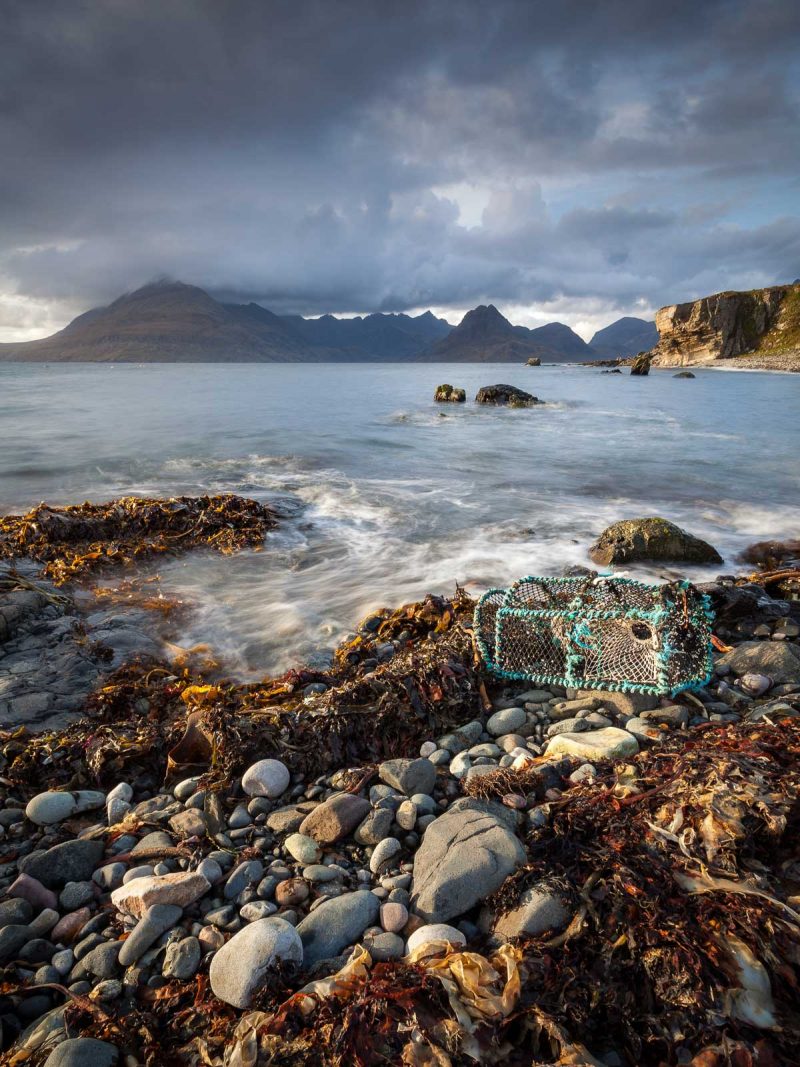 Skye is located to the west of Scotland and linked to the mainland by a road bridge. A newcomer to Skye really would find an amazing view around every bend.
Nicknamed "The Misty Isle," Skye does get its fair share of rain; so visibility and good light opportunities can be hard to come by, but when the weather is on your side… oh boy does it deliver!
7. Elgol
An extremely popular place for photography these days, when compared to over ten years ago on my first visit there, Elgol is a very pretty location. A west facing rocky beach looks out across Loch Scavaig towards to high summits of the Black Cuillins range. These hills are iconic on their own, but provide an amazing backdrop to any shoreline photograph; especially with a dusting of snow.
As this is a tidal location, keep an eye on the tide times to find out how uncovered, or covered up, the shoreline will be on your visit. Be sure to make the most of all the possible compositions as the water shifts around.
If you have time, explore the entire beach as well as the jetty for foreground interest. Late afternoon into evening can provide some warm light across the scene, and do try out long exposures with ND filters.
8. Sligachan
A good place to stop off when driving around Skye is near to the old Sligachan bridge. You'll find tumbling waterfalls here as the River Sligachan makes its way northwards towards the sea.
Again, the mountainous backdrop of the Cuillins makes themselves known with the mighty Sgurr na Gillean standing high at nearly a thousand metres tall.
Heather covers most of the landscape here, interspersed by characterful boulders, especially where the rivers cuts through the moorland. There's also a single-storey cottage that can feature in your images, providing an obvious scale factor against the dominant mountains beyond. Mainly shooting in a south-west direction, take this into account for light angles and times of day.
9. Bow Fiddle Rock
Compared to Skye, a much lesser known location on the north-east coast of Scotland is Bow Fiddle Rock; it is equally impressive whatever the weather.
Located near to the fishing village of Portknockie in Moray, this location can be found in a small rocky cove near to a housing estate. Access is via a small clifftop pathway, passing some outbuildings and then descending into the bay.
Here you'll find a beach with an array of colourful pebbles and boulders. The tide's state will dictate how much of the rocks are uncovered, but I would recommend planning to visit when the tide is higher so the sea hides many of the distracting rocks, making for an overall cleaner image.
Look for leading lines in the foreground sending the eye towards the sea stack, and also play around with varying shutter speeds with incoming waves using neutral density filters. Don't forget a polarising filter to cut down on any reflections and glare, too.
Read more: The Essential Filters for Landscape Photographers
10. Glenfinnan
While this location has been put on the map thanks to being featured in the Harry Potter films, there's a lot more here to explore than just the iconic viaduct.
Glenfinnan is a small village which lies at the head of Loch Shiel, a twenty-mile-long loch that stretches out to the sea on the west coast of Scotland. Framed by spectacular Highland scenery, the Glenfinnan Monument is a striking tribute to those who fought in the Jacobite Risings.
A good viewpoint to take in this majestic landscape is found by heading up the path which ascends behind the visitor centre. A relatively short, but steep, climb to around 100 metres in elevation will reveal a beautiful view of the monument and down the loch.
Back at the visitor centre, it's also possible to walk towards the monument and to climb to the top of it for a lofty view of the loch. Alternatively, continue from the monument across the grassland to the shore for water-filled scenes. This area can become quite boggy on occasions so take care.
Visit on a calm day for symmetrical reflections. Focus on interesting foregrounds and grasses, and look towards the wooded island that stands just offshore.
Try out long exposures using neutral density filters to smooth out any water movement, and don't forget to use a circular polariser to see through into the foreground and what lies beneath the water.
11. Glencoe
Many visitors to the Highlands would have passed through Glencoe at some point, as the main road – the A82 – cuts through the landscape, making this area Scotland's most famous and scenic glen.
Made famous by many films over the years, including the James Bond movie Skyfall, Glencoe yields everything that's great about the Scottish landscape: wild moorland, serene lochs, and waterfalls backed by mountains. The landscapes are truly epic.
Your first glimpse into this wild and amazing place will be Rannoch Moor and its many lochs. On a calm day, they reflect the landscape around them perfectly. This is a fast-main road so do take care, but there are many lay-bys to stop off in and make your way down to the waters' edge.
Travelling further along, you'll get your first view of the mighty Stob Dearg mountain before you then come up to the ski centre. A quick stop off here boasts a quaint building called Blackrock cottage, a great start to your Glencoe collection as you can capture it framed with the surrounding mountains.
Travelling back onto the A82 west, turn off for Glen Etive. Shortly you'll see a parking bay on the left before the bridge, and here you'll find some waterfalls.
Etive Mor Waterfall has been photographed millions of times… but when in Rome ey? A lovely composition can be made by getting down low to the waterfalls and placing them in the base of the frame with the mountain dominating the backdrop.
Where you can stand depends on the amount of water in the river, and this area can get quite boggy in wet conditions so take care. A polariser and ND filter work great here, and you also may need a graduated ND filter, depending on what the sky is up to, in order to balance out the exposure.
Travelling further along the 12 mile dead end single track road takes you to the shores of Loch Etive. All the way the road winds its way down the glen with many places to stop and shoot the iconic views and, if you're lucky, you may spot a red deer or two near Lochan Urr.
In conclusion
Scotland's landscape is incredibly diverse with an abundance of locations on offer. While the images here, taken over many years, showcase my favourite areas, they barely scratch the surface of the potential images available. However, hopefully this article will work as a great starting point to inspire and influence your own images of these iconic regions.
Scotland provides a dynamic landscape influenced by the weather and the seasons, so do keep in mind to visit a location many times to see how the different conditions can totally transform a view.
Regardless of what photographic subjects you're into, if you've never visited Scotland before I'd definitely urge everyone to visit and explore this wild and beautiful land for themselves.