How to Plan a Photography Trip to the Great Bear Rainforest
The Great Bear Rainforest (GBR) is a magical place. There are lots of areas around the world that call themselves 'wild,' yet few can truly claim to be as 'wild' as this.
It is a vast area, encompassing ancient mountains and dense rainforest, and it is surrounded by rich marine environments. Pockets of untouched wilderness lie all over the land.

However, living in the GBR has its challenges.
The weather can be unpredictable and ruthless, with spells of pure beauty. If you head off the beaten path and find one of the pockets of raw wilderness, you can experience a land like no other.
The diversity of life here is exceptional. Within the rainforest you may find grizzly bears and black bears, wolves, and cougars. Owls fly silently overhead as the squeaking of chipmunks reverberates through the forest. The elusive white Kermode (or spirit) bear may even materialise out of the mist.
Along the coastline, life explodes. Humpback whales breach in the distance with dolphins circling around them. Orca fins break the surface as a thick layer of fog rolls in. Rhinoceros auklets and seagulls dive into the water to feed on herring. Steller sea lions grunt and groan for the best position on the rock.
It's a truly magical place in which you can escape, and a wildlife photographer's paradise.
Planning a photography trip to the Great Bear Rainforest
It should come as no surprise that for a visit to a place with this kind of climate, waterproof clothing is essential. The weather can change very quickly, going from blue skies to heavy rainstorms in a matter of minutes. Despite this, you can still expect to have some amazing days with clear blue skies and no wind.
The best time of year to visit the GBR is summer, from May until October. Not only is the weather usually at its best, but the wildlife is at its most active.
Bears come out of hibernation and are looking to fatten up for the coming winter. Humpback whales have migrated from the warmer southern waters in search of food. Orcas and dolphins navigate the sounds and inlets, following the salmon run.
If you plan to stay in the GBR for a little while, I would recommend finding a lodge to stay in, as this way you can truly experience the wild side of the rainforest. The best way to explore, and really the only way, is via boat.
Travelling by boat will help you navigate the various sounds and inlets in pursuit of wildlife. In fact, most of the mainland and smaller islands are inaccessible by foot. However, there are some places for which lodges have rights, meaning you can do a day trip walking in the forest alongside a river (hopefully finding bears fishing for salmon).
By spending a few days at a lodge, you will be able to better divide up your time – for example, spending one day looking for bears, and searching for whales the next.
This gives you a greater chance of seeing and photographing the sights you have been dreaming of! This option also means you will be around less people on your adventures, making it a more personal experience.
There are other options if you wanted to spend a day exploring the GBR.
Day trips to see grizzly and black bears are fairly common all over British Columbia and along the east coast of Vancouver Island. They often involve an early morning start, travelling by boat with 10-20 people up Knight Inlet or another area well-known for grizzly bears.
You'll have lunch and, on your way back, spend time looking for whales and other marine life. This is a good option to help you get a feel for the place, but it certainly doesn't match up to actually staying in the wilderness for a few days (or longer).
Depending on your level of commitment, you can find companies that are 'off grid' – this means you will camp in the wilderness with an experienced guide and truly immerse yourself in the environment.
I spent two months living this way and immersing myself in the GBR, washing in the river and foraging for food, all while conducting my own photography project. It was one of the best experiences of my life and I would highly recommend it.
I understand that this is not for everyone, and coming back to a cosy lodge with a roaring fire after a very wet day of shooting might sound more appealing!
Read more: How to Photograph Wildlife in Extreme Weather
Where to go in the Great Bear Rainforest
Each and every area is magical, so it's hard to choose a favourite location!
1. Knight Inlet
From experience, the area around Knight Inlet is wonderful. Here you can expect to see a huge variety of scenery and wildlife.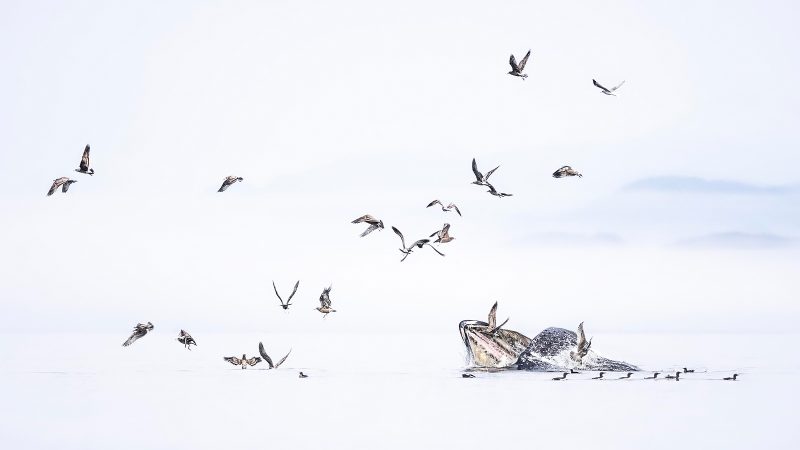 You can take part in a guided trip to see grizzly bears feeding on mussels and barnacles, and finish by watching humpback whales lunge-feeding for herring (always an awesome experience).
Knight Inlet is on the mainland, north of Vancouver, British Columbia.
Read more: How to Photograph Humpback Whales
2. Johnstone Straight and Black Fish Sound
If you are travelling from Vancouver Island, head to Telegraph Cove and get a boat into Johnstone Straight and Black Fish Sound.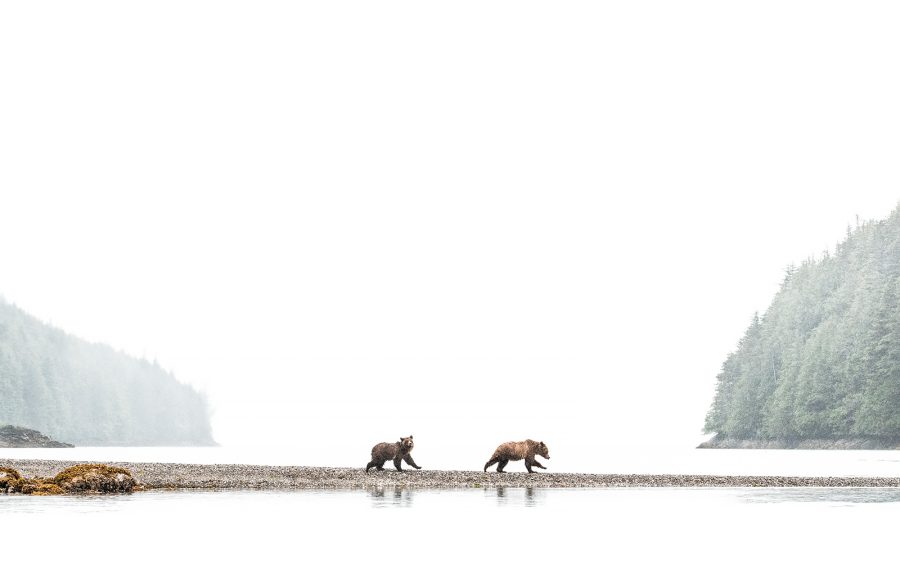 Here you will find an abundance of marine life, and you might even be lucky enough to see a black bear feeding on one of the small islands you pass along the journey.
3. Princess Royal Island and Gribbell Island
Here you might be lucky enough to find the elusive spirit bear, a white-coated relative of the black bear. They are beautiful, extremely rare creatures, so are highly protected by the First Nations people.
It is believed that there are only a few hundred left in the wild. If these stunning animals are the reason for your visit to the GBR, then these two islands are the best places to see them, and are where you should concentrate your time.
4. Haida Gwaii
Haida Gwaii is another densely filled ecosystem. It is unique in the fact that it has very few predators residing on the island.
There are no bears, wolves, or cougars, but plenty of deer, especially Sitka deer. The coastline is stunning, and it feels like a land of ancient times as mist rolls over the forest.
For landscape photography, this is the place to be. It's magical. After a wildlife packed trip, it could be a great place to recharge on your last few days. It offers the chance to relax and get in touch with nature without the worry of bears around.
Read more: How to Use Mist to Improve Your Landscape Photos
5. Port Hardy
Port Hardy is located at the north end of Vancouver Island. It is a great place to see coastal wolves, though spotting these intelligent, photogenic animals is never guaranteed.
They are highly in tune with their surroundings, meaning they are aware of everything close to them. However, Port Hardy is a great place to try your luck with finding them.
Camera gear for the Great Bear Rainforest
With regards to camera gear, I would recommend packing light. Although it depends on where you choose to go and what you do, it is still likely that you could find yourself in small float planes that have strict weight requirements.
In addition to this, walking is a great way to see the wilderness, and you don't want to carry a big, heavy 600mm f/4.
To get the best images in all sorts of conditions, including both land and sea, I would recommend a 100-400mm zoom. It's very versatile and easy to travel with. You can use it in a rocking boat and still get enough reach for most situations.
A wide-angle lens is a must for landscape photos, but don't be afraid to use a longer lens to compress the mountains. Sometimes they can come up looking small if shooting with only a wide-angle lens.
Spare batteries and memory cards are essential, as you could be out all day and you don't want to miss the shot. Tripods are handy for shooting long exposures or landscapes from land, but are less useful in a boat. You'll get on better with a hand-held camera.
Rain covers are a good idea too, as you never know what the weather will do next. Images of bears in the rain can look especially fantastic.
I use a Nikon D500 and D850. My lenses are 24-70mm f/2.8, 70-200mm f/2.8, and 300mm f/2.8.
I use fast aperture lenses because I often find myself in situations with low light. Having a fast aperture of f/2.8 is great as it allows me to photograph earlier and later in the day. Having both full and crop sensor cameras is a great option too, because if I need more reach I can put the long lens on the crop sensor camera.
Teleconverters are another option, but they do reduce the aperture of the lenses, affecting their performance in low light. Also, when photographing breaching whales, you want to have a fast autofocus as they don't hang around for long.
Teleconverters can sometimes slow autofocus down, and you may find that the camera is hunting more and not finding focus. However, they are still a great idea and very useful for slow-moving bears walking along a beach.
Read more: How to Photograph Wildlife in Low Light
Photographing wildlife in the Great Bear Rainforest
When it comes to photographing bears, there are many ways to get great shots. If you are on the coast photographing from a boat, the bears can be a bit far away. Having a lens that is 300mm or longer is helpful.
Bear in mind that the rocking of the boat can make it hard to frame the shot with a lens longer than 300mm. A fast shutter speed will reduce the motion blur that may occur, but a 600mm lens is going to exaggerate the movement and make it difficult to compose an image.
This is the same when it comes to whale watching. If you try to use a 500mm+ lens, you are going to struggle fitting the whale in frame (or even finding it).
Whales, for the most part, appear at the surface for a few seconds, and you don't always know where they will appear. If a humpback whale breaches, you have even less time to find the subject through the view finder, focus, and compose the image.
It's important, as with all wildlife photography, to try and get variation in your images. It's no good coming home with pictures of a bear's head only. Try to use different lenses to convey the story of how these animals live.
Get the classic close-up portrait image, then zoom out to show the surroundings.
The GBR is a beautiful place, and the landscape makes for a stunning photo in and of itself. It is also a stunning contribution to a wildlife shot. I've often found that if you can capture animals in the landscape, you will have a more unique and powerful photo.
Read more: How to Take Impacting Portraits of Wildlife
Camera settings
Generally speaking, when whale watching, you want to have a fast shutter speed to freeze the action and capture every water droplet. Most trips are taken via boat, so you have the added motion of the sea to accompany the camera shake.
Often 1/1000th or higher is best, with an aperture of f/5.6- f/7.1 if possible. This helps you get more of the subject in focus, and if you miss-focus the image it is easier to save. But ultimately, this is up to your creative control.
Bears are slightly different as the areas you see them in change so much.
While on the coast you might have lots of light, making it easier to play with your settings. However, in the forest the light is often quite dark and dappled, meaning you might have to push the ISO to get the shutter speed you want.
If you are walking in the forest, I recommend setting your shutter speed and aperture and turning your ISO to auto. This means that if action suddenly happens your camera can capture fantastic images, rather that dealing with an over or under-exposed image.
Always expect the unexpected. It may sound silly, but always have your camera in hand. You never know if or when a spirit bear will wander in front of you.
Read more: 8 Tips for Photographers on Boats and at Sea
In conclusion
I highly recommend going to the Great Bear Rainforest. It is a truly stunning place, and the photographic opportunities are endless.
If you are a landscape photographer you will be blown away by the mountains, coastal scenes, dense forests, and beautiful lakes. Wildlife photographers will quickly fill up memory cards as you are surrounded by life at every corner.
The diversity will test your photography skills too. From slow-moving bears to birds in flight, and from whales breaching to dolphins jumping, it will be hard not to want to photograph absolutely everything in sight.