10 Best Places in Banff National Park for Landscape Photography
Banff National Park, Canada, should be on every landscape photographer's bucket list. Simply put, the Canadian Rockies are a photographer's dream come true, and when you think about the Rockies, your first thought is often Banff National Park.
Banff has stunning mountains, sparkling lakes, and picturesque valleys. It is home to some of the most breathtaking scenery in the world, and offers endless opportunities for capturing stunning images.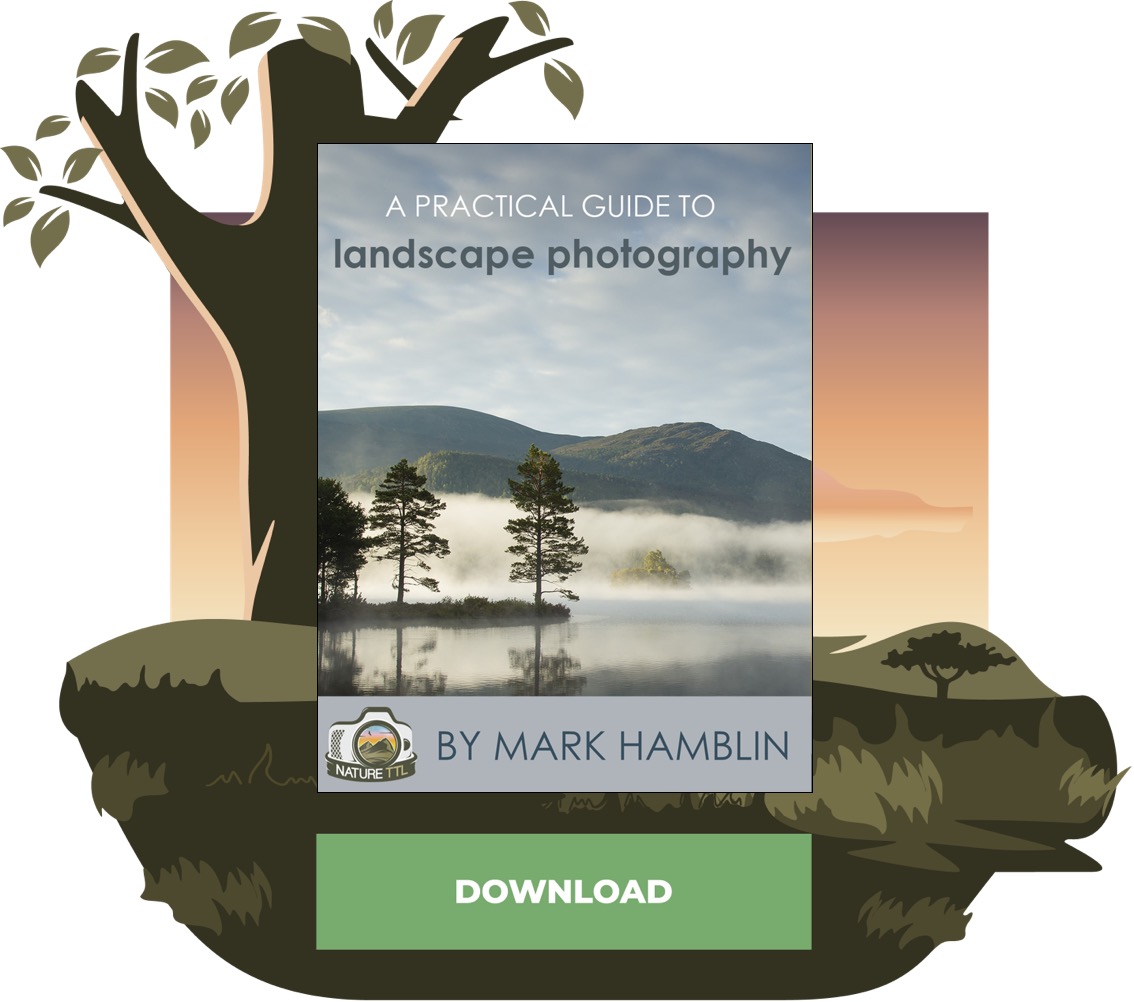 Whether you are a professional photographer or just starting out, the National Park's diverse terrain and ever-changing weather conditions provide a unique challenge to every level of photographer.
Rather than merely highlighting the "best" places to capture photographs, which is often subjective, this article aims to showcase locations that can truly unleash your creativity.
These are the kind of places that offer a variety of opportunities, from a range of unique compositions to spots that still look great even during unpleasant weather conditions.
These are also places that challenge you to broaden your horizons and develop your skills as a photographer.
1. Moraine Lake
Moraine Lake is the most well-known lake in the mountain National Parks, and it has gained tremendous popularity in recent years thanks to social media.
As a result, Parks Canada has made the decision to close Moraine Lake Road to personal vehicles starting in summer 2023. This means that driving to Moraine Lake is no longer an option, and the only way to reach it is via shuttle bus.
Information about Parks Canada's shuttle bus schedule and tickets is available here. However, the shuttle bus operating hours may not coincide with a photographer's preferred hours due to a wildlife corridor that restricts Parks Canada's shuttle hours of operation.
This limitation in hours has allowed more shuttle businesses to open, and there is now a variety of options for sunrise shuttles to Moraine Lake.
Once you get the shuttle system settled and you finally arrive at Moraine Lake, here are some ideas for capturing great shots.
One of my favorite spots to capture breathtaking post-sunrise light is the lakeshore trail. It provides stunning glimpses of the mountains and the mesmerizing lake color through the surrounding trees.
This is a great trail to capture unique perspectives of a very popular location.
The beauty of this lake is not confined to a particular time of day, so it's best not to restrict yourself to capturing it only at sunrise. Take the opportunity to explore and appreciate the entire lake area throughout the day.
Read more: 4 Steps to Shoot Beautiful Lakes at Sunrise
2. Lake Minnewanka & The Lake Minnewanka Loop
Lake Minnewanka provides numerous photo opportunities, making it worth exploring the entire Lake Minnewanka Loop Road. The area offers diverse options for photographers.
When entering the Lake Minnewanka Loop, it is advisable to turn right rather than going straight at the Y in the road. A few minutes down the road, the trees will give way to Cascade Meadows, an unassuming spot on the loop.
This location is ideal for wildlife sightings and offers stunning views during sunrise and sunset. Additionally, night photography can also be done along this section of the road.
It's important to be mindful of parking by the roadside as the shoulders can be soft at times. It's also crucial to avoid parking on vegetation as it serves as a food source for animals. Furthermore, visitors should minimize their impact on the landscape.
This area was once a field of wildflowers during springtime, but increased use over the last decade has led to a significant decline in the number of flowers.
The next location on the Minnewanka Loop is Two Jack Lake, an ideal location for capturing simple sunrises on calm mornings.
The upper viewpoint alongside the main road provides an excellent opportunity to experiment with reflections, mountain peaks, and trees using a telephoto lens.
While traveling from Two Jack Lake to Lake Minnewanka, visitors should watch out for Bighorn Sheep or Rocky Mountain Sheep along the roadside. Drive slowly and remain in your vehicles as males in the herd can become aggressive and potentially cause damage.
Once you arrive at Lake Minnewanka, the first small, angled parking area by the lake is one of my favorites. This location features a stunning, sheltered rocky shoreline that can create dynamic landscapes when the waves hit on a windy day.
This area is great for morning and evening photography. Visitors are advised to bring a long lens as the surrounding peaks have a ton of character.
Read more: How to Create Drama and Mood in Landscape Photography
3. Vermilion Lakes
Those who know me know that I wish I could live on these lakes. I spend enough time here that it may seem like I do. I have severe "fear of missing out" when it comes to this area because it is constantly changing.
The natural composition this area offers is perfection.
It is safe to say that these lakes are my favourite photography spot in Banff National Park. They are stunning in all weather conditions.
The first lake offers great compositions with Mt. Rundle and the skeleton trees. There's also a dock to use for photography but beware of Canada Geese droppings.
The second lake is my favourite of the three lakes, perfect for panoramic shots, with amazing light in the morning and evening.
A short drive away is the third lake.
The third lake has two docks, one that lines up nicely for a symmetrical shot of the Sunset Range. This is the only lake where I personally like to photograph Sulphur Mountain, as it's too prominent in the first two lakes and can be distracting.
Here at the third lake, the layers and ridges along the western edge of Sulphur can shine.
Read more: Golden Hour Photography – A Landscape Photographer's Guide
4. Bow Valley Parkway
The Bow Valley Parkway, also known as Highway 1A, is a scenic road that runs parallel to the main Trans-Canada Highway 1, between Banff and Lake Louise.
This old highway is unfenced and offers a slower speed limit, allowing for a more relaxing drive. Moreover, this scenic road provides many opportunities to stop for photography.
Among my favourite stops is Muleshoe, a parking lot where you can set up a tripod and test forest compositions using a long lens. However, it's essential to keep in mind the impact of off-trail use on the limited growing seasons of mountain landscapes.
This is a low-impact, forest-friendly shooting location.
Another location worth stopping at is Hillsdale Meadows, where you can enjoy a low-impact, forest and meadow-friendly shoot. This is another great long-lens location where you can photograph peaks, aspen trees, and wildflowers.
Read more: How to Photograph Trees and Forests
5. Castle Mountain
Castle Mountain is a stunning location that can be visited throughout the year. While there is a fence along the river, visitors are allowed to pass through it.
It's important to remember to close the gate and put the chain back on to prevent wildlife from getting onto the highways.
Photography in this area may seem easy, but it can be quite challenging in terms of composition. The rocks along the riverbed can create a cluttered look.
To create a more balanced composition, try incorporating other elements such as flowers or puddles for reflections. Castle Mountain is also an excellent location to use ND filters to capture the movement of clouds and water over time.
Read more: The Essential Filters for Landscape Photographers
6. Morant's Curve
Morant's Curve, located along the Bow Valley Parkway near Lake Louise, is a stunning spot to visit at any time of day.
The name of this curve in the train tracks comes from Nickolas Morant, the official photographer for CP (Canadian Pacific) Rail, who loved to capture the trains winding through the mountains on their way to and from the coast.
The train tracks form an elegant S-curve, with the Lake Louise area mountains in the background.
While the trains do not follow a strict schedule, approximately 23-30 trains pass through here daily.
It is recommended to allow at least an hour or two to wait for the train, bringing coffee or a snack to enjoy the view and chat with fellow train enthusiasts. Waving at the trains usually prompts them to blow their horn, adding to the unique experience.
7. Herbert Lake
Herbert Lake is the first major lake on the Icefields Parkway. The lake sneaks up on you on the left-hand side, as it is only a minute or two down the road from the park gates.
The lake is typically calm in the early hours of the day, but as the sun rises, the wind begins, resulting in limited reflections throughout the day.
The pathway through the trees is one of my most enjoyable features of Herbert Lake. The skinny straight trees are delightful to walk through as you walk to the lakeshore.
The lake provides a basic reflection of the mountains in the distance, which are the same ones seen from a different perspective at Morant's Curve.
Read more: 7 Tips for Photographing Mountains
8. Bow Lake
While Bow Lake is a well-known location, its full potential is frequently underestimated. The Lodge at Bow Lake (formerly known as Num-Ti-Jah Lodge) is surrounded by stunning views that often go unnoticed.
Visitors tend to enjoy the bridges, but the trail towards Bow Glacier Falls also offers excellent perspectives of Crowfoot Mountain. Personally, I like to use a long lens to capture the details across the lake, which can appear small and insignificant in wide-angle shots.
Read more: How to Take Landscapes with a Telephoto Lens
9. Peyto Lake and Bow Summit
Peyto Lake's new platform is fantastic. It opened in spring 2022 and is in the same spot as the old one, but it's bigger and protrudes further out.
This allows for capturing images of the lake and valley from a higher perspective, without anyone else down below in your photo.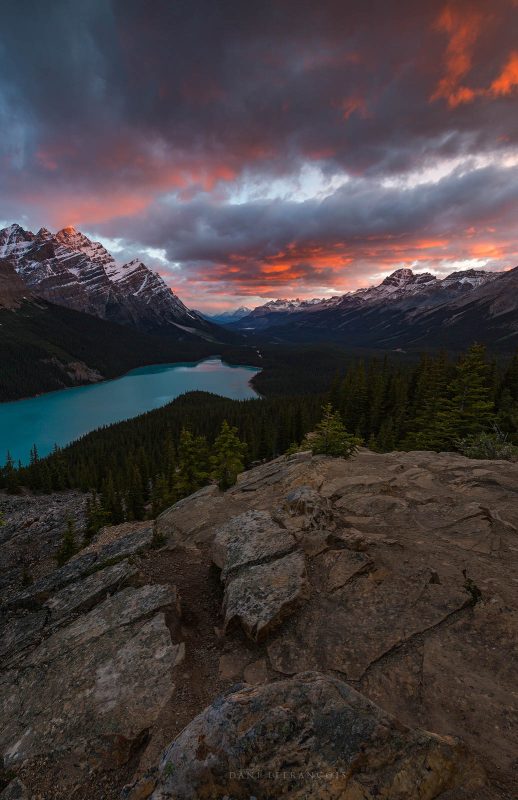 While the platform is a great spot for photography, there are other opportunities in the area. The hike up to Bow Summit has several peek-a-boo locations to see the lake, and once at the top, you'll have an unobstructed view of the lake and valley.
Read more: What's in My Bag? A Look at the Kit of a Professional Landscape Photographer
10. Mistaya Canyon
This elegant canyon can be reached by a short hike from the parking lot. The trail is quite steep, so it is recommended to bring hiking poles for both stability and assistance on the way back up.
Upon reaching the canyon, take care with your footing and take time to appreciate the curves and formations that make excellent compositions.
There are several spots where the canyon aligns beautifully with Mt. Sarbach in the distance. If you venture further, the river itself offers stunning photographic opportunities.
In conclusion
In summary, the Canadian Rockies present boundless possibilities for photography, and Banff National Park is a must-see for any nature photographer.
My best advice is to allow yourself ample time to fully experience each location in this stunning location.
Too many people pack their schedules too tight and don't give themselves enough time to sit and watch the clouds roll by.
Also, do not hesitate to revisit each of these locations as they transform with the weather and the seasons. They offer something new every time and you'll never come away with the same photo twice.