10 Best Landscape Photography Locations in the Canadian Rockies
The Canadian Rockies are a dream for any landscape photographer. Full of towering mountains, glaciers, glacial lakes, waterfalls and more, you can spend a lifetime shooting these mountains and never get bored. This article will look at the best places for landscape photography in Canada.
With each season presenting a different and uniquely beautiful scene, I highly encourage you to not just visit the Canadian Rockies once. Over the years, I've covered a nice bit of this region and definitely have a handful of favourite locations for shooting. Some are more touristy than others, but they are all worth spending some time exploring for that perfect frame.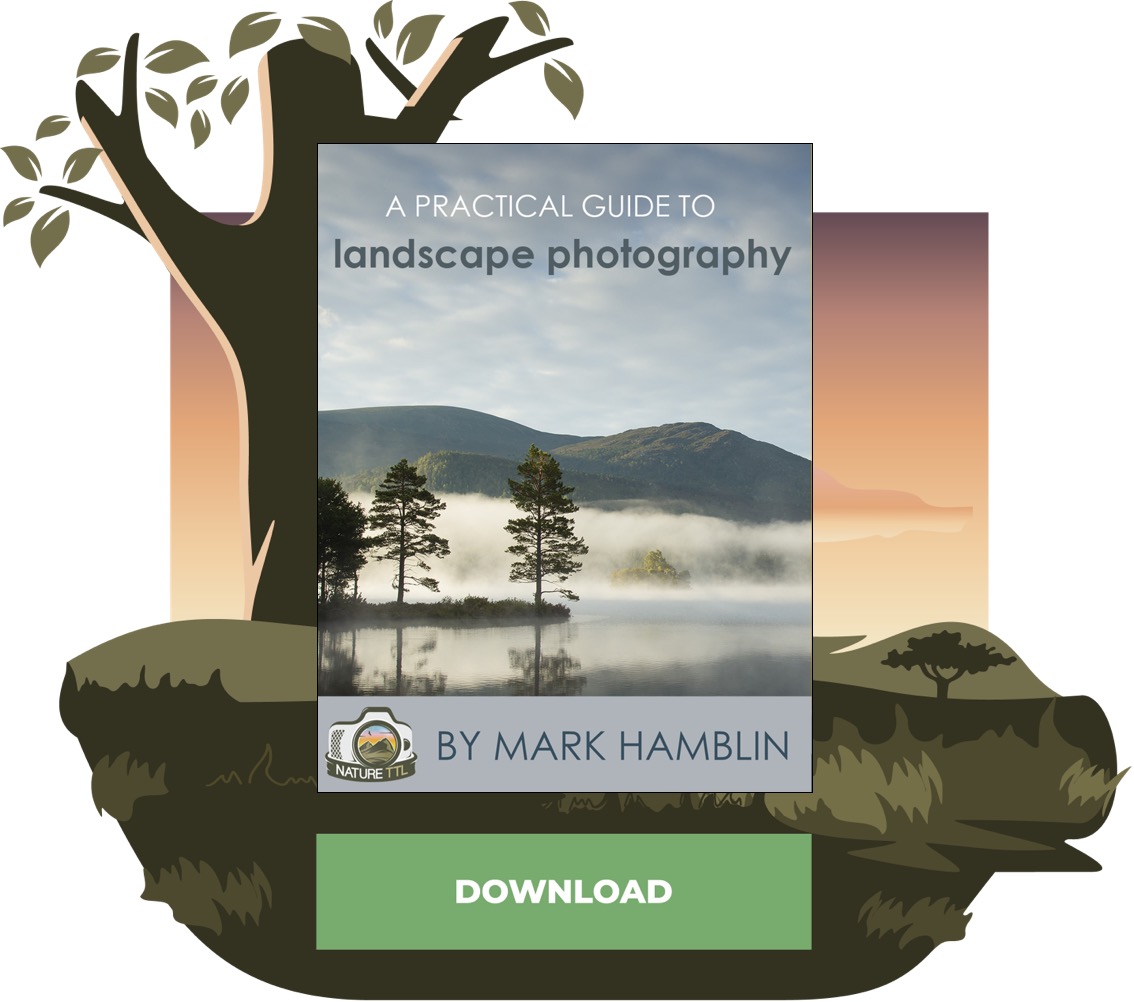 1. Moraine Lake
Imagine a lake so blue that you have to not only take a double, but yet a triple look at it as you can't believe your eyes. Well, what you're seeing is indeed real, and really that beautiful. Welcome to Moraine Lake in Banff National Park; what many would consider Canada's most iconic landscape.
Before you pack your bags and head out with the goal of capturing your most stellar image ever, there are two things you need to be aware of for Moraine Lake. Firstly, the lake is only open for a few months of the year due to heavy snowfall. Opening day is typically in late May and the road closes in early October. Next, parking is extremely limited – so get there before sunrise. Not five minutes before, nor 30 minutes… I'm talking a couple of hours.
My last trip there I arrived two hours prior to sunrise and the parking lot was already filled up. This resulted in me having to go and find another location to shoot for sunrise. There are opportunities to take a bus to Moraine Lake, but this can require up to an hour's wait if not more, and you won't be there for sunrise or sunset.
You will definitely want your wide-angle lens at this location, along with a polarising filter to really deepen the beautiful blue hues in the water. There are two main areas in which you will find photographers shooting (of course, there are endless compositions to be had, but these are the two most popular spots). The first area is above the rock pile to the left of the parking lot, and the second requires crossing the log jam and shooting at the base of the lake. Although sunrise is quite a popular time to shoot here with the alpenglow skimming across the mountains, midday can be quite beautiful as well.
2. Lake Louise & Lake Agnes
Located about a thirty-minute drive down the road from Moraine Lake is another jaw-dropping glacier-fed lake: Lake Louise. I remember seeing Lake Louise for the first time ever and having my breath literally taken away. There it was, a colourful aqua blue lake surrounded by dramatic mountains. At the far end of the water is Victoria Glacier, slowly feeding more life into the lake.
The waterfront of Lake Louise, located right behind the absolutely beautiful Fairmont Hotel, can provide your iconic Lake Louise image, but don't spend too long there, as there is so much more to see. Depending on how much effort you want to put into your day, there are multiple hikes around Lake Louise that provide varying views of the colourful lake.
Two of my favourites take you high above the lake to Lake Agnes where you can find a cute little tea house to grab a cup of tea and quick snack at, but make sure to bring cash. Lake Agnes provides a stellar location to photograph as well.
Continuing past Lake Agnes, you'll arrive at the Big Beehive. At this point, you are high above Lake Louise and will be blown away even more than you already have been! For this hike, though, make sure to pack light as it can be a bit strenuous. I'd recommend just going up with a light tripod and wide-to-mid zoom lens.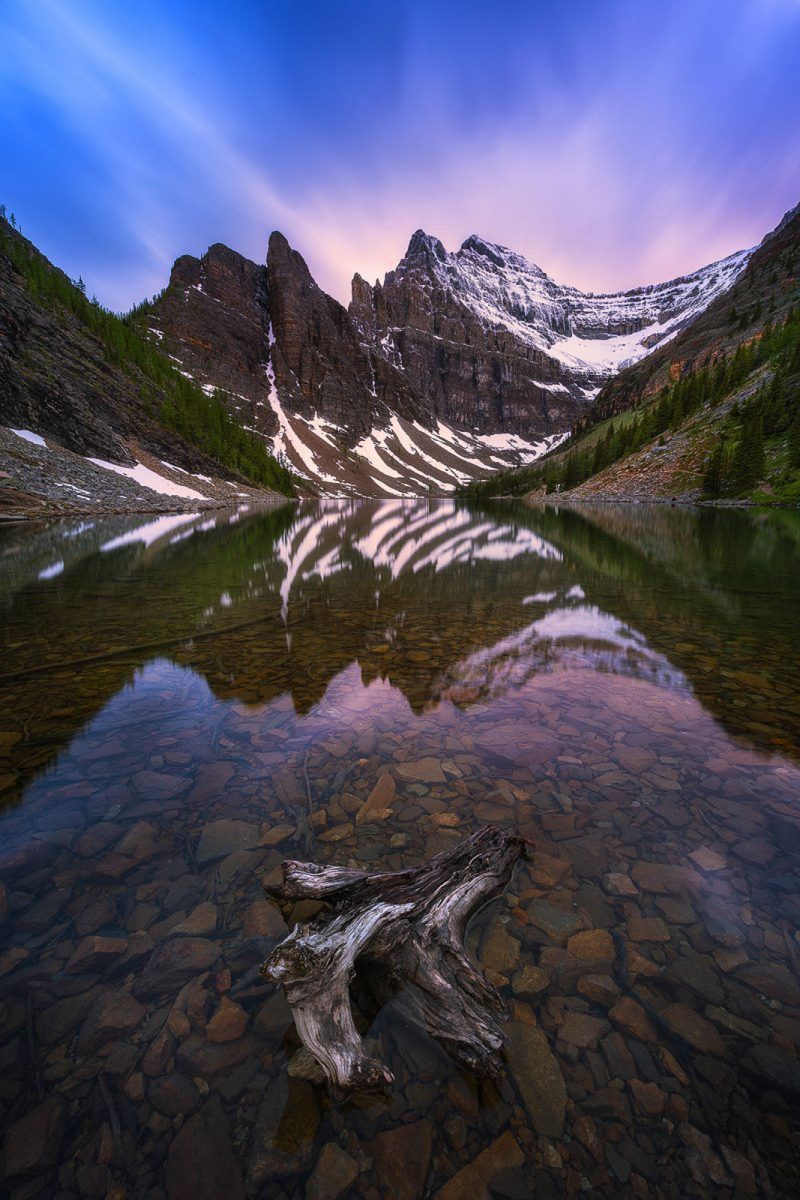 3. Emerald Lake
Let's just say the name fits. Emerald Lake, located in Yoho National Park, glows a beautiful emerald green and can be quite the treat for photographers. Not only does Mount Burgess tower in the background of the lake, but tiny red canoes are scattered about the water in the summer months, making for some fun subjects to incorporate into your images.
The lake has a wonderful trail that loops around it and can take a little under two hours to complete. I recommend utilising a variety of focal lengths at this lake as compositions can be found with every lens.
If you have access to an underwater housing, the water is crystal clear and can be quite fun to try for under / over images. There is also a small area in the middle of the lake full of cabins for the Emerald Lake Lodge, and these can make for some fantastic elements to include in your imagery.
4. Mount Assiniboine
Located deep in the backcountry of British Columbia, you will find a place that makes you believe Narnia does exist. Accessible only by either helicopter or a nearly 20-kilometer hike, Mount Assiniboine should be on every photographer's bucket list.
Getting to the mountain is only one part of the adventure, though. There are only a few places to stay in the area, and reservations go extremely quick. You have three options: the first is the huts, the second is the campground, and the third is the Assiniboine Lodge. Reservations open for the year in early February, so make sure to be ready at the computer!
Once you've made it to Mount Assiniboine, there is so much to shoot within a small hike of where you stay. You will definitely want to bring a light tripod as there is a lot of hiking around, but don't skimp out on the lenses. Bring everything from a wide to a zoom, as compositions present themselves everywhere and at every focal length.
I would also recommend bringing a circular polariser and 10-stop neutral density filter with you. The mountains here can create some crazy clouds that move very quickly, so have some fun with those long exposures.
Read more: The Essential Filters for Landscape Photographers
5. Castle Mountain
This is one of the easiest locations to access in Banff National Park that won't be filled with tourists! Castle Mountain is one of my favourite mountains to shoot as it just seems to change shape with every angle you try to capture it at.
One of my top spots to shoot from is at the Castle Mountain Junction, located about 20 minutes or so from the town of Banff. Once you arrive at the junction, just to the left of the bridge is a gate with a chain around it. Simply remove the chain (yes, it's legal), close it behind you, and head on down to the Bow River.
6. Vermilion Lakes
Yes, it has been photographed thousands of times, but you know you are still going to want your own image from the iconic Vermilion Lakes. Located within the town of Banff, this set of three lakes is easily the most popular place to photograph in Banff National Park.
Whether you are visiting while the lakes are frozen or thawed, Vermilion Lakes provide stunning views of Mount Rundle. When you come to shoot, make sure to visit at sunrise and to get there early as the shorelines can become quite busy with tripods. If you happen to be visiting during the winter, don't be deterred by the frozen landscape.
On the second and third lakes, there are actually small areas of the lake that don't freeze due to hot creeks flowing into the lakes. These spots provide excellent reflecting compositions.
This location is great for a wide-angle lens and a telephoto as the peak of Rundle can often provide some great, tight compositions. Make sure to not wade into the water though as the lake bed is quite deceiving and can lead to you getting stuck in the mud and silt.
7. Abraham Lake
Located approximately 30 minutes east of the Saskatchewan River Crossing on Highway 11, Abraham Lake is world famous for its winter methane bubbles frozen in the ice. A unique image to add to any photographer's portfolio, it requires a bit of planning and a lot of warm layers.
Best visited between December and February, when the ice has become thick enough to safely walk on, the decomposing vegetation releases methane bubbles that become caught up in the clear and polished ice of Abraham Lake. This spot is quite great to shoot at both sunrise and sunset, but requires some scouting.
I recommend bringing ice skates to help move about the lake quickly as it is extremely large. I also recommend lots of warm layers here as the winds coming off the mountains can be extremely strong and frigid.
With the wind also comes the battle of avoiding camera shake. Micro-spikes for your boots and spikes for your tripod can go a long way in this environment. Once you get shooting, enjoy the thousands of endless compositions in front of you.
A quick technical tip is to make sure to utilise focus stacking as you will most likely be photographing these bubbles from just a few inches away. In order to get a large depth of field with both the bubbles and distant mountains sharp, focus stacking is required.
Read more: Where to Focus in a Landscape Photo
8. Peyto Lake
An easy, and quick, stop that you definitely don't want to miss is Peyto Lake. Located on the Icefields Parkway, the overlook here is truly spectacular. The best time to visit is during the summer months as the lake does freeze and become snow-covered in the winter, hiding the lake's beautiful aqua blue colour. I recommend a wide-angle lens for this location. Try to include some trees or rocks for foreground to give a bit of depth to the scene.
9. Athabasca Glacier
There's nothing quite like exploring and photographing a glacier, in my opinion. A landscape that is always changing and quickly diminishing, Athabasca Glacier is worth visiting in the winter months.
Before you venture out to the glacier, make sure to hike with a GPS and emergency beacon. It is approximately a two-mile hike to the glacier from the parking area, and with ever-changing weather conditions you want to make sure you know how to get back.
Deep in the winter, it is possible to explore some of the ice cave features that this glacier can have. I wouldn't recommend entering them however, as they can and do collapse. A circular polarising filter can aid in deepening the blue hues of the ice. Try to incorporate a subject with a pop of colour if you can to show some scale of the glacial features.
10. Sunwapta Falls
This is an amazing location with two converging turquoise creeks that lead to a waterfall, with practically no hiking involved. These falls are located off Icefields Parkway in south Jasper National Park and require about a 5-minute walk to get to.
The best spot to shoot the converging creeks is over the bridge. After crossing the bridge, there is a small trail on your left that leads you down to the water's edge. Be careful to not get too close to the edge however, as there are parts of the terrain that are undercut from erosion.
A 24-70mm focal length is wonderful for this location. I'd recommend shooting in the early morning hours.
In conclusion
These are only a handful of the countless numbers of beautiful locations to shoot in the Canadian Rockies, but you can easily find yourself spending hours at each. If you visit any of these locations, be sure to grab that iconic image, but also challenge yourself to venture around in search of new and unique views as well.
A friendly reminder is to remember to put the camera down at times and take in the beauty of this world with your eyes, and not always through a viewfinder.