Top 8 UK Winter Landscape Photography Locations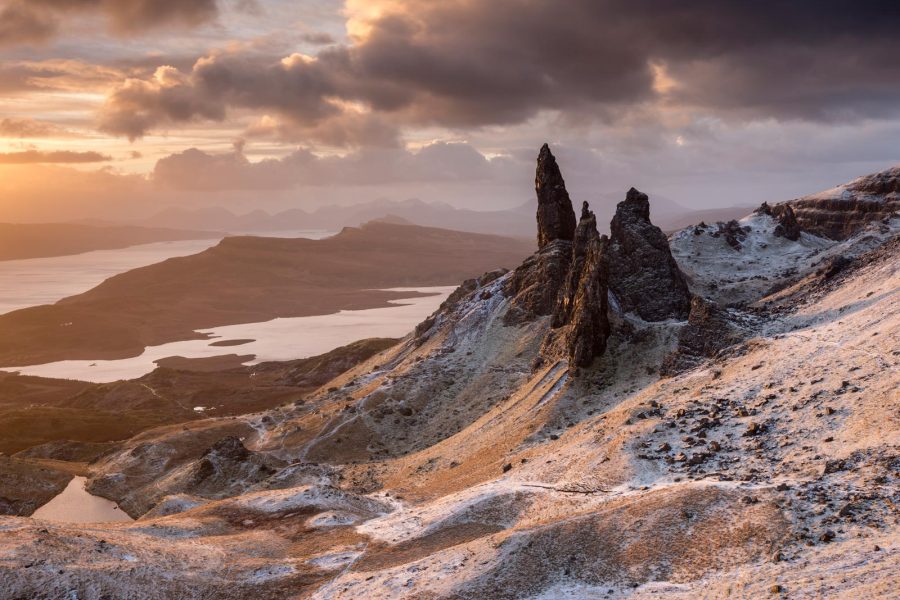 For many landscape enthusiasts, winter is their favourite time of year. The season might bring a fair share of wet, windy, and dreary weather, but it also provides some incredible, atmospheric conditions for winter landscape photography.
Snow, frost, fog, and big storms transform the landscape and produce magical, dramatic light. This is certainly not a time of year for photographers to hibernate – instead, get outdoors and embrace the conditions.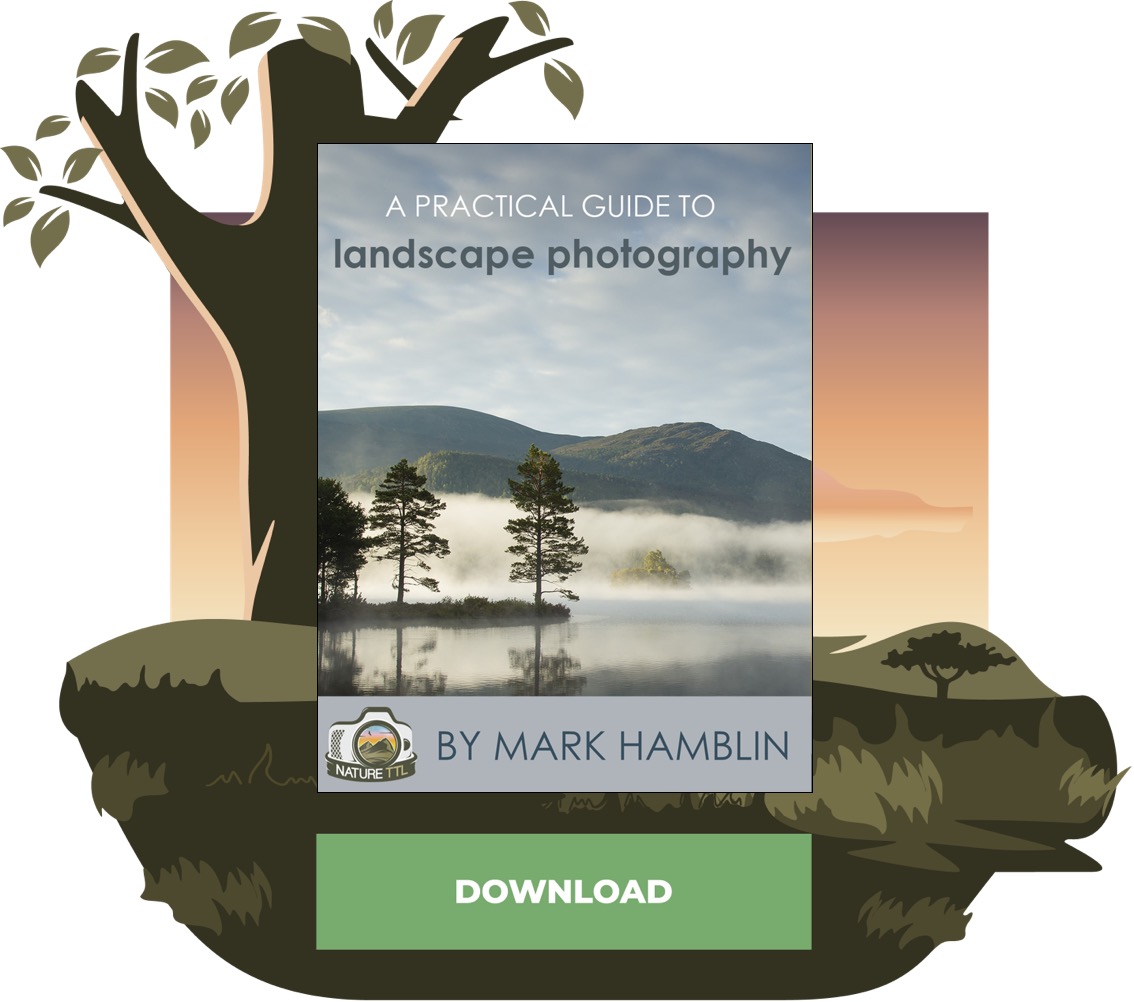 Clothes for cold weather
As the Scandinavians say, "there's no such thing as bad weather, just inappropriate clothing". In other words, if you wish to capture the best of the season, you need to wear the right clobber.
If you get wet or cold, your creative juices will soon stop flowing, so invest in good outdoor clothing, e.g., Montane, Paramo, and Rab.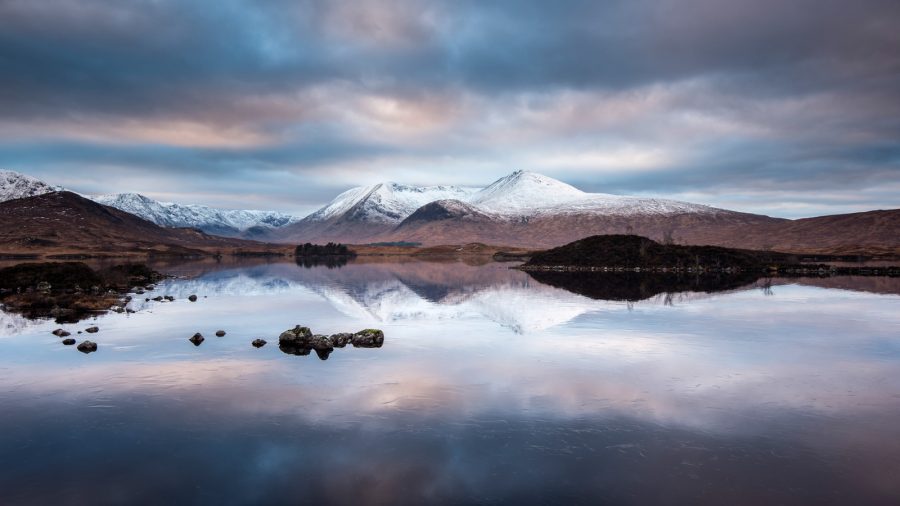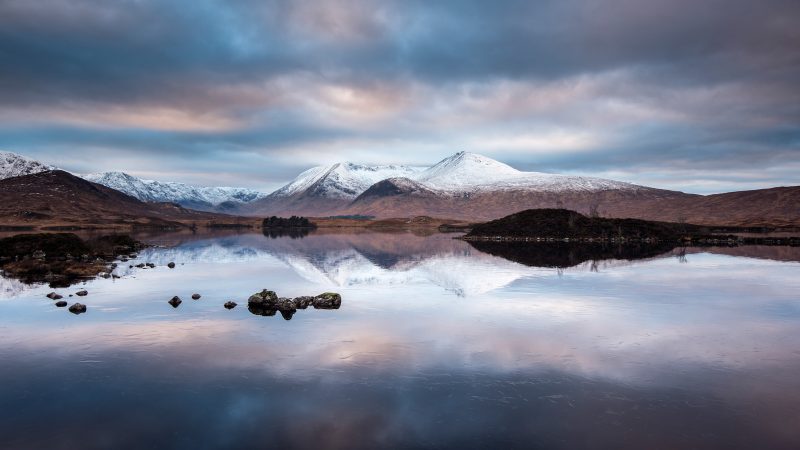 Wear a breathable base layer to wick sweat off your skin, plus an insulating mid-layer to help you retain body heat. Your outer layer should shield you from both the wind and rain.
Good, warm walking socks, walking boots, a hat, and gloves are also essential. Hand warmers are also useful – either rechargeable devices or disposable, air-activated sachets.
Read more: Essential Equipment for Photography in the Snow
Using a camera in cold weather
You need to protect your gear too. Although most modern digital SLRs and mirrorless bodies are weather sealed and will withstand wintry conditions, it is still worth investing in a rain sleeve. Especially if you intend to shoot while it is raining or snowing.
Be aware of condensation; if you take an ice-cold camera into a heated space, moisture will condense onto your kit. To help prevent this, leave your camera in your backpack so the gear acclimatises gradually.
This is because bags are padded and will insulate your kit, protecting it from abrupt changes in temperature.
If you do get condensation on your camera, don't attempt to change the lens, or wipe the front element – just leave it to acclimatise and allow condensation to dissipate naturally.
Read more: How to Use Cameras in Extremely Cold Temperatures
Photographing winter
Although winter conjures up visions of snowy landscapes, hoar frosts, and winter wonderlands, depending on where you live, snow and freezing weather might be a rarity.
However, winter offers much besides frost and snow. Thanks to the lower elevation of the sun in the sky, the light is generally crisp, warm, and attractive throughout the day (not just during the golden hours). The skies are often heavy and dramatic.
Photogenic sunrises and sunsets are more common at this time of year and any colour in the sky tends to linger longer. The hours of daylight are more sociable too – you do not have to set your alarm too early, or stay out too late, to capture the best conditions.
Still need inspiration? I've put together a handful of my favourite places in the UK for capturing winter landscapes.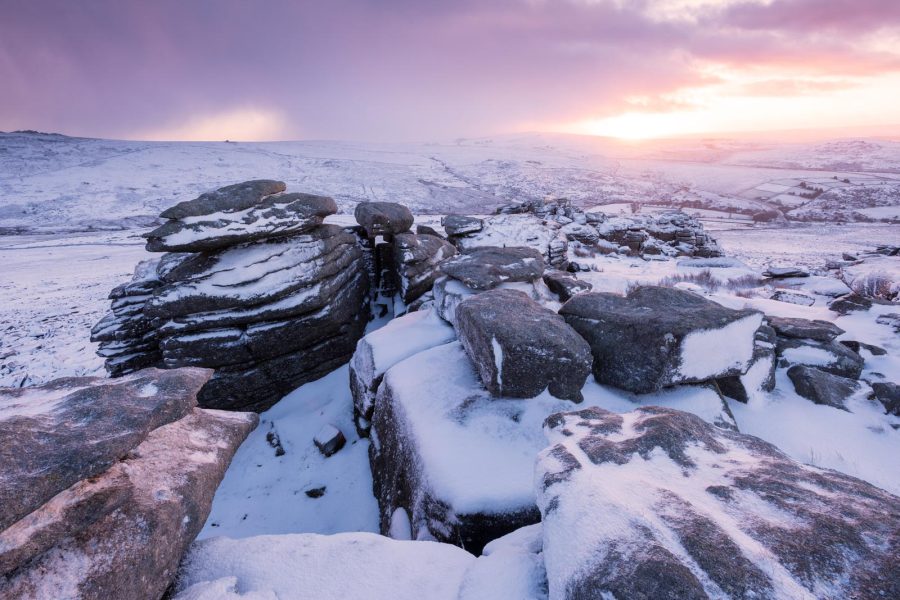 I've selected a handful of areas that are particularly well suited to the season – and hand-picked 5 of my favourite viewpoints to visit during the winter months.
I hope they provide you with ideas and inspiration. However, I should also emphasise that in good, wintry conditions, almost anywhere is photogenic – don't feel compelled to travel far.
Snow simplifies the landscape, reducing it to a series of shapes and layers while hiding ugly man-made features and disguising an otherwise drab, dormant landscape.
Shooting close to home will produce more unique results and less conventional viewpoints. It also reduces the need to drive when road conditions may not be great. So, wherever you live, great winter landscapes are always within your grasp!
Top 3 landscape photography locations
Here are my favourite three locations.
Glencoe
Snowy mountain peaks, raging rivers, and reflective lochs and lochans – what more could a landscape photographer wish for? Glencoe has a wealth of wonderful viewpoints that are only enhanced in wintry weather.
The A82 runs through Glencoe and is kept passable in all but the most severe weather, making its mountainous scenery accessible to photograph even in the depths of winter.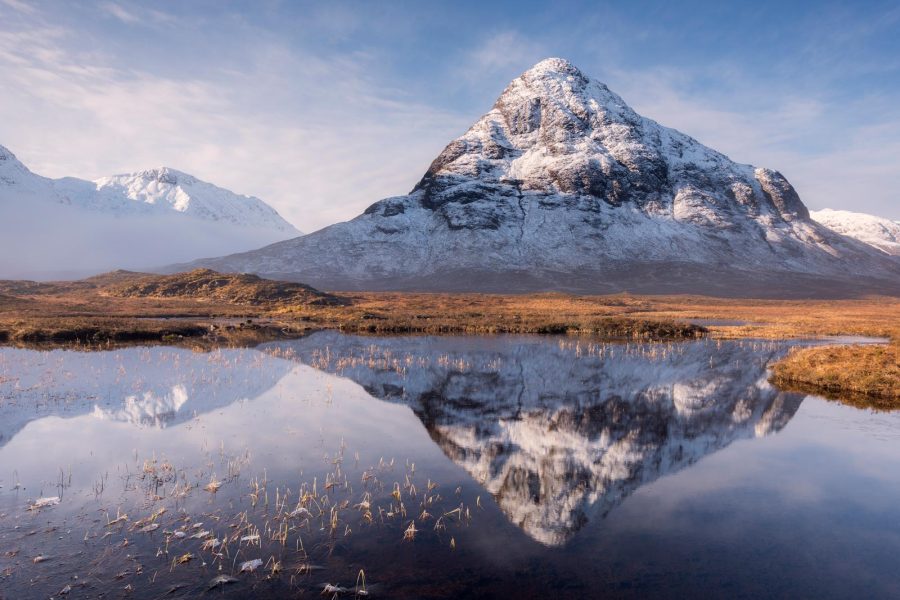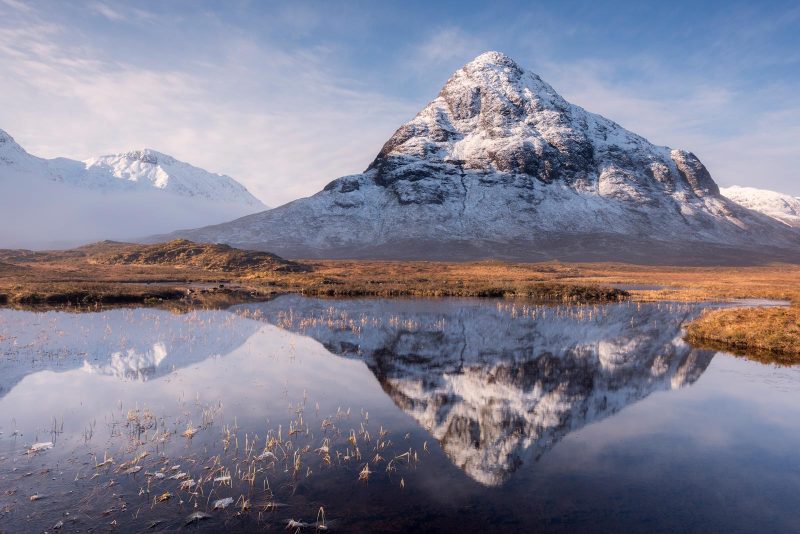 This is a well-photographed area for good reason. Buachaille Etive Mor, Black Rock Cottage, and Glen Etive are among the most iconic places.
If you wish to avoid the more cliched views, there are plenty of original viewpoints to discover if you are prepared to venture a little further.
Rannoch Moor is very photogenic in freezing conditions, particularly around Lochan Na H-Achlaise and Loch Ba.
Always carry a fully charged mobile phone, water, and energy bars when out shooting wintry landscapes, and don't wander too far from your vehicle unless you are adequately prepared.
Read more: 12 Best Places for Landscape Photography in Scotland
The Lake District
The Lake District is beautiful throughout the seasons, but once there is a sprinkling of snow on the hills and mountains, England's largest National Park is even more picturesque.
Unless you are a highly experienced walker, do not attempt to climb up high during winter – you will be placing both yourself and others at risk.
Instead, stick to more accessible viewpoints, like Blea Tarn, Buttermere, the River Brathy, Ullswater, and Derwentwater.
These provide stunning and iconic views within a relatively short walk of a vehicle.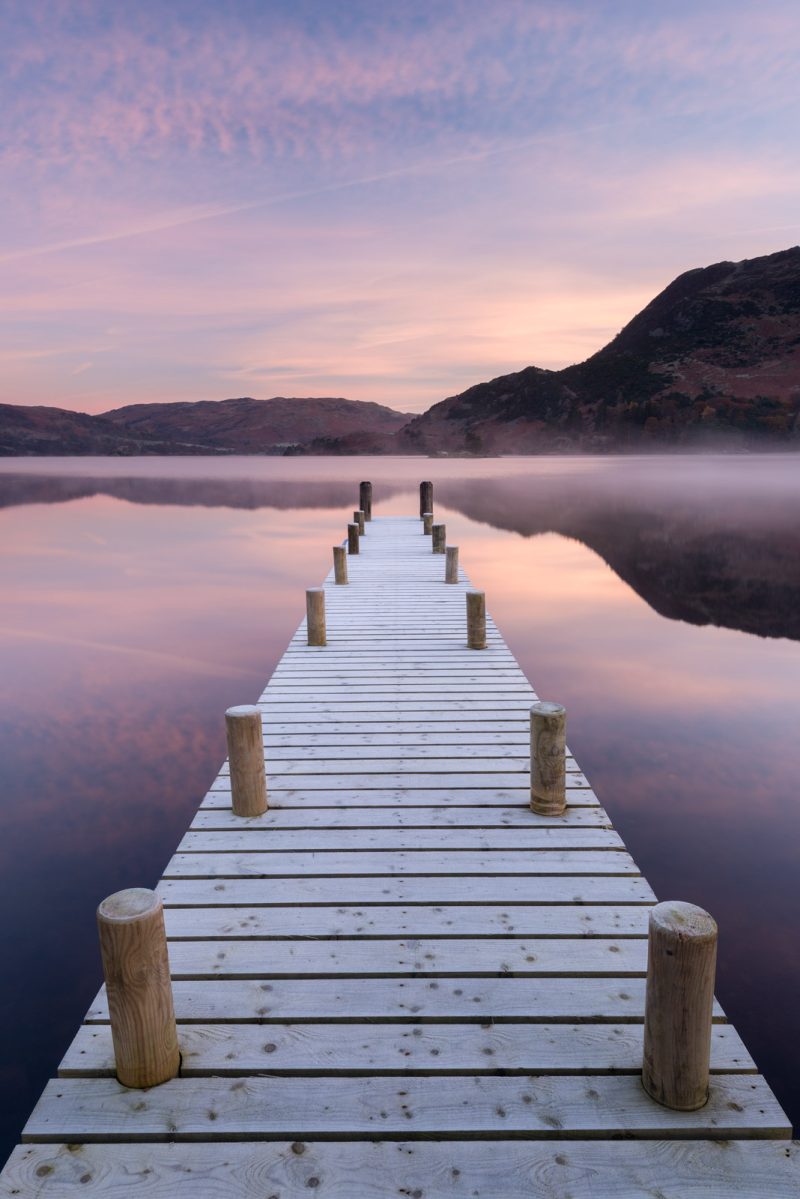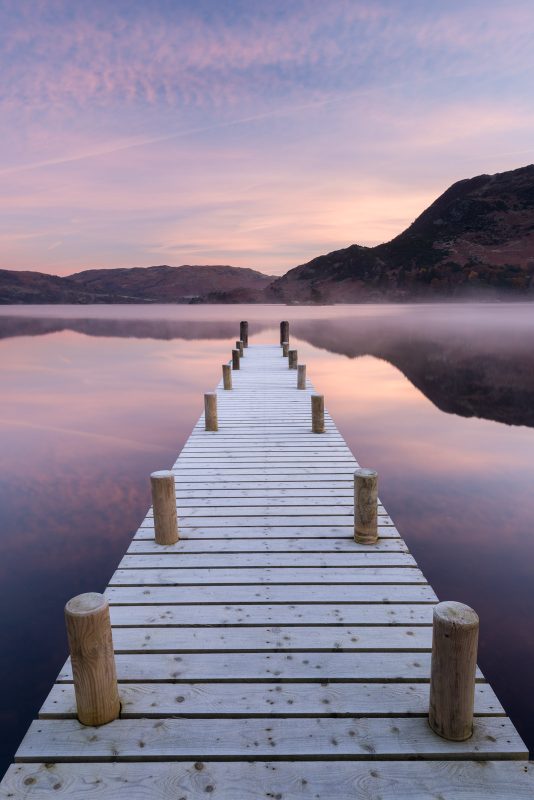 Lakeside viewpoints work well on calm, misty mornings when you can capture mirrorlike reflections, and in freezing weather, the shoreline will be icy, and grasses and reeds white with frost.
Snowy scenes have a nasty habit of deceiving through-the-lens metering. A camera's meter is calibrated to base exposure on tonal neutrality.
Therefore, when a scene is dominated by light, white tones your camera tends to underexpose, rendering the snow grey. This is simple enough to correct in-camera.
Apply positive exposure compensation – select a slower shutter speed if shooting in manual exposure mode – using your camera's histogram to guide you.
Read more: 10 Best Locations for Landscape Photography in the Lake District
Dartmoor
With its distinctive granite tors and rugged, desolate moorland, Dartmoor's landscape is well suited to winter photography. Snow, or a hard ground frost, will transform the moors. Try to arrive early before families descend with sledges and ruin pristine snow.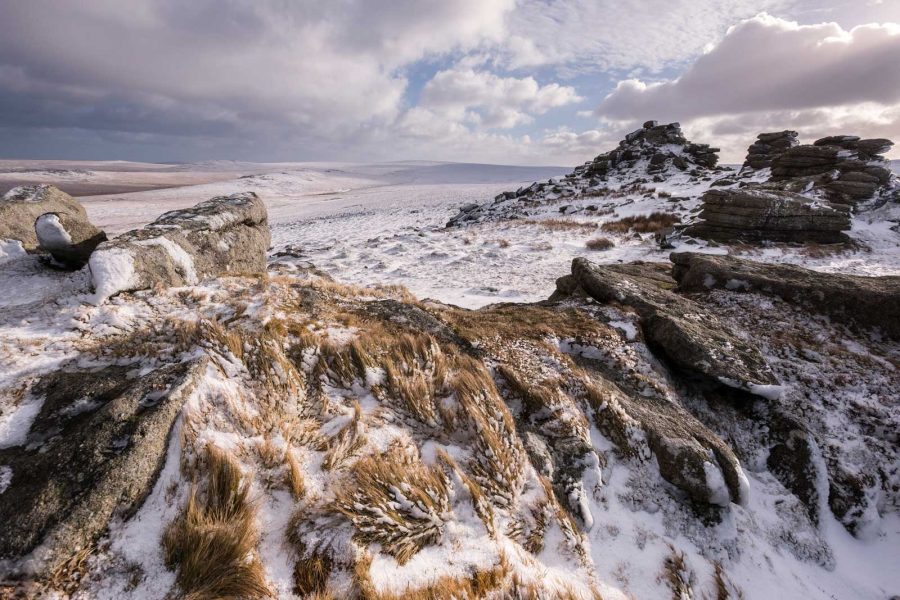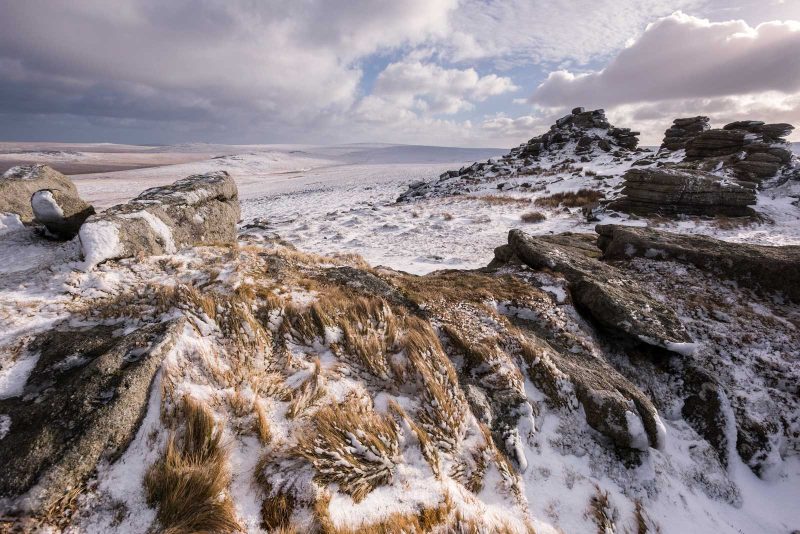 Beware of icy roads when driving and try to keep to the B3357 and B3212 – the two main roads cutting across Dartmoor, which are normally treated and kept clear in wintry weather. Minor roads can grow treacherous in icy weather.
There are plenty of laybys and car parks where you can stop and shoot from, ideally avoiding the tourist hotspots, like Brentor and Haytor.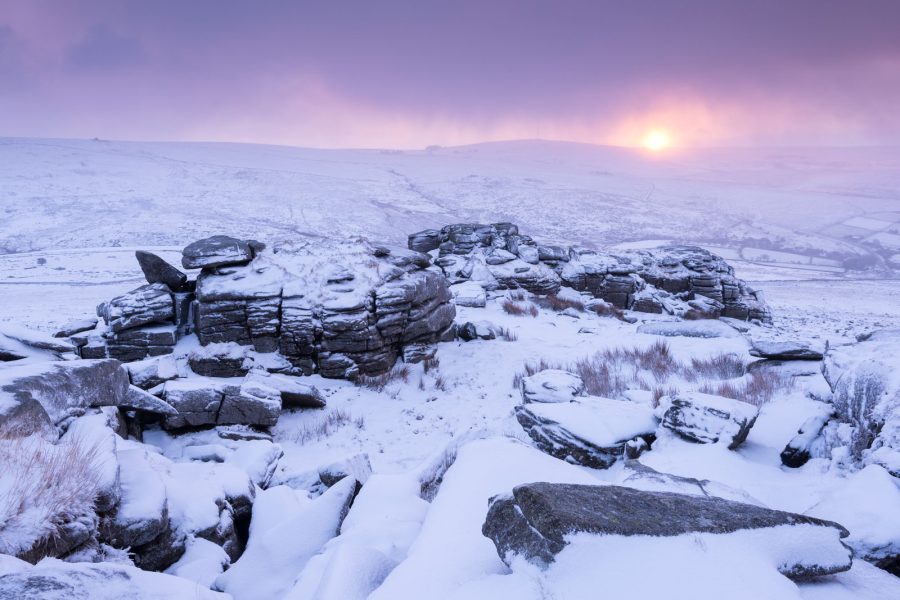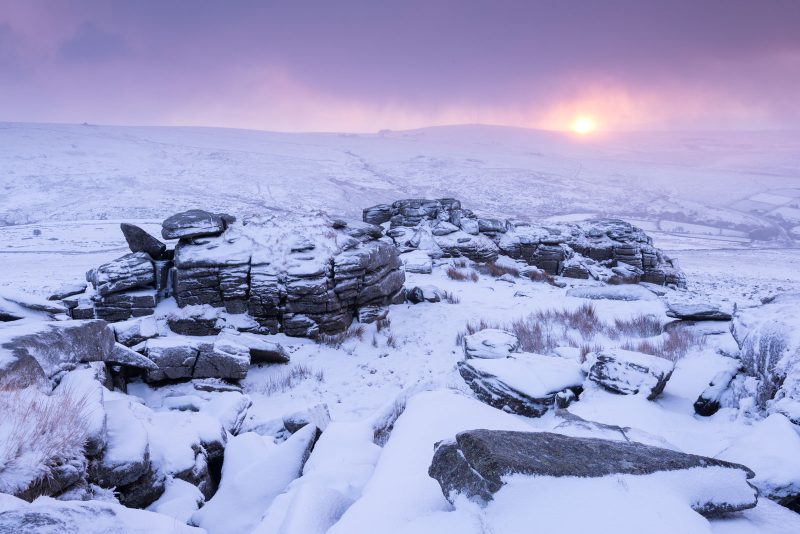 Instead, walk to a slightly more remote vista, where there is less risk of people getting in your shot and snow will be unmarred.
If you are an experienced walker and dressed appropriately, consider visiting Belstone, Great Staple, or Great Mis Tor. They are all good viewpoints to visit after a dusting of snow, and each is within a 45min walk of the car.
5 runners-up
Here are 5 more locations that are great for winter landscape photography.
Bamburgh Castle
Bamburgh Castle is great to photograph throughout the year, but heavy skies, dramatic, warm light, and wintry weather add to the appeal of this truly iconic viewpoint.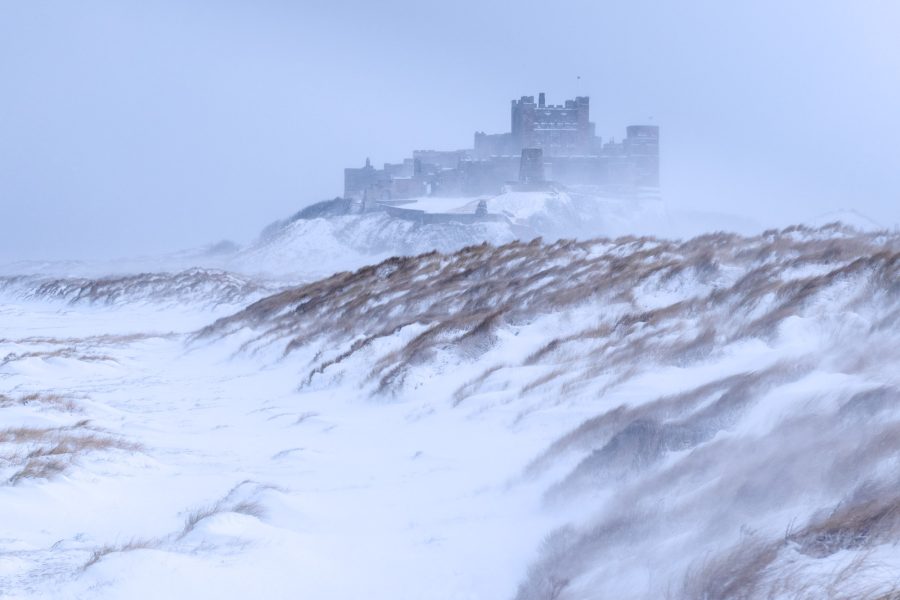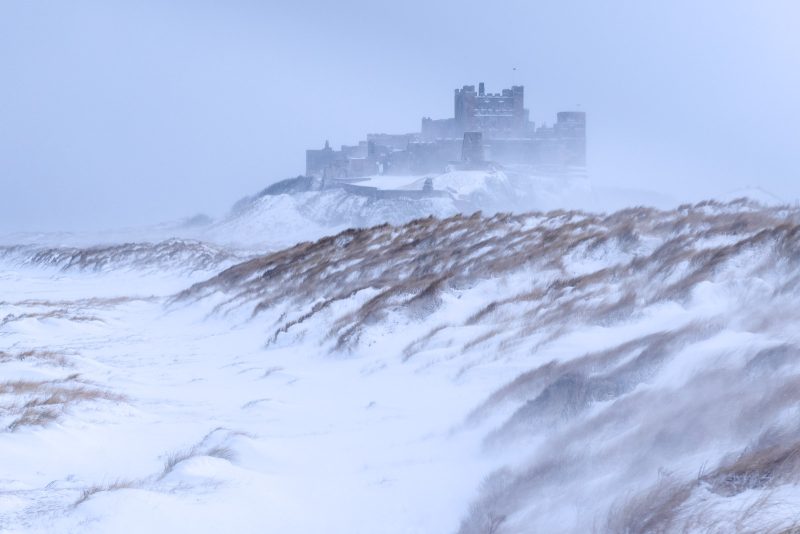 The castle is perched on an outcrop of the Whin Sill, a rock formation that runs across Northumberland.
This is a popular spot with both tourists and photographers making it much harder to capture original compositions, but in the right conditions, standout results are still achievable.
I love shooting from the dunes to the north of the castle, or down on the beach where there are photogenic rocky ledges. Low tide will often reveal interesting tidal pools and ripples in the sand that make great foreground interest.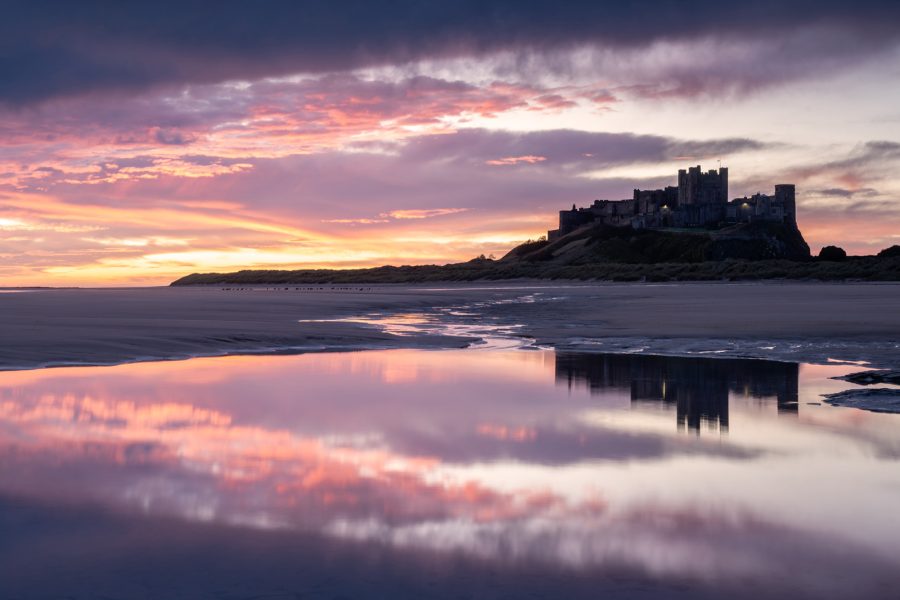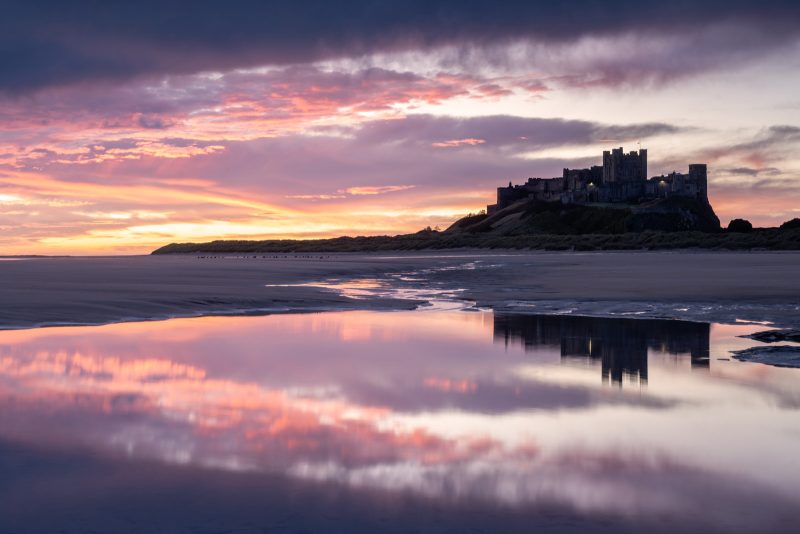 Whatever the tide height, there are good shots to be found. The castle, dunes, and marram grass will be bathed in light toward the end of the day, and in winter this is a good spot for shooting a sunrise.
You have the potential of capturing a colourful, glowing sky behind the castle. There are plenty of places to park close to the castle along The Wynding road (toward Bamburgh Castle Golf club).
Although after snow, it might be better to park in Bamburgh village and walk instead.
The Old Man of Storr
The Isle of Skye is home to some of the most jaw-dropping scenery found anywhere in Europe. Its wild landscape is arguably at its most photogenic during autumn and winter… but be prepared to brave the weather!
Although not everyone likes to visit iconic spots, they are icons for a reason. Quite simply, they are amazing places to experience for yourself.
The Storr is a rocky hill on the Trotternish peninsula, and the 'Old Man' is a large pinnacle of rock, standing high and visible for miles around.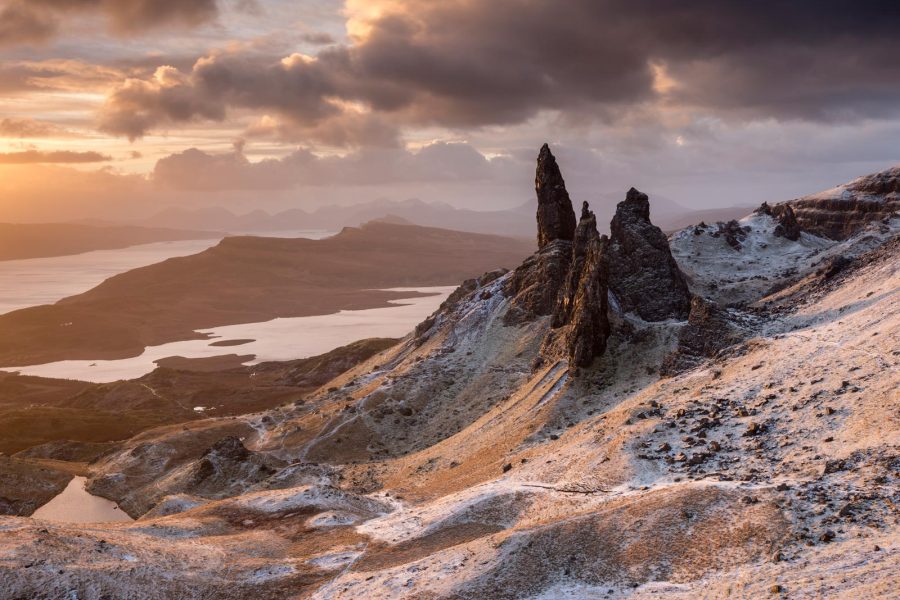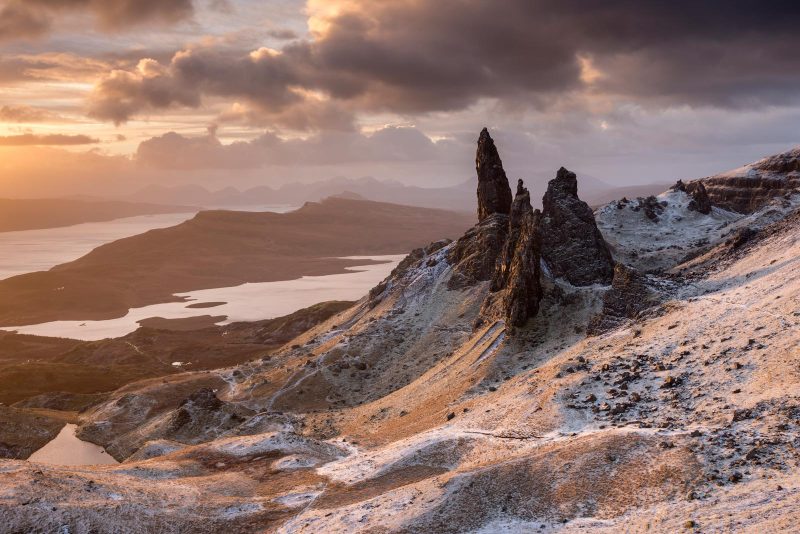 The views are simply breathtaking and as you pass through the 'Sanctuary' (at the base of the pinnacles, with rocks towering above), you feel a genuine sense of peace and wilderness.
A dusting of snow or hail will give your images a seasonal flavour, but if you have good light and a big sky, you are sure to return with memorable shots.
There is a car park for the Storr located on the A855, just a few miles from Portree. From here, follow the well-trodden path up to the Storr. Allow up to an hour to reach the best viewpoints.
It is steep in places, but very accessible. A 24-70mm wide-angle zoom is the most useful focal length for this location, allowing you to capture a mixture of tight and wider compositions.
Read more: How to Use a Wide-angle Lens for Landscape Photography
Luskentyre Beach
Not all good winter scenes rely on snowfall or freezing conditions. The Outer Hebrides doesn't get as much wintry weather as you might imagine.
Beaches like Luskentyre are so incredibly tranquil and beautiful that they shoot well regardless of what the winter weather is doing.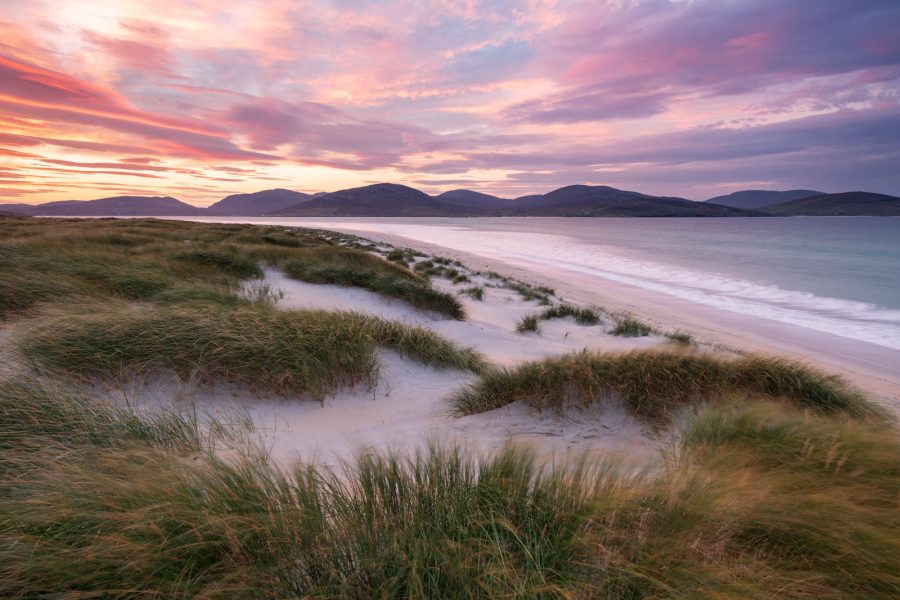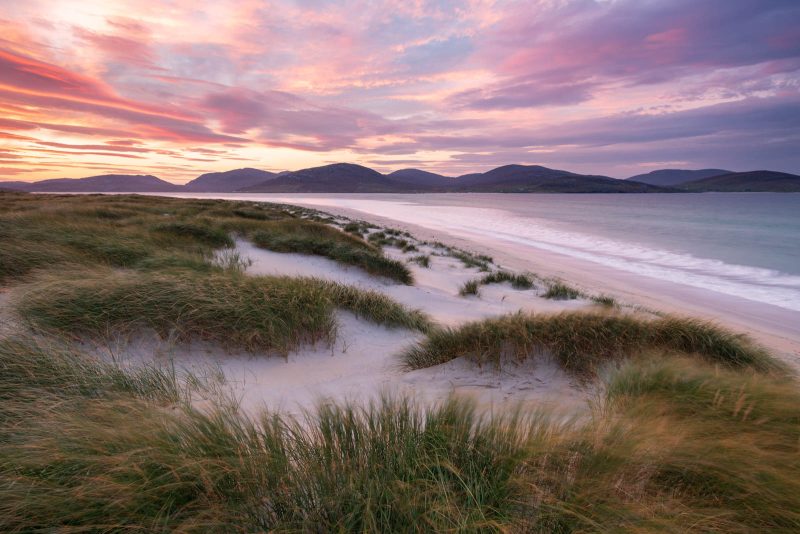 Luskentyre is one of the largest beaches on the Isle of Harris, boasting miles of white, untouched sand, gently swaying marram grasses, and crystal-clear green-blue seas.
This is a remote spot – a place where you can press the pause button and switch off from everyday life. This beach is a photographer's paradise.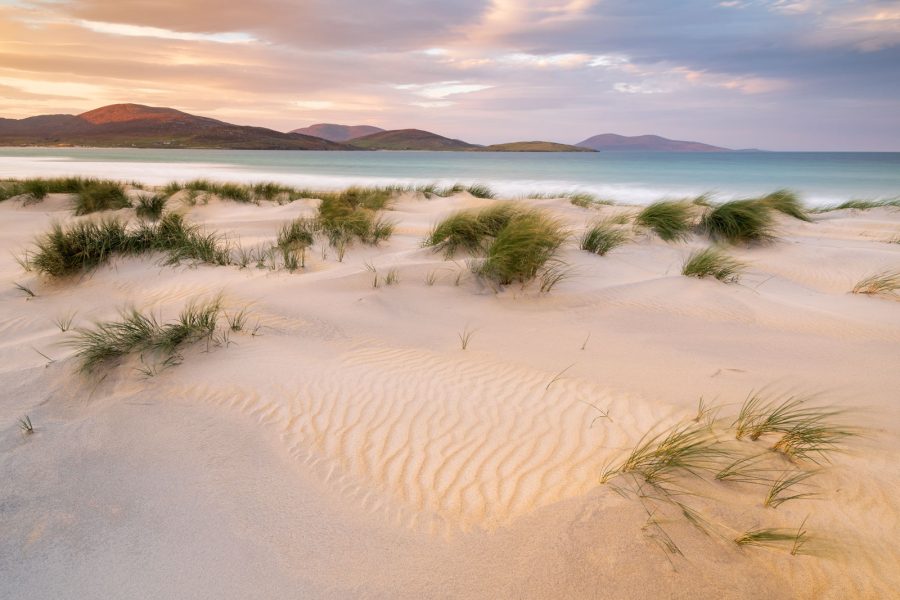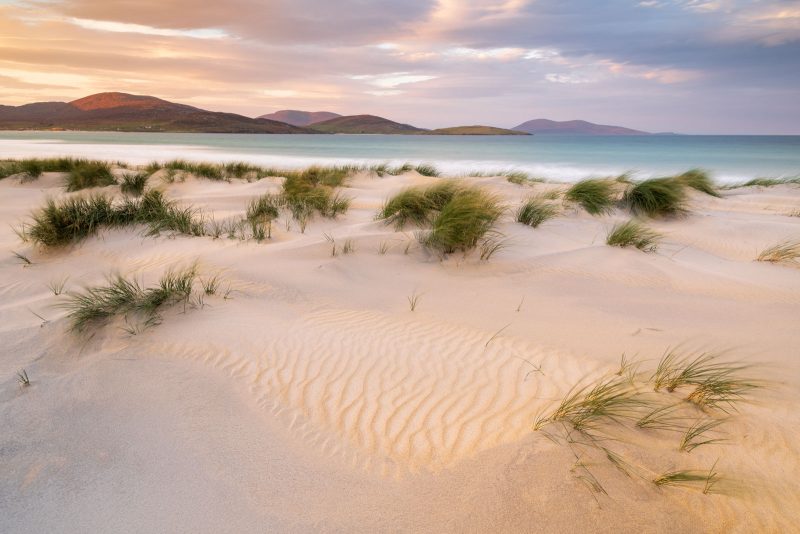 Shoot from the dunes, the beach, or – if you are wearing wellies – wade a short way into the water and capture wave motion with a backdrop of mountains.
A wide-angle lens will be your go-to focal length. A polarising filter will help give your shots punch, and an ND filter can be useful for generating creatively long exposures.
Luskentyre is located on the west coast of South Harris. Driving from Tarbert, take the A859 before turning right onto the Luskentyre road.
Read more: How to Take Long Exposure Landscape Photos
Botallack
I've lived most of my life in Cornwall and frustratingly we rarely get snow. It is a mild climate, and the salty air helps prevent wintry conditions. However, the Cornish coast is wild, rugged, and dramatic.
During winter, big storms and gorgeous crisp light more than compensate for the lack of white stuff.
One of my favourite spots is the Crowns Engine Houses. Driving from St Just, turn off the B3306, past the Queen's Arms, and follow a gravel track to The Count House where there is a National Trust car park.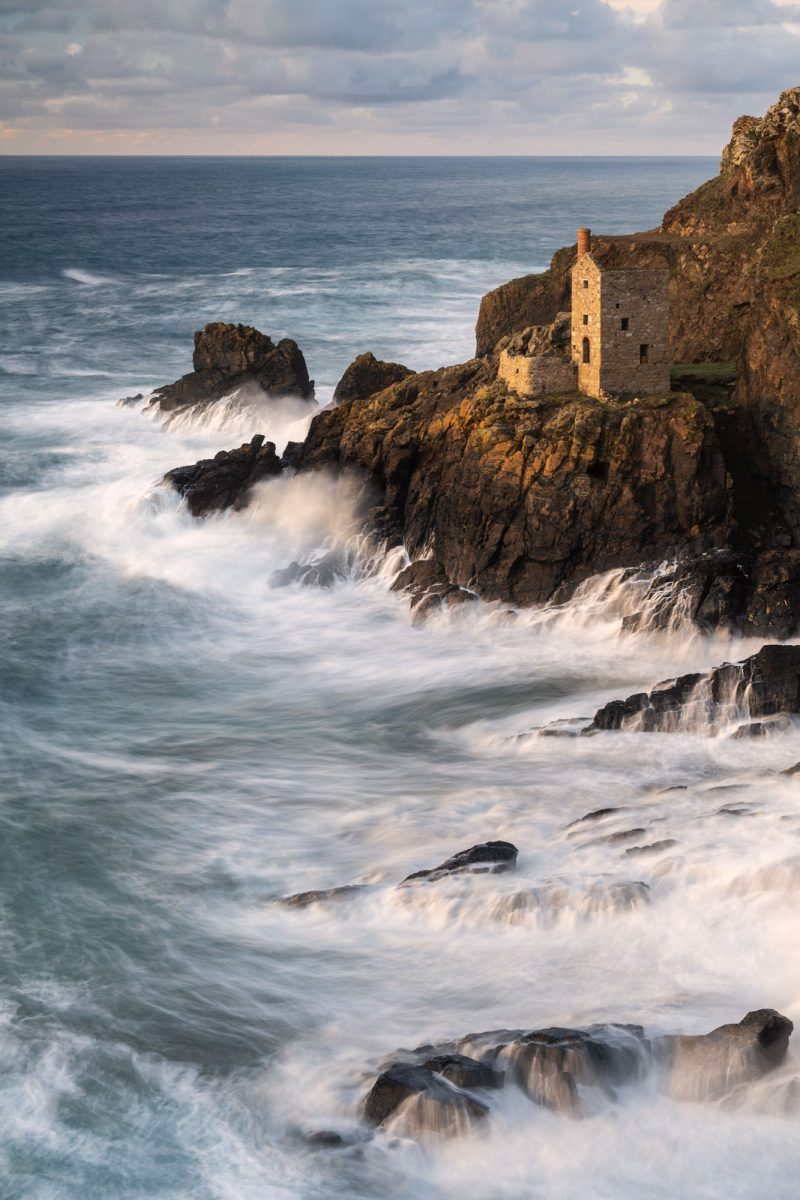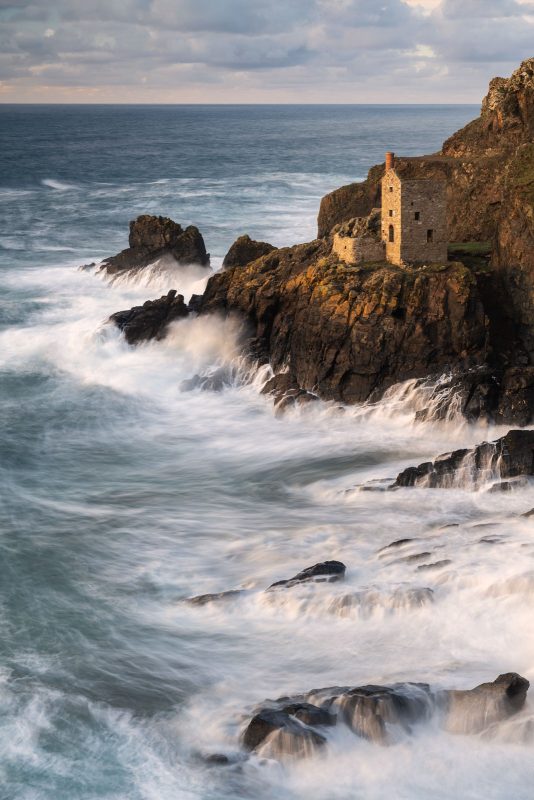 Precariously perched low down on the cliffs, these derelict mines are a remnant of Cornwall's mining past. During a storm, waves crash high onto the cliffs.
It's best to visit at high tide, and in winter the setting sun is in a nice position to bathe this coastline in a warm, attractive light. The best viewpoint is from the cliffs to the south, where you can drop down to a parallel viewpoint.
A focal length in the region of 35-70mm is a good choice. Keep a lens cloth close to hand in rough weather, as the spray can be an issue, and take a sturdy tripod – ideally, equipped with spikes for extra stability.
Bude sea pool
So far, I've opted for big vistas. Therefore, for my final choice, I've stayed close to home and picked a less obvious viewpoint.
Bude in north Cornwall is home to several beautiful sandy beaches, but its sea pool provides an alternative option.
Built in 1930, the pool is part-natural, part man-made. At high tide, the sea pool is engulfed by the Atlantic Sea. As water rushes over the concrete walls and splashes over the hand railings and steps, a host of photo opportunities are created.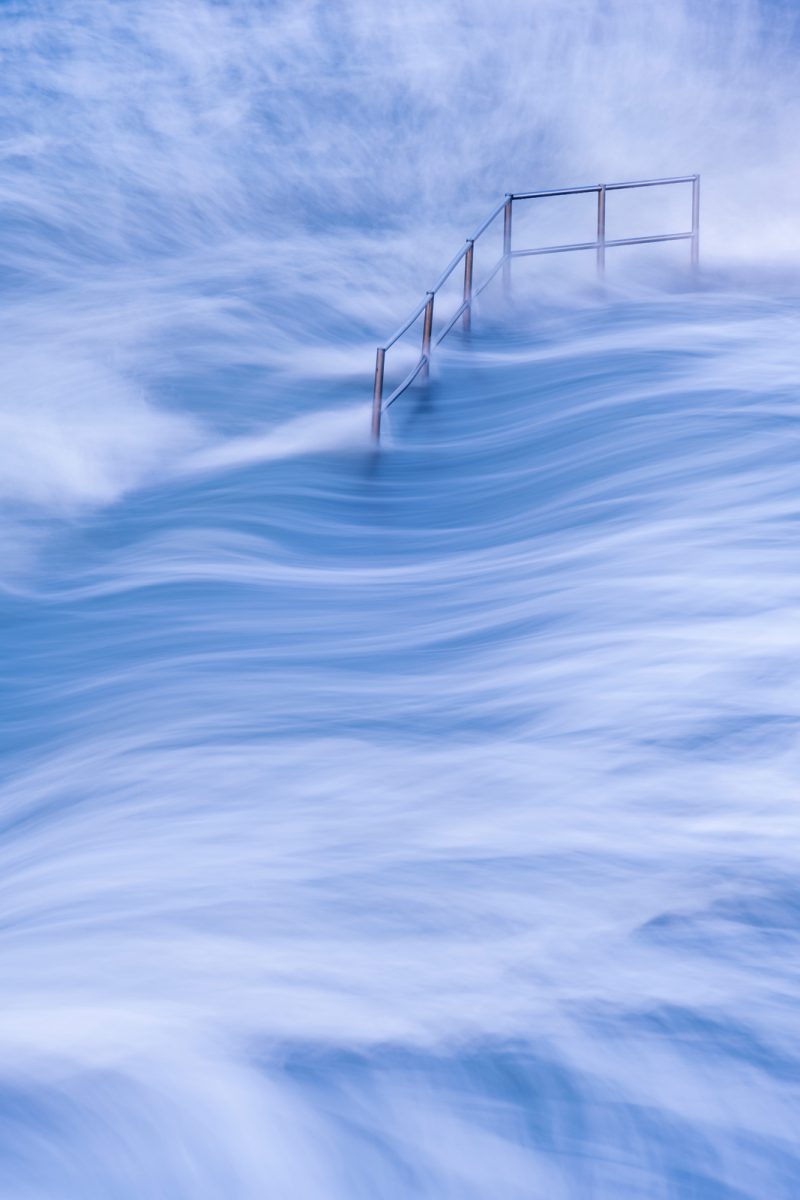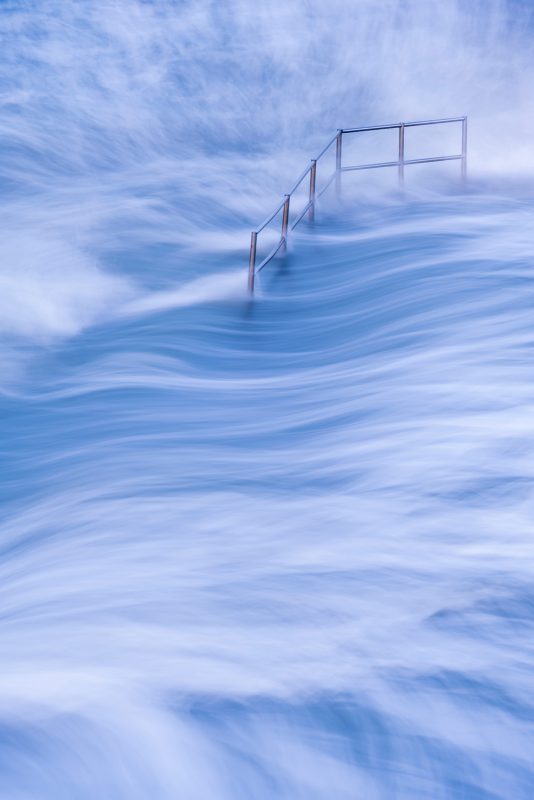 This is a great spot for finding minimalist compositions and for black-and-white photography. Aim to visit at a tide height upward of 6m, although the weather and air pressure will greatly influence the water's height.
Play with different shutter speeds, from 1/4sec to more extreme lengths. An overcast day is perfect for this location.
There are steps leading down to the sea pool, and you can shoot from various levels to achieve different compositions and shooting angles. You can park close by in Summerleaze long stay car park, near Bude town centre.
A focal length of70-200mm is ideal for more abstract results. Be prepared to take a series of shots to get the best result – it is easy to get cold when standing in one place for prolonged periods, so wrap up warm.
In conclusion
What are you waiting for?
Wrap up warm, grab a hot flask and your camera backpack, and embrace the season!