8 Best Places for Photographing Marine Megafauna
There's something about photographing Earth's marine megafauna – our most enormous ocean mammals and sharks – that always excites underwater photographers!
Images of these ocean giants can spark curiosity and invoke emotion in a way that few other species do. This article breaks down some of the world's must-dive locations for capturing captivating images of big animals underwater.
Starting along the east coast of Australia, I will highlight some of the very best destinations to photograph turtles, manta rays, and minke whales.
Next, we will head across the Pacific to the mecca for pelagic action, Baja California, Mexico, and lastly, dive into the shark capital of the world – The Bahamas.
Read more: How to Photograph Ocean Giants
Eco-tourism
Before going further, I wanted to touch on the importance of choosing a reputable operator that conducts their tours with the health and well-being of the marine life in mind.
There are unfortunately some businesses that willingly undertake risky practices in an attempt to increase the likelihood of close marine life encounters.
In addition to negatively impacting the wildlife, I assure you the best photographic opportunities always come from being respectful and very patient. Always do your research before traveling!
Use resources such as TripAdvisor and Google reviews, or better yet, contact other respected wildlife photographers via social media, who have dived the region before and seek recommendations.
Read more: Underwater Photography Ethics and Code of Conduct
Underwater photography equipment
As the title suggests, this article is solely about big animal underwater photography, and therefore the equipment recommendations will be much the same for each of the species discussed.
The piece of equipment that you will absolutely require is a wide-angle lens.
While focal lengths such as 16-35mm or 10-20mm are excellent choices, I recommend going even wider and shooting with a fisheye.
It may be a little more difficult to get close enough to fill the frame, but when you manage to, the results are amazing. If shooting with a cropped sensor, consider Tokina's 10-17mm. If working with a full-frame system, I suggest Nikon or Canon's 8-15mm.
You must also consider strobe lighting.
Strobes will add color and detail to your images, and while they become more important when shooting at depth (deeper than 10 meters), make no mistake, they will absolutely still enhance these variables even in shallow water.
I recommend using them for all situations except when not permitted (such as in whale photography) or when you will be getting in and out of the water quickly and frequently.
Read more: What Equipment Do You Need for Underwater Photography?
East Coast of Australia
The east coast of Australia is a true paradise for big animal underwater photographers, offering a number of excellent locations that host a range of species.
Not only can you reliably photograph three of the seven species of sea turtles, but you'll also enjoy close encounters with sharks, manta rays, and even dwarf minke whales.
There are so many great dive sites along the coastline that it would be impractical to list every single one of them. For the interest of this article, I will highlight three of the very best locations, and my personal favorites!
1. Julian Rocks (Nguthungulli)
Julian Rocks, otherwise known by its traditional name Nguthungulli, is located off the most eastern part of Australia, Byron Bay.
Being just a couple of kilometers offshore, the rocks are easily accessed via a short boat ride and promise world-class diving with excellent big animal underwater photography opportunities.
The general terrain consists of rocky trenches ranging from about 10 to 20 meters with various outcrops and coral coverage, making for interesting scenery to include in your images.
The subjects that visit the rocks are highly seasonal and are very much dictated by the water temperature, which ranges from about 18 degrees Celsius in the cooler months (June to November) to 26 degrees in the warmer months (December to May).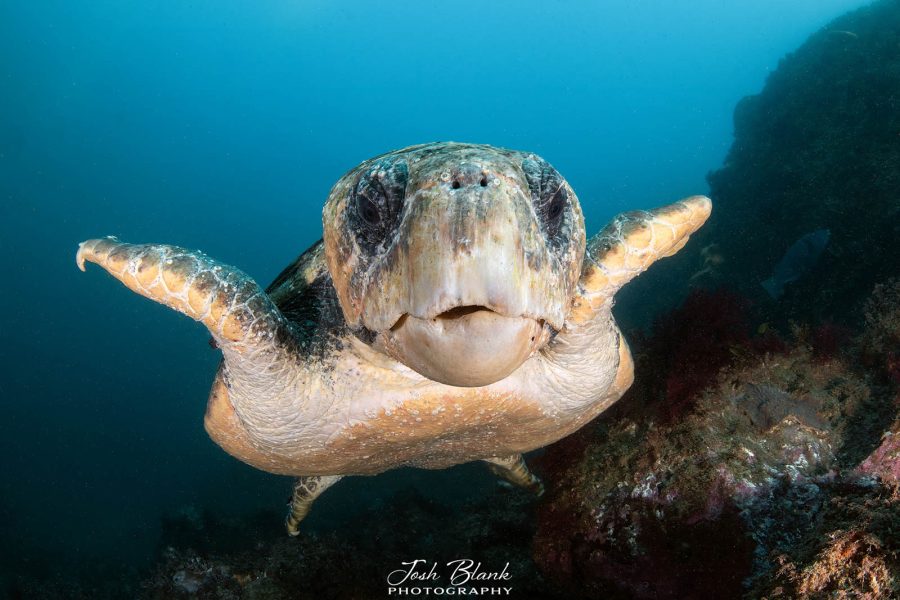 Animals such as green, hawksbill, and loggerhead turtles are present throughout the year; however, it's the leopard (aka zebra) sharks and grey nurse sharks that really put this site on the map.
Due to the varying depths, Julian Rocks is well suited to both scuba divers and freedivers. Assuming you are well-trained in both, I recommend scuba diving during the colder months and freediving during the warmer months.
This is because the grey nurse sharks tend to congregate deeper around 20 meters, whereas when the leopard sharks arrive, they enjoy the shallower side of the rocks and can be seen swimming between the surface and about 10 meters deep.
Read more: How to Photograph Sea Turtles
Grey nurse sharks
You can see them from the beginning of June, with numbers typically hitting their peak between August and September. Expect close encounters if you move slowly, avoid any sudden movements, and minimize your bubbles.
When composing images here, you may find yourself with limited natural light. Consider angling your camera upwards to include the sunlight for a more balanced exposure.
Don't forget to highlight those formidable smiles! A close-up of those pearly whites is sure to impress.
Read more: 8 Tips for Creating Amazing Lighting in Underwater Photos
Leopard sharks
You can see leopard sharks between December and May, with mid-January to March being the peak season. Find them in relatively shallow water (1-10 meters).
The best photographic opportunities here are typically achieved by freediving; however, scuba divers can also expect very close-up interactions provided bubble blowing is kept to a minimum.
Read more: 8 Tips to Create Beautiful Underwater Animal Portraits
2. Lady Elliot Island
Lady Elliot Island is one of the best locations on the east coast of Australia for underwater photography.
A 40-minute flight from the coastal town of Hervey Bay is the easiest way to reach the island; however, flights can also be booked from the Gold Coast, Brisbane, or Bundaberg.
Due to its offshore location, visibility is typically excellent, ranging from 15 to 20 meters or more.
Perhaps the biggest drawcard for underwater photographers is the fact that all of the marine life can be easily snorkeled or freedived straight off the beach.
The potential wildlife encounters at Lady Elliot are abundant, to say the least, but it is the island's healthy population of manta rays that makes it a must-see spot.
Lady Elliot Island is a coral cay, with the most accessible side of the island consisting of a sandy bottom speckled with several coral bommies that host an array of life.
Water temperature ranges from 28 degrees Celsius during the summer months to about 20 degrees during the winter.
Peak manta ray season is in the winter months, between May and September. Depths range from 5 to 20 meters, with some of the best spots on the island for encounters between 10 and 15 meters.
If you are comfortable diving to such depths, freediving offers fantastic encounters. If this is a little beyond your capabilities, scuba diving still promises excellent photo opportunities.
Read more: How to Photograph Manta Rays
3. The Ribbon Reefs (Great Barrier Reef)
The Ribbon Reefs are a group of reefs located in the far north region of the Great Barrier Reef. For most of the year, the Ribbon Reefs offer typical "Great Barrier Reef" diving experiences with great visibility, beautiful coral, and a variety of colorful fish life.
However, during the months of June and July, the reefs become a dream location for big animal photographers as the dwarf minke whales conclude their enormous migration from Antarctica.
The reefs are only accessible via a liveaboard vessel, with most operators departing from the city of Cairns.
Encounters with dwarf minke whales are conducted only via snorkeling, and there are strict rules preventing people from freediving or scuba diving with the species.
Don't let this deter you, though, as for reasons unknown, these whales actively seek out humans, provided you lie flat upon the surface and remain as still as possible.
Water temperature can drop to about 22 degrees Celsius during the minke whale season, with visibility ranging between 15 and 20 meters or more.
The reliability of these encounters is truly special. When I visited in 2021, the official count was 19 whales in a single day, all of which remained around the boat from sunrise to sunset.
Dwarf minke whales
For these encounters, it pays to be patient! Even with a large number of whales present, those truly spectacular photo opportunities where the minkes come within just a couple of meters can be few and far between.
My best advice is to remain as still as possible and stay in the water!
Baja California, Mexico
Baja California is possibly the best destination in the world for photographing a variety of different pelagic species.
The region has gained increasing popularity among underwater photographers over the years and is now well-known for encountering exciting ocean mammals.
This destination is best suited for snorkeling or freediving. Most marine life encounters take place on the surface or at a maximum depth of about three meters.
These encounters often involve quickly getting in and out of boats, so dealing with heavy scuba equipment can be a hassle.
Read more: Underwater Photography Guide to Baja California, Mexico
4. Cabo San Lucas
Cabo San Lucas is well-known as a major party hub in Mexico; however, it also happens to be a great spot for pelagic sharks.
Shortfin makos, blue sharks, silky sharks, and even smooth hammerheads can be found in the deep waters during their respective seasons.
It's important to note that these photographic opportunities are only possible through the use of chumming and should only be conducted with reputable operators.
As one of the main tourism hubs of Mexico, there is no shortage of hotels at various price points located directly on the marina. You can choose to stay in luxury or opt to save some extra cash for additional boat trips!
Short fin makos and blue sharks
Think fast! Both species are known to be very bold in their approach and will even make contact with your dome port on occasion. Fast shutter speeds are recommended to best freeze motion. Makos are particularly quick!
February to April is the peak season for these sharks.
Silky and smooth hammerhead sharks
Encounters with these 'summer sharks' are most common during June and July.
Silky sharks often arrive in large numbers, (sometimes 30 plus individuals), and are anything but shy, resulting in amazing compositional opportunities.
Smooth hammerhead sharks are notoriously shy and close up encounters are much less common. It is important to be as quiet as possible when entering the water and to move slowly when approaching the shark.
If smooth hammerheads are on your wish list, I recommend planning to spend at least five days on the water to increase your chances.
5. La Ventana
The small coastal town of La Ventana is home to one of the most impressive migrations in the ocean.
Between the months of May and August, thousands of mobula rays migrate along the Baja Peninsula as they make their way through the Sea of Cortez and out into the Pacific.
During this time, the region becomes rich with aquatic megafauna including some very large ocean mammals.
There is also a very friendly colony of Californian sea lions that are always up for a swim! Nothing is ever guaranteed when working with wild animals, however, La Ventana certainly tips the scales in your favour for being able to capture something special. 
Despite there being a number of affordable hotels and hostels located in town, restaurant options can be limited and are often closed depending on demand. I recommend making a grocery stop on the way with easy-to-prepare meals for the week. 
Mobula rays
May and June is peak season for Mobulas!
These encounters demand a wide field of view. Some of the fevers consist of thousands of rays and if you want any chance of capturing them all in a single frame, a wide-angle lens is a must!
Sea lions
There is a small colony of Californian sea lions located a short boat ride away that guarantee excellent photo opportunities. From the moment you enter the water, expect to be greeted by a few friendly faces as they demonstrate their speed and agility! 
Strobe lighting coupled with a fast shutter speed (1/250 or quicker) is useful for freezing the action and preventing motion blur.
Behaving energetically in the water with lots of movement and acrobatics can also help to facilitate more playful encounters and therefore better images!
Read more: How to Photograph Sea Lions
Orcas
Sightings of orcas here in recent years are becoming more frequent. While there is no specific season for orcas, many locals feel that they tend to be seen more frequently during the mobula ray migration.
In fact, many divers have photographed them feeding on the rays both with drone footage and underwater.
Underwater orca encounters are becoming increasingly regulated throughout Mexico to better protect this species. If you are lucky enough to snorkel or free dive with them, be respectful and let them dictate the interaction.
If the orcas are behaving in a way not conducive to in-water encounters, accept this, and be okay shooting topside only.
It's still an awesome experience! I strongly recommend keeping a second camera on board equipped with a 200-400mm range telephoto lens. 
The Bahamas
The Bahamas is known as the shark capital of the world and is a true paradise for big animal underwater photographers.
The country boasts a very healthy shark population, which is largely attributed to the shark fishing ban implemented in 1993.
Every year, photographers visit from far and wide in the hopes of capturing their own close-up image of one of these exciting predators. All the best shark hotspots in the Bahamas are best suited for scuba diving.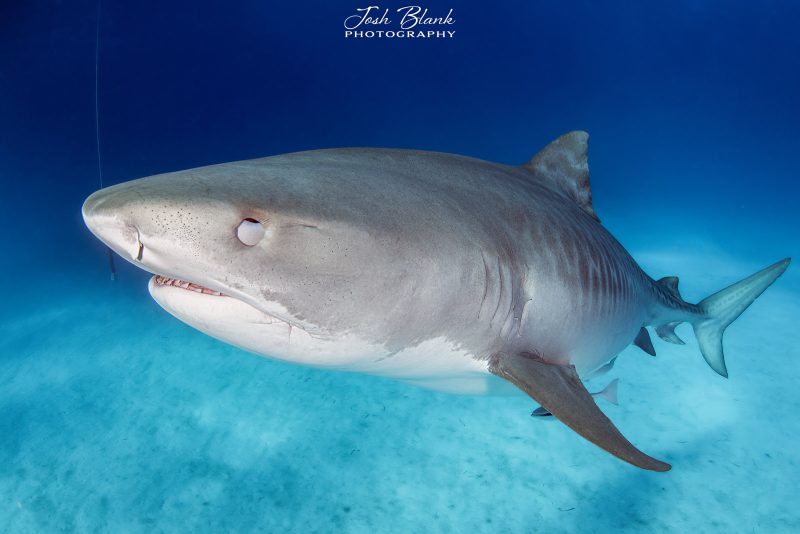 Despite maximum depths being quite shallow (between 10 and 15 meters), the species encountered can be dangerous, and it is safest to dive with them while submerged underwater rather than floating on the surface.
In addition to shark diving, photographers will also have the opportunity to capture images of some of the friendliest and most interactive bottlenose dolphins in the world!
Encounters with dolphins are best conducted on snorkel or freediving, as the animals move quickly and very rarely remain in one place for long.
6. Tiger Beach
Tiger Beach is world-renowned as the best location to capture exciting images of tiger sharks. With shallow depths of 8 to 12 meters, a white sandy bottom, and expected visibility exceeding 20 meters, Tiger Beach is a paradise for big animal photographers.
If looking to dive at this location, you have the choice between a liveaboard vessel, most of which depart from Florida, USA, or heading out each day from West End, Bahamas.
I recommend the latter because you will get much more time with the sharks, including the chance for night diving, weather permitting.
It's worth noting that dives at Tiger Beach typically use attractants such as chum to entice the sharks to hang around. In addition to the tigers, other common species include lemon sharks, Caribbean reef sharks, and nurse sharks.
If you're lucky, you may even encounter a great hammerhead!
Tiger sharks
Tiger sharks are present year-round; however, October to April represents the main season. They are very curious and at times sneaky.
It's important to follow the direction of your guides and keep your eyes on the sharks at all times. Expect numbers to range between 3 and 7 individuals on each dive, all swimming very close!
Lemon sharks
Most dives will see around a dozen or so lemon sharks either swimming through the water column or resting on the sandy bottom.
During days of calm weather, photographers can enjoy shooting shark split shots off the back of the boat. Remember to use a narrow aperture (f/stop >20) to produce enough depth of field for sufficient focus.
Read more: Underwater Split-Shots – Top Tips for Over-Under Photos
Caribbean reef sharks
Caribbean reef sharks are likely to be the most abundant species at Tiger Beach – I often lose count.
These sharks are much smaller than the tigers and lemon sharks but will still approach very closely.
Tawny nurse sharks
The tawny nurse sharks will spend most of their time either on the seafloor or up around the bait crate, scrounging for fish scraps.
While not the most photogenic species in the ocean, these sharks can be fun to photograph when swimming through midwater.
7. Cat Island
Cat Island is about a 30-minute flight from Nassau and is the best place in the world to dive with the oceanic white-tip shark. The island is surrounded by coral reefs; however, most divers visit only to experience the white tips.
The diving takes place in very deep water with excellent visibility.
Similar to Tiger Beach, bait is used to attract the sharks, while divers drift with the currents in midwater. The prime season to dive Cat Island is between March and May when oceanic white tip numbers are suspected to be at their peak.
Oceanic white-tip sharks
Shark numbers will vary on each dive; however, between 10 and 20+ individuals are likely. Oceanic white tips can be aggressive, so it's important to hold your ground and always keep your eyes on the sharks.
A large camera system makes a perfect barrier to place between you and the sharks. Always follow the direction of your guides.
Expect very close encounters. It's not uncommon to have these sharks actually make contact with your dome port.
8. Bimini
Bimini is located just 80 kilometers off the coast of Florida and is known for amazing shark diving, as well as encounters with very friendly bottlenose dolphins.
Bimini should be high on anyone's dive list as it's the best destination in the world to photograph great hammerhead sharks. Similar to Tiger Beach, depths are shallow, and visibility tends to be excellent.
Bait or chum is used to attract the sharks to the area where scuba divers can kneel on the sandy bottom and compose a range of exciting images.
Both liveaboards (departing from Florida) and day trips (departing from Bimini Island) are available to dive with sharks or snorkel with dolphins.
Read more: 5 Easy Ways to Avoid Backscatter in Underwater Photos
Great hammerhead sharks
A wide-angle lens is strongly recommended for photographing this species. These sharks have bizarre anatomy, so remember to incorporate that into your compositions.
Consider highlighting their enormous dorsal fins or framing your image around their hammer-shaped heads.
In conclusion
That wraps up my list of must-dive locations for big animal photography!
Whether you're capturing images of whales on the Great Barrier Reef, mobula rays in Baja California, or sharks in The Bahamas, make sure to bring the right equipment, approach each encounter with respect, and enjoy every second of the experience!