Top 10 Places for Underwater Photography in the World
As 71% of our planet is covered by water, it makes sense that more and more photographers are heading below the waves with their cameras. But, with all of that water, knowing where to shoot can be a little intimidating to new underwater photographers. From the Arctic to the Coral Triangle, I have had the opportunity to photograph many diverse underwater environments. From that experience, I have compiled a list of my favorite destinations for underwater photography. My top 10 places for underwater photography should provide a good starting point for keen photographers, but of course there are really too many amazing places to list them all!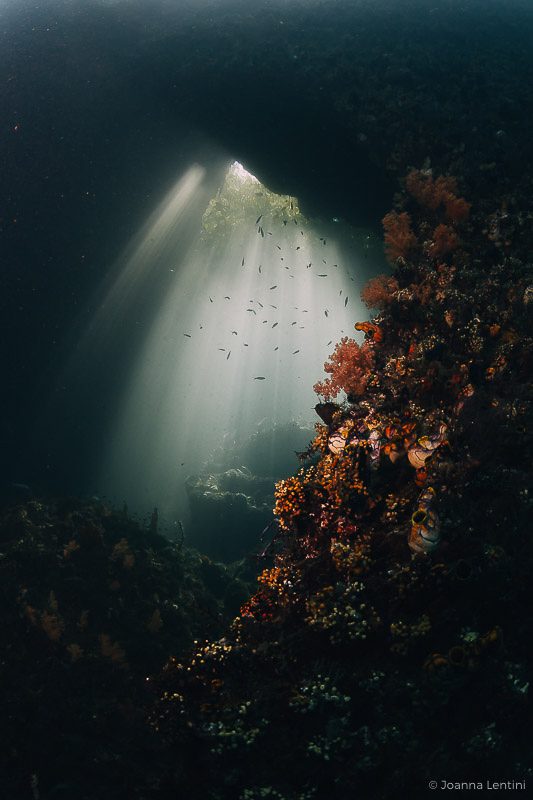 1. Raja Ampat, Indonesia
While it might be an ordeal to get to, Raja Ampat will not disappoint. Situated in the heart of the Coral Triangle, the archipelago is bursting with vibrant coral gardens, a plethora of marine life, and stunning underwater caverns.
Learn more: 7 Underwater Photography Tips for Fluorescent Coral
Raja Ampat is great for both macro and wide-angle photography, so be sure to bring both lenses with you! The season is year round, which makes planning a trip to the region easy. "Liveaboards" are a common mode of transportation around the islands, but if boats aren't your thing there are a few eco lodges in the region worth checking out.
2. Revillagigedo Archipelago, Mexico
Currently the largest marine protected area in North America, Revillagigedo is located in the eastern Pacific Ocean. Unless you are in the Mexican military, the destination is only accessible by liveaboard. Getting there takes a full day from the southern tip of the Baja peninsula, but the journey is well worth it.
The archipelago consists of four islands, one of which is a sheer pinnacle teeming with marine life. Socorro is the largest of the group, and is often how divers refer to the hard to pronounce archipelago. The assortment of life, good visibility and remoteness make this an ideal spot for underwater photographers and nature lovers alike.
The season is from November to June, and what you encounter will depend on when you go. Some of the highlights of Revillagigedo include false killer whale pods, whale sharks, schooling scalloped hammerheads, dolphins, manta rays, and humpbacks. It isn't uncommon to photograph most of these animals on one trip!
3. Baja California Sur
The southernmost tip of the Baja Peninsula is a mecca for marine life. Just off the party town of Cabo san Lucas, the seaside town of La Paz or the sleepy village of Cabo Pulmo, photographers can snorkel or dive with a wide range of pelagic species.
Within the region, photographers can encounter smooth hammerhead, mako, bull, and silky sharks. The boisterous California sea lion colony of Los Islotes is easily accessible from La Paz, and never disappoints. Schooling sardines, marlin, manta and mobula rays, dolphins, humpbacks, and even orcas are some of the other big players where the Sea of Cortez and the Pacific Ocean collide.
Read more: An Introduction to Underwater Photography
4. Vava'u Tonga
Located in the South Pacific, Tonga provides a safe haven for humpbacks to raise their young. Each year, between the months of July and October, humpbacks occupy the warm, tropical waters around the archipelago. While it isn't possible to scuba dive with the gentle giants, all you need is a mask, snorkel, and fins. The whales linger with their calves at or just below the surface and can be quite inquisitive.
5. Guadalupe, Mexico
What underwater photographer doesn't want to photograph a great white shark whilst levitating in a steel cage in open water? There are other great white operations around the globe, but here you will enjoy the warmest water and greatest visibility of them all.
6. Grand Bahama, Bahamas
If big sharks outside the cage are more your thing, then this is the place to go. A shallow, sandy area of the Atlantic Ocean known as Tiger Beach is known for up close encounters with tiger, lemon, nurse and Caribbean reef sharks. But it's not a beach at all, and in fact, it now seems to be a favorite spot for a few great hammerheads as well. Most operators run out of Grand Bahama, and it takes about an hour or more to reach "the beach" by boat.
7. Gardens of the Queen, Cuba
Friendly saltwater crocodiles, silky sharks, goliath groupers, and pristine reefs are just some of the reasons Jardines de la Reina is on this list. Apparently, Fidel Castro was an avid diver and kept this bio diverse region off limits for decades providing today's visitors with a virtual time capsule for what coral reefs looked like over fifty years ago. The area consists of shallow mangroves and channels far out at sea somewhere between Cuba and the Cayman Islands.
8. Forgotten Islands, Indonesia
Similar to Gardens of the Queen, the southern Forgotten Islands are a true throwback to healthy coral reefs and dramatic drop-offs. A chain of islands extending from Timor to West Papua are considered forgotten due to their remoteness – and that's saying something for a country of around 17,000 islands! Needless to say, the islands are only accessible by liveaboard. Huge barrel sponges, schooling fish, and hammerheads are some of the highlights there. This is truly an off the grid adventure.
9. Iceland
The crystal clear, freshwater of Silfra is the top attraction here. With visibility as far as the eye can see and a unique photo op where the North American and European tectonic plates meet underwater, Silfra certainly is something special. However, Iceland diving deserves further exploration, where travelers will be rewarded by a river with dancing sands, the world's only geothermal chimneys accessible at recreational depths, and diving seabirds off the coast of the mainland. This is frontier diving at its finest.
10. Palau
Situated in the western Pacific Ocean, Palau offers diversity unlike almost any dive destination. Off the main island of Koror, you can enjoy spectacular manta ray encounters, unique shark viewing at the famous blue corner, or incredible cavern opportunities for beginners like Chandelier Cave. For the more intrepid, you can venture to the neighboring island of Peleliu for some amazing drift wall dives with plenty of chances for photographing pelagic life!
Final Thoughts
While all of these destinations are ideal for underwater photography, most have incredible photographic opportunities topside as well. Too often, underwater photographers travel long distances and only point their lenses underwater. Wherever your underwater photography pursuits take you, be sure to leave time for some topside photography!
Don't forget to check out Nature TTL's other underwater photography tutorials as well:
Do you have a favorite destination for underwater photography that wasn't listed here? I'd love to hear about it in the comments!