6 Best Dive Sites in Scotland for Underwater Photography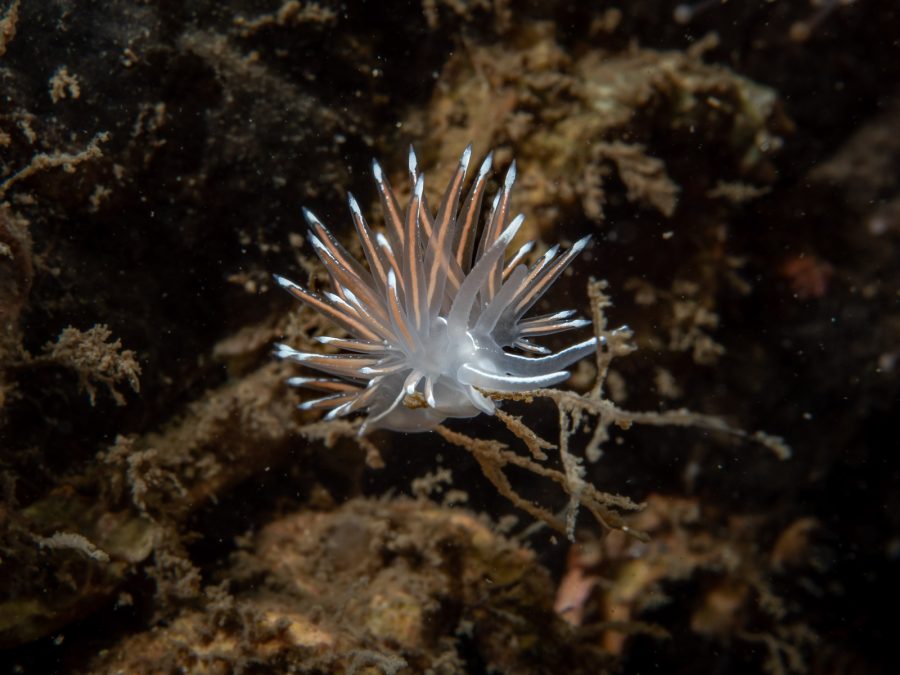 With over 30,000 lochs, there is no shortage of dive sites in Scotland, some of which are great for underwater photography! From small mountain lochans to expansive sea lochs, Scotland offers a diverse range of aquatic life that call our shores home.
Despite the often dreary and grey appearance of our waters, our marine environments can surprise us with a vibrant array of colours typically associated with more exotic locations.
This article will share some of the best dive sites in Scotland for underwater photographers.
Equipment for underwater photography
Underwater photography in Scotland can present challenges. Despite the abundance of colourful marine life, spotting them can often be the biggest hurdle.
Underwater visibility in Scotland varies not only between different lochs but even within the same loch, changing from hour to hour.
Factors such as tides and freshwater run-off can cause visibility to fluctuate rapidly, ranging from decent visibility at +10m to poor visibility of 2m or less.
In more exotic locations with visibility of +20m, wide-angle shots featuring sharks, shipwrecks, and coral reefs are common. However, the prevailing conditions in Scotland often make macro and "portrait" style underwater images more prevalent.
Choosing the right gear for underwater photography can be a complex task. It often involves a trial-and-error process that can be quite expensive (but let's not disclose the exact amount!).
One of the major investments in underwater photography is the camera housing, which can be more costly than the camera itself.
Additionally, the addition of lights, trays, handles, arms, and clamps can quickly make the setup bulky. I will now share the rig that I currently use and am relatively satisfied with for underwater photography in Scotland.
Although considered an "older" camera, the Olympus E-M1 MKII, paired with the Olympus 30mm Macro f/3.5 lens, strikes an excellent balance between size, cost, and image quality.
It is not overly bulky, making it comfortable to carry underwater, and it offers impressive image results despite initial concerns due to its small micro four-thirds sensor.
While the Olympus 60mm f/2.8 lens is often regarded as the go-to macro lens in the Olympus range, I personally find the more affordable 30mm lens better suited to my needs. Its 30mm focal length allows for easy switching between macro and portrait shots.
Additionally, by adding a dome wet lens (similar to a wide-angle lens that attaches to the front of the housing), you can still capture relatively wide-angle shots when necessary.
Given the generally dark conditions of Scottish waters, I rely on not just one or two, but THREE lights in my setup.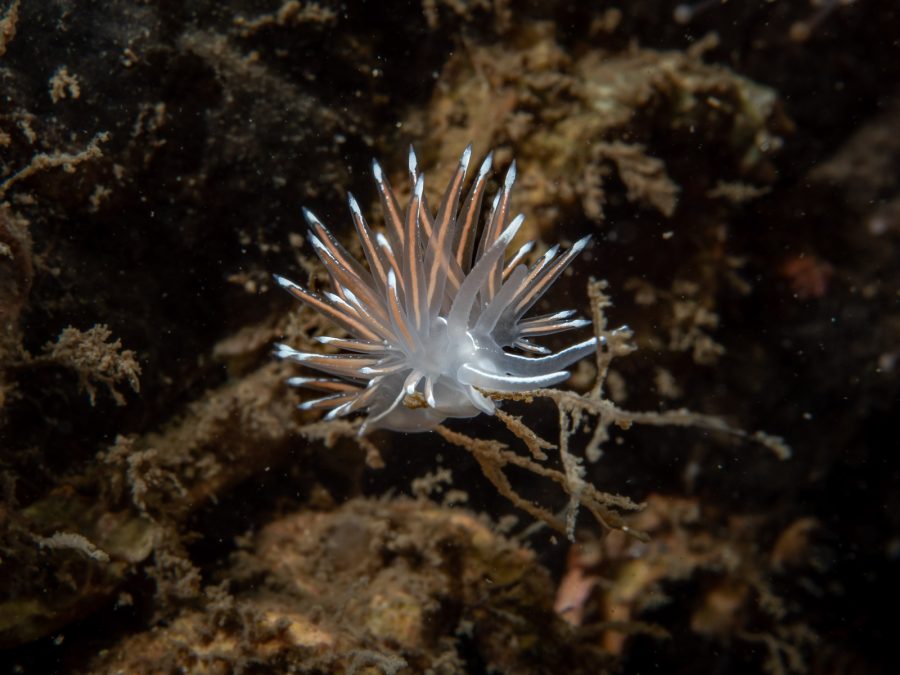 I have a constant 3000 lumen video light positioned directly above the camera, which serves as a focusing light, and two AOI Q1 strobes placed on arms on either side of the camera, allowing for flexible positioning as required.
Read more: What's the Best Camera for Underwater Photography?
Best dive sites in Scotland
Scotland's sea lochs, particularly those on the west coast, provide a protected environment for marine life to thrive away from the challenges of open water.
Two highly popular and easily accessible lochs in this region are Loch Long and Loch Fyne. Located less than an hour away from Glasgow, just west of the renowned freshwater Loch Lomond, they offer exceptional diving experiences.
Stretching 20 miles from the River Clyde to the village of Arrochar at its head, Loch Long derives its name not from its size but from its historical significance.
In Gaelic, Loch Long translates to "Ship Lake" as it was used by the Vikings to navigate their longships and launch attacks on settlements near Tarbert.
When you search online using the website Finstrokes (an excellent resource for dive sites in the UK), you'll discover no less than 13 potential dive sites along the loch's shores, providing an abundance of choices.
Each site tends to have various names depending on the club, organization, or dive school, but I'll do my best to mention as many as possible.
1. Finnart/A-Frames (Loch Long)
Finnart (also known as A-Frames) is arguably the most popular dive site in Loch Long, and possibly even in Scotland.
The original oil terminal was constructed by the Americans during the Second World War, providing a deep-water facility within the defensive perimeter of the Clyde.
While the main terminal still exists today, some parts were dismantled and destroyed, creating an extraordinary habitat for a wide variety of marine life within and around the wreckage.
The site can get crowded, especially on weekends, but once you descend below the surface, you'll understand why.
Divers are greeted with an exceptionally diverse site that caters to everyone, from beginners taking their first breaths underwater to experienced and adventurous divers.
Between 8 and 12 meters, you'll find remnants of the old pier, teeming with a plethora of marine life, including shore crabs, hermit crabs, squat lobsters, and the occasional shrimp.
As you venture a bit deeper (around 16 to 18 meters and beyond), the magnificent A-Frame structures of the old pier legs emerge from the darkness (although I must admit, on a few occasions with limited visibility, I may have accidentally swam into them!).
The A-Frames are awash with colour! Adorned with anemones, peacock worms, starfish, and the delicate beauty of nudibranchs if you're fortunate, they are teeming with life.
Exploring the frames during a dive is always a delight, and on days with exceptional visibility, the sight from the seabed to the pinnacle of the structures is truly awe-inspiring.
Read more: Top Tips to Improve Your Underwater Macro Images
2. Twin Piers (Loch Long)
Heading towards the upper part of the loch and continuing along the west side, you will eventually reach the captivating dive site known as Twin Piers. Situated just off the beach are the remnants of two piers, coincidentally named.
Nestled beneath the prominent peak of Scotland's popular hill walk, the Cobbler, this site often presents underwater sights as breathtaking as those above the surface.
Navigation is usually a challenge in diving, but at Twin Piers, it couldn't be much simpler. From the beach, swim straight out between the two piers and descend.
On the slope, you'll encounter a striking carpet of discarded bivalve shells, an impressive sight in its own right.
Continuing along the slope to a depth of around 10 to 15 meters, veer left, and you'll eventually come across the chassis and axles of an old truck that fell off the pier.
These remnants are now covered with small crustaceans, anemones, and sea slugs.
From there, we typically dive a bit deeper to approximately 15 to 20 meters and continue swimming with the slope on our left side.
It was during one of these dives that I had one of my most cherished encounters ever – a sighting of squid! My dive buddy began signalling frantically with his torch, pointing at what seemed like nothing in mid-water.
For several minutes, I had no idea what he was trying to show me until I noticed a tiny creature darting in and out of his torch beam – a squid!
While it may not have been "the Kraken," I was completely unaware that we had squid here in Scotland until that moment. This incredible little cephalopod graciously lingered for a while, allowing me to capture some photographs.
The boulders forming the reef in this area are enormous and provide excellent habitat for a wide range of marine life. From the usual crabs, squat lobsters, and anemones to lobsters and even conger eels in the larger crevices, the diversity is remarkable.
Depending on the tide, if you ascend to around 6 meters and swim back along, you'll inevitably encounter the legs of the piers, adding a delightful finishing touch to the dive.
These legs are completely adorned with life, including various types of anemones, peacock worms, crabs, and even the occasional sea scorpion hidden among the other inhabitants.
Loch Fyne is perhaps best known for its incredible seafood, which is sourced from the loch and distributed across the UK and Europe.
Stretching over 43 miles in length and reaching a maximum depth of around 200 meters, it is also Scotland's longest sea loch, offering ample diving opportunities.
In fact, with twenty-two dive sites listed on Finstrokes, there is more than enough to satisfy any diver's curiosity.
Read more: How to Take Charismatic Portraits of Marine Life
3. Seal Reef (Loch Fyne)
Despite its name, and despite having dived here at least 60 times, I don't think I've ever seen a seal at this site. However, that doesn't mean it lacks other delights.
Aside from Finnart on Loch Long, there may not be another site in Scotland as popular as Seal Reef (also known as St Cats/St Catherines). It can get quite crowded during the summer months, and not just with divers!
The infamous Scottish midge also seems to appreciate the site and enjoys feasting on unsuspecting divers… consider yourself warned!
But it's definitely worth enduring our tiny pests. The rocky reef, ranging from 4 to approximately 40 meters deep, is teeming with life.
The nooks and crannies host a diverse range of species, and although photographing the elusive shoals of fish can be challenging, witnessing them is truly incredible.
As you venture deeper, there's also the chance of spotting the elusive bobtail squid, little cuttlefish, and langoustines.
While the reef itself is the main attraction, the swim out to reach it can be just as rewarding, with dogfish often seen along the seabed slopes and the occasional great spider crab scuttling along the bottom.
Read more: How to Photograph Cuttlefish
4. Drishaig Reef (Loch Fyne)
Located along the western banks of Loch Fyne, the dive site known as Drishaig Reef has quickly become my favourite site in Loch Long/Fyne over the past few months.
Similar to Seal Reef, the "main" part of the dive takes place across a rocky reef with a variety of marine life inhabiting the rocks.
However, it's when you venture a little deeper, around 25 meters, that this site truly becomes exceptional!
Descending onto a soft sandy bottom, you are greeted (hopefully) by one of the most incredible and almost otherworldly marine creatures we have: the magnificent fireworks anemone.
While not uncommon in our lochs, the sheer number of fireworks anemones found here is astounding. Although not a scientific study, in previous dives, I have counted no fewer than six of these anemones within a 25-meter radius.
Additionally, the sandy bottom serves as a perfect habitat for langoustines, bobtail squid/little cuttles, and even thornbacks.
It's worth noting that the drive from Glasgow, along the banks of Loch Lomond, through Rannoch Moor and Glencoe, is one of the most epic and breathtaking routes in Scotland.
The scenery is simply awe-inspiring. However, what many people fail to realize is that the underwater sights as you exit Glencoe and approach Loch Leven and Loch Linnhe are equally impressive.
5. Carnoch Bay (Loch Leven, Ballachulisch)
Carnoch Bay is one of the most relaxing and relatively easy dives I have experienced, yet it is home to incredible marine life and serves as a prime example of finding amazing biodiversity without having to dive deep.
The bay is a small harbour with slate walls located next to the Isle of Glencoe Hotel in Ballachulish, providing shelter from currents and wind.
Featuring a fine sandy bottom, the visibility can be affected if you inadvertently stir up sediment by touching the bottom. However, on a good day, the light filtering through from the surface creates an exceptional shallow diving experience.
Similar to many dive sites in Scotland, you can encounter the usual array of small marine life.
In addition, there is a chance of spotting tiny nudibranchs, colourful dragonettes, the occasional lobster, dogfish, and the most remarkable of all, the small, delicate, yet stunning sea pens.
Read more: How to Get Rid of Backscatter in Underwater Photography
6. Picnic Site (Loch Linnhe)
After crossing the bridge over Loch Leven, the road runs along the side of Loch Linnhe, which offers a couple of dive sites.
The appropriately named Picnic Site, located just before arriving in Fort William, is a fantastic little bay that is just as beautiful beneath the water as the surrounding scenery.
With a decent-sized car park and a pleasant shingle beach, it's an ideal spot for diving and enjoying a picnic!
When you enter the water from the beach and head to the left, around the small peninsula, you'll encounter a stunning wall dive that continues down to a depth of around 20 meters.
The wall is teeming with life, including various small crustaceans, anemones, and nudibranchs. However, what truly makes this dive special are the Liparis liparis, or sea snails.
It's important to note that their presence cannot be guaranteed, but on a fortunate occasion, I had the privilege of encountering not just one, but two of these fascinating tadpole-like fish, which was quite extraordinary.
Read more: The Secret Underwater World of Nudibranchs
In conclusion
Over the course of writing this piece, I have come to realize the immense challenge of conveying just how incredible our underwater world is here in Scotland.
Attempting to summarize, describe, or even capture it in photographs truly falls short of doing it justice. It may sound cliché, but it is undeniably true: there really is a whole other world beneath our waves.
It is a facet of our remarkable country that only a few get to see, let alone experience, and I feel exceptionally privileged to be able to witness it first-hand.