How to Plan an Astrophotography Trip to Lofoten
Lofoten is an archipelago in the North Atlantic. It is part of Norway, and is a paradise for photographers. It has become increasingly popular in the last few years, largely due to photo tours and social media.
I lived in Lofoten for four years. After exploring all its fjords and mountains, I still find new shooting locations whenever I go there. It's my favourite place from which to shoot the Northern Lights.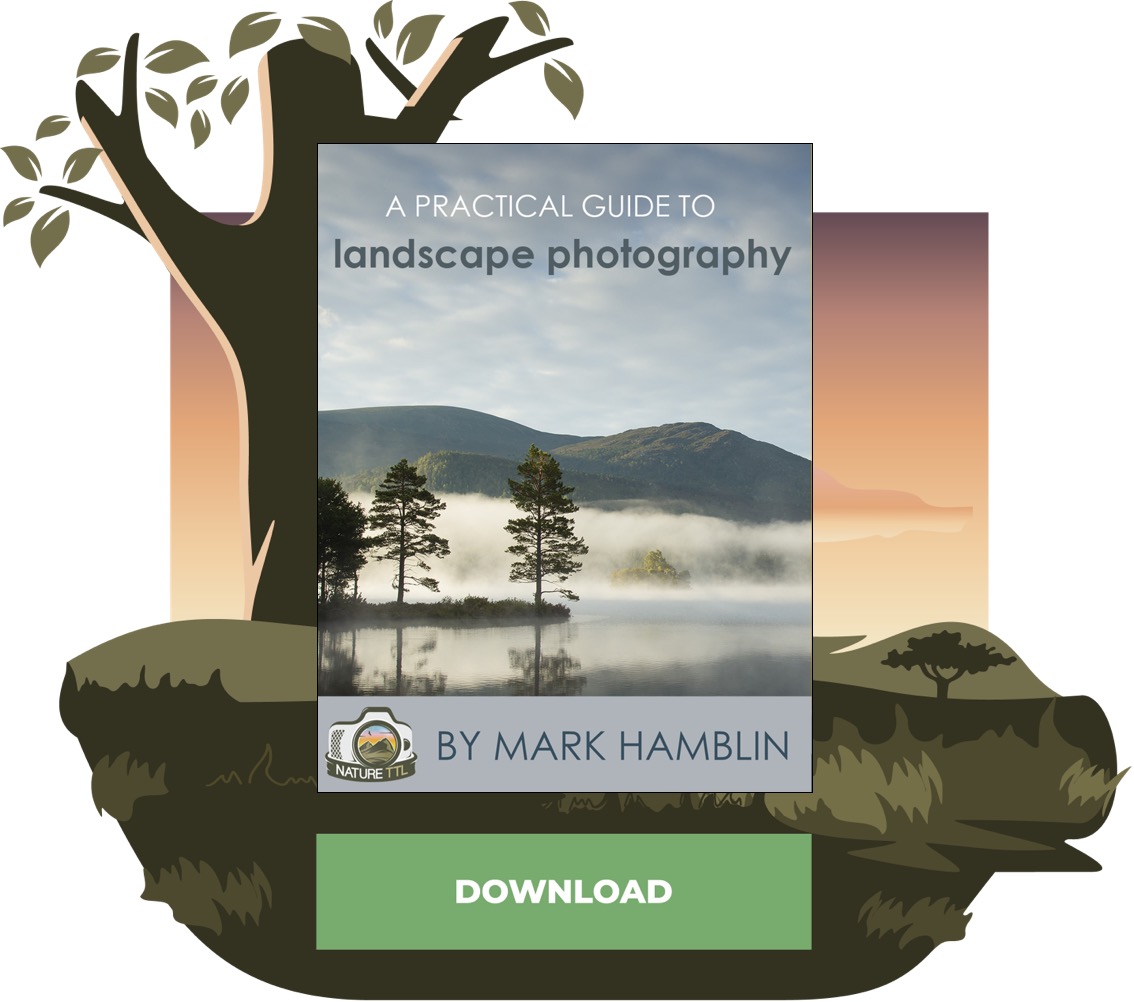 When to go to Lofoten
Lofoten is situated above the Arctic Circle, so the Sun does not set for a period of time every year (around 7 weeks during the summer). Also, for two months on both sides of the Midnight Sun period, the sky is far too bright for stars to be visible.
Basically, astrophotography is only possible in Lofoten from September 1st to April 1st. You can photograph bright Northern Lights from maybe August 15th to April 15th, but I would suggest focusing on the September 1st – April 1st interval.
There are three ways to get to Lofoten. You can drive, you can fly, or you can mix flying with a ferryboat crossing. No matter how you choose to travel, be aware that bad weather might disrupt transportation, especially during winter months (January to March).
Also, if you don't get to Lofoten by car, plan on hiring one once you arrive. There are lots of options from both global providers and local companies (local companies usually have better prices, but older cars). Be advised that the roads are narrow, and driving around Lofoten in winter time can be challenging.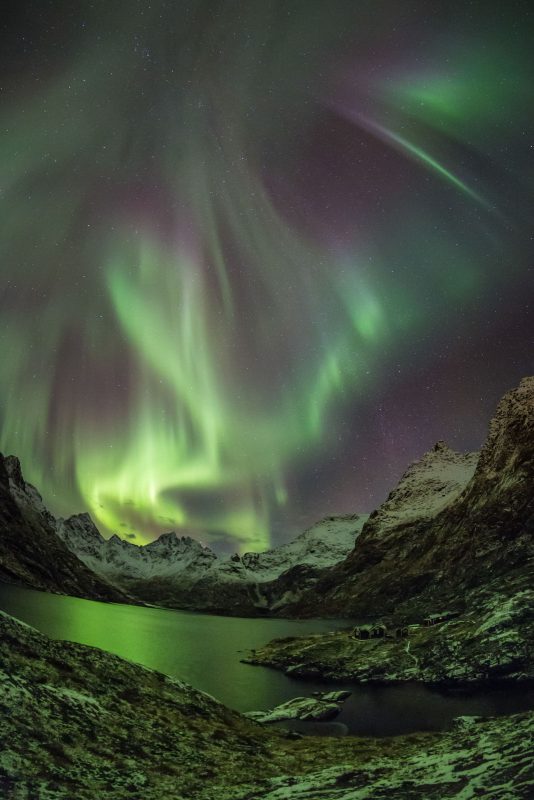 Even though the common opinion is that the best time for astrophotography is around the New Moon, I would suggest visiting Lofoten the week after the New Moon, if possible.
This way, you will have the Moon present in the evening sky, illuminating the foreground in your photos. The Moon doesn't affect the aspect of the Aurora that much.
Read more: How to Photograph the Moon with Foreground
Where to go in Lofoten
Lofoten is an archipelago of five main islands: Moskenesøya, Flakstadøya, Vestvågøy, Gimsøya, and Austvågøy (from South-West to North-East). Further to the south are the small and isolated islands of Værøy and Røst. The most dramatic part is definitely Moskenesøya, but there are amazing landscapes all over the archipelago.
If you don't drive or you don't want to hire a car, the best option for accommodation is the area around Reine, one of the most scenic villages in the world. If you stay on the island of Hamnøy, you step straight out of your cabin and are able to shoot fantastic landscapes illuminated by the Aurora.
There are also a few campgrounds, and wild camping is allowed. Just check local rules and avoid places where camping is forbidden. Lofoten has had some problems with this during the last few years, so be respectful.
The island of Værøy is extremely beautiful but still not very popular with photographers. It is small, but offers some very spectacular views.
Orion, in his continuous celestial battle with Taurus, the Bull, seen from a mountain top on the island of Værøy. The almost Full Moon helped a lot in getting those amazing colours in the water.
Read more: How to Photograph the Northern Lights
Weather in Lofoten
Weather is the main issue in Arctic and sub-Arctic regions. Don't try to look at multi-annual weather data, it is totally irrelevant. Just go to Lofoten whenever you think the landscape is better suited to your style (I mean, if you want the landscape to be covered in snow or not) and hope the weather will be on your side.
Also, don't be discouraged if the weather is really bad at the location of your accomodation. Jump in the car and drive along the main road. There are lots of microclimates along the islands, and it often happens that the weather is very different even 5 kilometres away.
What lenses to bring to Lofoten
Lofoten has a vast landscape and, usually, you are pretty close to tall mountain faces that rise straight up from the ocean. You need wide lenses for astrophotography here. I would say 8 to 24mm is the best focal length interval for this place. If you plan to focus on astrophotography, long lenses will not make a lot of sense here.
There's a very simple reason for this: the Aurora will prevent you from shooting deep sky or even wide angle tracked shots. If you happen to be in Lofoten during a lunar eclipse, yes, do bring a long lens or a small telescope. It's very cool to photograph the Moon rising from behind (or setting in front of) the jagged mountain peaks in Lofoten.
Your main target in Lofoten will be the Northern Lights; this is really the field of astrophotography you go to Lofoten for. Sometimes they are so active that they cover the whole sky and a fisheye lens comes in handy. Otherwise, you will most likely photograph the Aurora at focal lengths between 14 and 24mm.
Read more: The Best Lenses for Astrophotography
Best locations in Lofoten
1. Reine area
If you want to shoot the Northern Lights above picturesque Norwegian fishing villages, this is your spot. You can shoot from Hamnøy: there's a very famous and overcrowded bridge here, providing you with a very well-known view. You can go to the top of the small hill in Sakrisøy, or you can shoot from Reine.
Something to note about this part of Lofoten is that light pollution is quite a nuisance. Shooting during moonless nights, or when the Moon is in a small phase, might result in an ugly colour cast in the skies.
If you are more adventurous, you can go to the top of Mount Reinebringen for a breathtaking view. There are stairs all the way to the top. Be aware that the mountain is pretty steep and there's a risk of rockfall.
Don't go up the mountain if the weather is sketchy, or there's snow on the top. I wouldn't suggest camping on top of Reinebringen.
2. Kvalvika Beach
You can't reach Kvalvika by car. You have to hike there. However, it's one of the most beautiful beaches in the world and the hike is definitely worth it. Wild camping is allowed on the beach here.
Aurora has to be pretty active in order to be photographed from Kvalvika as there is not that much sky visible from the beach. If you want a very dramatic image, I suggest hiking up from the beach towards the peak called Ryten, along the small stream going down from the mountain.
Don't attempt this after sunset, and don't try going back to the beach at night. The path is pretty steep and there are quite a few unstable rocks along the way.
3. Skagsanden Beach
This is one of the best places along the whole archipelago for shooting the Aurora, as it's one of the more open areas on the islands. You are quite far from mountains to the North, and there's a great opening to the West and South West.
If the Aurora is not very active then this is the place to go, as there will be nothing blocking the view, allowing even very shy displays to be photographed. The problem with Skagsanden is that it's a favourite place for photo tour leaders, resulting in nights when it's harder to keep other photographers out of your frame than actually photographing the night sky.
4. Vik, Haukland, and Uttakleiv Beaches
These three beaches are separated by only a few kilometres, and have the advantage of being orientated in different directions. If you want lots of framing options for a single night, going here is a great option. It won't take you more than two minutes to drive from one beach to another.
If the night starts slow and the Northern Lights are not very active, go first to Vik and then to Uttakleiv. If the Aurora gets stronger and moves towards west or south, go to Haukland.
Lofoten offers far more wonderful locations for shooting the night sky. One way to find breathtaking locations for astrophotography is to drive along the main road (E10) during daytime and to use an app like Photographer's Ephemeris to plan your night shots.
Try to find old traditional fishermen's cabins that are not that brightly lit, and use them as a foreground in your astrophotography. Such cabins can be found around the village of Moskenes, for example.
In conclusion
It might seem tough to find new angles in Lofoten, but that's why I believe it is still a wonderful place to photograph. Take your time, look around, take the usual shots, and then do your best to come back with something new. There are plenty of unexplored angles in Lofoten.
Clear skies!
For more information and guides on astrophotography, take a look at The Ultimate Guide to Astrophotography.