The Best Lenses for Astrophotography in 2023
With so many options available, choosing the best lens for astrophotography can seem pretty daunting. And believe me, it's no easy task. Astrophotography is like a supreme test for optical quality in a lens, as point-like sources of light are the hardest to photograph. And guess what- stars are point-like light sources!
Any lens has optical aberrations, and astrophotographers will always want the lenses with the smallest optical defects. Ideally, you need a lens with no chromatic or coma aberrations. Pretty much all wide-angle lenses are affected by coma, and some of them quite heavily.
I think it's a good idea to stop down by one stop any lens faster than 2.8. But only if you are not shooting meteors or Northern Lights, when any additional quantity of light entering the lens is very useful.
Autofocus is not important in astrophotography. Manual lenses are a great choice, especially if your budget is on the lower side. I would not recommend buying old lenses built for film cameras, though. Most of them don't have the optical quality needed to shoot with a high resolution digital camera.
Except for lunar and solar astrophotography, you will be photographing very dim objects, and a lens with a low aperture is desired. Lenses with an aperture of f/2.8 or lower are better suited for astrophotography.
You can use any focal length from 8 to 800mm when shooting the sky, but I would recommend getting a telescope if you want to shoot at focal lengths longer than 400mm. A telescope will be lighter, cheaper, and, most of the time, will have better optics than a lens at such focal lengths.
I strongly recommend investing in an apochromatic optical tube if you want flawless images.
Let's divide lenses by focal length and see what part of astrophotography they are useful for, and what lenses I believe are better suited to each task. Please note that my experience is limited to Canon and Nikon compatible lenses.
I know there are some fantastic lenses out there made for Sony cameras, for example, but I can't express my opinion on gear I have never worked with.
1. Circular fisheyes
The circular fisheye is a pretty limiting lens as you can't play a lot with framing. Most of the time in astrophotography, fisheye lenses are used to shoot straight up, and include all sky in one frame. They are a great choice for shooting the Milky Way from horizon to horizon, or for very active Aurora storms, when the Lights cover the whole sky.
Circular fisheyes are also fantastic for showing the aspect of the whole sky during total solar eclipses. They can also be used for meteor showers, especially for photographing long, Earth-grazing fireballs.
Be advised that most other meteors will appear short and not very impressive in fisheye lenses. You need bright and long fireballs for the final image to be really impressive.
I am a big fan of the Canon EF 8-15mm f/4L lens. It offers a circular fisheye at the 8mm end and a diagonal fisheye at 15mm. It is very compact and light, and the optical quality is superb. I have no problem with it being an f/4 and not faster, as I can use fairly long exposure times without seeing any star trailing at those short focal lengths.
Nikon offers an equally capable lens, the AF-S FISHEYE NIKKOR 8-15mm f/3.5-4.5E ED. Sigma makes a fixed 8mm fisheye with an aperture of f/3.5. All in all, not a bad lens, but I find it less capable than the Canon and the Nikon.
As you can see, both the Canon and the Nikon are zoom lenses and go up to 15mm. This focal range can be used mostly in Aurora or meteor shower photography.
They're not really well-suited to traditional landscape astrophotography, as they are not rectilinear and they distort the landscape.
2. Wide-angle lenses (14-35mm)
This is probably the most useful focal length range for landscape astrophotography. It allows you to include both landscape and sky in a single frame, without the need for shooting multiple overlapping images and then assembling them into a panorama.
Of course, there are cases when you need to shoot such panoramas, but we can talk about that in a different article.
Lenses between 14 and 35mm are also great for shooting meteors, Aurorae, wider conjunctions, or atmospheric optics like haloes.
Around 14mm, you have a few options. Lots of people praise the Samyang/Rokinon 14mm f/2.8. If you're a beginner, I think it's a great choice, especially given its price, and it will help you make your first steps in very wide-angle astrophotography.
The problem with this lens is that its quality is very inconsistent, and you might have to try a few copies until you find one that offers satisfactory results. Personally, I have never liked this lens and I was not able to find a decent copy. But I know people who have.
There's another 14mm from Samyang/Rokinon that is surprisingly well-built, both from an optical and a mechanical point of view: the Samyang XP 14mm f/2.4. Although it's twice the price of their 14mm f/2.8, the optical quality is beautiful and quality control is far better.
Another great lens in this range is the Sigma 14mm f/1.8 Art. It's fantastic for the Northern Lights and more.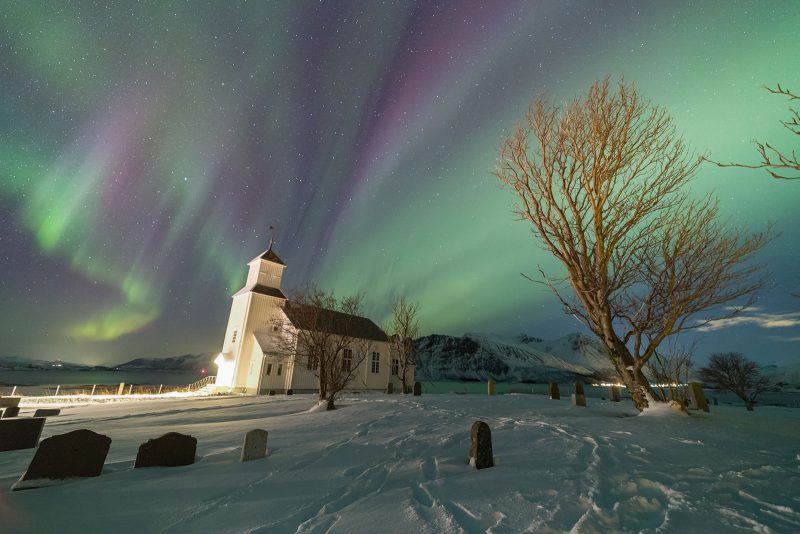 If you're looking for a wide-angle zoom, the Nikon 14-24mm f/2.8 used to be the best lens ever made at those focal lengths. Their newer lens, the NIKKOR Z 14-24mm f/2.8 S, built for Nikon Z series mirrorless cameras, managed to surpass it.
For Sony cameras, you have the option of getting a Sony 16-35mm GM: a very good lens. Even compact f/4 zooms can be used for astrophotography, for example, if you want a light lens to easily carry around on a hike. I got great results from a Canon EF 17-40mm f/4L lens.
Probably the most versatile lens in wide field astrophotography is a 24mm f/1.4. It's great for Milky Way shots and meteor photography, and is pretty decent for Aurora photography too, even though you might find it to be a bit too narrow when the Lights go bananas!
The Samyang 24mm f/1.4 is a great lens with a very nice price. Although a bit more expensive, the Sigma 24mm f/1.4 Art is one of the best 24mm lenses available today for astrophotography.
In fact, all lenses belonging to Sigma's Art series are exceptional lenses for astrophotography, with the notable exception of the 20mm lens which does not perform on par with the others.
3. Standard lenses (35-85mm)
Lenses in this range can be used for photographing conjunctions, single constellations, or wide areas of the sky that look interesting in tracked exposures (like the areas around the constellations of Orion, Cygnus, Sagittarius or Crux). They are quite narrow for nightscapes but can be used in certain circumstances.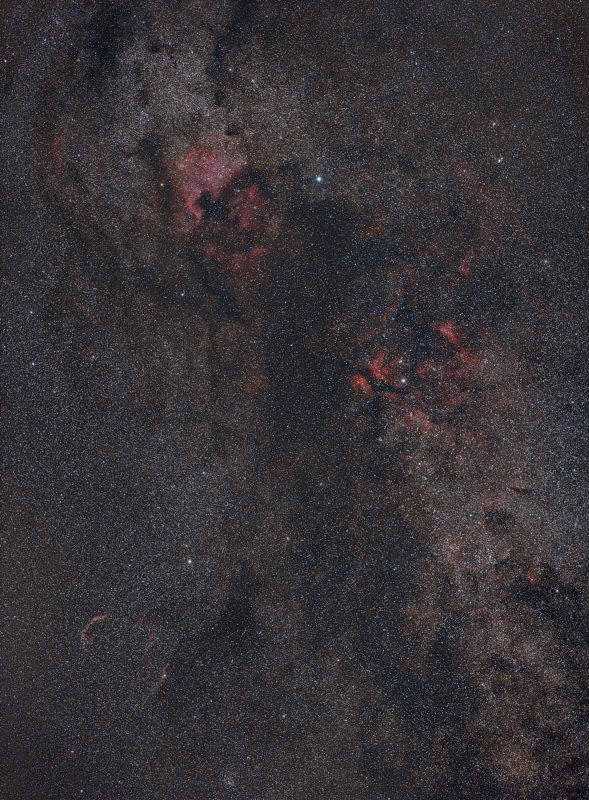 Such lenses are tougher to use if you don't have a star tracker, as you won't be able to shoot very long exposures from a static tripod. At 50mm, you are limited to around 6 seconds. A 35mm can still be used with fairly decent results without tracking.
My favourite 35mm lens is the Sigma 35mm f/1.4 Art. Pretty much any 50mm lens will be a good choice for astrophotography, even the cheaper f/1.8 versions. The Canon RF 24-70mm f/2.8L IS USM lens is a fantastic lens for mirrorless shooters.
Actually, pretty much all top range RF (for Canon) and Z (for Nikon) mount lenses are superb for astrophotography.
Samyang makes a beautiful 85mm f/1.2 XP lens, but their 85mm f/1.4 is also a great choice.
4. Telephoto lenses (85-400mm)
Telephoto lenses have very limited uses if you can't track the apparent motion of the night sky. You could shoot lunar or solar eclipses, especially with lenses longer than 300mm, but I would rather choose a telescope for that. You can also use them for photographing conjunctions.
Otherwise, you don't have that many things to shoot from a fixed tripod, as maximum exposure times for getting point-like stars will be very short. However, these focal lengths are superb for wide field deep sky photography.
Here are a few targets for you: the region around Deneb (the brightest star in the constellation of Cygnus), the region around The Great Orion Nebula, the Magellanic Clouds, and the region around the galactic centre.
70-200/2.8 zooms by Canon and Nikon (especially their latest versions) are wonderful for photographing the night sky. Other lenses to take into consideration are the Sigma 105mm F1.4 DG HSM and the Sigma 135mm F1.8 DG HSM.
Probably the most common question I am asked (after 'what camera should I get for astrophotography?') is 'what lens to get first?' My answer: the kit lens. Many people will say that it's just a cheap lens, but it's a piece of kit which will allow you to do a lot of nice things in astrophotography.
And maybe, after a few sessions, you will realise that astrophotography is not really for you, so I don't think that investing in a top notch lens in the beginning is the best way to go. You can use a kit lens to photograph planetary conjunctions, star trails, and even nightscapes.
Of course, you will reach its limits quite quickly, and you will feel the need for a better lens. However, it's a good start for an absolute beginner.
In conclusion
When you start out in astronomy, your first concern should be understanding how the sky works: what, when, and where to photograph, and so on. Optical quality should not be the first priority on your list.
Even if you are just starting out, don't fall into the trap of ultra-zooms, like 18-200mm lenses. Although pretty useful for documenting your family trips, they are almost useless in astrophotography.
No matter what lens you choose for your astrophotography, spend more time using it to photograph the night sky than painstakingly trying to find all its defects on your computer display.
Clear skies!
Learn more about astrophotography in Alex's Nature TTL ebook – The Ultimate Guide to Astrophotography.