Best Places for Autumn Landscape Photography in the Peak District
The Peak District was the first of England's national parks. It is nestled between the cities of Manchester and Sheffield at the southern end of the Pennines and sees millions of visitors every year. There is good reason for its popularity, and many reasons why autumn landscape photography in the Peak District is so enthralling.
The Peak District is a stunning national park of contrasting beauty from wild, foreboding gritstone crags and barren moorland, to enchanting woodlands, dales, rivers, and valleys.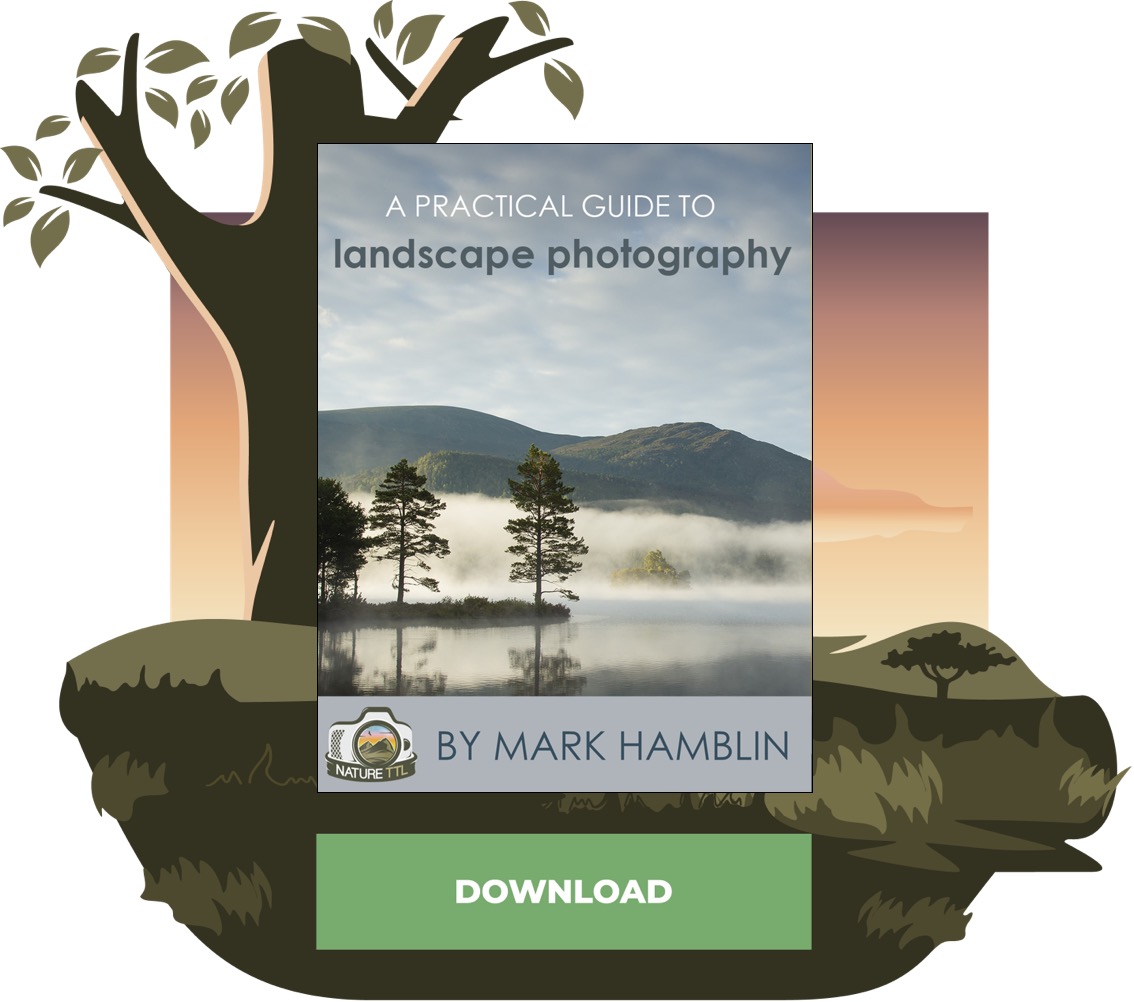 The northern area is known as the Dark Peak. This often-barren landscape has a stark beauty of its own. With wide open heather moorland punctuated with gritstone outcrops, it can be a wonderful landscape location all year round, but especially as the early morning mists of autumn arrive.
Head further south and you will reach White Peak. With its fast-flowing rivers, green valleys, and limestone crags, it has an altogether softer feel but is no less photogenic.
I have lived on the edge of the Peak District my whole life, and it never fails to inspire me. Here are some of my favourite locations for autumn landscape photography in the region.
Padley Gorge
As far as autumn locations go, there aren't many to rival Padley Gorge. Large, mossy boulders strewn amongst ancient woodland give this place an enchanted, and sometimes eerie feel.
The Burbage Brook runs through the valley, offering endless opportunities for both wider and more intimate compositions.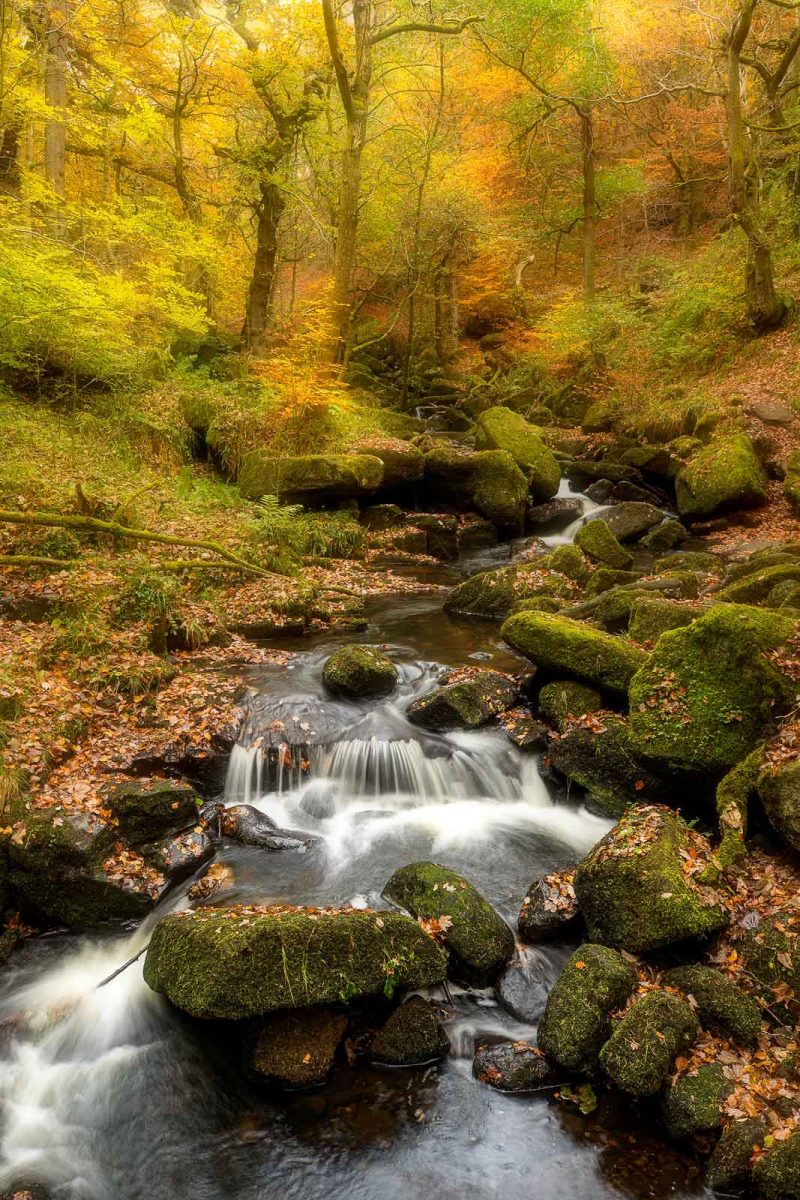 To access it you will need to park near Grindleford train station, walk past the cafe, and over the railway bridge where there is a gritstone stile on the right. Head through there and into the woodland so that the brook is on your left.
Take your time to explore both the woodland and the water; there is so much to photograph that you could never exhaust the possibilities.
Make use of a variety of focal lengths. Wide lenses are perfect for capturing the brook surrounded by the autumnal woodland, but longer lenses such as 70-200mm or 100-400mm can be effective for picking out more intimate parts of the landscape.
Concentrating on just a small section of water flowing through the rocks perhaps, or a more confined view of the woodland trees, can create simple yet stunning images.
Padley Gorge is best visited in soft light when contrast levels are low. Overcast days are perfect, but early morning light in the woodland can be magical on sunny days.
Stanage Edge
Stanage Edge is one of the most well-known gritstone edges of the dark peak. This imposing crag stretches for approximately four miles, it is easily accessed by parking in the roadside layby above Overstones Farm and walking up the path to the southern end of the crag.
There are endless landscape opportunities at Stanage, but a well-known group of millstones that lie beneath the crag underneath the trig point is a popular spot, and one of the classic shots of the Peak District. There are millstones to be found all over the Peak District as production took place from medieval times through to the early 1900s.
The Stanage millstones are perhaps the most well-known and can make interesting foreground material, resulting in images that tell the story of the Park's industrial past. Stanage Edge faces west, so is best photographed at sunset from above the crag.
The views from here are incredible, and the wide vista stretches along Derwent Valley to Win Hill and the Kinder Plateau to the north.
Looking west, you will see the cement works in Castleton and behind it, the Great Ridge and Mam Tor. With so many scattered boulders and fascinating shapes and forms from the crag itself, there are endless interesting features. Often, the main crag itself can provide a strong leading line to draw the viewer's eye through the frame.
Dawn can also be a good time to visit Stanage, particularly the southern end where views towards the south and east can be explored.
An area known as the plantation is also worth visiting. This wooded part of Stanage is littered with large boulders and can look particularly photogenic during an early morning autumnal mist.
Mam Tor and the Great Ridge
The view from the top of Mam Tor is spectacular. This is a great dawn location, especially after a cold, clear night when there is the chance of a cloud inversion. With stunning views over Edale and Hope Valley coupled with easy access, it's no wonder Mam Tor is amongst the most popular landscape locations in the Peak.
The easiest access is from the Mam Tor National Trust car park (S33 8WA). From here simply follow the flagstone path to the trig point at the summit. It pays to arrive as early as possible, both for the dawn light and to avoid the crowds as it can get busy with visitors!
My favourite conditions occur when mist develops in the valleys below, and full cloud inversions are not uncommon, especially during Autumn as the air temperature begins to cool. There are countless opportunities for dramatic pictures from the summit, and the path can be used as a strong leading line.
Great Ridge is a long, pronounced ridge line that separates the vales of Edale and Castleton. It stretches for 3 kilometres from Mam Tor to Lose Hill and can also be used as a strong compositional element.
Don't forget to pack a longer lens, too. A focal length of around 200-400mm can be useful for picking out intimate or even abstract details in the landscape, especially on a misty morning.
Read more: How to Take Landscapes with a Telephoto Lens
The cement works in Hope Valley can often be used as a point of interest, and during a cloud inversion, you may see it poking ominously out of the mist. Including this will add a human element to your images and tell a different story.
Higger Tor
One of my favourite autumn sunset locations is Higger Tor. This gritstone outcrop situated not far from Stanage Edge can look spectacular at last light. Access is easy and is only a 10 – 15-minute walk from the Upper Burbage Bridge car park (S32 1BR), or the roadside layby further up the road heading towards Hathersage.
This impressive gritstone formation offers views over Burbage Valley, or west towards Hope Valley, and as such is a great spot for a dusk shoot. It is worth exploring the ridge and picking out interesting compositions using the gritstone boulders in the foreground.
Due to its smaller size, it has a more intimate feel compared to Stanage Edge, but in my opinion, it can offer just as many opportunities for stunning landscape photographs.
It pays to do a recce and spend as much time as possible exploring the ridge, both from the top of the crag and the path below. Depending on your angle, you can end up with an amazing variety of shots from this single location.
I also like visiting Higger Tor in August as you will find small patches of blooming heather around the boulders. These can be used to add a splash of colour to the otherwise dark and muted tones of the gritstone.
Curbar and Baslow Edge
It would be hard for me to pick betweenCurbar Edge and Mam Tor as my favourite dawn location, and on the morning of a promising sunrise, I often find myself torn between the two!
Curbar Edge is yet another one of the Dark Peak's impressive gritstone crags. It looks out over Derwent Valley, which is particularly picturesque with pockets of woodland interspersed between rolling hills and other interesting features. There is plenty of nearby parking at the Curbar Gap pay and display car park (S32 3YR), and parking is also possible on the road as you head down the hill towards Calver.
Autumn can be a particularly magical time of year, as early morning mists are more frequent, and just like Mam Tor cloud inversions can occur in the valley following a cold, clear night.
There are endless opportunities for stunning images along the whole length of the crag, and curious rock formations can be found to add foreground interest and increase depth in your images. If you park at Curbar Gap, cross over the road and follow the footpath you will reach Baslow Edge.
Due to its different orientation, Baslow can be a great location for sunset shoots. Sunrise can be worthwhile too, as the crag will be strongly side-lit, highlighting texture and adding depth to the landscape.
There are several groups of trees along Baslow Edge and a myriad of rocky features in which to explore.
Lathkill Dale
There are plenty of beautiful landscape locations in the White Peak, but one that I have always been particularly inspired by is Lathkill Dale. This pretty limestone dale lies roughly 3 miles from Bakewell.
There is a pay and display car park in the small village of Over Haddon, from here take the steep road that descends into the dale.
The river Lathkill weaves its path through the valley, passing areas of woodland, steep grassy banks, and limestone crags. It is a nature reserve of national significance and is home to several rare species of plant including the Jacobs ladder.
Lathkill waterfall is a particularly beautiful spot and I like to photograph it both in summer when lush vegetation surrounds the cascading water, and in autumn when the colours change and there is a chance of frost.
Read more: How to Photograph Waterfalls
It will take on an altogether different mood in the colder months, especially after a hard frost where it can evoke a chilling and eerie atmosphere. If you head downriver towards the medieval Conksbury Bridge, you will find several weirs that separate crystal-clear pools. This is a beautiful stretch of river and perfect for exploring slow shutter speeds to capture the movement of the water.
Try experimenting with a variety of speeds using shutter priority to see the effect. I find that between 0.5 and 2 seconds is a good ballpark. Go too slow and you start to lose the texture in the water and the sense of movement becomes dull.
Chrome Hill and Parkhouse Hill
Another of the White Peak's gems is the two impressive-looking limestone reef knolls that rise out of the Derwent Valley. With their unmistakable, arching ridges it is easy to see why these peaks have become known as 'The Dragon's Back'.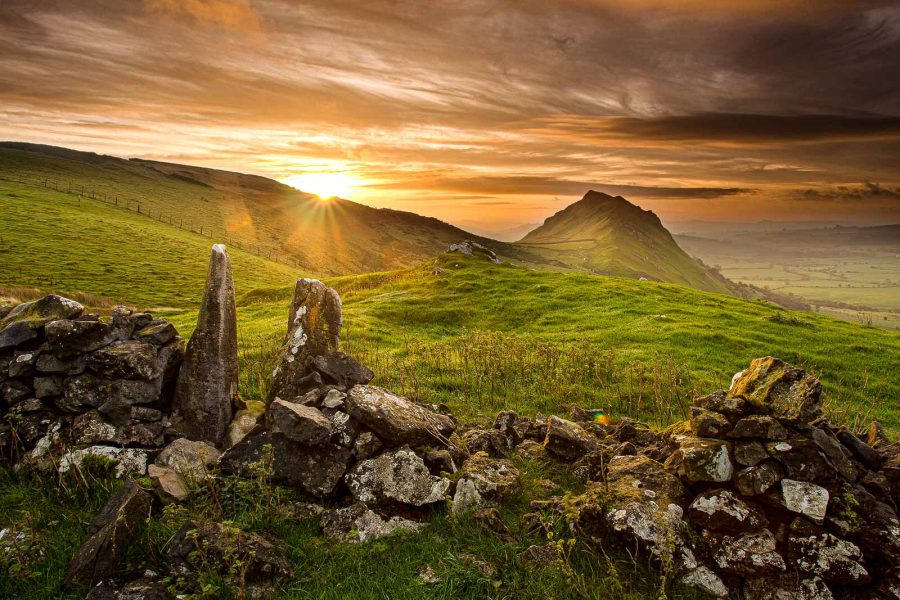 There are several ways of accessing Chrome Hill. The closest parking is on the road near the Quiet Woman pub in the small village of Earl Sterndale. From here it is best to head to Hitter Hill, which rewards you with great views of both Chrome Hill and Parkhouse Hill.
To get to Hitter Hill, head around the side of the Quiet Woman pub, follow the footpath sign, and head through two fields to the Hitter Hill summit. There are incredible views out over the surrounding countryside. To the south, you can see as far as Dove Dale, with drystone walls that enclose wildflower meadows scattered across the landscape.
It is worth exploring the area as there are many different angles and viewpoints to shoot from. If you head lower down the slope there are some trees which can make effective foreground interest and be used to add a sense of scale to the landscape.
Head around the other side of Hitter Hill to look south towards Dove Dale. This is a great spot for late afternoon as the sun starts to sink lower in the sky.
Read more: Golden Hour Photography – A Landscape Photographer's Guide
In conclusion
The Peak District offers so many stunning opportunities for landscape photographs, especially in autumn as the colours change and the light becomes richer and warmer.
Watch the forecast closely and pay careful attention to those cold, clear nights. That's a good sign that mist will develop in the valleys, and if you are lucky, perhaps a full cloud inversion.
Don't be put off by overcast days though, soft light can be perfect for exploring the many rivers and woodlands that the Peak District has to offer.
Above all, have fun and explore!