Where to Photograph Wildlife in Kenya
Kenya is home to some of the world's most popular wildlife. The East African region is well-known for its famous safaris (game drives), and rightly so, thanks to the incredible wildlife on display here, especially in Kenya.
While we do have the famous 'Big Five', there's a lot more to see if you enjoy spotting or photographing wildlife. Whether you're on the lookout for elephants, big cats, or plenty of bird species, Kenya has got you covered.

In no particular order, here are some of my favourite locations for photographing wildlife in Kenya.
Read more: The new big 5 to challenge the traditional hunters big 5
Tip: talk to your local guides
If you're booking a safari in Kenya, before you arrive make it known to your guide/operator what you're interested in photographing, and they'll be able to make it happen.
Note that in national parks and reserves, off-roading is an offence and will get you fined. If you wish to off-road, inform the park administration first and acquire a permit, which should cost you roughly $100.
Read more: Top tips for big 5 safaris in Africa
1. Amboseli National Park
I love Amboseli, but mostly I love elephants. There's something special about watching the world's largest land mammal roaming freely in large numbers in an open landscape. Amboseli has the largest elephant population in Kenya, so you're guaranteed to see them in large numbers.
An added bonus is that, on a clear day, you have the opportunity to see and photograph the majestic Mount Kilimanjaro. It may be in Tanzania, but we Kenyans have the best view of it. I don't see how you can dispute this, when you can frame elephants and Mount Kilimanjaro in the same shot.
While Amboseli is famous for elephants, you can also find lions, buffalos, cheetah, zebra, and plenty of Egyptian geese here.
2. Nairobi National Park
The Nairobi National Park is the only park in the world situated within a capital city. This in itself is a big factor to consider, if you're interested in photographing wildlife within Nairobi and its environs.
The convenience of a short drive from the city to photograph wildlife is one of the things that makes Nairobi National Park so unique.
It's home to 400+ bird species along with buffalos, lions, leopards, black rhino, zebra, ostrich, and baboons, and offers the unique opportunity to frame giraffes with the city in the background.
Some of the best times to visit the park are in the mornings and late afternoons, if you'd like to see the big cats in action while also catching some good light to start and end the day.
3. Maasai Mara National Reserve
This is the most popular wildlife reserve in Kenya, and for good reason. Home to the Great Wildebeest Migration and one of the great wonders of the world, Maasai Mara offers a unique landscape, including open plains and the famous single acacia trees dotted across the vast Savanna landscape.
Even though the reserve is a great destination to visit all year round, the best time to visit the Mara is said to be July to October, as there is a lot of activity brought by the wildebeest migration. Predators are on the hunt and have enough food to keep them active during this period.
The Mara also offers a unique sighting of the legendary five cheetah brothers (Tano Bora in Maa), who hunt together. In addition to this, the Mara also offers an opportunity to photograph plenty of other species like vultures, lions, leopards, elephants, zebras, antelopes, hippo and more.
With a knowledgeable guide, the one thing always guaranteed in the Mara is plenty of sightings, and great opportunities to photograph lots of wildlife.
4. Samburu National Reserve
Samburu National Reserve is situated in the northern part of Kenya and is home to the 'Samburu Special Five': the Somali ostrich, beisa oryx, gerenuk antelope, Grevy's Zebra, and, my personal favourite, the reticulated giraffe.
Samburu National Reserve is a great place to spot a different mix of wildlife away from the traditional 'Big Five'. Big cats such as lions, cheetah, and leopards are also common in Samburu.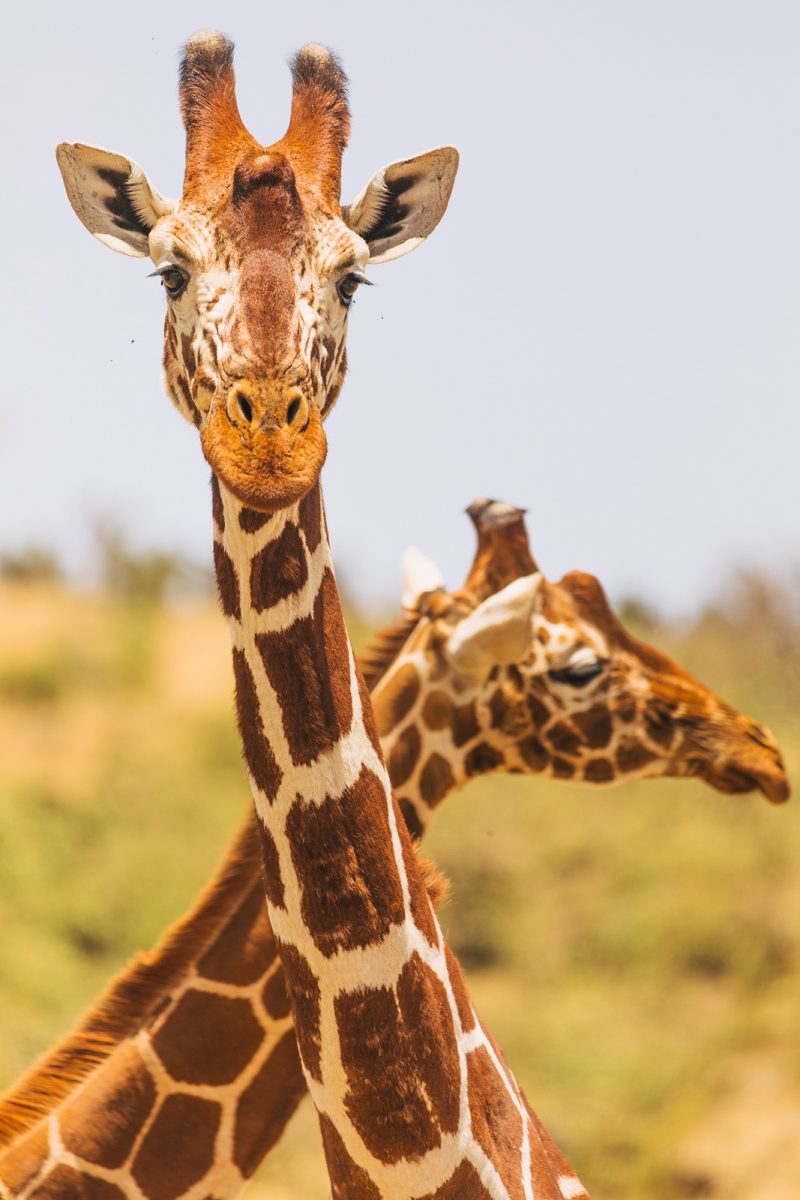 There are also plenty of elephants, and on a very hot day you have a chance to photograph them drinking or cooling off in the Ewaso Nyiro, one of Kenya's largest rivers. I don't think you can find a more diverse concentration of wildlife anywhere else in the country.
5. Tsavo East and West National Parks
The two Tsavo National parks cover the largest protected areas for wildlife in Kenya, larger than the Maasai Mara National Reserve.
These parks are home to rugged wilderness, a mix of open grasslands, plenty of acacia trees, Shetani lava flow, lava rocks, and scrubs. Tsavo's ecosystem is guaranteed to give you a great chance to photograph plenty of animals in a diverse landscape.
From large herds of elephants, to rhinos, lions, leopards, hippos, crocodiles, cheetah, and over 500 bird species, Tsavo will have you spoilt for choice.
6. Ol Pejeta Conservancy
Ol Pejeta is a great place, not only to photograph the last two remaining female northern white rhinos, but also to learn more about the work that's going on to save the northern white rhinos.
There are very few rhinos left on earth, and it's becoming increasingly difficult to protect them. However, conservancies like Ol Pejeta are doing the best that they can to aid in rhino conservation. I believe photography also goes a long way in creating awareness of this.
In addition to photographing the two remaining female northern white rhinos, you can also find over thirty southern white rhinos, chimpanzees, African wild dogs, elephants, plenty of Grevy's zebra, buffaloes, lions, cheetah, and leopards.
They also offer activities such as lion tracking, which gets you up close and personal with collared lions.
What to bring in your kit bag
Binoculars are a must, as they come in very handy when spotting wildlife. In most cases, if you book a tour operator, they will likely have a pair in the vehicle already.
Most of the time photographic tours in Kenya are conducted from a vehicle, so it is always worth bringing some weights or sandbags to accommodate heavy lenses, and eliminate camera shake while photographing.
Read more: 10 important things to keep in your camera bag
When planning lenses to pack, I would always recommend a good mix of wide, medium, and telephoto lenses to take full advantage of the great and varied composition opportunities while on game drives.
Personally, I recommend a 16-35mm, 24-70mm for medium range, 70-200mm, and 100-400mm, as the minimum to ensure you're covered on all focal lengths. An extender is always a great addition to get you closer to the action, if you don't have access to a super-telephoto prime lens.
I always pack plenty of energy bars, fruit, and water. Often you will find yourself out all day if an amazing photographic opportunity arises, so it's worth keeping these in your bag to keep you energised.
It can get incredibly dusty on safari, so having a cleaning kit in your bag is incredibly valuable for cleaning lenses and wiping down your kit at the end of a long day.
In conclusion
Kenya is rich in wildlife and is guaranteed to exceed your expectations. A visit to any national park or reserve in Kenya will give you a great chance to photograph a variety of animals.
There are more than thirty protected spaces in Kenya, teeming with wildlife. So, whichever you choose, you have a great chance of spotting and photographing some wildlife. The locations I have listed above are some of my personal favourites, and are the places I would deem the most interesting for photography in Kenya.