Fritz Pölking Prize 2018 Winners Announced
Each year the Fritz Pölking Prize, named in memory of the legendary German nature photographer, honours two photographers (one adult, one junior) for outstanding wildlife photography from across the world.
The prize is awarded by the Society of German Nature Photographers (GDT) and Tecklenborg publishing house since 2007, and each year seeks to commend "exceptional photographic work" – with 2018's winners being no different. Both the adult and junior Fritz Pölking Prize have this year been snapped up by stunning portfolios featuring unique insights into the realm of birds.
Johannes Wassermann has taken the top spot for his photostory 'My' hazel grouse cock in the mountain forest of South Tyrol, a six-year exploration of his intimate photographic relationship with a hazel grouse.
Captivated by the beauty of hazel grouse since childhood, Wasserman gradually developed a bond with one, eventually naming the bird 'Gustl'. Stalking him through the Alpine forests of South Tyrol, he lovingly crafted the award-winning portfolio in celebration of the species, through a keen awareness and understanding of the bird's habits and behaviour.
"These photographs demonstrate that apart from a lot of patience, the photographer's close relationship with his subject is also crucial to creating a successful portfolio of photographs," states judge Sebastian Hennigs.
The Junior Fritz Pölking Prize 2018 award went to Mateuz Piesiak of Poland, for his similarly long-term project Shades of Blue. As opposed to focusing on one individual animal, Piesiak instead photographed a wealth of different birds draped in differing blue tones.
From greenfinches battling amongst a bokeh of snow to a trinity of egrets stalking quietly across a misty lake, each image brings out the elegant grace of birds through the use of cool and icy tones.
"My favourite time for photography is at dawn, before sunrise, when darkness slowly retreats," remarks Piesiak.
"I like this stretch of time between night and day, the soft light while nature gradually awakens."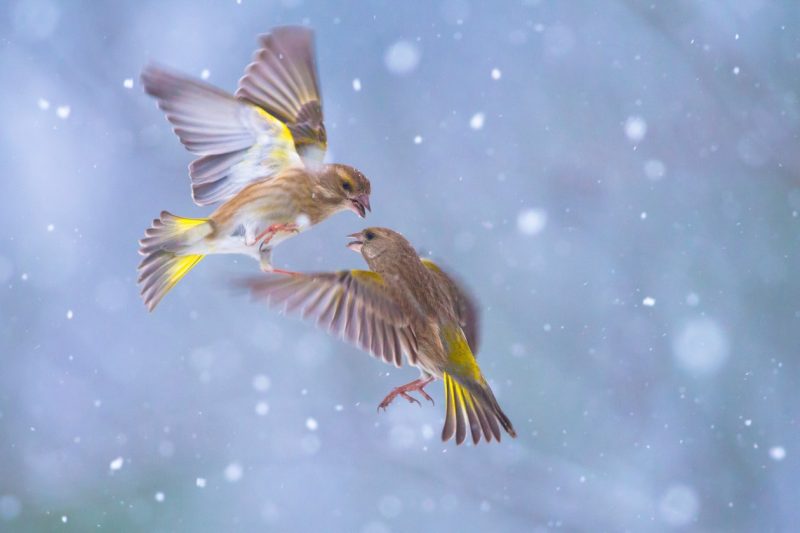 For winning the adult prize, Wasserman will receive 2,000 Euros, and Piesiak will take home 1,500 Euros respectively. Both winners will also receive a 500 Euro merchandise voucher from AC-Foto, as well as an invitation to the award ceremony.
For more information, visit the GDT's competition page.
Feeling inspired?  Then check out our 4 Essential Tips for Photographing Birds in Flight!