Where to Photograph Wildlife in India
The Indian sub-continent is one of the richest regions for fauna and flora in the world. It is thought that 1,300 species, or 13% of the planet's birds, live there. This includes 159 winter visitors and 141 endemic species. The habitats are incredibly diverse with grasslands, rainforests, wetlands, salt deserts, lakes, deciduous forests, and more.
In this article, I will share with you where to photograph wildlife in India.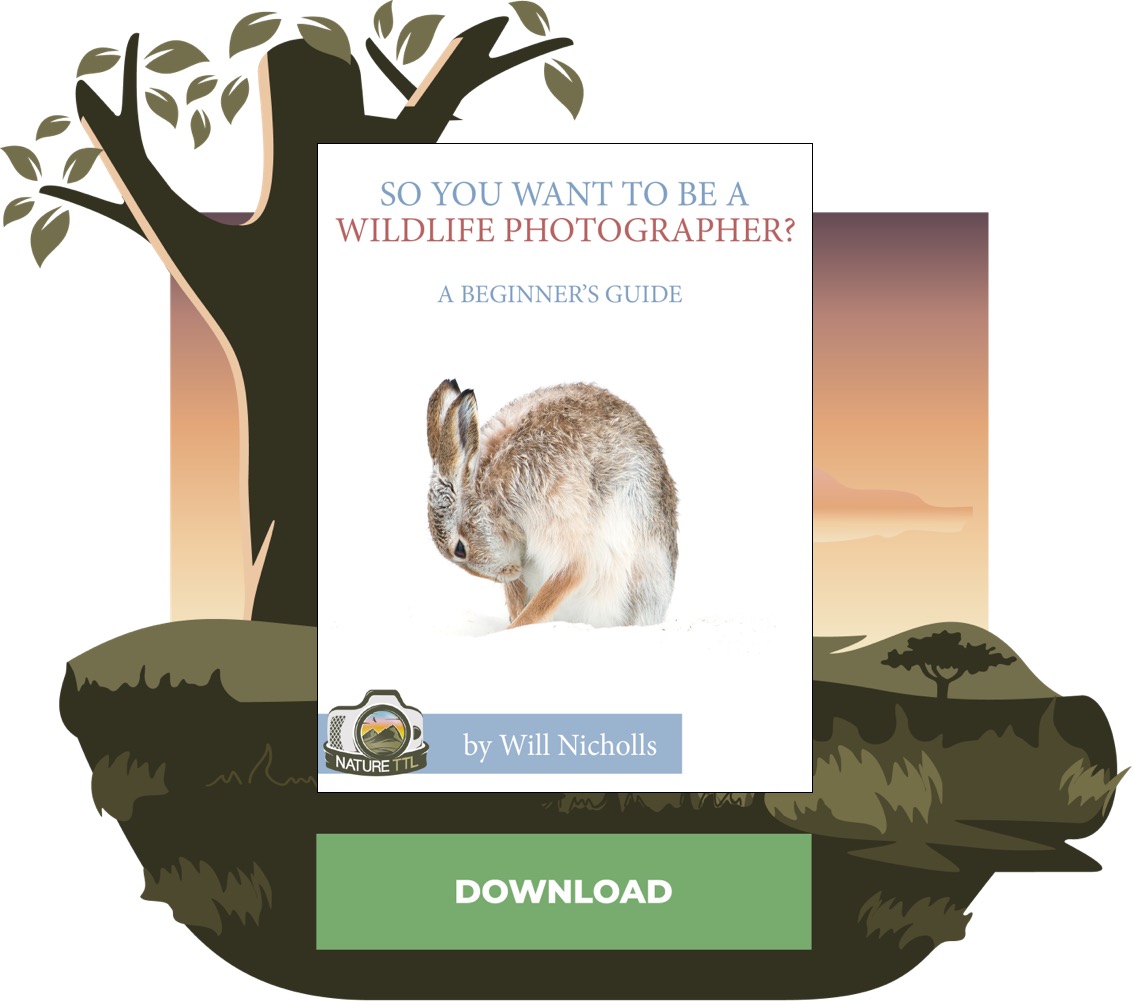 1. Keoladeo National Park, Bharatpur, Rajasthan
Keoladeo National park, also known as the Bharatpur Bird Sanctuary, is an UNESCO World Heritage Site. Richness and diversity of the park is remarkable, comprising wetlands with submerged plants, grasslands, and woodlands. It is geographically located on the migratory path of many birds.
Consequently, the best season to visit the park is in the winter (from November to February) when migratory waterfowl such as ruddy shelduck, shoveller, and northern pintails arrive.
Though the park is famous for birds, it is also home to many mammal species as well. For example, nilgai, spotted deer, sambar deer, jackals, and mongoose can be found here.
Sarus crane (Antigone antigone) – the tallest flying bird in the world – is a resident bird and draws many birdwatchers and photographers to the park.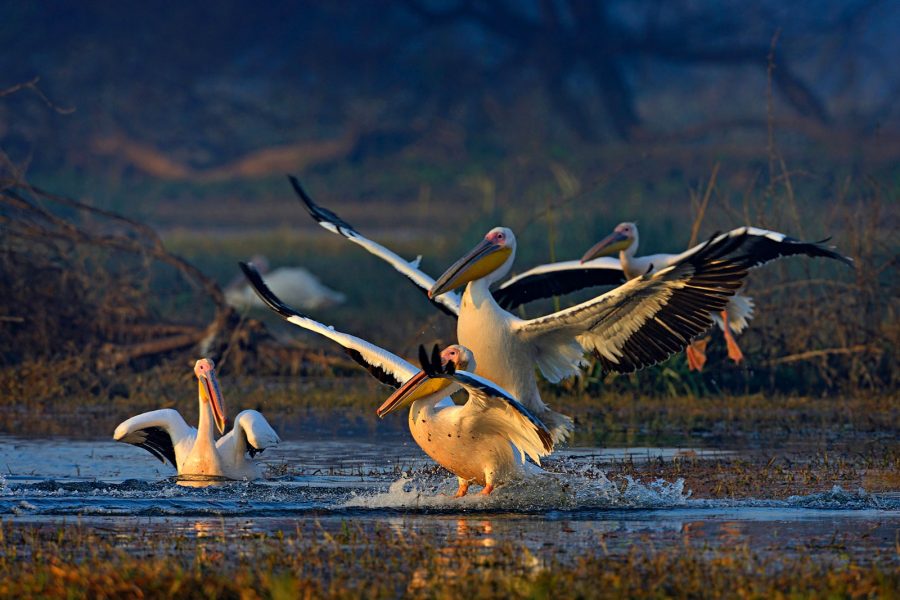 Early morning and evening are typically best for bird watching and photographing, but in winter you can happily shoot for the whole day.
The park is a haven for bird photographers as it offers good lighting and clear backgrounds for shooting. The early misty mornings give a fairytale image. One has to spend at least three to four days to photograph all species, and it is best to hire a cycle rickshaw to explore the park.
2. Jim Corbett National Park, Uttarakhand
Jim Corbett National Park is the most beautiful park I have seen and is Heaven on Earth for me. This forest has the Ramganga river flowing through it: a blue water lake and vast grasslands.
Rich in wildlife, the park has more than 600 species of birds. Fish eagle, vultures and brown fish owl are prominent resident birds. The main mammal species are spotted deer, barking deer, elephant, and tiger.
This is the only forest in where you can stay in the heart of the jungle. Dhikala Forest Rest House is the best place to stay to experience the wildlife and nature.
Sunrise and sunset are the times to shoot wider landscapes. It is a treat to watch the elephants playing when they come down to the riverbed in the evenings. Summer is the best season for elephant and tiger photography, and winter is best for bird sightings.
3. Kaziranga National Park, Assam
This park is another UNESCO World Heritage Site. It is well known for Indian rhinoceros (Rhinoceros unicornis), which is also called the greater one-horned rhinoceros. It is endemic to the Indian sub-subcontinent, and is an endangered species.
Kaziranga is also home to Asian elephants and tigers, as well as being a birding paradise with more than 500 different species.
The Eastern range in the park is best for sighting rhinoceros, and has beautiful sunset points to shoot. The Agartoli range in the park is the prime area for birding. One has to spend at least 1 week there to cover all zones. November to February is the best time to visit; summers may be too hot for some.
4. Tadoba Andheri Tiger Reserve, Chandrapur, Maharashtra
Often referred to as "The Jewel of Vidharba", Tadoba Andheri Tiger Reserve is a pristine and unique ecosystem situated in the Chandrapur district of the Maharashtra State.
Tadoba is one of the best tiger reserves in India, where the tiger population is increasing rapidly.
It is a favoured place for tiger photography. As the park is relatively small, it is easy enough to get a tiger sighting – particularly around the Telia and Tadoba lakes, as well as in the buffer area.
Every year, you get to see tiger cubs with their mothers. It is also home to other wildlife such as dole (wild dog), langur, sloth bear, spotted deer, and gaur – not to forget around 300 species of birds, too.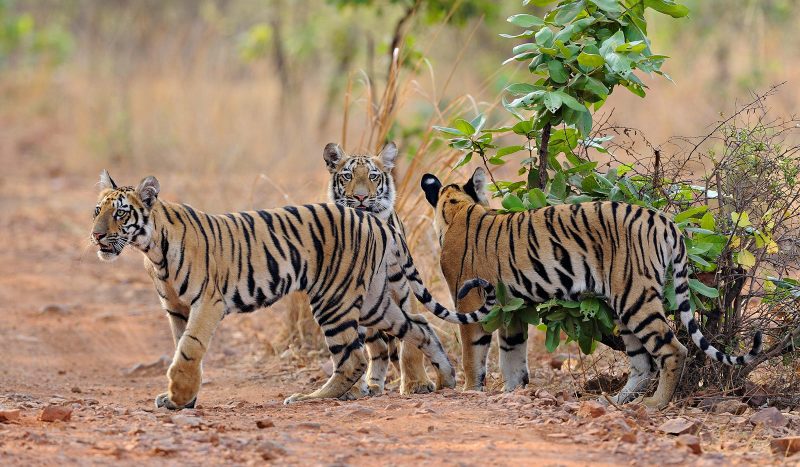 A zoom lens is a must, as a tiger is often sighted very close to the vehicle. This is the only tiger reserve which is open throughout the year; summer is the best time to visit.
5. Mangalajodi, Chilka Lake, Orissa
Mangalajodi, the backwaters of Chilka Lake, is a birding paradise with many breeding residents. It attracts thousands of migratory waterfowls, too.
It has over 200 species of birds present, which includes 80 migratory birds. With a very large number and a high density of birds, it is an amazing place for keen bird photographers.
It is the breeding ground for the whiskered terns. Waterfowls, such as northern pintails and northern shovelers, are found in their thousands.
Small waders like Pacific golden plover, Kentish plover, little stint, and the oriental pratincole are easy to spot. Only in this place can you easily photograph shy birds like Bailon's crake, ruddy-breasted crake, spotted crake, and yellow bitterns.
The highlight of Mangalajodi is that it has not become a commercial tourist spot. Small fishing boats are available to navigate the waters, and one can get eye level images of the water birds.
6. Salim Ali Bird Sanctuary, Thattekad, Kerala
This sanctuary is a hotspot for birds of the western ghats in South India. It is one of the very few places where bird hides are available.
From the hides, one can easily photograph more than 40 bird species including Malabar parakeet, Malabar hornbill, and flycatchers.
Forest trails are a must to photograph the Malabar trogon (Harpactes fasciatus), black baza (Aviceda leuphotes) and the elusive Sri Lankan frogmouth (Batrachostomus moniliger).
To capture nightjars and owls, you should go on a night safari. It is essential to book a local guide, and the booking has to be done well in advance.
Don't forget to bring along a rain cover for your camera, leech-proof socks, and a flashlight. The best time of year to visit is in the winter.
7. Little Rann of Kutch, Gujarat
It is part of Greater Rann of Kutch, which stretches out across 7,500 sq km. It is a salt desert and has the Wild Ass Sanctuary, which is one of the largest in area in the country. This is the only place where you can photograph the Indian wild ass.
It is famous for harriers, kestrel, grassland birds, raptors, painted partridge, flamingoes, and seashore waders.
This is also the breeding place for lesser flamingo, and you can see thousands of them at once. Other species here include the desert fox, jungle cat, and jackal.
Endless salt plains offer a good opportunity to see raptors, as well as good lighting for photography. Sunset here is surreal and the setting sun can make for a beautiful backdrop. Most of the hotels arrange for a jeep safari and a guide.
In conclusion
India has become a favourite destination for nature photographers across the globe. With the climate in most parts of the country being tropical, lighting is good for photography.
India offers many national parks for wildlife photography. Each park is unique in terms of its topography and wildlife species. A few other interesting places to explore are:
Sattal in Uttarakhand for Himalayan birds,
Pangolakha Wildlife Sanctuary in Sikkim for red panda,
Anamalai Tiger Reserve in Tamil Nadu for lion-tailed macaque and great hornbill,
and Tal Chhapper in Rajasthan for raptors and blackbucks.