Vandals Smash Bence Mate's New Public Bear Hide
Renowned wildlife photographer Bence Máté is known for his innovation and imagination. He has set up over 100 hides around the world, and one of his latest additions, in April this year, is a bear hide built of nothing but good intentions. However, vandals have already moved in and damaged it.
Nature TTL spoke to Bence about the Romanian bear hide and what happened.
"This hide is the first one I've built that is open to the public and not just photographers," explained Bence. "My aim is to invite as many people as possible to see the bears and promote the importance of wildlife to the local people."
Unfortunately, earlier this month vandals smashed the specialist one-way glass that conceals observers from the view of the bears. They also stole a camera trap which had spent 3 months watching to see what wildlife was showing up.
"I don't know the motivation, but it seems like vandalism by one or two individuals, rather than something more sinister," said Bence reflecting on the situation. "It's a shame someone would do this to what is only a good-natured project.
"I'm not deterred, though. We've had so many offers of help and have already shipped replacement glass over 650km to the hide. The hide is back in action."
The bear hide is the first to join a chain of hides in Romania that will aim to bring children and adults from around the world face to face with one of the world's biggest predators.
Bence is a great believer in promoting a love of nature and the preservation of ecosystems. He says it is "important to show young people these animals and inspire them to work within nature. If we focus on young people, in 10 or 20 years time we'll have great success and more people working to save the natural world – that's good for everybody.
"If people don't know what's around them, they don't know why or what to protect. This is the first step: showing them what they have on their doorstep."
In Romania the wildlife is still very rich, and Bence started his new bear hide company with the aim of showing people why they should not cut down the forest, and instead bolster eco-tourism efforts.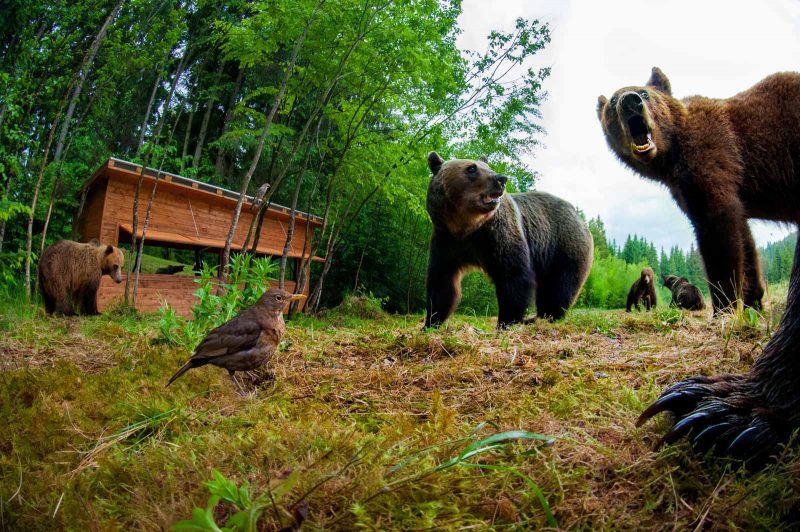 "Hunters will pay 5,000 euro to shoot a bear, but then it's gone," says Bence. "But a few hundred or so people visiting the hide will bring in the same amount of money, and that can happen again and again.
"We're not looking to make a profit ourselves, but we charge so that we can maintain the hide, feed the bears, and pay salaries to our local staff."
There have already been around 800 visitors to the bear hide, and it only costs €25 to visit. Bence told us that a stay of only a couple of hours would almost guarantee a sighting of the bears.
"There are great opportunities for people wanting just to observe the bears, but also for photographers. After all, any hide I build must have good backdrops, light, and angles for cameras."
You can find out more about the hide and opportunities to hire it on Bence's dedicated bear website.