Landscape Photography Guide to Yellowstone and Grand Teton National Parks
The Greater Yellowstone Ecosystem is one of the world's most popular natural attractions. Home to Yellowstone and Grand Teton National Parks, the "GYE" attracts visitors with a variety of interests. The combination of thermal activity, a high density of wildlife, and rugged landscapes makes this unique North American destination a bucket list stop for many photographers.
It's not fair to say that the landscape photo opportunities in the GYE are underrated, but they do sometimes get overlooked by visitors who are intent on seeing bison, bears, and wolves. Even for wildlife photography enthusiasts, visiting the Yellowstone area with landscapes at least partially in mind can help fill a well-rounded itinerary.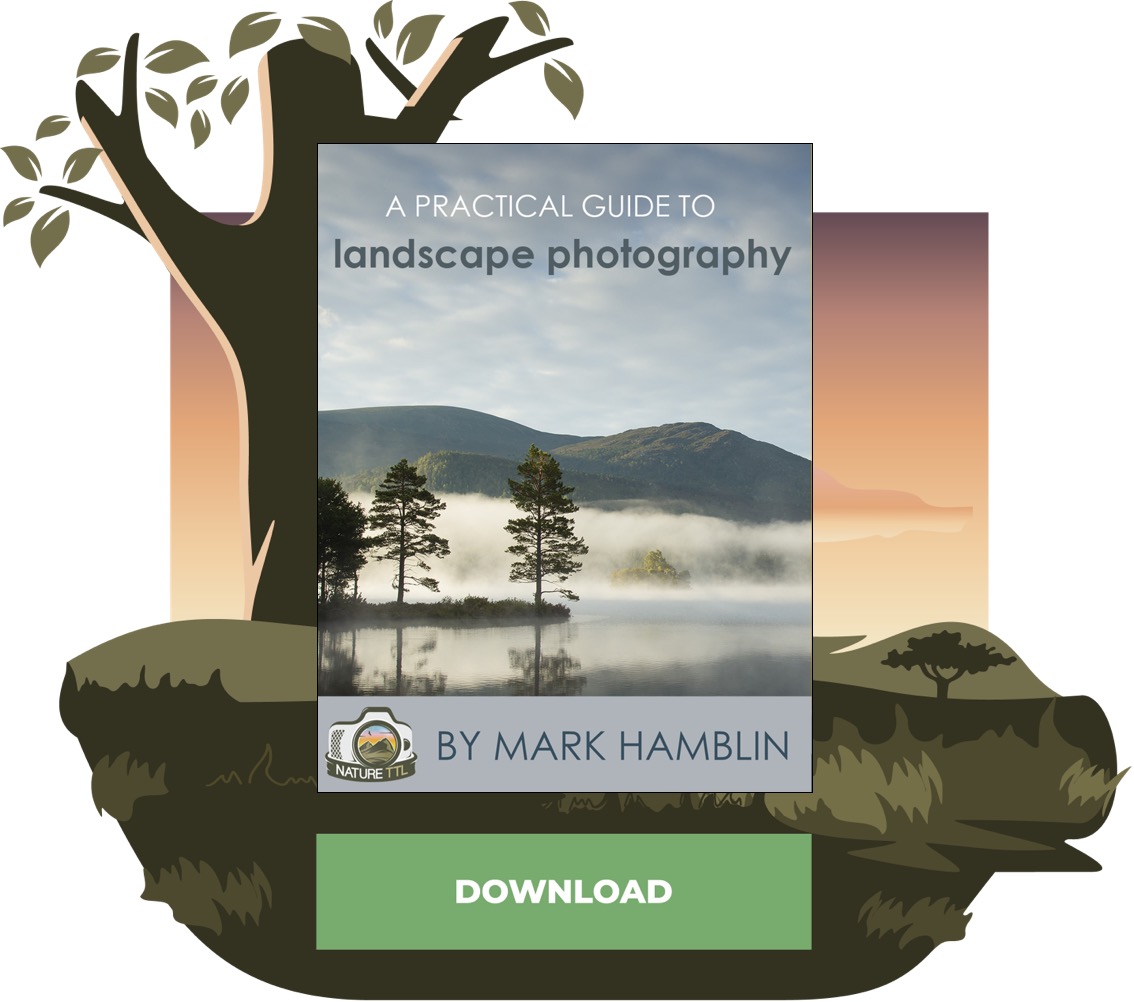 Depending on the time of day, month, or season you're visiting the parks, landscape photography may help supplement stretches of slower wildlife activity. Or they may actually present the best overall photography opportunities of your entire visit. Here are some suggestions on what to look for when seeking out good spots for landscape photos in the GYE.
Read more: Wildlife Photography Guide to Yellowstone National Park
Choose the season
Most photographers are aware of when to look for the best, dramatic light for photography. Timing is always important for photographers, but in the Greater Yellowstone Ecosystem it's the broader timing choices you make that will have the greatest impact on your landscape photos.
Yellowstone has four distinct seasons. As a result, you should have different expectations for what you can find during a visit to the parks depending on the time of year.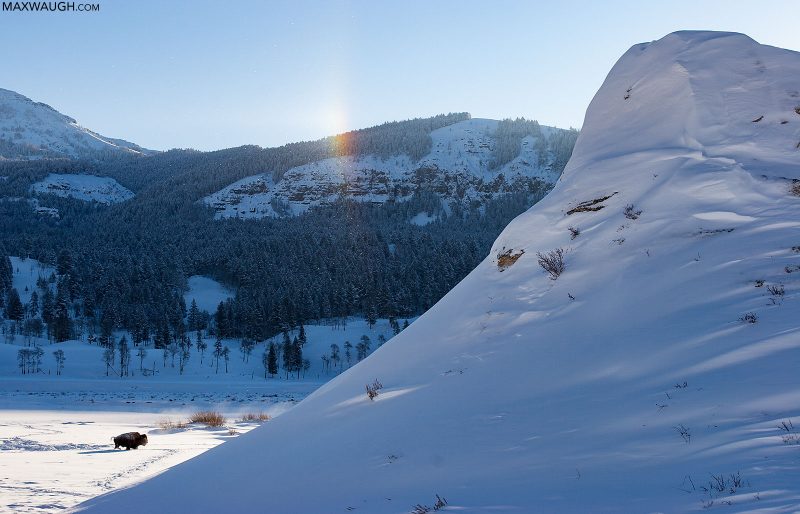 Spring is a bit of an unpredictable mix of weather and conditions on the ground. Winter snows melt away slowly, often leaving a muddy brown mess in early spring. Fresh snow can fall as late as June, however, which resets the landscape in a glistening, wintery look… for a few days at least until it thaws again.
Summer is highlighted by vibrant wildflowers. Fiery paintbrush, delicate forget-me-nots, wild iris and lilies, and the distinct yellow petals of the arrowleaf balsamroot coat mountain hillsides. But high temperatures, big crowds, and the threat of wildfires makes summer a less popular time amongst serious photographers.
That leaves what may be the two best seasons for landscape work: autumn and winter. Fall is perhaps the most popular time for landscape specialists in the GYE due to an abundance of deciduous foliage highlighted in yellow, orange, and red tones.
Yellowstone winters can be harsh, but beautiful. Extreme temperatures and massive snowfall can blanket the parks in a pristine sea of white. Though snow levels are no longer as consistently high as they were a decade or two ago, the region still undergoes a makeover that renders it stark, peaceful, and beautiful.
Read more: How to Photograph Winter Landscapes
Best spots for sunrise and sunset in the GYE
Most photographers are used to getting up early to land "the shot." Aside from waking up, stumbling out to the car on a frigid morning, and safely driving on dark, icy roads, perhaps the biggest challenge to this process is deciding where to go.
Dramatic sunrise and sunset landscapes are highly sought after, but finding good views in the GYE is not always easy. Rugged mountains may be a wonderful subject at times, but they can also often block the sun and ensure that you'll miss out on the best of the Golden Hour.
Fall locations in Grand Teton National Park
Fortunately, the parks present a few options. Of the two, Grand Teton National Park probably has the better choices. This is aided largely by the dramatic, spiky Teton mountain range, which pops right off the relatively flat, surrounding valley floor. That presents a subject that is much more distinct.
But the Tetons also boast more deciduous trees than Yellowstone, leading to dramatic color changes in the landscape as the year progresses.
Teton compositions are enhanced by some well-placed viewpoints within the park, which are very popular amongst photographers at sunrise especially. Perhaps the most famous (and crowded) is Oxbow Bend. The Snake River winds near the road close to Jackson Lake, undulating just enough to allow for a perfect reflection of Mount Moran in the distance. This is enhanced by a row of cottonwood and aspen trees, ablaze in autumn glory between mid-September and the start of October. Indeed, in fall you will find this spot packed with photographers (potentially a hundred or more), so if you plan to visit during this peak time then it's important to get to Oxbow well before sunrise in order to claim a spot.
Read more: Fall Photography Tips – Getting Creative
Oxbow Bend isn't the only location that gets crowded. Mormon Row also attracts photographers, but for a slightly different reason. The mountains – crowned by the nearly 14,000-foot peak of Grand Teton – serve only as a backdrop. A man-made element is what draws crowds to this location: the rustic Moulton Barns.
These photogenic structures were occupied in the first half of the twentieth century, but are now preserved as historic monuments. Good angles are at a premium here, so once again, it's important to arrive well before sunrise.
The final popular sunrise destination in the Tetons is Schwabacher Landing. Accessed via a short dirt and gravel road that sneaks off the highway, Schwabacher puts you right in front of some of the streams and ponds draining off the Snake River. Like Oxbow Bend, this is a popular spot for reflection shots. Those who are truly fortunate may get a foreground moose or two in their compositions.
The final Grand Teton National Park landscape location of note is Teton Overlook, made famous by Ansel Adams's 1942 photograph from this spot. This is probably the most famous sunset spot in the park. However, it's difficult to replicate the Adams photo, since foreground trees have grown quite a bit since then and are blocking a wider view of the river below.
Fall locations in Yellowstone National Park
While the Tetons are known for their famous vistas, Yellowstone National Park has a few landscape spots worth visiting. In some cases they're less dramatic, but they may be a bit more unique.
The list of popular sunrise photography locations in Yellowstone is actually rather short. Perhaps the most notable is the point where Alum Creek meets the Yellowstone River in Hayden Valley. If anything, this spot is famed for what you can't see as much as what you can. Hayden Valley is often blanketed in a thick layer of fog in the morning, so any sunlight must fight its way through the haze to be seen.
This often leads to some moody photo opportunities. Distant pines may be silhouetted against the pale orb rising in the haze. Bison or elk could wander through your foreground, or pelicans or cranes fly along the quiet river in the morning mist.
Landscape photography locations in Yellowstone National Park
In spring, you can actually find an appealing landscape presenting itself a bit later in the morning. On clear days in late May and early June, the sun hits Lower Yellowstone Falls just right to create a large rainbow across the bottom of the 300-foot cascade. The spectacle only lasts twenty to thirty minutes, but is worth pursuing if you're in the area at the right time.
Another reason Yellowstone offers more unique landscape photo opportunities is due to the park's thermal activity. There are few places on Earth where you can easily access so many geysers, hot springs, and mud pots, whilst at the same time presenting them in different ways through the lens.
The tiered pool of Great Fountain Geyser is one of the best sunset photography locations in the region. Even at night, photographers have managed to capture rare instances of the northern lights or even a comet reflected in its waters.
Old Faithful and other erupting geysers are popular night time subjects among hardcore photographers. Many look for thermal pools which may reflect the Milky Way.
In winter, many of the thermal areas remain thawed, but they become even more beautiful (and much less crowded). Steam rising from thermal vents may freeze on nearby branches, forming stark white "ghost trees". At Norris Geyser Basin, thermophilic algae thrives, finding just the right temperature during colder months to bloom in shades of vibrant green.
Indeed, Yellowstone is home to several colorful hot springs. Among the most famous is Morning Glory Pool. The colors have changed and faded over the years due to litter and pollution, but it remains a small gem only a short hike from Old Faithful.
The crown jewel of Yellowstone lies a few miles to the north, at Midway Geyser Basin. Grand Prismatic Spring is North America's largest hot spring, and certainly one of the world's most spectacular thermals. A new path allows visitors to hike up a hill off the Fairy Falls trail to an overlook, presenting much better views of the dramatic colors in the spring (which may not be visible from the much closer boardwalk at ground level).
If you have some extra money in your budget, you could even charter a licensed airplane or helicopter flight over the park and see Grand Prismatic and Yellowstone's other dramatic scenery from the air. Since drones are illegal in the national park, this is your only way of getting a true bird's eye view of the spectacle.
Quick tips for photographing the parks
Here are a few reminders about what to consider when planning your landscape outings in Yellowstone and the Grand Tetons:
Expect crowds at the hot spots, especially at peak times of year. The places mentioned here are popular because they are good, so if you want to nail a "classic" landscape shot from the Greater Yellowstone Ecosystem, be prepared to share real estate. Get there early and be prepared to make new friends.
After you've landed the classic shot, be sure to explore! Find something new and different. Maybe you won't even go to a different location, but instead will play with unusual compositions, abstracts, or shutter speeds. Sometimes it is better to get away and roam. Exploring a stand of aspens across a meadow may produce just as many interesting opportunities as a popular roadside attraction.
Even getting out of the national parks for a bit may lead to more discoveries. For example, the nearby Beartooth Highway is considered one of the country's most scenic drives, and for good reason.
Bring a polarizer to reduce reflections and spruce up colors (especially in thermals). Around erupting geysers, be sure to protect your glass! The minerals in geyser spray can permanently damage your lens.
Don't be afraid to include animals in your compositions. The GYE is rich in wildlife, so use it to your advantage to create "animalscapes" that show off an animal's native surroundings and environment.
And on that note, remember to always carry bear spray when you're out exploring.