Inspiration for Summer Landscape Photography
For nature photographers, summer is one of the best and busiest times of the year. You only need to read our Inspiration for Summertime Wildlife Photography guide to get an idea of the rich photo opportunities currently on offer. But landscape enthusiasts rarely echo a nature photographer's enthusiasm for the summer months.
For many, this is their least favourite and productive time of year. Why is this so? Well, the hours of daylight are long, making dawn shoots painfully early, while sunset is unsociably late. The sun's high, overhead position can result in harsh, unflattering light for large chunks of the day, while the coast (and many other beauty spots) can be crowded with tourists.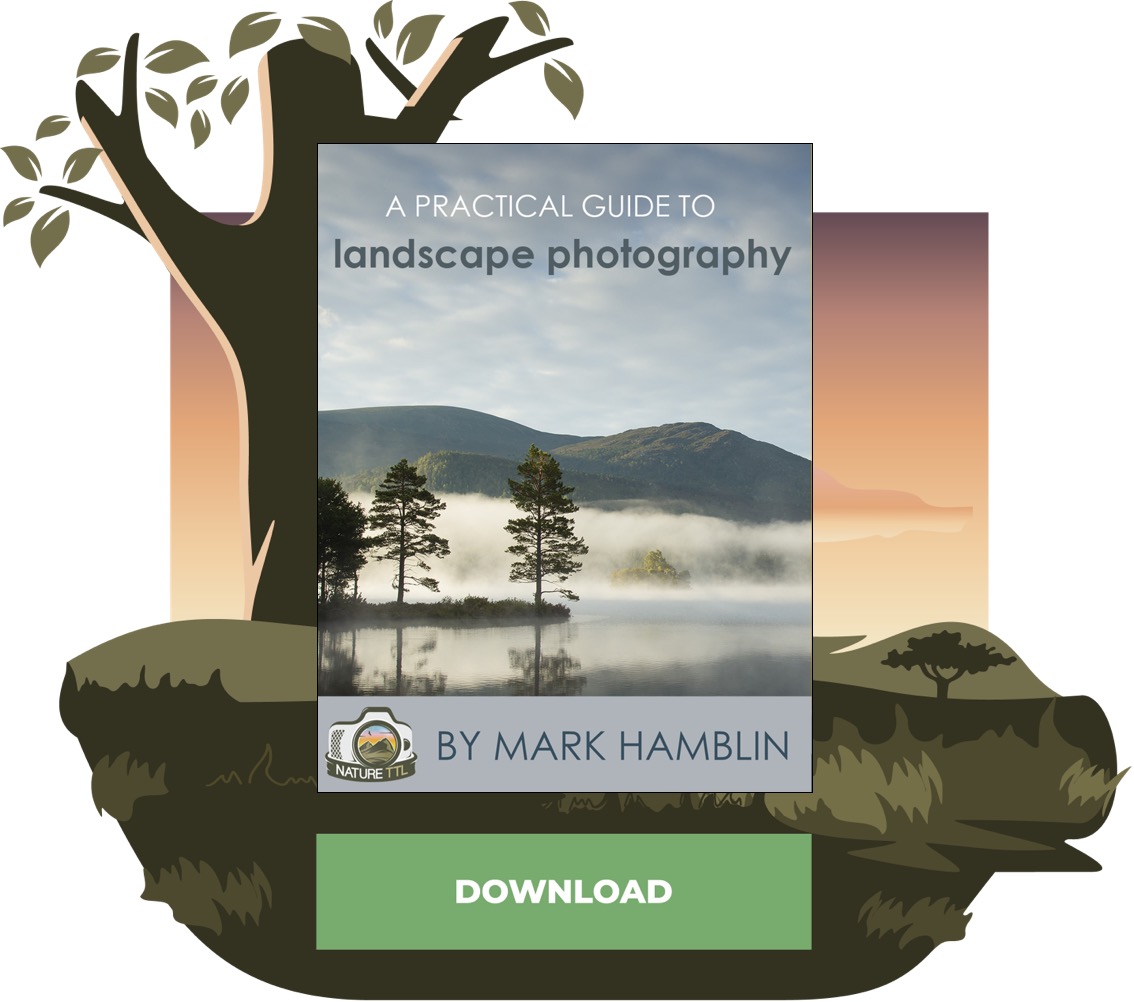 But, to some extent, I think landscape photographers have been mistakenly conditioned to believe that summer is a write-off for photography. While in truth, the summer offers many unique and special seasonal photo opportunities.
Below is just a small handful of ideas to help inspire you to get out and capture great landscape images this summer.
1. Summer crops
Only in the summer months will you find rolling fields of swaying, regimented crops. Corn, barley and other commercially grown crops can provide rich opportunities for landscape photographers, particularly when crops are interspersed with colourful red poppies.
This is the perfect time of year to take a drive to the countryside in search for stunning rural views. You may even discover colourful, photogenic crops of oilseed rape, opium poppies or lavender.
Elevated viewpoints may offer you long lens opportunities to capture striking images of the patchwork effect crated by field upon field of different crops.
However, better still, locate a field that has a public right of way – look for footpath or bridle path signs. You will then be able to capture wide-angle, rural views. Try to keep to permitted paths and always be respectful – avoid trespassing or damaging crops. Thankfully, you can normally achieve good compositions from paths and field gateways.
Read more: How to Find Great Locations for Landscape Photography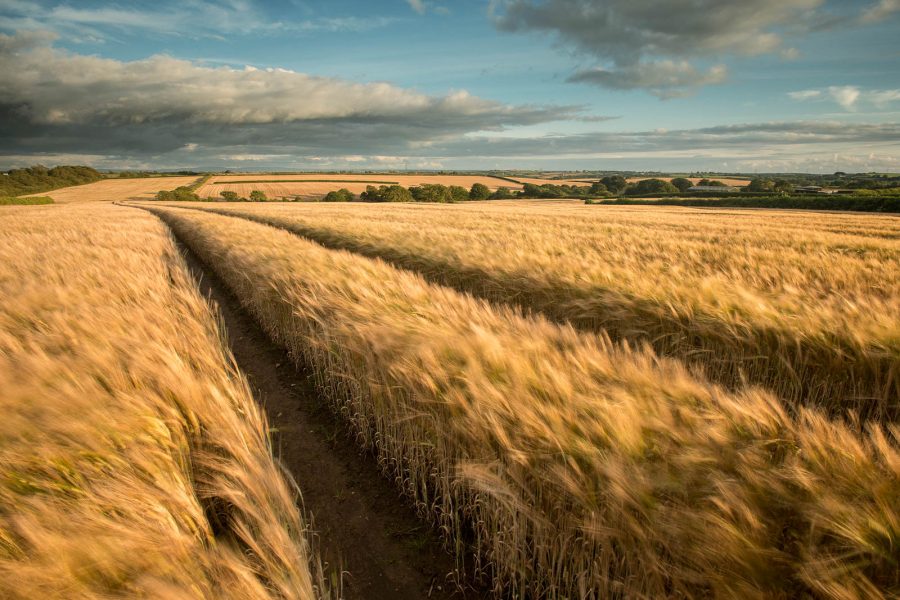 Field 'tramlines' create obvious, yet powerful, lead-in lines. Consider using an ultra-wide-angle lens (for example, a 17-35mm) and carefully position yourself so that the lines create a vanishing point – a great technique for producing landscapes with an enhanced sense of depth.
A slight breeze will create subject motion. Select a faster shutter speed – upward of 1/250th sec – if you wish to record crops sharply, or set a shutter of one second or longer to creatively blur the motion of swaying plants.
Golden sunlight suits this type of rural image, particularly ripe corn or barley, so ideally visit in the morning or evening when the sun is low. And don't forget to visit again once crops are cut – fields full of stooks, square or round bales can create great seasonal images.
2. Flowering heather
If you need extra motivation to venture out with your landscape kit this summer, go visit a heathland, moor or coastal cliff top in July and August when flowering heather will be carpeting vast areas.
This is one of the summer's most spectacular highlights, with vast swatches of land turning pink and purple. As with all seasonal events, the window of opportunity can be short. The landscape will be at its radiant, colourful best for just a few weeks and the optimum time can vary slightly year to year. Therefore, visit suitable landscapes regularly throughout the summer months to ensure you time your visit with when the heather is at its peak.
Read more: How to Photograph Heathland Flowers in the UK
Heather makes for obvious foreground interest in wide-angle views, but don't simply rely on the flower's colour for impact. As always, take time to construct a compelling, well balanced frame.
Look for a strong focal point to anchor your composition – for example, a tree, rocky outcrop or landmark. Or maybe include a track or path to direct the viewer's eye into the scene – lead-in lines are a great way to imply depth.
Read more: How to Photograph Flowers in a Landscape Scene
Select a small aperture, in the region of f/11 or f/16, to generate a large depth of field so your images are sharp throughout. A dark, moody sky will add drama to windswept and wild looking moorland scenes.
3. Blue skies – so use a polariser
Landscape photographers often curse clear blue skies, bemoaning a lack of drama, mood and depth. But wall-to-wall sunshine is commonplace during the summer months, so embrace blue skies and polarise.
Blue skies can actually suit lots of scenes, so don't be a blue-sky snob! And thanks to a polarising filter, you can intensify the colour of skies and bring out any wispy cloud that might be lurking above.
A polarising filter is a great accessory for landscape photography and is particularly useful at this time of year. The filter is like no other. By rotating the front of the filter's mount, you can alter the level of polarised light entering the camera – watch the colour of blue skies strengthen and fade as you twist the filter.
The optimal angle is 90 degrees to the sun's position. Use the filter intuitively, rotating it until you achieve the level of polarisation you desire, but be careful to not overdo the effect – if skies grow too dark and saturated, your shots will look unnatural.
Read more: The Essential Filters for Landscape Photographers
Combined with the right scene, blue skies can look great in wide-angle views. Polarised skies can also provide a vibrant, contrasting backdrop to buildings, people, flowers and other colourful objects. Polarisers are produced by all the leading filter brands and in a variety of filter thread sizes. You can also buy polarisers that are compatible with filter holders in order to make it easier to combine filter types.
4. After the rain
Although the weather tends to be more settled at this time of year, British summers in particular are renowned for their fair share of gloomy conditions – and this can be good news for landscape photography. Keep a close eye on the weather forecast for changeable weather.
Sunshine and showers can provide magical, transient conditions, so be prepared to brave the rain. Dress appropriately for the conditions and consider buying a rain sleeve for your camera – or use a brolly to keep your kit dry and protected.
Dark, heavy clouds will add mood to wide-angle views, while stormy conditions can produce spot lighting that photographers can use to draw attention to a specific part of the landscape. This type of light-play can add a sense of drama to a scene and also an increased perception of depth.
Keep an eye on the cloud's movement and watch as light moves across the landscape – trigger the shutter at just the moment when rays of light strike a key, pre-defined area of your composition.
Rainbows are also likely to appear in mixed weather conditions. After rainfall, the atmosphere is often clearer and vegetation lush and vibrant. Rain refreshes the landscape and visibility and the light's clarity is enhanced, so this really is a good time to be out and about with your camera.
5. Summer sunsets
I don't know about you, but I can't resist a good sunset and summer can provide some of the most colourful skies, and longest afterglows, you will witness.
There is something magical about watching the sun kiss the horizon. The sun's colour changes as it passes through more of the Earth's atmosphere, with bluer wavelengths of light getting scattered away, leaving the reddest, warmest wavelengths to reach our eyes and entice our cameras.
This is a wonderful time of day to shoot, but be prepared for a late finish in the summer months. Colour in the sky can often linger until after 10pm – so don't be tempted to pack up too soon.
Read more: Sunrise and Sunset Photography – Composition and Techniques
Don't be under the impression that a big, colourful sky guarantees a great shot. While sunsets are very seductive and popular, images still need to be thoughtfully composed.
Construct your shot as you would any other, selecting a shooting angle and camera set-up that will create a result with depth, foreground and direction. Use a sun calculator, like PhotoPIlls or The Photographer's Ephemeris, to work out the sun's position in relation to your location to ensure you set-up in a position where you will benefit from best evening colour and light.
Arrive at your location at least an hour before sunset – this will give you sufficient time to set-up, refine your composition and be ready and waiting for the best conditions. Always keep a head-torch in your bag – you'll need this to help you pack-up and return to your vehicle in semi-darkness.
When shooting high contrast scenes, like sunsets, use a graduated ND filter or consider exposure blending in post.
Read more: How to Plan a Landscape Shoot and Nail the Shot
In conclusion
These are just a handful of ideas to help you rediscover your landscape photography mojo this summer.
Every season offers rich and unique photo opportunities and this time of year is certainly no different, you just might need to work a little harder, get up earlier or stay out longer, in order to capture those magical moments. Have fun and good luck!