DJI Phantom 2 Review
The photography and video industry has come on leaps and bounds over the years. Cameras have become much more affordable and are now accessible to the average consumer. The increased use of drones for ariel videography is just another stage in this process. DJI is a Chinese company that has played a huge part in making drones an option for everyone from amateurs to professionals. They mass produce drones, bringing costs down and making them much more affordable than their competitors.
DJI's Phantom series of drones are well known and highly sought after. I recently bought myself a DJI Phantom 2 with the aim of adding aerial footage to films that I make. I bought the drone, a gimbal, and an FPV viewer for a little over £1,000 (USD $1580). A bargain for something that not too long ago could only be achieved with a helicopter and a very expensive gimbal system.
Navigation: Setup | First Impressions | Manoeuvrability | Speed | Picture Quality | Camera Stability | Battery Life | FPV System | Summary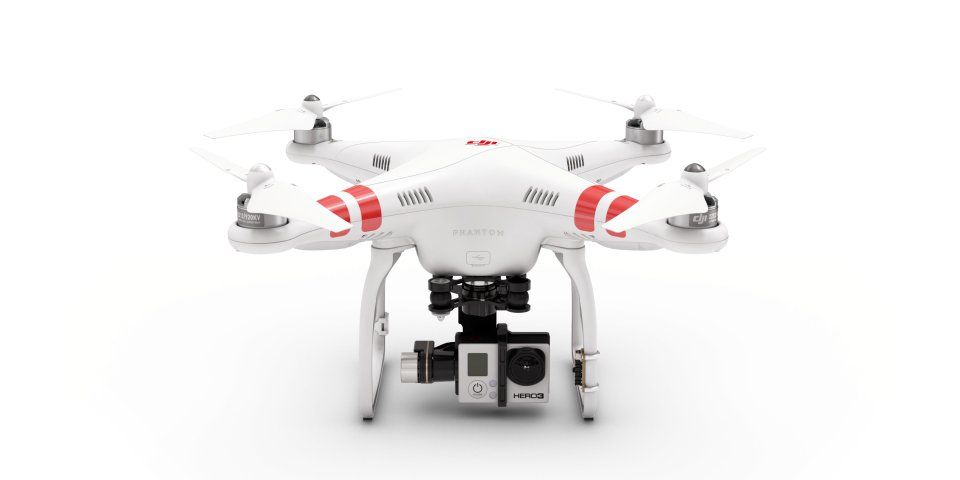 The Best Setup
The above image shows the setup I've been using with my DJI Phantom 2. This consists of a drone with a GoPro mounted onto it using a fantastic Zenmuse gimbal system, along with a live video link back to me on the ground which I can watch on an external screen. These are all the components that make up that setup:
At first sight that may seem a lot of kit – but most of the pieces are tiny components that are attached to the drone. The process of attaching these is not something I'll go into here, but there are plenty of tutorials on YouTube – or you can pay someone to do it properly.
It's worth noting that even though the H3-3D is not 'officially' compatible with the GoPro Hero 4, I use this and it fits perfectly. The camera is the same size, and I've had no problems. Apparently this is not the case for all H3-3D units, but for mine at least it fits fine.

First Impressions
It's worth saying that when I first bought the drone, my intentions were to sell it after using it on a summer filming expedition. At the time of writing this review, I haven't even embarked on this trip yet and I have already decided that I am keeping it. The thrill of flying a drone is brilliant. The drone is very easy to fly and the gimbal provides stunning stabilised footage. Seeing things from a completely new perspective is fantastic. The build quality of the drone is very impressive and there were no negative points that jumped out at me.

Manoeuvrability
The DJI Phantom 2 is a joy to fly. It's surprisingly agile in the air and can perform quick turns or rapid rotations that may at first make you feel very apprehensive. But every time that I thought the drone would come plummeting down after making it rock in the air, it coped easily with the manoeuvre and carried on flying.
With my confidence in the drone growing, I would experiment more with my flight patterns and try to achieve more interesting shots. A particular style of shot I find works well is to move the drone sideways whilst rotating around a central object. This is done by carefully using the two sticks on the controller to achieve a balance. Through doing this I soon found that the sticks just don't feel stiff enough for delicate movements where you want to hold their position. Perhaps the controller would be better with sticks with increased resistance, allowing for easier control. Having said that, such shots are still possible but require a little bit more care whilst flying.
Hovering is simple – just let go of the sticks. The drone uses GPS to keep itself still and hover in one place, a very useful aspect as it can counteract any slight wind that would blow it off course. However, I've tried using the drone in a forest and consequently GPS signal can not always be picked up. This makes the drone a lot harder to control, especially when there are potential trees to crash into! You have to fight against any wind too, and it makes it harder to get a smooth shot. Most of the time you will find you are above the canopy, meaning GPS is available.
The drone is said to cope with wind speeds up to 15 mph, however I have used it in higher winds than this – although I wouldn't recommend doing so. That being said, it can still hold its ground but is a lot harder to control. In fact, some of the footage in the sample video later in this review was taken in winds of over 20 mph. I wouldn't fly in high wind without the GPS working, otherwise the drone will be blown away easily.

Speed
The drone is fast. Impressively fast, actually. It can reach speeds of over 30 miles/hour (50+ km/hour), although DJI don't recommend you try to do this. Ascent is still reasonably quick at 13 miles/hour (20 km/hour). However, descent is unfortunately pretty slow at just 4 miles/hour (6.5 km/hour). I say unfortunately because sometimes you need to descend a lot quicker – especially if there is a helicopter or other aircraft that has entered the area. If you are flying, perfectly legally, at quite a high altitude you need to be able to descend quickly enough to land the drone whilst an aircraft passes over. As a result, such slow descent speeds are not ideal in some situations. In DJI's defence, I imagine that increasing the speed of descent causes more problems than it solves – flying down quickly may even destabilise the drone and cause it to crash.

Picture Quality
The DJI Phantom 2 does have a version with its own onboard camera, however most people decide to opt for using the drone in conjunction with a GoPro. This is the option I went for, so I can't comment on the DJI camera. The GoPro provides fantastic picture quality – just like any GoPro does. I have tried the drone with a GoPro Hero 3 (black edition), but soon replaced it with a GoPro Hero 4 due to the fact it allows me to shoot in 2.7k. It is a brilliant combination.
Take a look at this compilation of video footage taken over a week in Cornwall, UK. This was all shot using the above set up with a GoPro Hero 4 (black edition) and shooting at 2.7k/50. The benefit of this is that you can use the Optics Compensation Filter in Adobe After Effects and remove the fish-eye effect caused by the GoPro's lens. You can then reduce the video down to 1080p and have a much more cinematic look to your video.
One thing I have learnt is that you will definitely need to use an ND Filter for your GoPro. If you don't, you'll find that you get bad rolling shutter in your footage, rendering it useless. The filters are a quick and easy fix, slowing down the shutter speed to prevent rolling shutter. The filter you should use is the BlurFix Air ND4 filter (if that link doesn't work for your country, you can also find them at this link).
[youtube youtubeurl="Tz2XjOkG4c4″ ][/youtube]
Camera Stability
The original DJI Phantom provided minimal stability, with much of the video footage taken from it being wobbly and not ideal. With the addition of the Zenmuse H3-3D to this newer model, video footage is stabilised perfectly. Here is a video that shows just how good the stabilisation is:
[youtube youtubeurl="tI1GUVEKvTg" ][/youtube]
Batteries & Battery Life
The 'intelligent' batteries that DJI use for powering their drones are quite expensive, costing about £100 each. You get one with the drone when you buy it, but it is more than likely you will want to have a spare. One feature I loved about the batteries was that once they are fully charged they will disconnect and stop charging. This stops you overcharging your battery and damaging its health.
One thing I find very irritating is how difficult it is to pull the batteries out of the drone. They really are stuck in there, probably for good reason, but I thought I was going to break the drone the first time I took one out. The force required to pull them out doesn't fill you with confidence when you're holding an expensive piece of equipment.
As for battery life, the original DJI Phantom was rated at just 10 minutes flight time. The Phantom 2 is said to achieve 25 minutes in the air. However, in reality this is closer to 15 – 20 minutes. The final 20% of battery is used by the drone to automatically fly back to you.

The FPV System
The Black Pearl Diversity Monitor is fantastic. The video feed back to you is of more than sufficient quality, allowing you to see your shots in realtime. This is essential for being able to frame and compose a great photo or video clip. You'll never grow tired of watching the world below your drone on the screen – just remember to look up and monitor the drone's position with your own eyes! I can't fault the FPV system – I've had no problems and find it to be exactly as desired. The range is fantastic – reaching up to 2 kilometres – further than the Phantom 2 will fly!

Final Thoughts
The Phantom 2 is a really great drone. If you're thinking about getting one, then I highly recommend taking the plunge – you won't regret it. It's definitely worth the money and provides endless enjoyment.
The most important thing, however, is to be aware of the regulations on drones of the country you are flying in. If you break the laws you may find yourself in serious trouble. In the UK, you cannot fly drones commercially without a license from the CAA (which is very expensive). You also cannot fly further than 500 metres away from you, or 120 metres in altitude. There are other regulations about distance from people and buildings you must be aware of – but flying in a built-up area is a big no-no.
If you are going to buy a DJI Phantom 2, please use the links provided at the beginning of this review. We've laid out all the equipment you will need for the optimum setup.
Summary
Reviewer
Review Date
Reviewed Item
Author Rating