Camtraptions Unveils New Weather-Sealed Camera Housing
When set in a remote camera trap, your expensive camera is often exposed to the elements – or a predator's hungry jaws. Thankfully, camera trap company Camtraptions' all-new camera housing is designed to ensure your DSLR isn't soaked by a storm, or chewed to expensive bits.
Camtraptions was begun by wildlife photographer Will Burrard-Lucas, who develops technologically creative ways to capture megafauna without being directly behind the camera. The new weather-sealed housing follows this tradition, designed to "protect your camera in a remote, camera trap or time-lapse set-ups."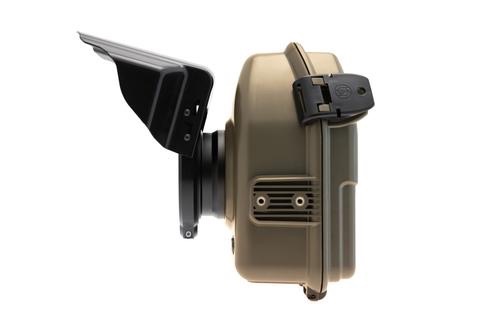 Fitting a wide variety of camera and lens combinations, the housing can fit any size of compact and mirrorless, and up to the size of a Canon 1DX or Nikon D5 camera. If you wish to switch lenses, then a screw-in lens tube system makes this entirely possible. These come in four lengths: 25mm, 50mm, 75mm, and 100mm.
The housing is crafted from "strong moulded plastic" that is totally "weather-proof" sealed, insulating equipment from both rain and humidity. This housing, with a 25mm lens tube, is 40% lighter tan the previous metal housing, which could save a lot of back ache if trekking out into the wild.
Although wrapped tight, cameras can be easily accessed through a secure back door with two quick-release catches, that can be locked with a padlock if desired. Equally, to change batteries or memory cards on a long shoot, the base plate can be quickly slid out without worry.
If you're worried that such a protective piece of kit might compromise image quality, Camtraptions have integrated a "high-quality glass window" that they report having no negative impact to images. Similarly, if you like to shoot from different angles, dual tripod sockets on the bottom and side allow for portrait and landscape orientation with ease.
The housing can be pre-ordered now at an introductory special offer of £174, which provides a housing and one free tube length. At £282, you can get the housing plus four lens tubes. For more information visit Camtraptions' website.