The Best Landscape Photography Locations in New South Wales, Australia
Australia is a huge place; most of its states alone are larger than entire countries. While large swathes of this sheer amount of space is flat, dry, desert land, there are also many incredible natural landscapes out there to discover and photograph.
For this article, I'm going to focus on the state of New South Wales (NSW): home to the beautiful city of Sydney and Australia's capital, Canberra. With locations ranging from cliff-top vistas to lush rainforests and rugged seascapes, there's plenty in store. Read on to find out my top 8 locations for landscape photography in New South Wales.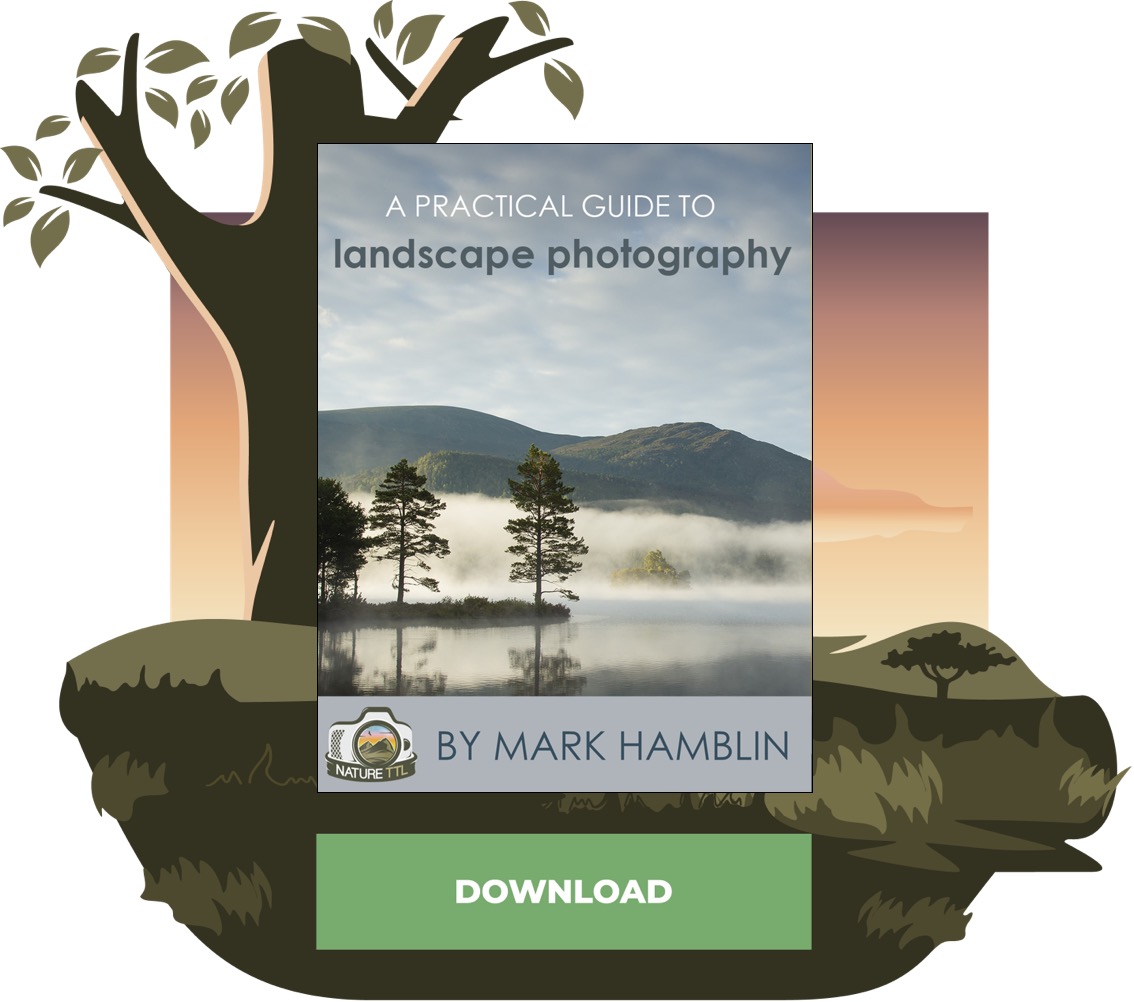 With any location, I always recommend having a large range of focal lengths in your camera bag to capture diverse compositions. Typically, you'll find me with my 14-24mm, 24-120mm, or 70-200mm lens mounted to my Nikon D810, sitting atop my sturdy Sirui W-2204, with my Nisi CPL on hand if I need to reduce reflections.
While there are many wide-angle scenes to be captured at most of, if not all, these locations, there are also always some less noticeable scenes that are more quietly beautiful within the grand view.
Read more: 7 Best Landscape Photography Locations in Australia
1. Blue Mountains National Park
The Blue Mountains are one of NSW's most renowned national parks, housing the iconic Three Sisters in Katoomba, as well as many other locations that are well worth exploring. Only 1-2 hours from Sydney, it's a reasonably short drive to experience an amazingly diverse World Heritage area that caters to both casual tourists and dedicated explorers alike.
The park makes up a section of the Great Dividing Range: the fifth longest land-based mountain chain in the world, and the longest within a single country. In this national park you'll find dozens of waterfalls, amazing valleys such as the Megalong and Jamison, and amazing vistas such as the views from Govetts Leap and Echo Point.
If you decide to venture here during Autumn or Spring, you'll also find a beautiful array of either incredible red leaves or brightly coloured flowers lining the picturesque streets.
Above: One of the most brilliant sunsets I've ever photographed, overlooking the Three Sisters from Echo Point. Captured at a wide focal length, using exposure brackets to blend together later to retain detail in shadows and highlights.
Above: A threatening incoming storm framed by the Lincoln's Rock cave in Wentworth Falls. Access to this cave is not easy and requires a few metres of climbing.
For shooting storms in mid-afternoon like this, you'll want a shorter exposure to avoid washing out the lightning with ambient light. Keep ISO low and adjust aperture accordingly, focus stacking and exposure blending if required.
Read more: Hyperfocal Distance: Focusing in Landscape Photos
2. Royal National Park
The Royal National Park is the oldest in Australia. Covering 150 square kilometres of classic coastal Australian bushland, as well as amazing sea-side sandstone cliffs, it's one of the most visited in NSW due to both its beautiful bush walks, and close proximity to Sydney.
The Coast Track is one such bushwalk that covers two days of hiking from Bundeena to Otford. You can travel the entire distance or enjoy some of the shorter walks within it, for amazing scenery and beautiful wildlife, such as the black cockatoo.
Some popular grand scenes to photograph are Eagle Rock near Curracurrong Falls, or Garie Beach further south. I personally love the Royal National Park for the incredible colours, shapes, and textures of the sandstone that forms the cliffs, and will gladly spend hours capturing their intricacies.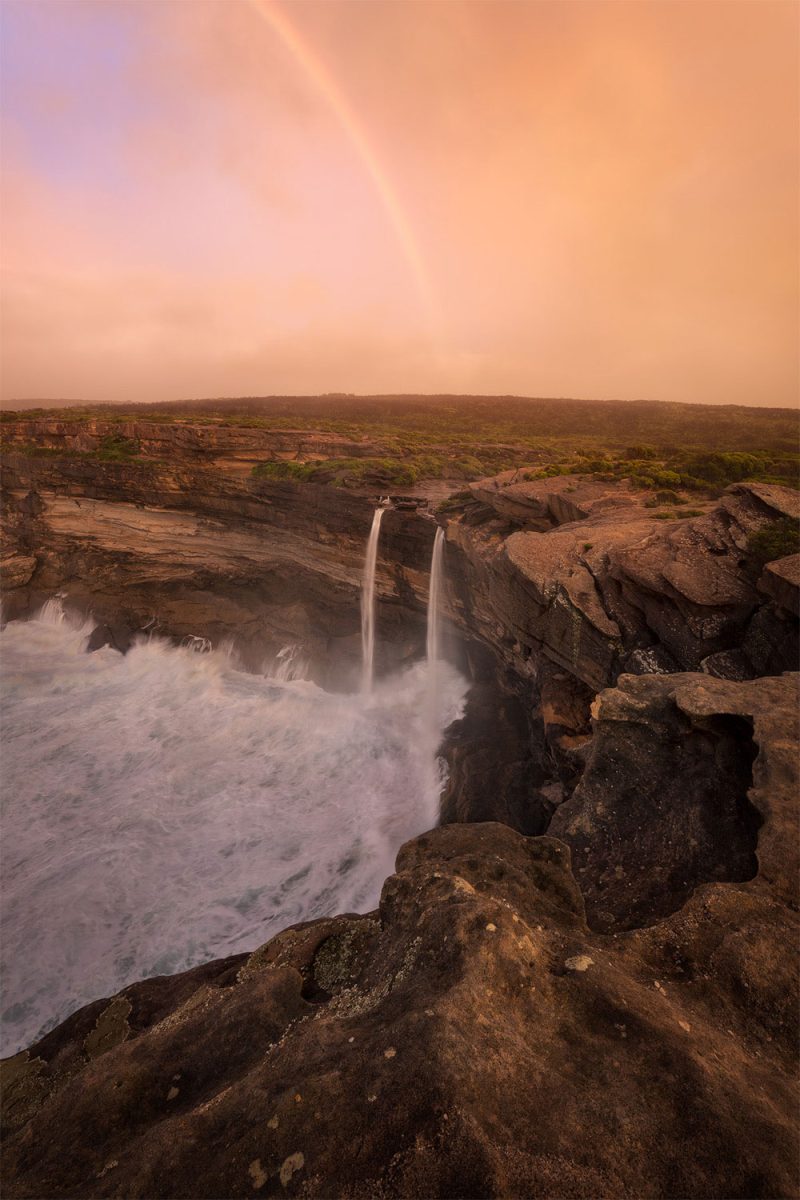 Above: A dramatic and wet sunrise resulting in a rainbow over Curracurrong Falls, sitting atop Eagle Rock. Please exercise extreme caution when taking photos near cliff edges. Captured at 14mm, utilising a slightly slow shutter speed to capture water movement, and a focus stack for front-to-back sharpness.
Above: Colourful sandstone imitating liquid textures atop the cliffs of the Coast Track. Captured looking straight down, using a mid-range lens to compress the layers of rock at a narrow aperture for focus across the frame.
3. Southern Highlands
The Southern Highlands is a wine region about 110km south of Sydney, and is home to some of NSW's most spectacular waterfalls. Belmore Falls is perhaps the most renowned, towering at 80 metres above its beautiful splash pool beneath. It's a hard walk along an un-maintained bush track to get to the bottom, but the location is worth it.
The splash pool can be quite chilly, so I recommend a warm day if you plan to swim! If you want maximum water velocity, the waterfall swells hugely after rain and will provide a thunderous spectacle to photograph. The region also includes the beautiful Fitzroy, Gerringong, and Carrington Falls, which are fantastic to visit and photograph.
Above: Heavy rain for multiple days swelled Belmore Falls to an incredible size. It was near deafening to stand by, and soaked you to the bone with its spray even from 30 metres away. Captured with my 70-200mm, utilising a fast shutter speed (1/320), ISO 320, and a slightly wide aperture to let enough light into the exposure.
Above: Beautiful textured clouds illuminated golden yellow by the setting sun over Carrington Falls. Captured at 14mm, utilising a slow shutter speed to blur the water, as well as a 4 image focus stack and 3 image exposure blend to maximise sharpness and high dynamic range.
Read more: How to Photograph Waterfalls
4. Kiama
Kiama, located about 90 minutes south of Sydney, is home to two of NSW's most renowned seascape locations. Bombo Quarry and Cathedral Rocks are each a mecca for seascape photography, with many images showcasing dramatic conditions and epic water action.
Bombo Quarry houses two channels that funnel into its basalt formations, which see waves rushing through and crashing onto the rock walls.
Cathedral Rocks, on the other hand, predominantly features two tall sea stacks, which look fantastic when framing colourful skies between their dominant silhouettes. Both locations shine brightest at sunrise, either under a burning layer of high cloud, or a golden break between dramatic conditions.
Above: A burst of sunlight through the clouds on an autumn morning at Bombo Quarry. This is the southern channel, which is my preferred option to shoot. I used a moderately slow shutter speed (1/3 second) to blur the motion but still retain texture, as well as an exposure blend for the high dynamic range, and a focus stack for the large difference in depth of field.
Above: One of the longest burning sunrises I've ever witnessed. A longer shutter speed was used since it was still quite dark, in order to let more light into the frame and simplify the otherwise busy foreground.
Read more: How to Photograph the Coast
5. Sapphire Coast
The Sapphire Coast makes up an incredible stretch of rugged coastline on the far south coast of NSW, located roughly 5 hours from Sydney. Similarly to Kiama, it's renowned for two major seascape locations that see many photographers flocking there each year (though there are many more scattered along the coast).
These are namely Horse Head Rock and Camel Rock and, though their positions make them notoriously difficult to catch colour behind, they're both breathtaking locations to shoot.
Horse Head Rock in particular has an uncanny resemblance to a stallion drinking from the ocean lapping at its base. Summer is the best season to attempt to catch some sunrise or sunset colour behind these jagged sea stacks. Camel Rock is best paired with a large swell, whereas Horse Head Rock benefits from a calmer sea for the sake of safe access.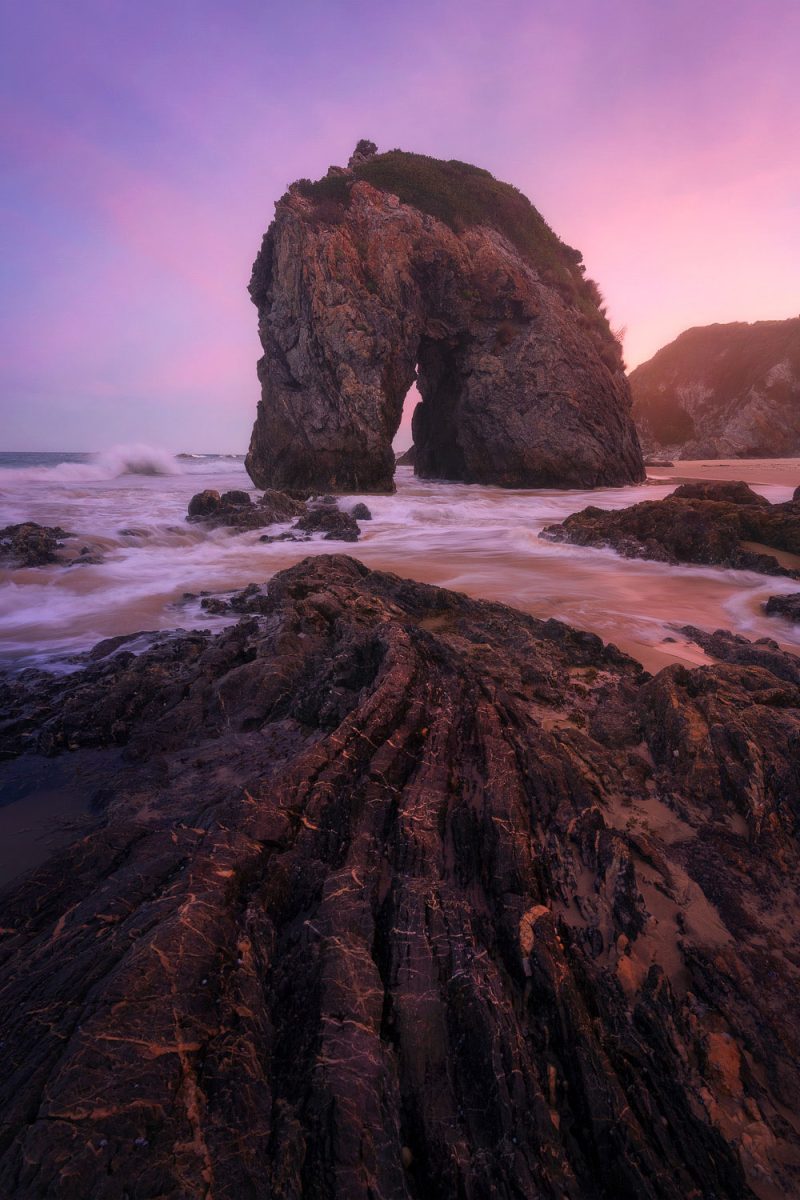 Above: A vibrant coral-pink sunset and unusually high sand levels at Horse Head Rock made for fantastic conditions on this night. The usual slow-shutter speed, focus stack, and exposure blends were performed to capture this classic near-far composition at 16mm.
Above: One of those rare colourful sunrises behind Camel Rock, throwing a gorgeous colour palette across the whole scene. On top of the mid-slow shutter speed for the water, I also capture a frame with a wider aperture, slightly higher ISO, and faster shutter speed focused on the foreground, in order to freeze the motion of the grass in the wind.
6. Barrington Tops National Park
A rainforest wonderland less than 5 hours from Sydney, Barrington Tops National Park makes up another part of the lengthy Great Dividing Range, and is listed amongst the World Heritage Site Gondwana Rainforests of Australia.
Believed to be an extinct volcano, it's full of waterfall filled forests, beautiful bush walks, rugged 4WD trails and fantastic vistas. I highly recommend visiting this area after a solid amount of rain has swelled the waterfalls. Even better is visiting during fog, which creates that wonderful atmospheric forest appearance that works so well in photographs.
Above: A tall waterfall receives late afternoon light, deep within the national park. This image required a focus stack but no exposure blend. Captured at 16mm with a CPL to reduce glare and reflections from the moss, water, and wet rocks.
7. Kosciuszko National Park
Australia's seventh largest national park, Kosciuszko is home to the country's tallest peak and the most mountainous terrain of NSW. It's popular for activities and photography all year round, in snow or sunshine, and provides some of the most impressive scenery to be found in the entire state.
An especially popular spot within the park is Aries Tor, a huge pointed rock formation surrounded by scattered tarns near the summit of Kosciuszko. However, there are dozens of gems to be discovered throughout the enormous park, making it one of my favourite places for hiking and photography throughout the year.
Above: A landscape covered in a deep layer of blizzard blown snow, with the most vivid Milky Way I've ever seen rising over Aries Tor. The land here was captured at about 20mm using a 3 minute exposure to bring out detail, whereas the sky was captured at 14mm and involved a median stack to reduce noise (6x 25 second exposures).
Read more: How to Photograph the Milky Way
Above: A gorgeous location at the north end of the park, consisting of amazing limestone towers and a beautiful waterfall at the end. I utilised harsh mid-afternoon light to create this wonderful natural contrast that really sang when converted to black and white. Single exposure at 35mm.
8. Waterfall Way
Rather than a single park or location, Waterfall Way is a 185km scenic drive that links Coffs Harbour and Armidale, and passes through more of Australia's World Heritage Site Gondwana Rainforests. Most notable of the locations along Waterfall Way are Dorrigo and New England National Parks: both beautiful yet completely different rainforests that are a pleasure to photograph.
New England is primarily a cool temperate rainforest full of moss-laden Antarctic beech, whereas Dorrigo is more a warm temperate or subtropical rainforest, showcasing vines and wide jungle leaves, as well as vibrant birdsong.
Similarly to Barrington Tops, these national parks are best seen during foggy and wet weather, to bring out the vibrancy of the greens and allow for potential light beams through the canopies. Of course, in fragile environments like protected rainforests, where moss and branches are easily trampled, please be respectful of these locations and take care to not damage their precious ecosystems .

Above: Amazing golden sunrise light filters through the forest to illuminate this matriarchal tree standing tall amongst the undergrowth. Captured at a longer focal length to separate the tree from its surroundings, using a narrow aperture to capture everything in sharp detail.
Above: Sunlight makes its way through the thick, jungle-like canopy onto the richly green foliage below in Dorrigo National Park. Here I used a very wide focal length of 14mm to capture the immediate scene before me, as well as a CPL to reduce reflections, and a focus stack for consistent sharpness.
Read more: How to Photograph Trees and Forests
In conclusion
So, there you are! My 8 personal favourite locations to photograph within the beautiful state of New South Wales, Australia. Of course, there is plenty more out there to explore that I didn't have room for on this list, as well as many spots within each location that I've included.
I would like to reiterate the key principle of "Leave No Trace" when in nature: this encompasses much more than simply not leaving rubbish behind, and is rather a holistic approach to ensure no place is damaged or left worse off as a result of human interaction. These locations are precious and worth preserving, which is a huge part of why I take these pictures.
I hope this can serve as some inspiration to get out there and enjoy this vast and diverse state!