5 Best Canon Cameras for Wildlife Photography in 2023
The best Canon cameras for wildlife photography are always changing thanks to fast progress and development in the photography industry. Luckily, we've got a great rundown of the best wildlife cameras available right now.
It's important to remember that the best camera is not necessarily the newest cameras. Sure, there's a lot of attention on mirrorless cameras these days, but the "older" DSLR cameras are still taking great pictures. You may be surprised to know that professional wildlife photographers are not always using the latest cameras.

With that in mind, we'll look at the best Canon cameras for wildlife photography – whether they be new flagship cameras, or some older versions that still pack a punch.
What makes a good wildlife camera?
Before we get into the cameras, think about what you are looking for in a camera. It's easy to think that you need to buy the latest and greatest camera. But are you going to make use of all those features?
Ultimately, there are a few things that you want to focus on when choosing the best Canon camera for wildlife photography.
1. Low light performance
Wild animals tend to be most active at dawn and dusk. That means that light levels are not always optimal, and you need a camera that copes well and has good low-light performance.
The good news is, most Canon cameras these days sport a good image sensor and perform well in such lighting conditions.
Better low-light performance tends to come from full frame cameras, which is one of the reasons they are so popular in nature photography.
2. Shooting speed
Fast-moving animals demand a fast shooting speed. So, often the better choice is a camera that shoots at least 6 frames per second. The faster, the better.
It's not always essential to have a Canon camera that sounds like a machine gun, but there are some situations – such as birds in flight – where it is helpful.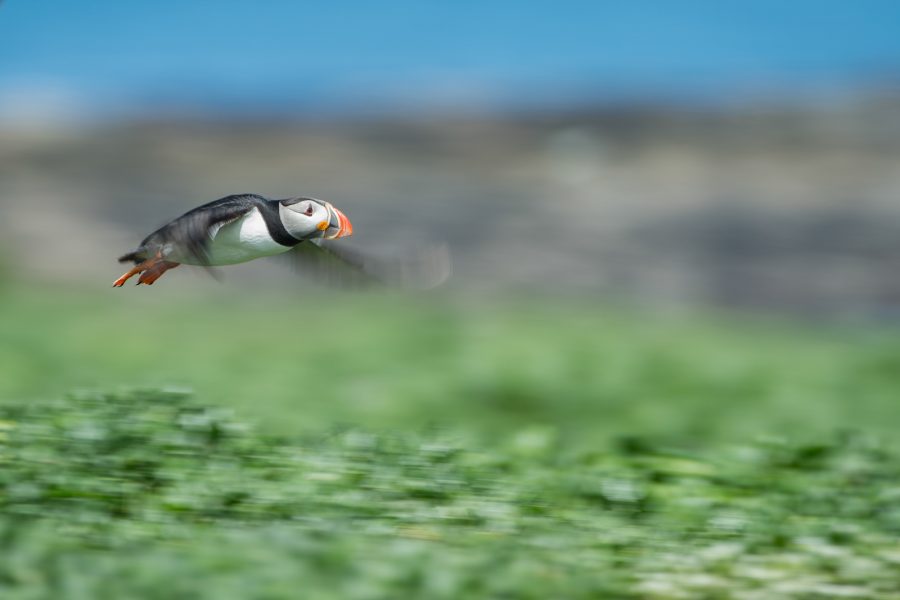 3. Resolution
Image quality is also important. Cameras with a high resolution are ideal because they allow you to crop in during post processing without losing too much detail.
This is why some photographers think the best option is a camera with a high resolution, even if that means the continuous shooting speed is less. Often, this is the trade-off.
4. Autofocus system
The AF system is an important consideration, too. The more AF points (autofocus points) that a camera has, typically the better its ability to retain focus. When you're tracking fast-moving wildlife, having a camera that can focus quickly is essential.
Mirrorless cameras are particularly good at this these days, but even the older DSLRs are still very capable.
What about a crop sensor camera?
Whilst full-frame cameras tend to be favoured by professional photographers for the higher image quality and better low light performance, an aps-c sensor camera is also a great camera in the right situations.
A camera body with a crop sensor tends to be cheaper than its full-frame counterpart, which is immediately a good reason to consider it. However, one of the best advantages from the smaller sensor is the increased reach of your camera.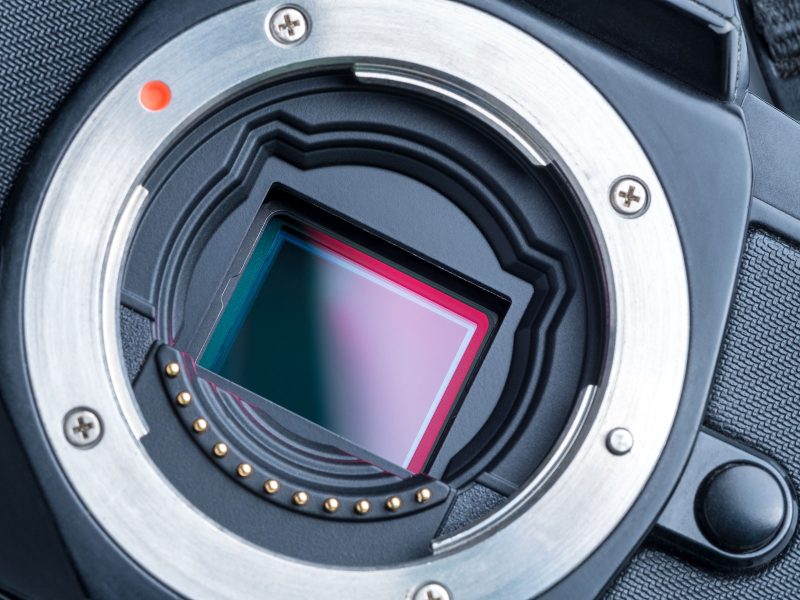 For example, if you put a full frame lens onto a crop sensor camera, the sensor "sees" through a smaller portion of that lens. This is because the lens' projection is bigger than the sensor itself.
Consequently, you'll achieve more zoom using a crop sensor camera than you would with a full-frame. You can then see why crop sensors combined with telephoto lenses can provide excellent results.
The best Canon camera for wildlife photography
We've looked at the things to consider, so now let's get into it and help you choose your next digital camera.
1. Canon EOS R3
Let's get the flagship out of the way first. There is no doubt that the best wildlife camera on the market at the moment is the Canon EOS R3.
This camera has a full-frame sensor and combines the best of the R5 and the flagship Canon 1D X Mark III DSLR camera. It shoots images at a resolution of 24 megapixels at speeds of 12 frames per second using the mechanical shutter, or 30 frames per second with the electronic shutter.
It's also capable of 6K 60p raw video internally, or 4K 120p at 10-bit. So for those looking to dabble in the world of wildlife video, this is one of the top picks for you.
Its high image quality combined with stellar autofocus performance, and low light capabilities, make this perhaps the perfect camera for wildlife photography.
It's a pricy option, though. Retailing for £5,850 ($5,999 USD) at the time of writing, this flagship is definitely the best mirrorless camera for wildlife photography. If that is within reach of your budget, it's definitely worth considering.
Check Canon EOS R3 prices.
2. Canon EOS R7
Another camera from the Canon EOS R series, and this time sporting an APS-C sensor size. At £1,400 ($1,500), the Canon EOS R7 is a much more affordable alternative to the R3.
Not only that, but it benefits from the extra reach that crop sensor cameras get when using full-frame lenses. Looking for a frame-filling portrait of a lion? Well, this might be the camera to help you get it.
It actually produces 36 megapixel images, and has a faster burst rate than the R3. The mechanical shutter fires at 15 frames per second, and the electronic shutter at 30 frames per second. Ideal for those fast-moving subjects.
Check Canon EOS R7 prices.
3. Canon 1D X Mark III
Once the flagship Canon camera, this Canon 1D X Mark III DSLR camera is a real beast.
The 20 megapixel full-frame CMOS sensor produces exceptionally high quality images. And the 191-point AF system keeps subjects in focus. For this reason, it is a particularly popular choice for those looking to try out bird photography.
It's important to remember that the mirrorless cameras use newer, more expensive mirrorless lenses. They can of course use a converter to make use of the older glass, but a DSLR camera can make use of EF lenses natively.
The battery life of a DSLR camera is also much better than a mirrorless camera. Whilst you will still want to bring spare batteries with you for a long shooting day, you'll need a lot less than you would for the mirrorless counterpart.
Check Canon 1D X Mark III prices.
4. Canon 5D Mark IV
The Canon 5D Mark IV has always been a popular DSLR camera amongst nature photographers. Perhaps initially targeted more towards landscape photography, it is actually a very popular choice for wildlife photography.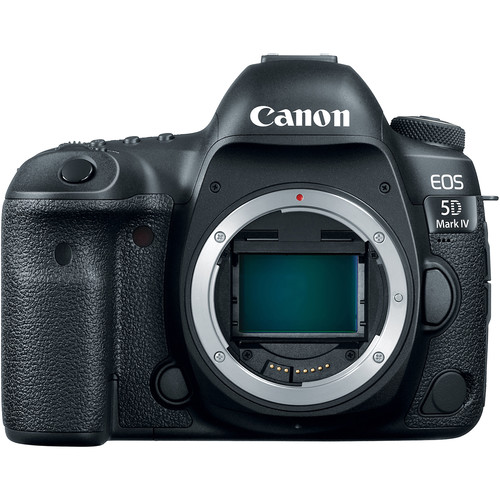 This is the camera I still shoot with as a professional wildlife photographer. It has a 30 megapixel full-frame sensor, and a shooting speed of 7 frames per second.
It also has great low light performance, and shoots 4K video at 30fps.
Whilst this technology is perhaps lagging behind the newer Canon cameras, it's a powerful workhorse for the price.
Check Canon 5D Mark IV prices.
5. Canon EOS R5
The mirrorless replacement to the 5D Mark IV, the Canon R5 is a fantastic choice if resolution is priority.
The 45 megapixel full-frame sensor, combined with a 12 fps mechanical shutter burst speed (or 20fps with the electronic shutter) make this a fantastic choice for wildlife photography.
Not only that, but the video capabilities are equally impressive. It is capable of recording 8K 30p raw video and 4K 120p video internally.
It also has great in-body stabilisation, and impressive subject tracking. This is a great option, regardless of the skill level of the photography at hand.
Check Canon EOS R5 prices.
In conclusion
The best Canon camera for wildlife photography may not be the most expensive option. All of the cameras in this list will impress you and be fantastic choices.
Figure out which features are the most important to you, and happy shooting!